Carrot Cake Waffles Recipe
Love waffles? We've got a new recipe that you are going to want to try as soon as possible. We're talking about a super tasty recipe that will remind you of your Mom's carrot cake recipe.
Get ready to mix this yummy batter up. Waffles are quick to make, and a batter dispenser makes creating waffles relatively mess free. A batter dispenser is also something that works nicely for pancakes, cupcakes and other recipes with a thinner batter consistency.
We started making waffles a lot after we got a new non-stick waffle maker. Let me tell you about time-savings when it comes to cleaning up. Cleaning a waffle maker is never at the top of my wish list when it comes to kitchen chores, but it is so much easier with a non-stick waffle maker.
Best Waffle Recipes
Now, we're all about waffle recipes…as in we've got Chocolate Chocolate Waffles, Very Berry Waffles and Mint Waffles. If you like waffles, you'll likely be a fan of all all these–they are some of our most viewed waffle recipes.
There are so many ways to use a waffle maker that go beyond simple waffle recipes. We're anxious to try some of them!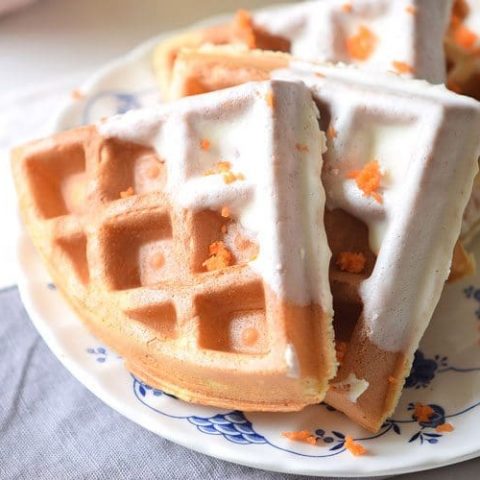 Carrot Cake Waffles
Ingredients
1 1/2 cup flour
1 cup milk
1/4 cup butter
1/4 cup maple syrup
2 eggs
Pinch of salt
2 teaspoons baking powder
1 cup shredded carrot
1/2 cup chopped walnuts
1 teaspoon ground cinnamon
1 teaspoon ground nutmeg
1/2 cream cheese brick, softened
1/8 cup milk
1/8 cup powdered sugar
Instructions
Preheat the waffle maker to medium heat.
In a large bowl, mix the flour, salt, baking powder, ground nutmeg, shredded carrot, chopped walnuts, and cinnamon.
In a medium bowl mix the milk, butter, and eggs until they are completely combined.
Combine both mixtures (the liquid and the dry) and mix until no lumps are left.
Pour the batter into the waffle maker and cook until golden.
For the frosting mix in a bowl the cream cheese, powdered sugar, and milk until desired consistency is obtained.
Dip the waffles bites into the cream cheese frosting and let it dry for a couple of minutes.
Garnish with some shredded carrots.
Serve and enjoy.
Tips
The waffles can be frozen for up to 3 months.