Looking for a tasty treat? These confetti cupcakes with orange cream cheese frosting are perfect for any time of the year, but top them with adorable PEEPS® and you've got a show stopping sweet treat perfect for a party.
These confetti cupcakes were a breeze to make with ingredients I already had on hand, and the result was AMAZING.
I also made a gluten-free version using a gluten-free all-purpose flour mix. This was the first gluten-free cupcake I have made and don't have a lot to compare it to. The result was good, but not as amazing as the non gluten-free. But, I'm thinking that is just because I'm still used to all that gluten!
Confetti Cupcakes with Orange Cream Cheese Frosting
Perfectly easy and equally delicious.
Another spin on these confetti cupcakes would be my super tasty lemonade cupcakes. All you'd need to do is add in ½ cup or so of sprinkles. You could also substitute lemonade in the recipe below for Orange Cream Cheese Frosting, and have a delicious frosting to top your fantastically decorated cupcakes. Add some sprinkles to the top and voila!
Orange Cream Cheese Frosting is so simple, but is such a good addition and the perfect topping for a cupcake. We used our basic Cream Cheese frosting as a basis for this recipe.
Don't forget to check out below for my Confetti Cupcakes and Orange Cream Cheese Frosting recipes.
Recipe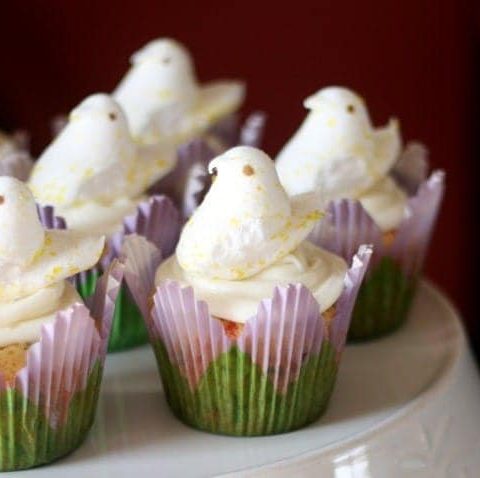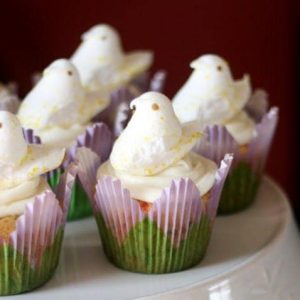 Confetti Cupcakes with Orange Cream Cheese Frosting
confetti cupcakes #easter
Instructions
Mix dry ingredients together and set aside. In separate mixing bowl, combine sugar with melted butter. Mix in eggs until smooth. Stir in milk and vanilla and then combine with dry ingredients. Mix in sprinkles.

Preheat oven to 350 degrees.

Fill cupcake liners to ⅔ full and bake for 18-22 minutes or until an inserted toothpick comes out clean.

For Gluten-Free version- substitute gluten-free all purpose flour and ensure you are using gluten-free products for all other items. The flour was the only thing changed in this recipe when I made these same cupcakes gluten-free.

Mix cream cheese until smooth. Add in half of the powdered sugar and incorporate with cream cheese. Pour in 2 teaspoons of orange juice, and then add the remaining powdered sugar.

Double recipe if you want thicker frosting on your cupcakes or cake.
Nutrition
Calories:
1176
kcal
Carbohydrates:
202
g
Protein:
11
g
Fat:
37
g
Saturated Fat:
13
g
Cholesterol:
116
mg
Sodium:
819
mg
Potassium:
177
mg
Fiber:
1
g
Sugar:
159
g
Vitamin A:
1564
IU
Vitamin C:
2
mg
Calcium:
120
mg
Iron:
3
mg