Lemon Cupcakes with Cream Cheese Frosting are SOOO good!
Easy Cupcake Recipes Kids Can Make
Let's face it, when it comes to baking cupcakes, most of us prefer quick easy cupcake recipes like this amazing lemon cupcake recipe and Vanilla Spiced Cupcakes.  When baking from scratch, the trick is to keep it simple. That's why I seriously encourage you to search only for easy cupcakes recipes.  You will find a winner (or two, or three) every time.
That's one reason why I like to make so many icebox cakes and poke cakes, like my favorite Hazelnut Cheesecake Layered Icebox Cake and Lemon Poppy Seed Pudding Cake with Strawberry Topping, which is out of this world moist and delicious!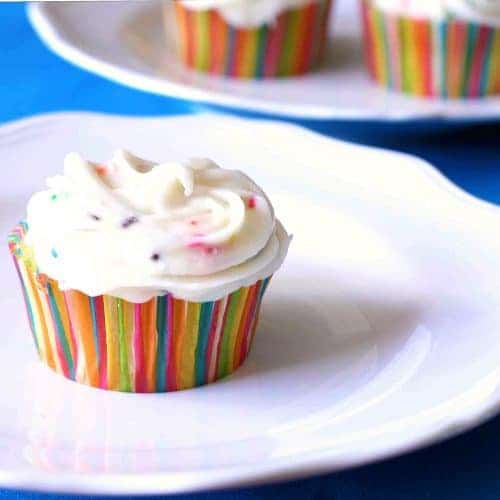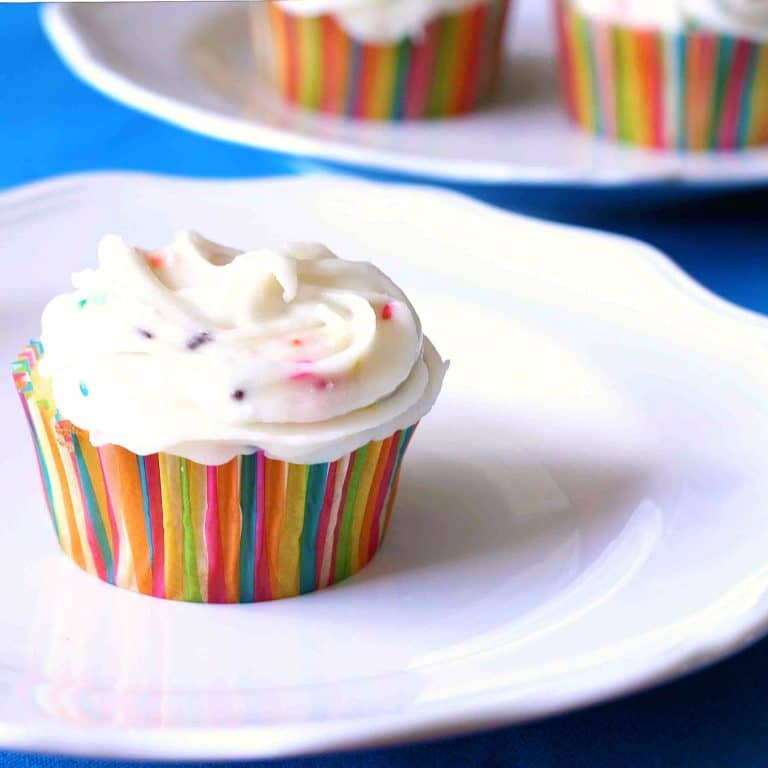 Are you looking for Easter cupcakes recipes?
A sweet lemon cupcakes recipe would be the perfect answer!
Along with our Lemon Poppy Seed Cake, this is at the top of our best lemon cupcake recipes.
Lemon Desserts
I simply L.O.V.E. lemon desserts.
As in Lemon Bars.
And cupcakes.  Who doesn't love a good cupcake?  And cooking cakes isn't hard to learn how to do at all.  Maybe you need to know how to bake a birthday cake? This cupcake recipe is just what you're looking for and so much better than baking a cake.
We've been playing around with frosting and meringue lately, so I decided that I needed to make some cupcakes for us to practice with.  What better way to practice icing a cupcake than by experimenting with cupcake flavor as well?
Next time I made these delightful lemon cupcakes, I'm going to fill them with a creamy lemon filling using lemon curd and whipping cream.
I've been wanting to make lemonade cupcakes forever!  Want to know how to make pink lemonade cake instead?  Um… pink lemonade instead of regular silly!
Don't ask my why… maybe it's because I'm craving spring weather and its spring still hasn't quite made its way to the Midwest.  Our temps are hovering in the 30s… every once in a while sneaking up into the 40s.  But me, I want summer days and a tall glass of Perfect Homemade Lemonade, or one of my favorite lemonade cocktails.
Instead, I'll settle for a cupcake.  Okay… it's not really settling since it is so divine.
Using one of the best Cream Cheese Frosting Recipes was a no brainer!
We paired these easy to whip up lemonade cupcakes with a cream cheese frosting.  The only difference in the frosting I made for these cupcakes and the best cream cheese frosting recipe I made for my daughter's tenth birthday was the fun addition of confetti sprinkles.  Add as many as you'd like, but about 1/4 cup should be good.
If you're looking for a cream cheese cupcake topping, this is definitely it!
To decorate the cupcakes I used an extra large star tip with my decorating bag.  Starting at the outside and holding the icing bag at a 45 degree angle, squeeze the icing out as you work your way around the cupcake to the middle.  Using an extra large tip made decorating the cupcakes pretty easy and something that I no longer find intimidating.
Now… I might not feel the same way about more difficult cupcake decorating techniques.  Maybe a cake decorating class is in my future!  We all have to learn somewhere.
Print
Lemonade Cupcakes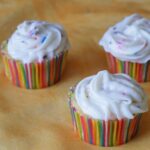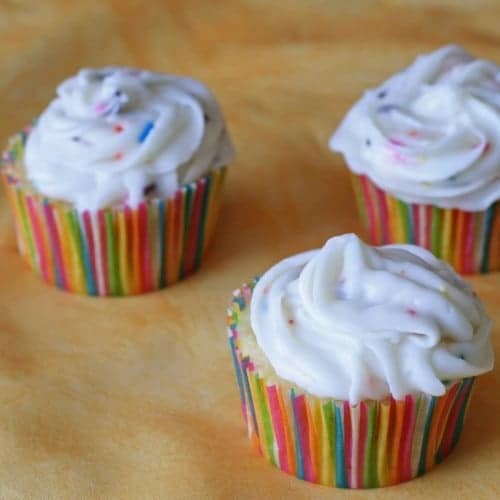 Author:

Jessica, AllSheCooks.com
Ingredients
1/2 cup butter or margarine, melted
1 cup sugar
3 eggs
11/2 cups milk
1 teaspoon vanilla
2 cups flour
1 teaspoon baking soda
1 teaspoon salt
1 Crystal Light drink mix packet (not single serve… says it makes 2 quarts)
Instructions
With mixer on medium speed, combine melted butter and sugar. Add in eggs and mix until smooth. Add milk and vanilla and mix.
In separate bowl, combine dry ingredients including the Crystal Light lemonade mix (do not add water to the mix). Slowly add to wet ingredients with mixer at low speed.
Preheat oven to 350 degrees.
Place cupcake liners in cupcake pan. Fill to 2/3rds full.
Bake cupcakes for 18 minutes. Makes about 24 cupcakes.
Cool completely and top with cream cheese or butter cream frosting.
Cupcake Variations:
How about adding some lemon flavoring to the frosting for lemon cupcakes with lemon cream cheese frosting?
The following two tabs change content below.
Latest posts by Jessica McCoy (see all)