If you've tried Chipotle's cilantro rice, you know the restaurant chain takes ordinary rice and transforms it into something extraordinary. Try this Copycat Chipotle Cilantro Rice recipe to recreate their tasty rice at home!
Who doesn't love a good copycat recipe? Copycat recipes give you the opportunity to recreate a popular favorite in the convenience of your own home that tastes just as good (and sometimes even better!) than the original. No wrangling the kids into the car, no need to brave bad weather or bad traffic, and no long lines to contend with once you arrive.
It should come as no surprise that copycat recipes are a really popular feature here at All She Cooks. Once you're done trying Copycat Chipotle Cilantro Rice, make sure to check out all of the copycat recipes on All She Cooks.
(Note: Even if you've never stepped foot in a Chipotle in your life, you're going to love this cilantro rice recipe! The classic lime-cilantro flavor combination brings such great depth to any dish you pair it with.)

How to Easily Make Copycat Chipotle Cilantro Rice
Copycat Chipotle Cilantro Rice is an incredibly easy recipe to make. It's so easy, in fact, that you'll probably find yourself whipping up a batch at least once a week.
The first step is to cook your rice to according to the package directions. I've pictured brown rice, but you can also use white rice or jasmine rice. Chipotle offers both brown cilantro rice and white cilantro rice, although I personally think the brown cilantro rice is the best. (Plus it's more nutritious.)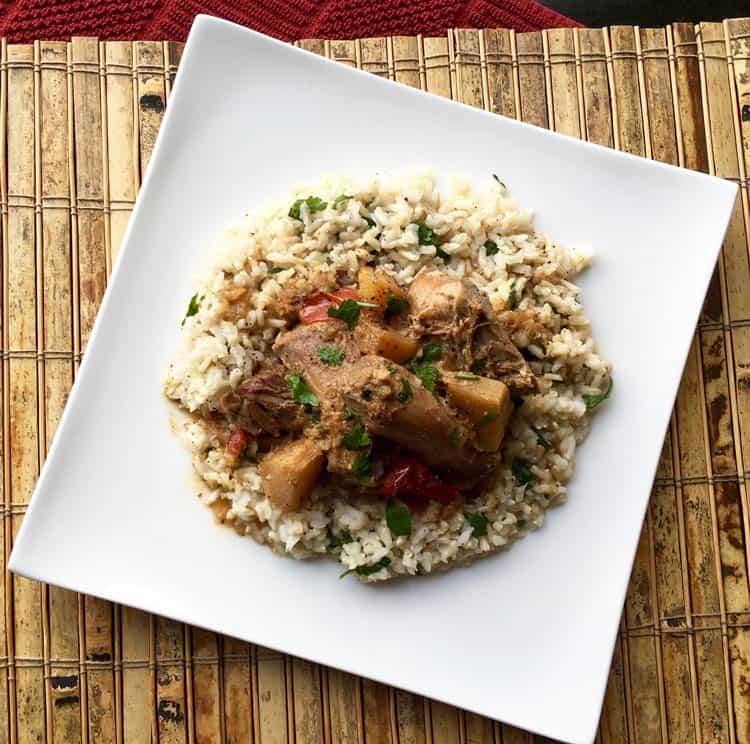 Next, stir in fresh chopped cilantro, lime juice, and lime zest, and then season with salt and pepper to taste.
It's ready to serve! I told you it was easy.
What to Pair With Copycat Chipotle Cilantro Rice
While Chipotle limits you to eating their cilantro rice in a burrito or on a salad, it's a versatile rice recipe that serves as a great side to many dishes. Here are two dishes you'll love it with:

Have a Burrito Night at Your House
You've heard of Taco Tuesday, but what about mixing things up a little and adding a burrito night to your dinner schedule?
In addition to Copycat Chipotle Cilantro Rice, I suggest that you also make Copycat Chipotle Corn Salsa, another Chipotle favorite. To complete your burrito night, make:
Of course, also have burrito favorites on hand, such as sour cream and shredded cheese, to add to your burritos. Chipotle is great, but their burritos can be pretty pricey, especially if you're buying for a family. An at-home burrito night is a much cheaper option!
More Copycat Recipes
I hope you enjoy this Copycat Chipotle Cilantro Rice recipe! Don't forget to check out the other copycat recipes on All She Cooks.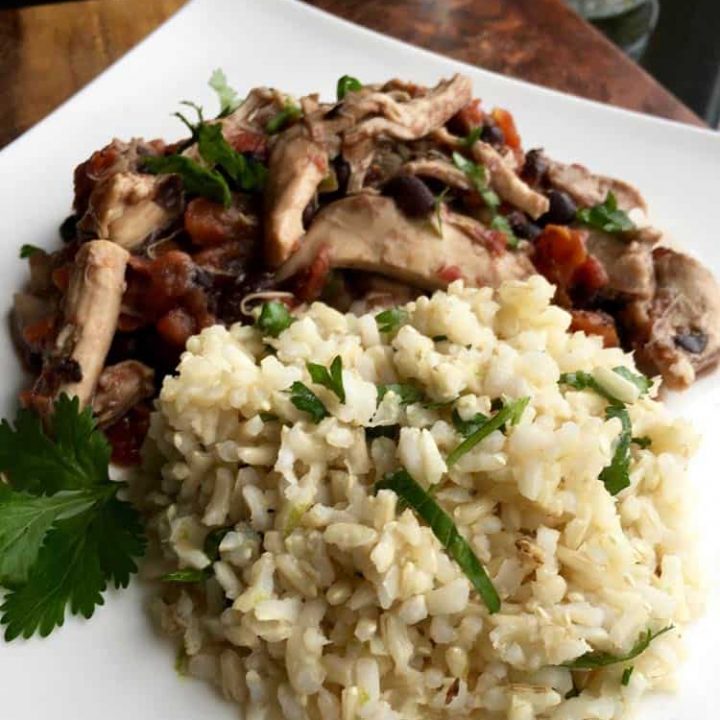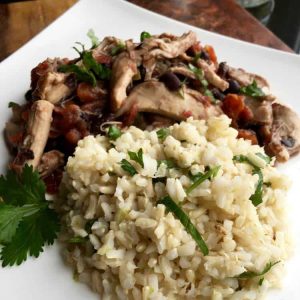 Copycat Chipotle Cilantro Rice
Recreate the classic Chipotle cilantro rice at home with this easy-to-make recipe!
Ingredients
3

cups

cooked rice*

3

tablespoons

fresh lime juice

2

teaspoons

lime zest

3

tablespoons

fresh cilantro

chopped

Salt and black pepper

to taste

* Can use white

brown, or jasmine rice. (Brown rice is pictured.)
Instructions
Prepare rice according to directions.

Fluff the cooked rice with a fork and stir in lime zest, fresh lime juice, and chopped cilantro until blended. Season with salt and black pepper to taste, and serve immediately.
Nutrition
Calories:
105
kcal
Carbohydrates:
23
g
Protein:
2
g
Fat:
1
g
Saturated Fat:
1
g
Sodium:
1
mg
Potassium:
36
mg
Fiber:
1
g
Sugar:
1
g
Vitamin A:
13
IU
Vitamin C:
2
mg
Calcium:
8
mg
Iron:
1
mg