Spicy Pineapple Crock Pot Pork Butt Roast is a sweet and savory dish that is destined to become a family favorite. Conveniently made in the crock pot (slow cooker), it makes for the perfect easy dinner recipe.
The name for this recipe might be a bit of a mouthful, but it's so good you won't mind. Pineapple, jalapeno, sesame oil, peanut butter, five-spice powder, cilantro, garlic, honey, and several other ingredients come together for a spicy-sweet combo your whole family will love. Served over a bed of cilantro-lime rice or brown rice, it's a filling and convenient dinner option.
How to Make This Crock Pot Pork Butt Roast
Before we get into how to make Spicy Pineapple Crock Pot Pork Butt Roast, I have to say that the term "pork butt" always makes me laugh. Pork butt is certainly not from the behind of the pig — that part, actually, is where you get ham!
"Pork butt" comes from the shoulder of the pig. So does "pork shoulder," but pork butt is from the thicker end of the shoulder. In a pinch, you can substitute pork butt with pork shoulder in recipes.
To make Spicy Pineapple Crock Pot Pork Butt Roast, begin by adding all ingredients except olive oil, pork butt, salt and pepper, pineapple juice, cilantro, and arrowroot to your slow cooker crock, and combine well.
Optionally (see the "tips" section if you want to skip this part), heat olive oil over medium heat in a skillet and sear each side of the pork butt. Once seared, add it to the ingredients in the slow cooker. (Note: be sure to trim as much fat as you possibly can from the pork butt before using it.)
Deglaze the skillet using the pineapple juice and add that juice to the slow cooker.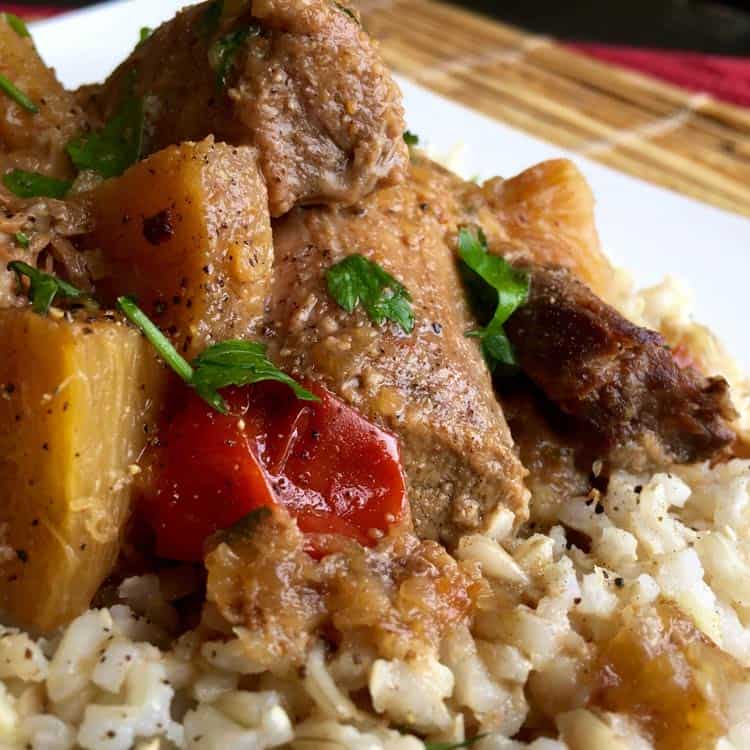 Set your slow cooker for 6-8 hours on low or 3-4 hours on high.
When it's done cooking, stir in cilantro.
Next is another optional step to create a slurry to thicken the juices. If you're short on time and want to skip this step, see my "tips" section below for what to do instead if you still want to thicken the juices. (Thickening is highly recommended!) Note that the time-saving step has to be done 30 minutes prior to the end of the slow cooker cycle.
Serve on top of a bed of brown rice or cilantro-lime rice. If you have any leftovers, Spicy Pineapple Crock Pot Pork Butt Roast reheats well in the microwave and is great to pack for lunch the next day.
Tips to Speed Up Spicy Pineapple Crock Pot Pork Butt Roast
It's not too often you find an easy recipe that can become even easier, but you're in luck with this one! There are two ways to speed up this recipe:
Skip the searing. Although searing will help the pork butt develop a better flavor, it's not a necessary step. You can skip the searing and put it, along with the pineapple juice, straight into your crock pot.
Thicken the sauce in the slow cooker crock itself. Instead of thickening the juices in a separate skillet, add the arrowroot slurry to the slow cooker about 30 minutes before the recipe is done cooking.
If you follow these tips, Spicy Pineapple Crock Pot Pork Butt Roast truly becomes a one-pot recipe!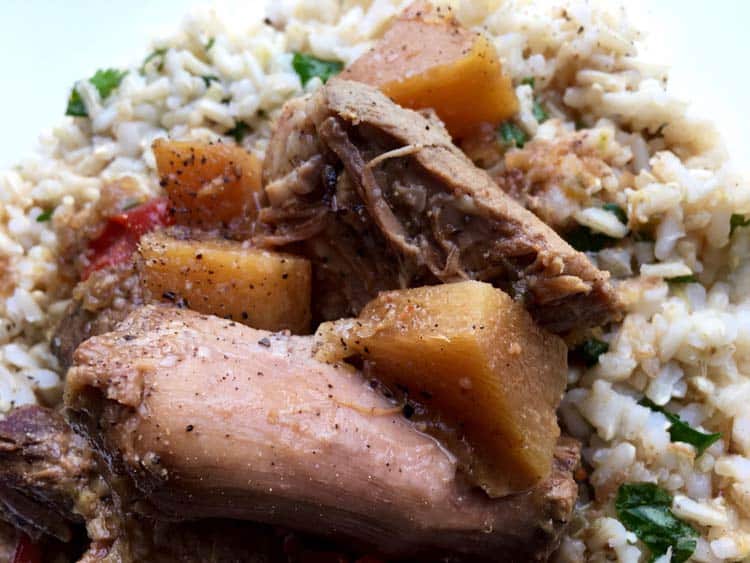 Optional: Substitute Soy Sauce with Coconut Aminos
If you prefer not to eat soy, the soy sauce in this dish can be easily substituted with coconut aminos. If you've never tried coconut aminos, you're missing out. Made from coconut sap, coconut aminos closely resemble soy sauce and, like soy sauce, have a sweet-and-salty flavor.
That said, I think coconut aminos are sweeter and less salty than soy sauce. If you have a bit of a sweet tooth, you'll love coconut aminos! Check out my Easy Glazed Chicken Drumsticks Recipe in Balsamic Vinegar recipe if you want to try another recipe that uses coconut aminos.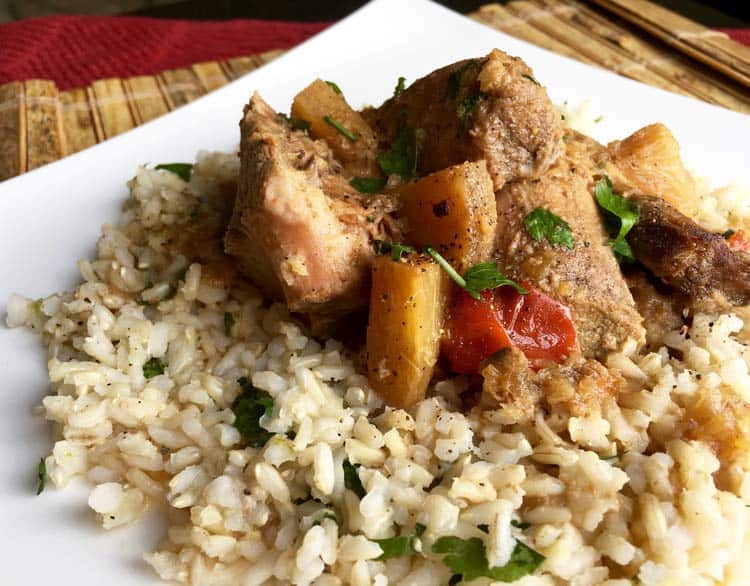 Want More Pork Crock Pot Recipes?
If you'd like more pork crock pot recipes, check out these:
Spicy Crockpot Pork and Cabbage Soup

I hope your family enjoys this pork crock pot recipe as much as mine does!
Recipe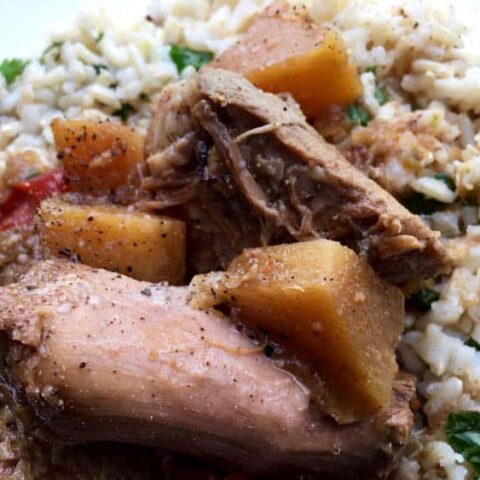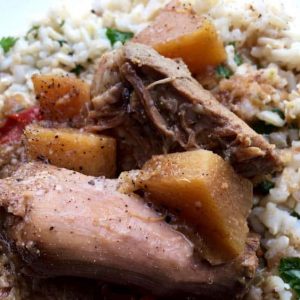 Spicy Pineapple Crock Pot Pork Butt Roast
Spicy Pineapple Crock Pot Pork Butt Roast is sure to become a family favorite. It's rich, flavorful, and easy to make.
Ingredients
1

small yellow onion

diced

16

ounces

fresh pineapple

cut into 1" chunks

¼

cup

gluten-free soy sauce or coconut aminos

2

teaspoon

rice wine vinegar

1

tablespoon

honey

1

tablespoon

sesame oil

2-3

cloves

fresh garlic

minced

2

teaspoons

five-spice powder

1

medium red bell pepper

cut into 1" chunks

1

medium jalapeno pepper

finely diced

2

tablespoons

natural

creamy peanut butter

2

tablespoons

extra virgin olive oil

1 4-5

pounds

pork shoulder butt roast

trimmed

Salt

to taste

pepper

to taste

¼

cup

fresh pineapple juice

3

tablespoons

fresh cilantro

chopped

2

tablespoons

arrowroot

optional
Instructions
To a 5- or 6- quart slow cooker crock, add the following ingredients: onion, fresh pineapple chunks, soy sauce (or coconut aminos), rice wine vinegar, honey, sesame oil, garlic, five-spice powder, bell pepper, jalapeno pepper, and peanut butter. Combine well.

In a large skillet over medium-high heat, heat olive oil.

Using salt and pepper, season pork butt on all sides to taste. Add to skillet and sear on each side for approximately 2-3 minutes per side. Transfer seared pork butt to slow cooker.

Reduce heat to medium and, using fresh pineapple juice, deglaze the skillet. Don't forget to scrape up brown bites from the bottom of the pan with a spatula. Once this is done, remove the skillet from heat and pour the juices into the slow cooker with the rest of the ingredients.

Set the slow cooker to high for 3-4 hours or low for 6-8 hours.

When the slow cooking cycle is complete, add fresh cilantro and stir to combine. Remove pork and pineapple mixture using a slotted spoon and transfer to a serving platter. Keep warm.

Optional step: Create a slurry with 2 tablespoons arrowroot and ¼ cup slow cooker juices. Transfer remainder of juices to a large skillet over medium-high heat and whisk the arrowroot slurry into the juices until well combined. Cook for a few minutes, until sauce is reduced and thickened.

Serve pork and pineapple mixture over a bed of cooked cilantro-lime rice or brown rice. If desired, top with thickened sauce or juices.
Notes
Important Tip: Prior to roasting, trim as much excess fat as possible from the pork butt. By doing so, you'll greatly reduce the amount of fat that ends up in the juices/sauce.
Nutrition
Calories:
497
kcal
Carbohydrates:
21
g
Protein:
48
g
Fat:
24
g
Saturated Fat:
7
g
Cholesterol:
155
mg
Sodium:
722
mg
Potassium:
1000
mg
Fiber:
2
g
Sugar:
13
g
Vitamin A:
717
IU
Vitamin C:
69
mg
Calcium:
67
mg
Iron:
4
mg