Chicken Pot Pie is one of those recipes that is absolutely to die for.
We're talking about comfort food that makes you want to pick up a fork and dig right into the great big pan of goodness without even bothering to dish it up on a plate. Because seriously...why take the time to waste a dish when you could dive right into a pan full of goodness?
Chicken Pot Pie is deep. It's full of veggies, thickened broth and bread that is out of this world delicious. You really won't regret taking a bite (or twenty) out of this dish of goodness.
And we seriously are talking about comfort food at its finest.
Pair this baby up with some of the finest Homemade Mac and Cheese you could possibly imagine, an Homemade Mac and Cheese, or an ice cream dessert you won't soon forget.
Did we mention the chicken?
You really can't indulge in a Chicken Pot Pie without extremely juicy and flavorful chicken. I can't really think of a reason that you wouldn't want to try this amazing recipe.
We're talking about a Chicken Pot Pie that is hearty, full of ingredients you can get behind, and flavor that you can truly savor in each and every bite that you take.
All in all--a meal that will fill you up and keep you fueled up.
And did we mention the sauce?
Because you know that Chicken Pot Pie should basically be graded by the level of flavor in the sauce, right?
This one's got you covered, and then some.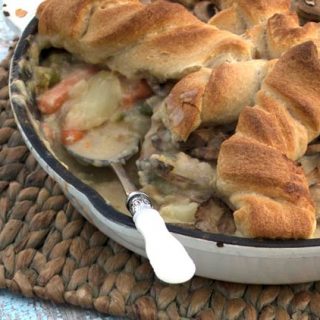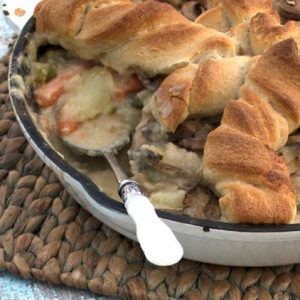 Crowd Pleasing Chicken Pot Luck Pie
Enjoy this crowd pleasing Chicken Pot Luck Pie when hosting a dinner party!
Ingredients
1 ½

pounds

boneless skinless chicken breasts

2

cups

red potatoes

quartered

2

cups

of baby cut carrots

3 ½

cups

of chicken broth

1

pound

fresh asparagus spears

trimmed and cut into pieces

8

tablespoon

butter

divided

1

onion

chopped

6

tablespoon

flour

½

teaspoon

season salt

1 ½

cup

whipping cream

1

8 oz. package fresh mushrooms, sliced

1

8 oz. can refrigerated garlic bread sticks
Instructions
How to Make It:
Allow the oven to preheat to 350 degrees.

Spray the bottom only of a 13X9 inch baking dish with a non stick cooking spray.

Place the chicken, potatoes and carrots into a Dutch oven pan.

Pour the broth over the top.

Place the pan over medium high heat and bring the broth to a gentle boil.

Reduce the heat to medium, cover the pan and simmer 18 minutes.

Add the asparagus and continue simmering for 2 minutes.

Remove the potatoes, carrots and asparagus with a slotted spoon and drain them well.

Remove the chicken to a cutting board to cool slightly.

Remove 2 C of the broth and set aside and throw away the remaining broth.

When the chicken has cooled, tear the pieces into large shreds and return to the pan.

Return the vegetables to the pan and cover the pan.

Melt 6 T of the butter in a saucepan over medium heat.

Stir the onion into the butter and cook for 2 minutes.

Whisk the flour and season salt in with the onions.

Stirring continuously cook 1 minute or until the flour bubbles but isn't brown.

Slow stir in the 2 C of reserved broth and bring the broth to a boil.

Stir and boil for 1 minute.

Reduce the heat to low and stir in the whipping cream.

Cook the sauce, stirring continuously, for 5 minutes or until thick.

Pour the sauce over the chicken and vegetables stirring to coat well.

Spread the mixture evenly into the prepared baking dish.

Sprinkle with the mushrooms.

Separate the breadstick dough into 8 strips.

Twist 3 strips of the dough and place them lengthwise over the mixture.

Twist the remaining 5 strips of dough and place them crosswise over the top to form at lattice pattern.

Melt the remaining butter in a small bowl in the microwave.

Brush the breadstick dough strips with the melted butter.

Bake 35 minutes or until the mixture is bubbly around the edges.

If the dough seems to be browning to quickly cover the pan with foil and finish baking.
Nutrition
Calories:
218
kcal
Carbohydrates:
11
g
Protein:
15
g
Fat:
13
g
Saturated Fat:
7
g
Cholesterol:
78
mg
Sodium:
456
mg
Potassium:
507
mg
Fiber:
2
g
Sugar:
3
g
Vitamin A:
3698
IU
Vitamin C:
10
mg
Calcium:
57
mg
Iron:
2
mg
This old time favorite is a perfect dish to take to a pot luck dinner.  Corn bread sticks may be used in place of the garlic bread sticks if you prefer.  Add 1 can of whole kernel corn, drained and 1 can of sweet peas, drained to the vegetables and chicken before adding the sauce.
But then, that's one of the things we love about recipes like this. You can change them up however you want to use up ingredients you have on hand and know it's going to taste GOOD.
Save