Just thinking about chocolate evokes a pleasurable response for us chocoholics. We'd want to instantly grab a bar of chocolate or a luscious chocolate frappe/milkshake. But worry no more fellow chocoholics, because this Double Chocolate Cookie Bars recipe is perfect for our instantaneous chocolate craving.
This means that we can indulge in chocolate anytime we want. Hence, you'll want to try these Double Chocolate Cookie Bars! They are just as amazing as they look.
Enjoy Chocolate with this Easy Cookie Bars Recipe
Trust us. You want to try this Double Chocolate Cookie Bars Recipe.  Get ready to have a taste and start to say that life is really good with chocolates!
Some of our other favorite chocolate recipes you might enjoy: Chocolate Breakfast Biscuits, Coconut Chocolate Pudding, and Dark Chocolate Almond Truffles.
Love Chocolate?
Then you'll love the recipes in these chocolate-loving cookbooks as much as we do:
Chocolate is just all kinds of yum!
Undoubtedly, chocolate tastes supreme and we are all excited to eat it. We're pretty sure you will love this delicious and mouth-watering cookie bar.
Add nuts to make our top-notch chocolate cookie bar recipe utterly amazing.
Like nuts? These chocolate bars are even better combined with nuts--the bigger, the better! Yummy, right?
Double Chocolate Cookie Bars make the best dessert.
More so, Double Chocolate Cookie Bars are really a easy to make.  This is not just a plain and simple chocolate we're talking about, but a sweet yet chunky and chewy cookie bar that will satisfy every taste bud.
Indulge. What are you waiting for?
Gear up and turn on your oven. Get in your kitchen and in no time you'll be savoring this indulgence of a lifetime -- Double Chocolate Cookie Bars! Just make sure to save a couple for us.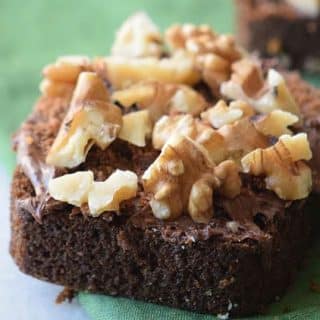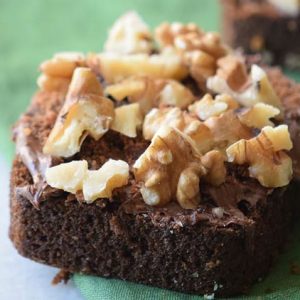 Double Chocolate Cookie Bars
Calling all chocolate lovers! This recipe is for you!
Instructions
Preheat oven to 350ºF.

In a bowl cream the sugar and butter.

Add the egg, chocolate milk, and vanilla. Mix for 3 minutes.

Add the flour, cocoa powder, and baking powder and mix until no lumps are left.

Pour the batter into a greased baking pan.

Take to the oven and bake for 20 – 30 minutes.

Remove from the oven and set aside to cool for 15 minutes.

Cut into bars and top with the chocolate hazelnut spread and chopped walnuts.

Serve and enjoy.
Tips: Serve warm with vanilla ice cream and chocolate chips on top.
Nutrition
Calories:
360
kcal
Carbohydrates:
57
g
Protein:
9
g
Fat:
13
g
Saturated Fat:
2
g
Cholesterol:
44
mg
Sodium:
149
mg
Potassium:
241
mg
Fiber:
4
g
Sugar:
28
g
Vitamin A:
99
IU
Calcium:
126
mg
Iron:
3
mg