Toasted Coconut Chocolate Pudding
Ah, dessert.
Sweet treats are meant for savoring, and this Toasted Coconut Chocolate Pudding is no different. We especially love the combination of coconut and chocolate, because we don't use coconut very much around here. Yes...we're one of those families divided--half like coconut and half do not.
We love desserts like these because you can make them as small as you like. Use mini dessert cups to keep your portion smaller if you're counting calories or just want to watch your sweets.
We especially love using dark chocolate chips with this recipe because--dark chocolate.
Pudding desserts are one of the easiest desserts to make. Some of our favorites are Cheesecake Pudding, Snickers Cheesecake Parfait and Hazelnut Icebox Cake.
You can also use chocolate straws or rolled wafers to decorate these yummy desserts. It's a simple and fun (not to mention super tasty) way to add a little pizzazz to an already spectacular dessert.
We also use meringue cookies and Somoa cookies for tasty ingredients to make this amazingly delicious dessert taste even more amazing.
It isn't every day that we make a dessert that we think has the Wow Factor. We did it when we made our Twix Brownie Trifle. There is a reason why that trifle recipe has received so much repeated traffic. Yes...it looks good, but everyone who has made the recipe agrees that it tastes spectacular.
Chocolatey desserts are meant to be savored, treasured, and made again. We're pretty sure you will decide our Toasted Coconut Chocolate Pudding is worthy of making again and again. It's that good.
Recipe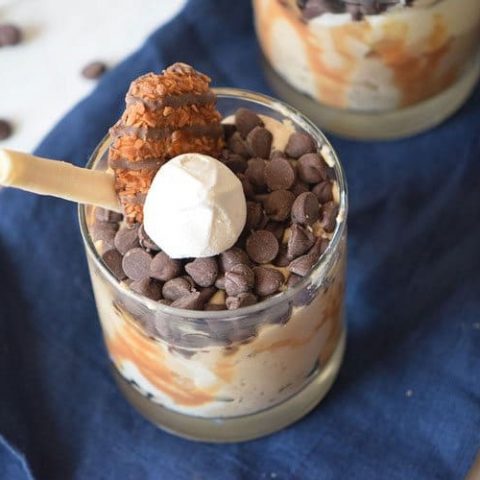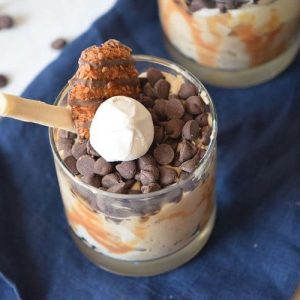 Toasted Coconut Chocolate Pudding
Coconut Chocolate Pudding Recipe for a rich and delicious dessert recipe that is easy to put together any day of the week.
Instructions
In a sauce pan over medium high heat mix the milk with the heavy cream, the brown sugar and the vanilla and coconut extract. Add the coconut and slowly incorporate the cornstarch.

Bring to a boil and let it simmer for 1 minute stirring constantly.

Remove from the heat and swirl in the caramel.

Pour into glasses, top with the chocolate chips, the cookies, rolled wafers and meringue cookies and refrigerate for 2 hours or overnight.

Serve and enjoy.
Nutrition
Calories:
2781
kcal
Carbohydrates:
295
g
Protein:
46
g
Fat:
161
g
Saturated Fat:
93
g
Cholesterol:
441
mg
Sodium:
1544
mg
Potassium:
1904
mg
Fiber:
7
g
Sugar:
139
g
Vitamin A:
5250
IU
Vitamin C:
3
mg
Calcium:
1395
mg
Iron:
4
mg
Tips
If you don't have coconut extract just substitute it for more vanilla extract. Order some for next time so you have it on hand when you're ready to make this dessert again. Because we're pretty sure you'll want to share Toasted Coconut Chocolate Pudding the next time you have friends over.