Ham & Cheddar Potluck Sandwiches
Hi! I'm Candi, and I'm so excited to be a contributor here at All She Cooks!!
My life is pretty crazy, with 4 kiddos, 2 cats and a husband, as well as a job and endless amounts of laundry, and dishes, and any other number of messes... I definitely feel like my life is a run-away train most days! I post about freezer meals and make-ahead recipes, because dinner is my nemesis, and if I don't make it ahead of time, it doesn't usually get made at all! (I'm probably the only one with that problem...)
Now that summer is here, I'd love to introduce you to my Easy Ham & Cheddar Potluck Sandwiches!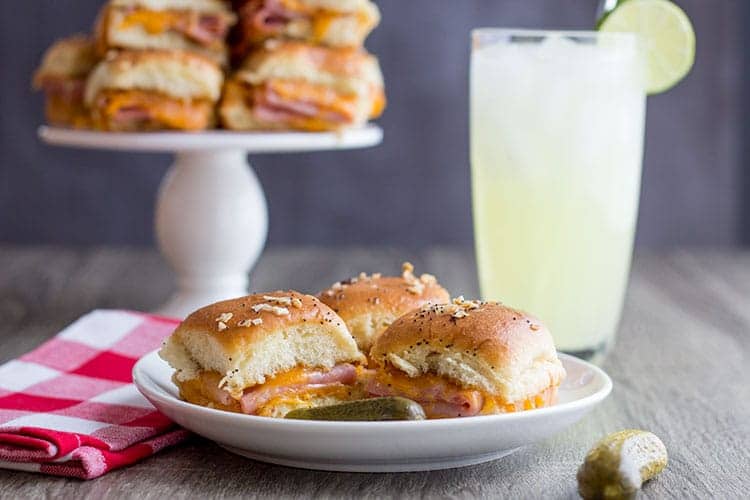 These are so easy to make, and you can prep them ahead of time and refrigerate or freeze until needed! Because who wants to be stuck inside all day preparing a meal for a potluck?
I like to save time when making these and use store-bought sweet rolls, deli meat, sliced cheddar cheese and some honey dijon mustard for just a little kick.
You'll want to pull your rolls out of their package and cut them as one big roll, so that you have one top "piece" and one bottom "piece". Spread each half with a layer of honey dijon mustard. Then put a layer of cheese on both halves, and one layer of meat on the bottom half.
When I make these potluck sandwiches for home, I just lay the cheese and ham out to cover the rolls, and then cut the sandwiches apart when serving. However, if you're making these to take for a picnic or potluck, you will want to layer the cheese and ham separated over each roll section. That way, when you get to your destination you can easily pull the rolls apart into individual sandwiches - no cutting needed.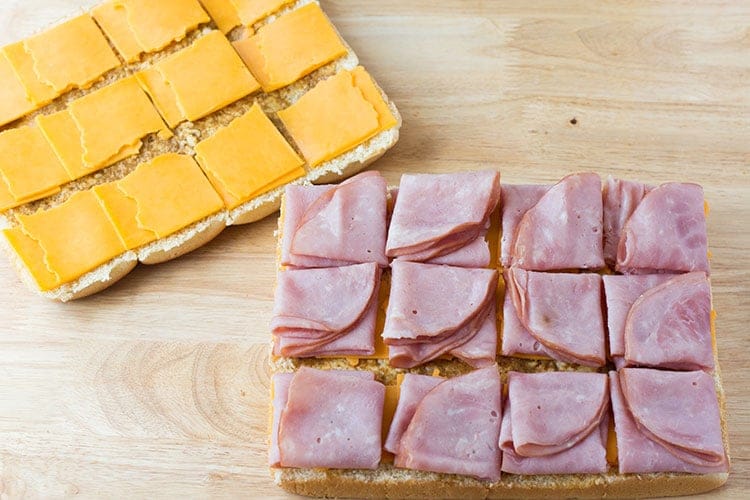 Once assembled, brush with a mixture of melted butter, minced onions and poppy seeds! For potlucks and other gatherings, I recommend making these potluck sandwiches in a disposable aluminum foil pan. I get mine at a local warehouse club, but you can find them at grocery stores, Walmart or even your local dollar store. Look for ones that are labeled "roaster" or "roasting pan", rather than cake or lasagna pans (they aren't quite deep enough).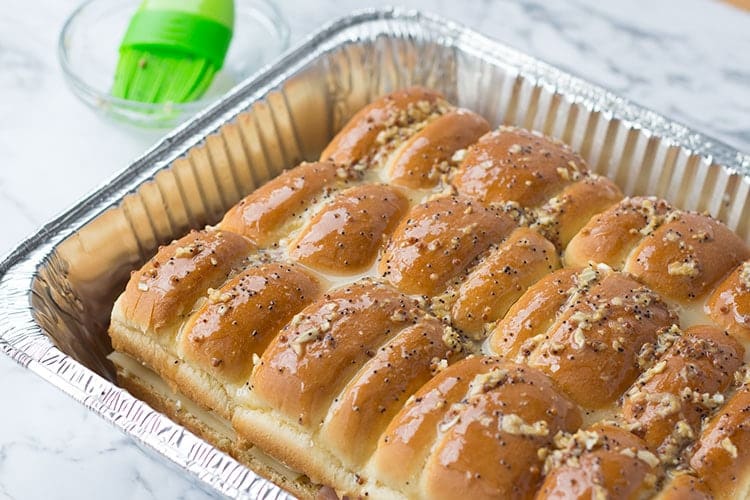 Cover with aluminum foil and refrigerate for up to 3 days, or freeze for up to a month. Be sure to label with the contents and date! (If you're freezing these, pull them out the night before to thaw in the refrigerator before baking.)
When you're ready to make, stick the tray of sandwiches in a 400 degree Fahrenheit oven, covered, for 20-25 minutes, until the cheese is fully melted and the sandwiches are warmed throughout. Then sit back, relax and enjoy!
And if you're looking for an easy summer side dish to accompany these potluck sandwiches, check out our Best Fruit Salad, Cucumber Noodles with Fresh Pesto, or Heirloom Tomato Salad!
Recipe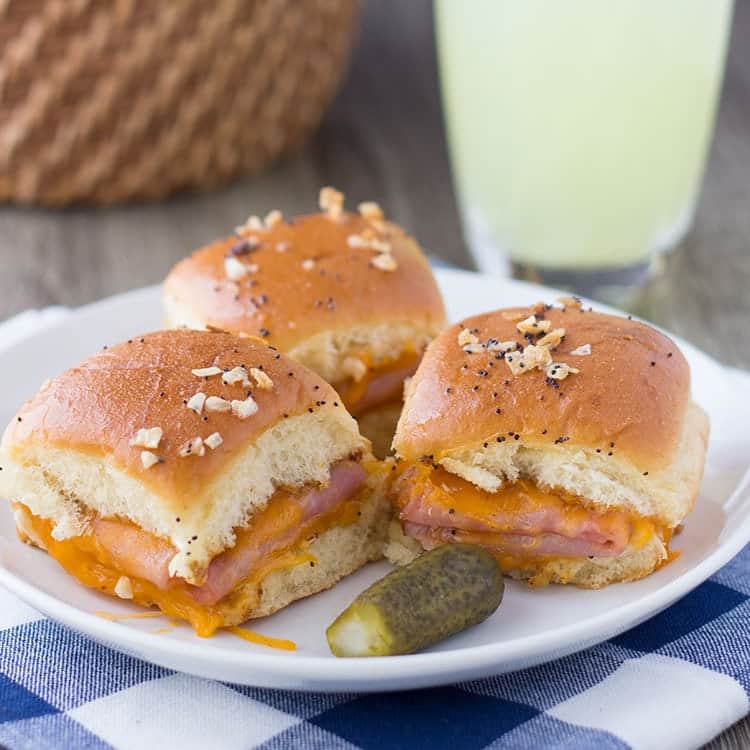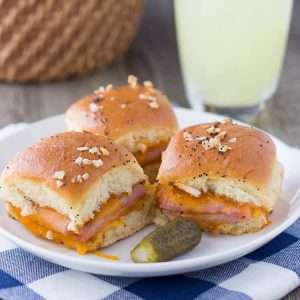 Easy Ham & Cheddar Potluck Sandwiches
Perfect for picnics or potlucks, small gatherings or large crowds, these easy ham & cheddar sandwiches are sure to please!
Ingredients
1

pkg. sweet dinner rolls

10

slices

cheddar cheese

9

oz.

thin-sliced deli ham

½

cup

honey dijon mustard
For butter topping:
2

tablespoons

butter

melted

1

teaspoon

dry minced onion

¼

teaspoon

poppy seeds
Instructions
Remove rolls from package and slice horizontally, as if you were cutting one big roll, so that you have one large top portion, and one large bottom portion.

Spread mustard over both halves of rolls.

Cut cheese slices into quarters and arrange two quarters over each individual roll, for both the top and bottom sections.

Layer 2 pieces of ham, folding as needed, over each individual roll, on the bottom section only.

Carefully flip top section over on top of bottom section, lining up individual rolls.

Place entire rectangle of sandwiches into a disposable aluminum roasting or steam table pan (make sure it is about 3 inches deep).

Combine ingredients for topping and gently brush over top of sandwiches.

Cover pan with aluminum foil. Refrigerate for up to 3 days, or freeze for up to 1 month. (If freezing, be sure to pull the pan out to thaw overnight in the refrigerator before baking.)

Bake, covered, in a 400 degree Fahrenheit oven for 20-25 minutes, until the cheese is fully melted and sandwiches are heated through.
Nutrition
Calories:
139
kcal
Carbohydrates:
6
g
Protein:
8
g
Fat:
9
g
Saturated Fat:
4
g
Cholesterol:
29
mg
Sodium:
402
mg
Potassium:
78
mg
Sugar:
3
g
Vitamin A:
142
IU
Calcium:
107
mg
Iron:
1
mg