This recipe is by far my favorite Christmas recipe. There's nothing about the dish that makes it particularly Christmassy, but it's been a Christmas morning tradition in my family for as long as I can remember. Since it does take some time to prepare, my mother only ever makes it for Christmas morning (usually assembling it the day before, refrigerating it overnight, and baking it in the morning), so it's always been a very special treat in our family. Eating this casserole always takes me back to previous Christmases and all the wonderful memories that we've made.
This casserole doesn't just carry sentimental value, though. It packs a ton of flavor, including boiled eggs, bacon, cheese sauce, and (I know it sounds weird) potato chips. It's just the right blend of crunchy and creamy, and I can never have just one serving! Needless to say, there are rarely leftovers.
An added bonus is that it's very simple to make gluten free. Since the flour is only included as a thickening agent, it can easily be substituted with a good gluten free all-purpose flour, which can be found at most large grocery stores, rice flour, or even corn starch. If you don't need to make it gluten free, you can just stick with regular flour. I'm so glad that I can still eat this even now that I'm gluten free.
Ingredients:
8 eggs, boiled and sliced
10-12 slices of bacon, crisp and crumbled
¼ cup chopped onion
2 tbsp gluten free flour or cornstarch
6-8 oz velveeta cheese
1 ½ cups crushed potato chips
2 tbsp butter
1 ½ cups milk
Cook the onion in butter until it's tender, then blend in flour. Use gluten free all purpose flour, rice flour, or cornstarch to ensure that the recipe is gluten free. Add milk to the mixture and cook until thickened, stirring constantly. Chop up the cheese and add it in, stirring until melted. Place a layer of sliced egg in the baking dish. Cover with half of the cheese sauce, half of the potato chips, and half of the bacon. Repeat. Bake at 350 for 15-20 minutes, and it's ready.
I recommend serving it up with some other breakfast favorites, like biscuits and gravy, bacon, and fruit. I hope you and your family enjoy this recipe as much as I have!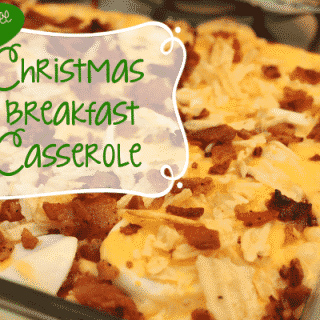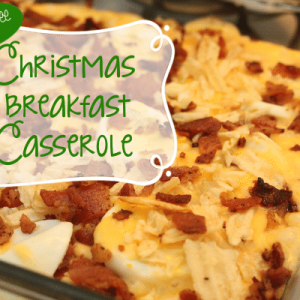 Gluten Free Christmas Breakfast Casserole
Wake up to a delicious warm breakfast on Christmas morning with this Christmas Breakfast Casserole.
Ingredients
8

eggs

boiled and sliced

10-12

slices

of bacon

crisp and crumbled

¼

cup

chopped onion

2

tbsp

gluten free flour or cornstarch

6-8

oz

velveeta cheese

1 ½

cups

crushed potato chips

2

tbsp

butter

1 ½

cups

milk
Instructions
Cook the onion in butter until it's tender.

Blend in flour. (Use gluten free all purpose flour, rice flour, or cornstarch to ensure that the recipe is gluten free.)

Add milk to the mixture and cook until thickened, stirring constantly.

Chop up the cheese and add it in, stirring until melted.

Place a layer of sliced egg in the baking dish.

Cover with half of the cheese sauce, half of the potato chips, and half of the bacon.

Repeat.

Bake at 350 for 15-20 minutes
Nutrition
Calories:
702
kcal
Carbohydrates:
32
g
Protein:
32
g
Fat:
50
g
Saturated Fat:
16
g
Cholesterol:
391
mg
Sodium:
1364
mg
Potassium:
1046
mg
Fiber:
2
g
Sugar:
9
g
Vitamin A:
1061
IU
Vitamin C:
7
mg
Calcium:
416
mg
Iron:
2
mg