What is in a Greek Salad Recipe?

We all know that salad is good for you. There is no debating that. But, did you also know that Greek Salad in particular is not only colorful but full of ingredients that are beneficial for you health?
Now, you can buy Greek seasoning, or you can make your own like what we have in this recipe. Either way, you're in for a delicious treat.
It's true.
This beautiful salad tastes as good as it looks! Although you don't have to spend the time arranging the toppings as they are presented here, be sure to tuck this idea away for the next time you need to bring an attractive and delicious dish to a family gathering or potluck dinner.
We LOVE salad around here. From Italian Chopped Salad to Caprese Salad to the best ever Chicken Salad--we've got salad on the brain. It's good, it's healthy and there isn't a reason in the world why we shouldn't indulge in this delicacy.
Tip: If desired, to reduce the bite of raw red onion, soak it in a small bowl of water and vinegar for up to half an hour before using. Personally, we love red onion in our household and forgo this step...but if you're not as tolerant to onion or wish to make it a little less strong, you can certainly use this helpful tip.
Tools and supplies needed: non-reactive bowl, vinegar, basil, garlic, mustard, olive oil, oval serving bowl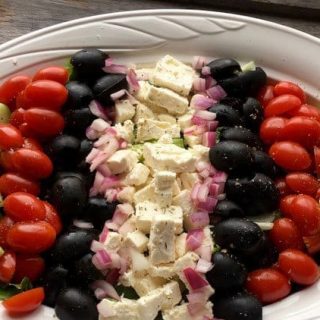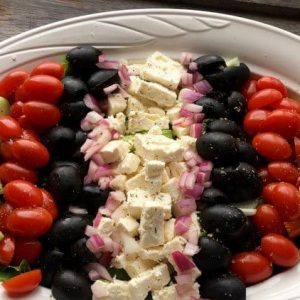 Hearty Greek Salad
Healthy Greek Salad recipe is a good recipe for getting your diet on track this year.
Ingredients
Greek Dressing:
¼

cup

red wine vinegar

2

teaspoon

dried oregano

2.

tablespoon

fresh basil

finely chopped

1

clove

fresh garlic

peeled and finely minced

2

teaspoon

red onion

finely minced

1

tablespoon

Dijon mustard

½

cup

extra virgin olive oil
salt and pepper

to taste
Salad Ingredients:
2

large heads Romaine lettuce

washed, patted dry, and chopped into bite-sized pieces

4

ounce

feta cheese

cut into small, uniformly sized pieces

8

ounce

can black olives

drained and roughly chopped

1

pint

grape tomatoes

washed and cut in half lengthwise

1

large cucumber

peeled and sliced, then cut into quarters

¼

red onion

finely chopped
Garnish (optional):
additional dried oregano.
Instructions
Total Prep Time: 30 minutes
Add red onion to a small glass bowl and barely cover with a mixture of equal parts water and red wine vinegar. Set aside.

In another small non-reactive bowl, combine vinegar, oregano, basil, garlic, red onion, and mustard. Slowly whisk in olive oil until the mixture is emulsified. Season with salt and pepper, to taste. Set aside.

Add prepared Romaine lettuce to a large oval serving bowl. Starting in the center, add the feta cheese to form a row. On each side of the feta, add a row of chopped black olives. Then add two rows of sliced grape tomatoes on the other side of the black olives. Finish by filling in the far end with the sliced cucumbers.

Once all ingredients are in place, drain the red onions and gently pat dry. Then carefully arrange them in a thin row on either side of the feta cheese. You want to wait until the end to add the onion to give them time to soak and to prevent them from falling down between the larger toppings and getting lost.

If desired, sprinkle the top with additional dried oregano and serve immediately with Greek Dressing - or cover and place in the refrigerator for up to one day before serving.
Nutrition
Calories:
441
kcal
Carbohydrates:
12
g
Protein:
7
g
Fat:
42
g
Saturated Fat:
9
g
Cholesterol:
25
mg
Sodium:
1252
mg
Potassium:
481
mg
Fiber:
5
g
Sugar:
6
g
Vitamin A:
2671
IU
Vitamin C:
20
mg
Calcium:
212
mg
Iron:
2
mg