This flavorful St. Patrick's Day treat is a delicious blend of cream cheese, coconut, and cinnamon. While the name is Irish Potato Candy, you'll find there aren't potatoes in this recipe.
This delicious coconut candy recipe features a yummy blend of ingredients that will cure your sweets craving.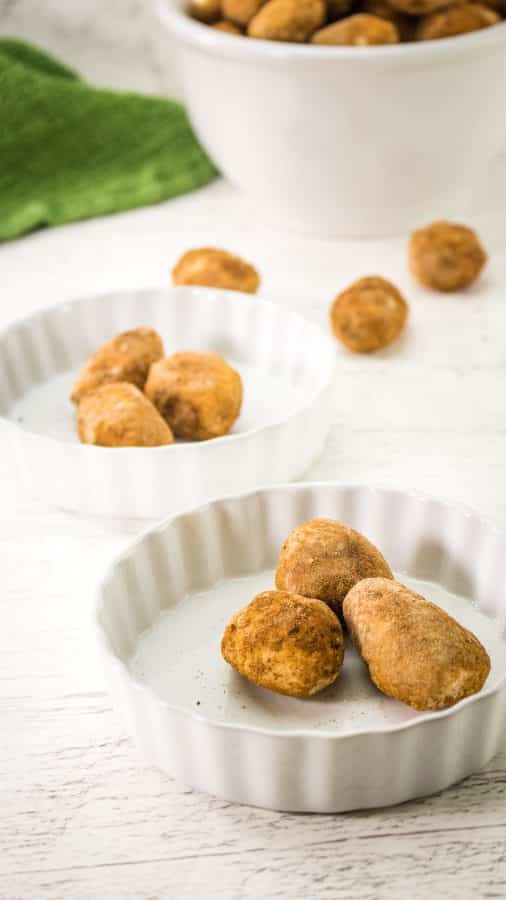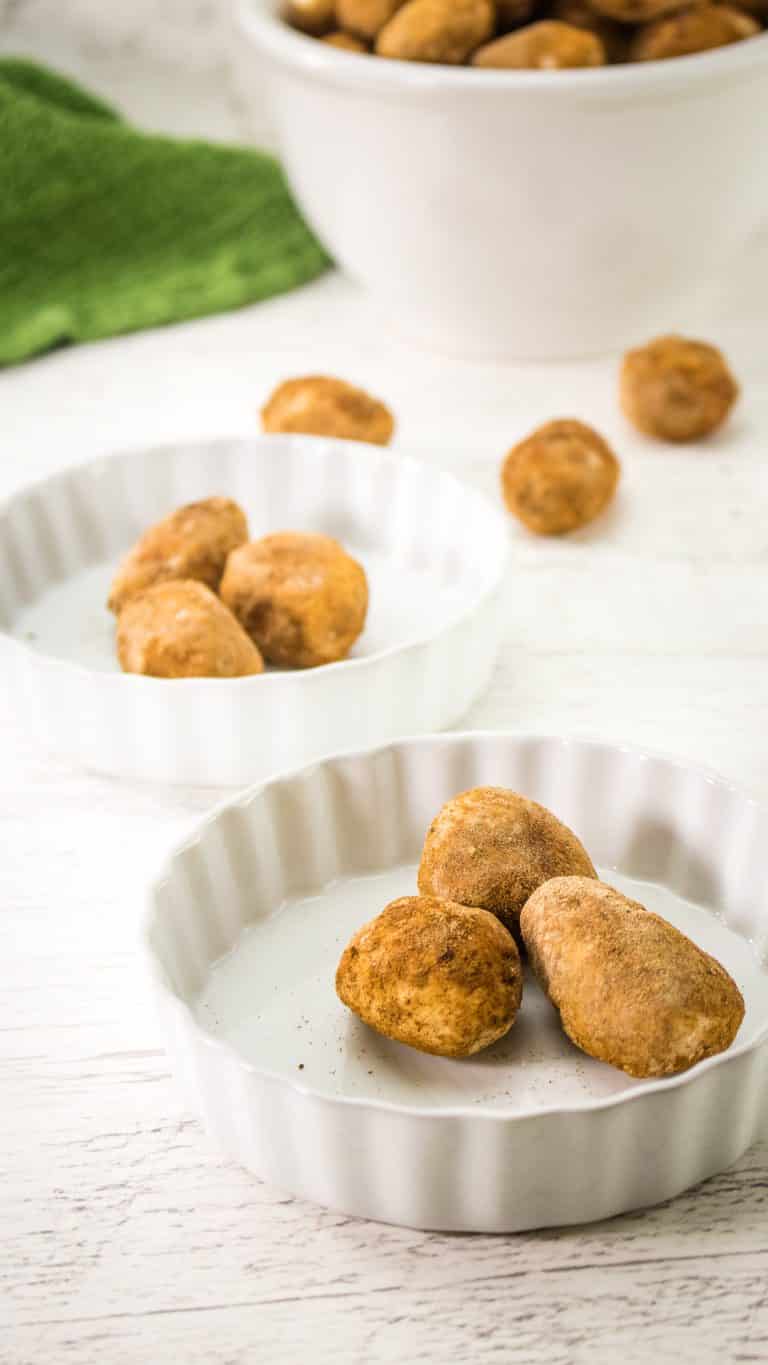 This Irish candy recipe is traditionally made for St. Patrick's Day but you can enjoy the delightful flavor combination any time of year. You'll only need a little over an hour to make this yummy treat.
The ingredients include butter, cream cheese, salt, powdered sugar, coconut flakes, and cinnamon.
I'm sure most of you have these ingredients on hand to make this coconut candy recipe. Some people have used high-quality cocoa powder to coat these yummy candies.
Whether you opt to use my recipe as is or coat your Irish Potato Candy with cocoa powder, I'm confident this will be your new favorite sweet treat.
You Might Enjoy These Desserts for St. Patrick's Day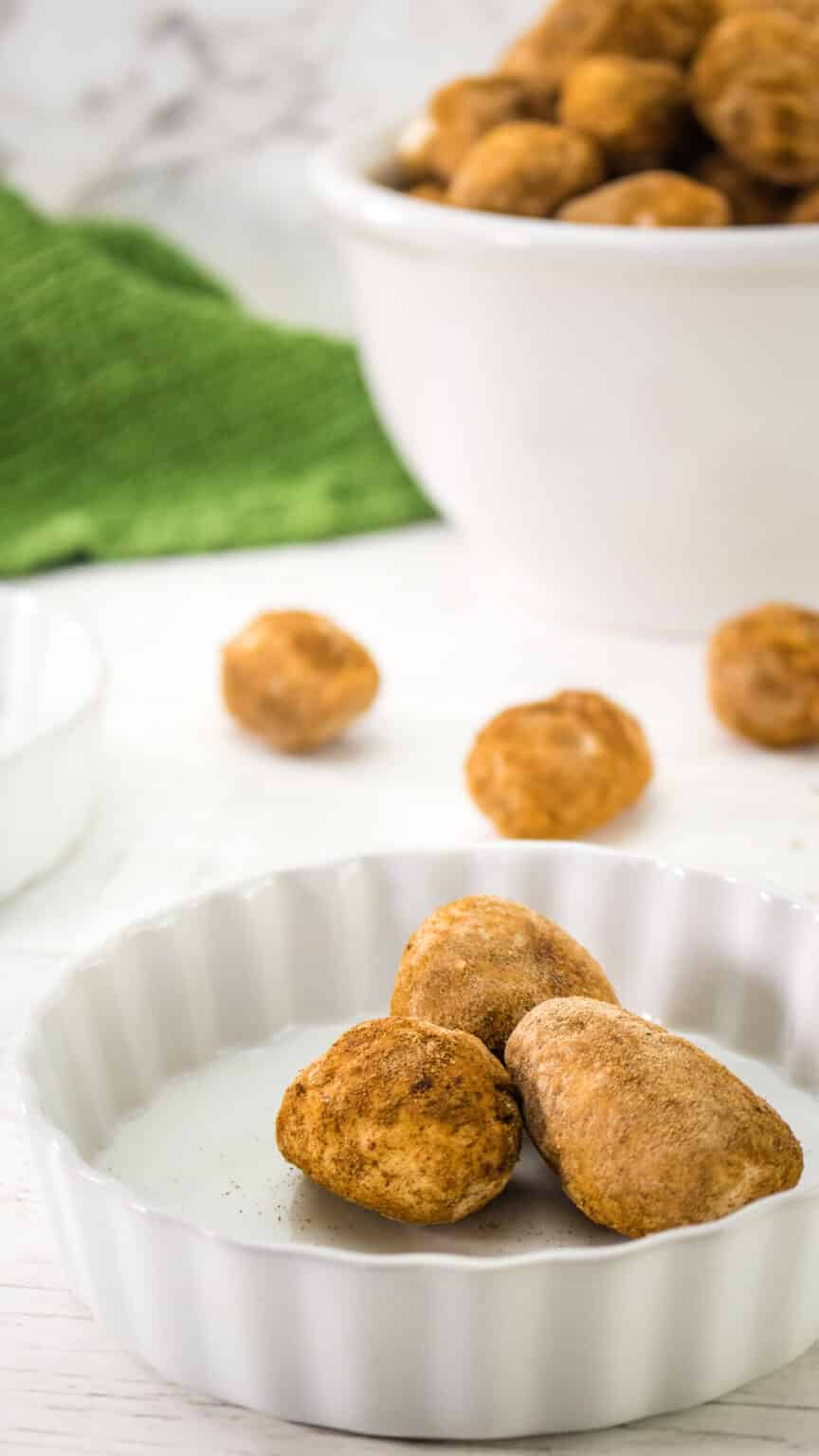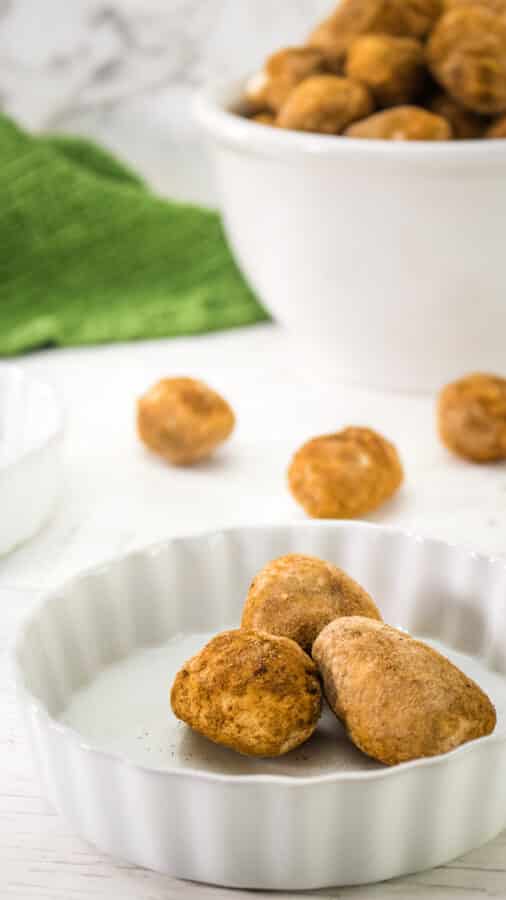 What are Irish potatoes made of?
Irish Potato Candy gets its name from its appearance. It may sound confusing that a candy made from coconut, cream cheese, cinnamon, and sugar includes potato in the name.
The name for Irish potato candy comes from the appearance of these delicious treats, as opposed to the ingredients list.
Each of these little bites of coconut candy looks like a potato. This is an excellent option to serve as an appetizer or after-dinner treat during your St. Patrick's Day party this year.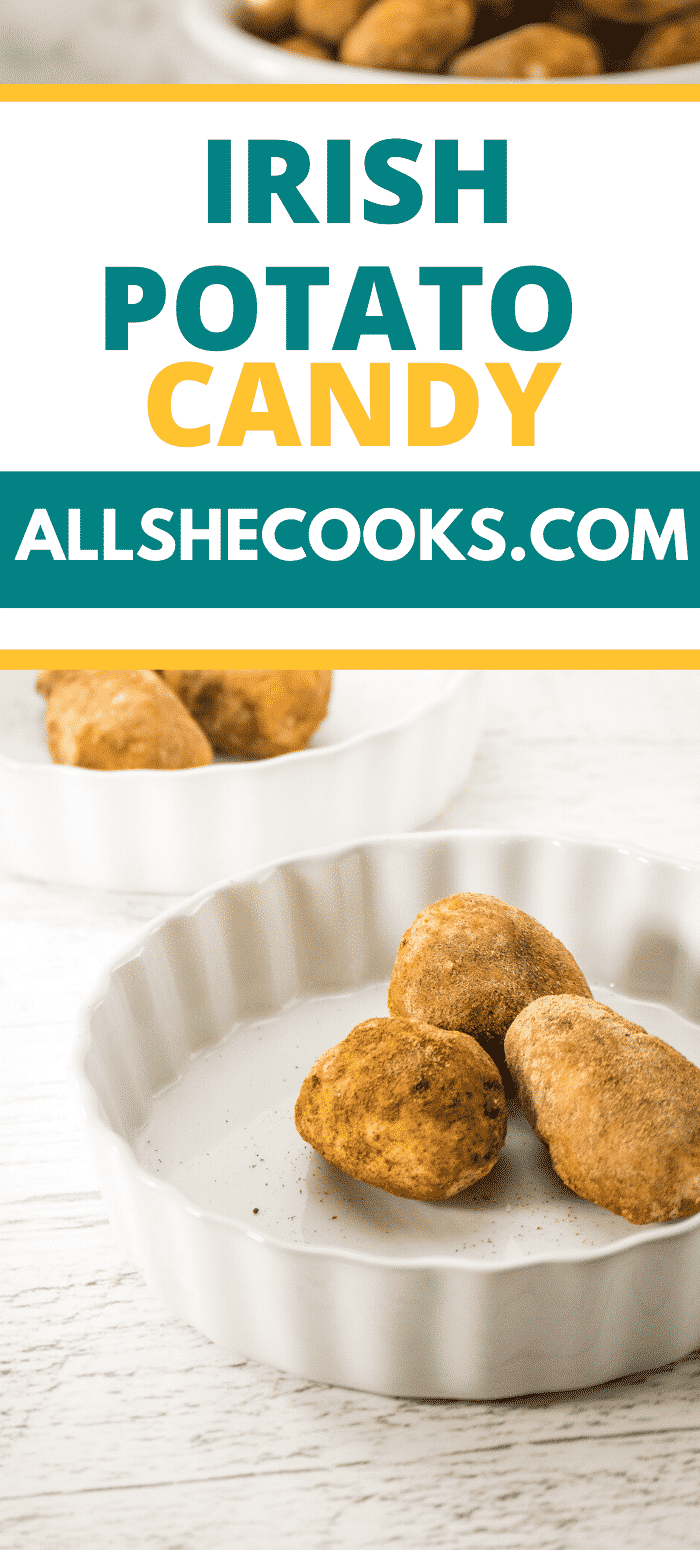 What can I make out of coconut?
I have leftover coconut flakes from time to time and wonder what I can make out of coconut. That's when it dawned on me that this is the month to celebrate St. Patrick's Day.
I simply had to whip up this Irish potato candy recipe to use up those coconut flakes and serve something festive.
There are many recipes you can make out of coconut. Coconut is one of those ingredients that work well for dinner recipes, appetizer recipes, and desserts.
I love how versatile coconut is and tend to use coconut flakes in recipes as often as possible.
Should Irish potatoes be refrigerated?
You'll need to freeze your Irish candy recipe for these little treats to set properly. If you're making this Irish potato candy ahead of time, they'll be fine if you store them in an airtight container in your refrigerator for up to two weeks.
This potato candy recipe works well with other St. Patrick's Day desserts to serve during this Irish holiday in March. Whether you're looking to make something fun with the kids or serve to guests for your next special event, you'll find that this coconut candy recipe is quite a hit!
How to Make Irish Potato Candy
You'll gather the list of ingredients below to make this potato candy recipe. Once you have the ingredients ready, mix the butter and cream cheese.
Add in your salt and then the powdered sugar one cup at a time, slowly mixing the ingredients.
Next, you'll add in the coconut flakes and form the candy into small balls. Mix the cinnamon and one tablespoon of powder sugar in a separate bowl.
Roll the candy balls into the cinnamon and sugar mixture until fully coated.
Put your coconut candy balls on a sheet that's covered in parchment paper and let freeze for one hour.
Once your Irish candy recipe is frozen, you can place your Irish Potato Candy on a serving tray to give your guests a coconut flavored treat during your special event.
Get the latest scoop on all the recipes I'm whipping up in the kitchen by following along with All She Cooks on Facebook, Instagram, and Pinterest. Also, don't forget to join my Facebook Group where you can share your favorite blogger recipes: Easy & Delicious Recipes.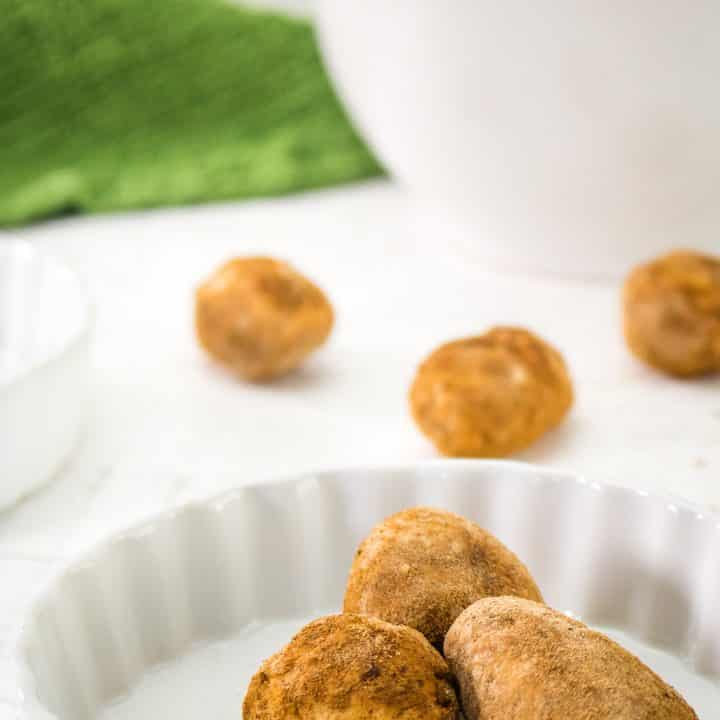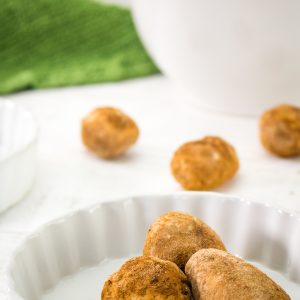 Irish Potato Candy
Irish Potato Candy is a classic candy recipe with cream cheese and coconut that is coated in cinnamon, or sometimes coated in high quality cocoa powder.
Ingredients
4

tablespoons

unsalted butter

softened to room temperature

4

ounces

cream cheese

softened to room temperature

¼

teaspoon

salt

4

cups

powdered sugar

plus 1 tablespoon (divided)

2

cups

coconut flakes

2-3

tablespoons

cinnamon for dusting
Instructions
Mix butter and cream cheese.

Add in salt and then slowly add in 4 cups powdered sugar, about a half a cup at a time.

Mix in the coconut flakes.

In a small bowl, combine cinnamon and one tablespoon powdered sugar.

Form teaspoon size balls or potato-shaped ovals and then roll the balls in the cinnamon mixture. Place candy on a parchment paper-lined baking sheet and freeze for 1 hour to set.
Nutrition
Serving:
1
g
Calories:
140
kcal
Carbohydrates:
23
g
Protein:
1
g
Fat:
6
g
Saturated Fat:
4
g
Polyunsaturated Fat:
1
g
Cholesterol:
10
mg
Sodium:
58
mg
Fiber:
1
g
Sugar:
21
g