This old fashioned fresh Apple Cake recipe with is a delightful treat. With the days getting longer and the weather getting warmer, many of you may be craving a fresh apple cake recipe.
This old fashioned fresh apple cake recipe is a winner for a spring season treat!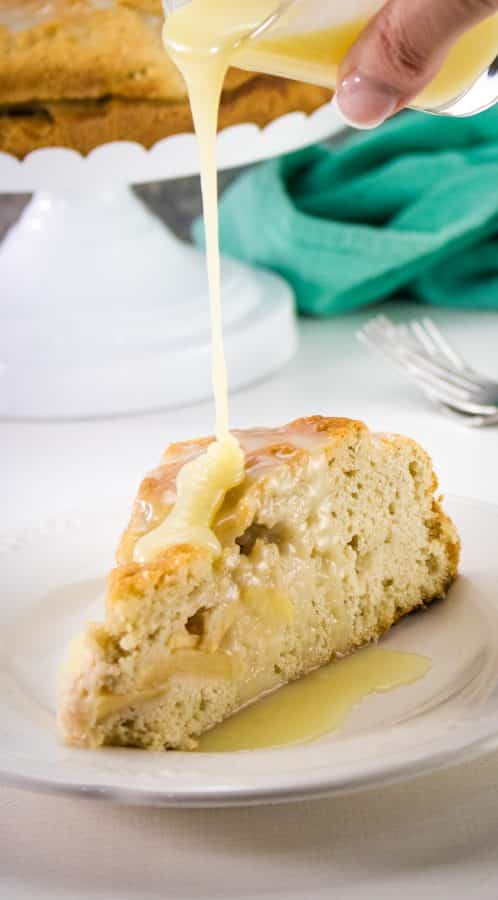 There's nothing tastier than a fresh homemade cake topped with Whiskey Cream Sauce that gives you a flavor burst of fresh apple with every bite.
While searching for traditional Irish Apple Cake recipes, please make sure to bookmark this recipe. My fresh apple cake recipe will quickly become a favorite go-to whenever you're craving the scent and flavor of freshly baked apples.
You Might Enjoy These Desserts for St. Patrick's Day
What is the best baking apple for a cake?
The best baking apple for cake will depend on what flavor you seek. The number one apple that bakers choose is Granny Smith apples while Cortland and Honeycrisp come in second and third.
You can use whatever variety of apple you desire for this old fashioned fresh apple cake recipe.
All you'll need is five apples peeled and sliced into thin pieces for your apple cake recipe with fresh apples.
You'll line the dough with your fresh apples and wrap it up to bake so that you can complete this apple cake recipe within just one hour.
Are McIntosh apples good for baking?
McIntosh apples are good for baking. You can slice up McIntosh apples for this fresh apple cake recipe if you'd like.
This variety of apple tends to be sweet, and tangy at once making it an excellent option for added flavor in your apple cake recipe with fresh apples.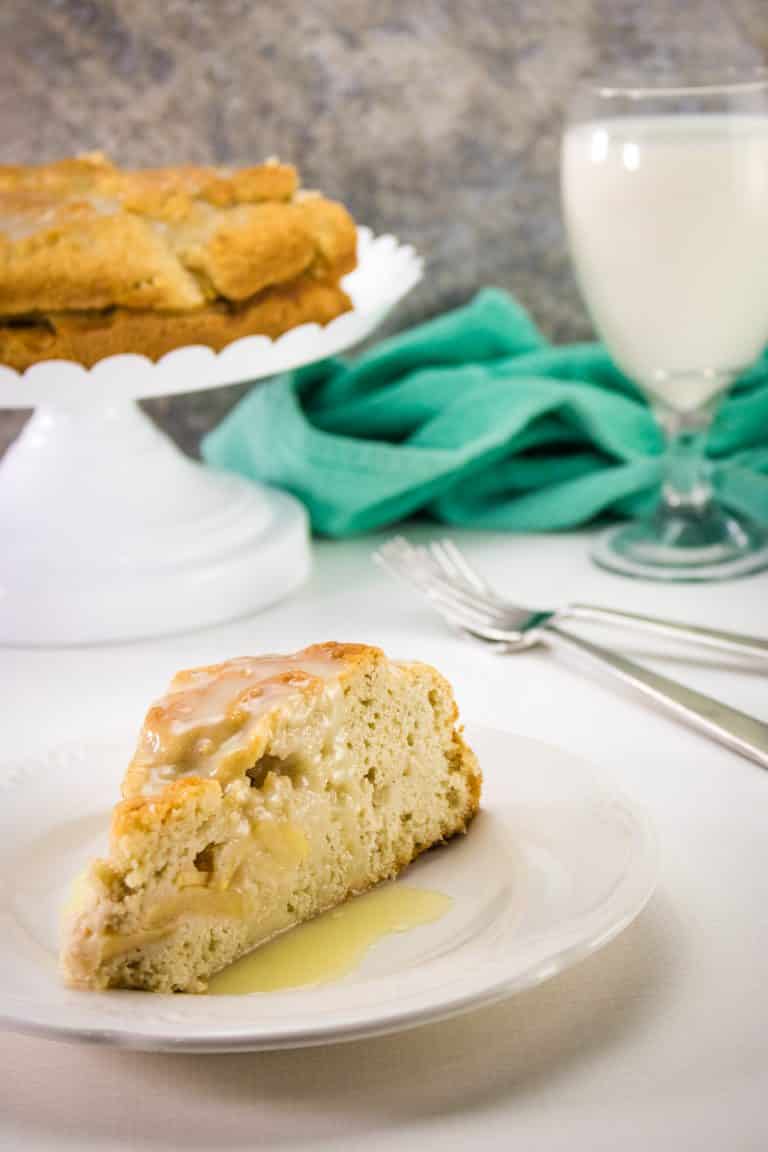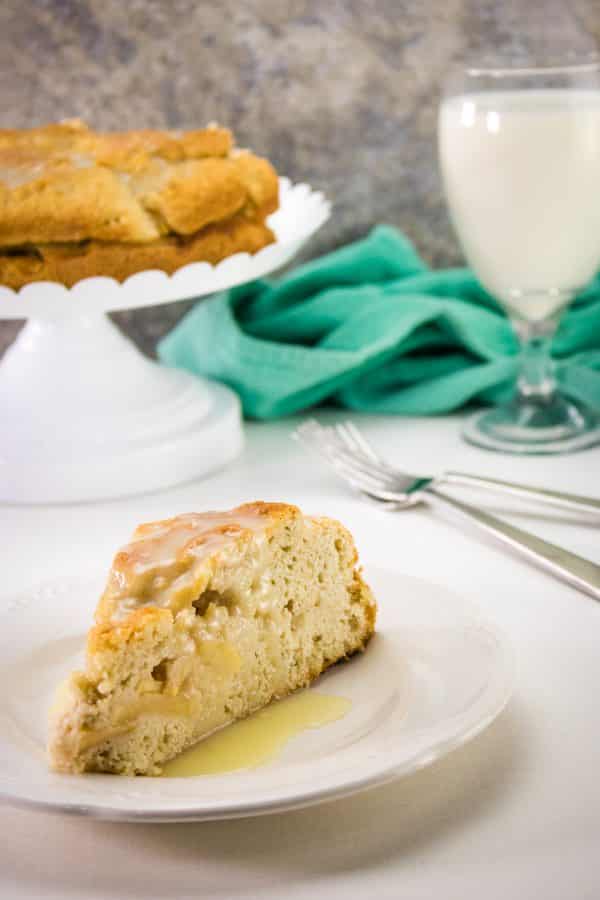 Should you peel apples for old fashioned fresh apple cake recipe?
I highly suggest you peel apples for apple cake. While some of you may like the added texture of apple peels in some traditional apple cakes, this traditional Irish apple cake recipe calls for peeled and sliced apples.
Slicing the apples for this fresh Apple Cake recipe allows you to get that moist texture you'll desire for an old fashioned Apple Cake recipe.
You'll love the added flavor that comes with my Irish Whiskey Cream Sauce. This sauce needs only a few ingredients; heavy cream, white chocolate, and Irish whiskey.
Together these ingredients will give you a flavorful white chocolate cream topping that you'll serve with your fresh apple cake recipe.
There's something magical that happens when you bite into this cake and whiskey cream sauce together.
The Irish whiskey cream sauce and apple flavors blend so well that you won't be able to resist taking another bite of this dessert cake.
It's pretty easy to make this apple cake recipe from scratch. The hardest part, I've found, is mastering the dough.
If this is the first time you're making dough from scratch, then you'll want to practice making dough first. I have thorough step by step instructions below to make this old fashioned fresh apple cake recipe with homemade dough.
My instructions will help guide you forward in becoming a master at making dough for this traditional cake recipe.
Now that I've discussed the best apples for baking and tips to make this fresh apple cake recipe, it's time to print the recipe card below, get your ingredients all gathered up and start making your old fashioned apple cake today!
Stand Mixer or Hand-held Mixer- This makes it SO much faster to whip the topping. Like I said above, it can be done without a mixer, but make sure you have a strong arm and patience. I have a KitchenAid Pro Mixer that I've had for 12+ years and love it!
Round Cake Storage and Carrier- Having a pan with lid and carrier makes it easier for storage. No more having to deal with plastic wrap that gets messy and twisted up.
8-inch Parchment Rounds- No more dealing with cake sticking to the bottom of the pan!
Cake Leveler- This tool is a must if you want to make layered cakes. It allows you to evenly remove the rounded part of the cake top and make perfectly level layers.
Cake Server- A good cake server makes a world of difference. It makes it so much easier to lift the dessert lasagna out of the pan in nice and even slices.
Cake Decorating Set- Making a pretty cake is reasonably easy when you use the tools in this decorating set. With a little practice, you will be decorating cakes like a pro in no time.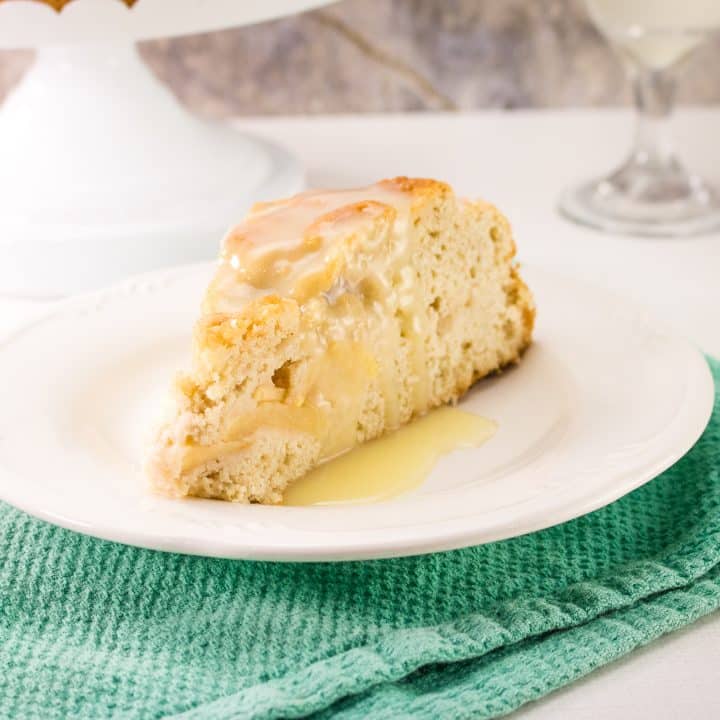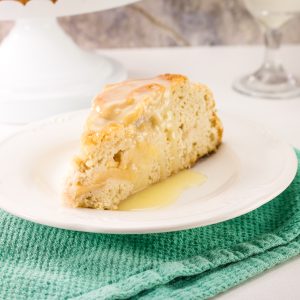 Old Fashioned Fresh Apple Cake Recipe
This Old Fashioned Fresh Apple Cake recipe is topped with a Whiskey Cream Sauce, is moist and delicious and so full of flavor.
Instructions
Preheat oven to 350 degrees.

Combine butter and flour in food processor and blend until crumbly.

Transfer butter and flour mixture to a large mixing bowl.

Add baking powder, salt, cinnamon and ¾ cup of sugar and stir to combine.

Mix in eggs and milk and stir until all ingredients are well mixed in.

Peel and slice apples.

Grease and flour a 10-inch spring-form pan.

On a floured surface, roll out half the dough to a 10-inch circle. Put in the spring-form pan.

Top with apples, and then the second half of the dough.

Bake for 45 minutes or until a toothpick inserted in the cake comes out clean.

To make the topping, heat heavy cream and butter over medium heat until just
boiling, while stirring frequently.

Add white chocolate and Irish whiskey to a mixing bowl. Pour hot heavy cream over the white chocolate and stir until the chocolate has completely melted.

Slice and serve with sauce.
Nutrition
Serving:
1
g
Calories:
572
kcal
Carbohydrates:
70
g
Protein:
8
g
Fat:
30
g
Saturated Fat:
18
g
Polyunsaturated Fat:
10
g
Cholesterol:
93
mg
Sodium:
226
mg
Fiber:
3
g
Sugar:
38
g