This Easy Weeknight Keto Pizza with Pepperoni will be your new favorite keto diet dinner!
If you're on the keto diet ("high fat, low carb"), you've probably figured that pizza is a thing of your past. A single doughy piece of crust has enough grams of carbs to kick you out of ketosis for days!
What if I told you that you could actually eat pizza (every night if you want!) — crust, sauce, and all? And good pizza, too... not some pizza abomination that barely tastes like pizza at all. This Easy Weeknight Keto Pizza is really, really good. So good, in fact, that non-keto dieters will be more than happy to eat it.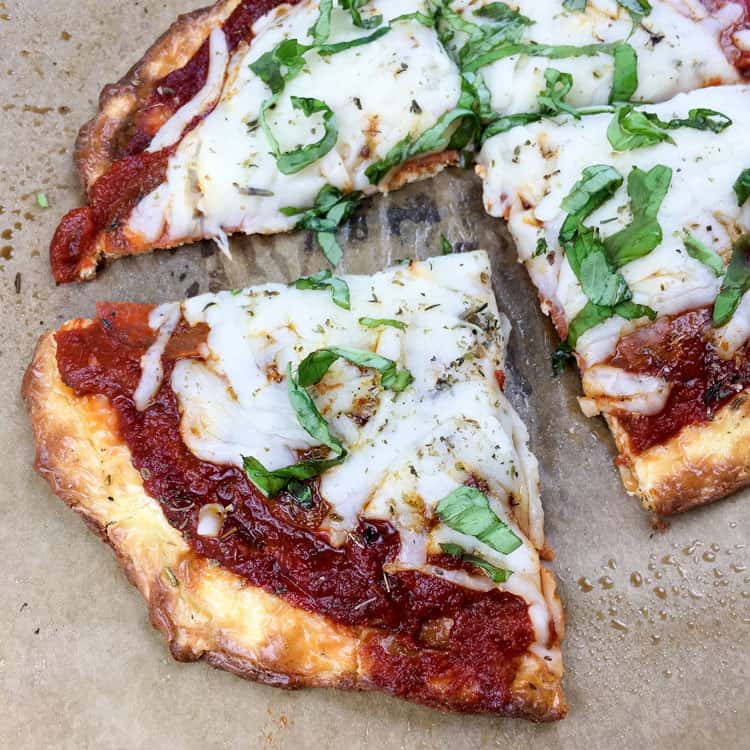 Oh, and don't worry about this being one of those weird keto pizza crusts made out of cauliflower or zucchini — this is not one of those pizza crusts. Best of all, you can make this pizza crust as thin or as thick as you'd like. (See the recipe for a slight baking modification if you want to make a thicker crust.)
What's in this Keto Pizza Recipe
To make the keto pizza crust, you'll use:
Cream cheese
Eggs
Parmesan cheese
Dried basil
Dried oregano
Garlic powder
Salt and pepper
No cauliflower or zucchini in sight, and it's impossible to go wrong with cream cheese, eggs, and Parmesan cheese! It browns perfectly, just like a real pizza crust, and is a wonderful combination of both crispy and chewy. (I've heard a few people say that cauliflower pizza crust is too soggy. You won't have that problem with this pizza crust.)
Once you've prepared and baked your keto pizza crust, you'll top it with a sauce made out of tomato paste, sugar-free tomato sauce, and flavorful herbs. By using natural, sugar-free tomato paste and sauce, you avoid the high carb count of sauces loaded with sugar.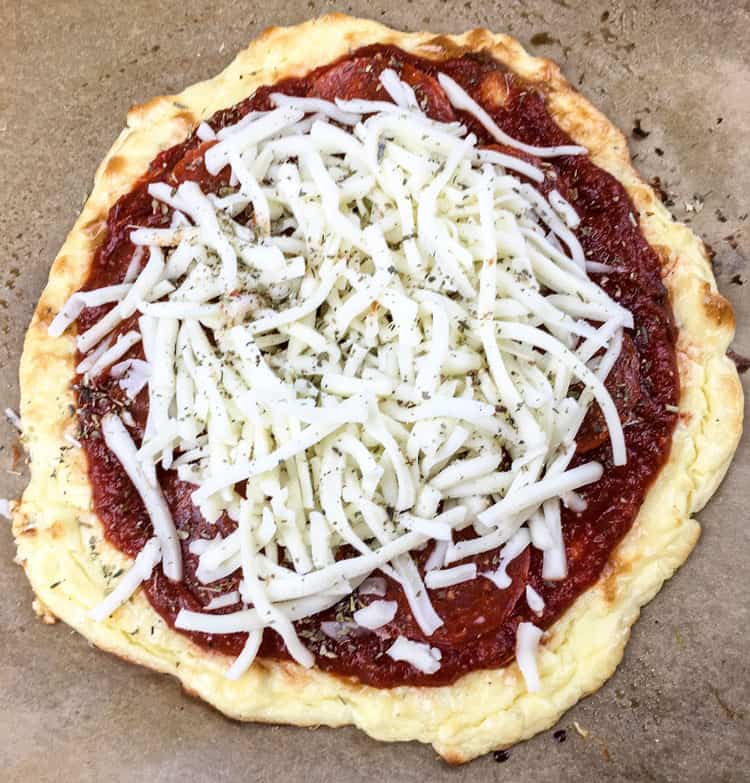 After that, you sprinkle on Mozzarella cheese and pepperoni slices and bake it until the cheese is melted and bubbly. In only 40 minutes from start to finish, you have the perfect keto pizza!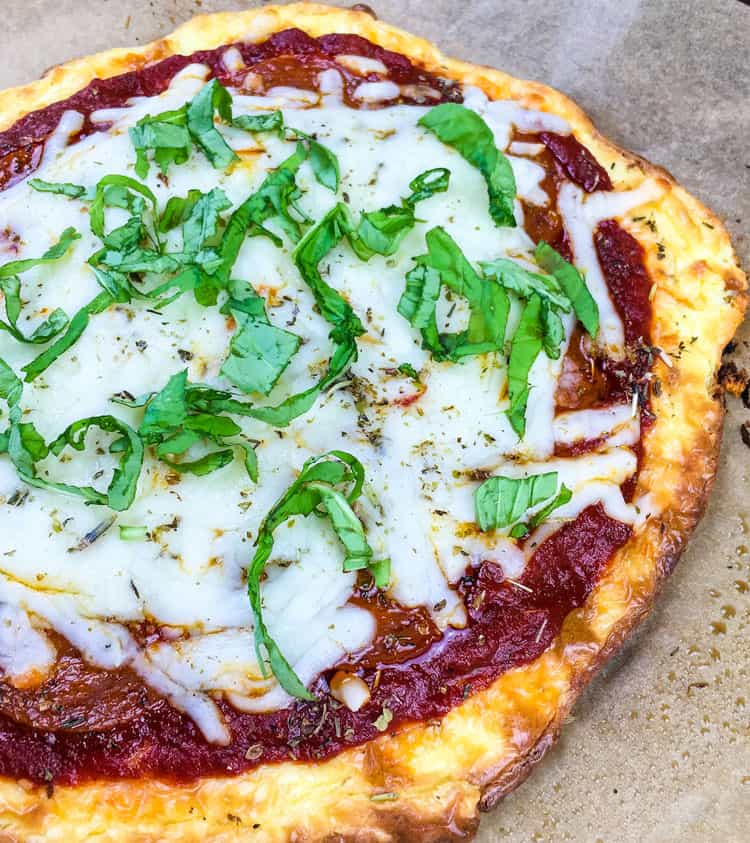 What's the Net Carb Count?
If you're trying to stay in ketosis, you're likely keeping track of your net carb count (grams of carbs minus grams of fiber). This keto pepperoni pizza recipe has 6.2 grams of carbs and 0.7 grams of dietary fiber, giving you a net carb count of 5.5 grams per serving.
Most people on the keto diet aim for 20-25 grams of net carbs per day, so a serving of this pizza will easily fit into your diet. Just be careful not to add anything too high in carbs when you add toppings (see the "How to Personalize Your Keto Pizza" section).
How to Personalize Your Keto Pizza
The sky is the limit with the toppings for this keto pizza recipe! Here are a few ideas for you:
Shredded rotisserie chicken
Sliced sausage
Sliced avocado
Chopped ham
Crumbled ground beef
A wide variety of cheese
Any other low-carb food!
Also, feel free to experiment with the herbs and spices in the recipe to give the pizza your own distinct flavor.
A Few More Keto Recipes for You
Like this keto diet recipe? Here are a few more:
I hope you enjoy your delicious keto pizza!
Recipe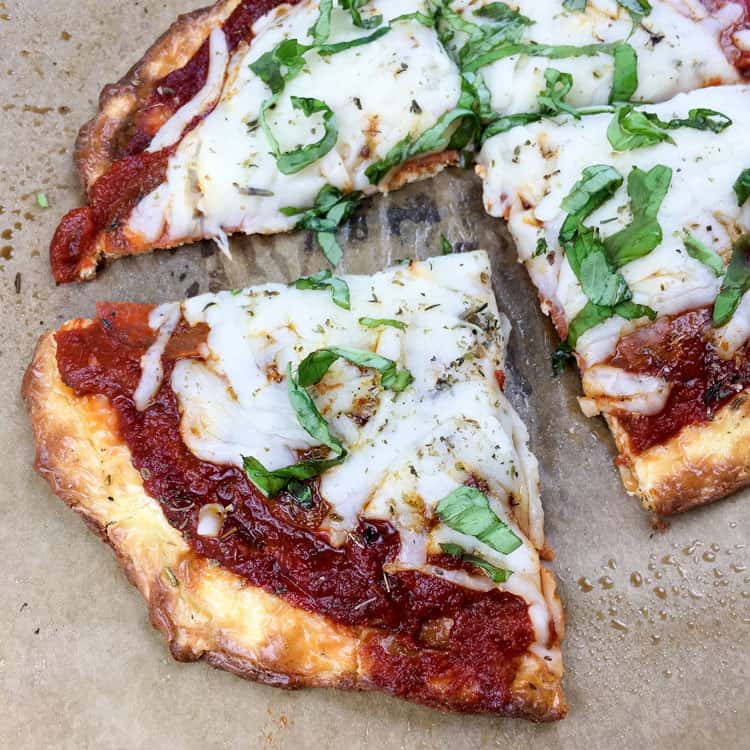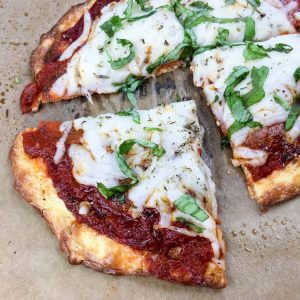 Easy Weeknight Keto Pizza with Pepperoni
Yes, you can enjoy pizza guilt-free on the keto diet!
Instructions
Preheat oven to 375° F. Using parchment paper, line a large rimmed baking sheet. Set aside.

In a medium-sized bowl, combine cream cheese, Parmesan cheese, eggs, 1 tsp each of oregano and basil, and ½ tsp garlic powder. Season with salt and pepper to taste. Whisk the mixture until it is blended and smooth.

Spread the mixture onto the baking sheet to your desired thickness and shape. (If you want a thicker crust, you'll need to reduce the oven temp to 350° F and increase the baking time.)

Place crust in pre-heated oven and bake for 8-10 minutes, or until the crust has become golden brown and slightly puffy. (Check halfway through the baking time to make sure the crust is baking evenly and doesn't become overly brown.)

While crust is baking, whisk tomato sauce, tomato paste, remaining herbs, and garlic powder in a small bowl. Season lightly with salt and pepper to taste. Stir and set aside.

When the pizza crust is done, remove it from the oven and let it cool for 5-10 minutes. When cool, top with tomato sauce, pepperoni, and cheese.

Return the pizza to the oven. Bake for another 10 minutes, or until the cheese is bubbly and melted. Remove from oven. If desired, garnish with fresh basil. Serve immediately.
Nutrition
Serving:
1
g
Calories:
495
kcal
Carbohydrates:
6
g
Protein:
22
g
Fat:
42
g
Saturated Fat:
21
g
Cholesterol:
202
mg
Sodium:
1129
mg
Potassium:
335
mg
Fiber:
1
g
Sugar:
4
g
Vitamin A:
1288
IU
Vitamin C:
2
mg
Calcium:
335
mg
Iron:
2
mg