Are you looking for an easy recipe for meatballs without breadcrumbs? You've found it! These Garlic-Parmesan Turkey Meatballs are free of breadcrumbs, making them perfect for gluten-free and low-carb diets.
If you follow a gluten-free diet or low-carb diet (including the keto diet), it can be tough to find a meatball recipe that not only tastes good, but actually holds together. Luckily for you, you've found a great one! These Garlic-Parmesan Turkey Meatballs may be without breadcrumbs, but they certainly aren't without flavor.
Do you need breadcrumbs in meatballs?
A lot of people think you need breadcrumbs in meatballs. It's true that breadcrumbs are traditionally used to hold meatballs together. In fact, most recipes will tell you, "if you're meatballs aren't sticking together, add more breadcrumbs."
For that reason, the idea of not using breadcrumbs in meatballs can be a bit unnerving. No one wants to make a yummy meal with meatballs that are falling apart.
Don't worry — it is completely possible to make breadcrumbs without meatballs and they'll hold together just as well as breadcrumbs with meatballs!
What can you use instead of breadcrumbs in meatballs?
To make meatballs without breadcrumbs, you can use ingredients like:
Rolled oats
Cornmeal
Grits
Cheese
These Garlic-Parmesan Turkey Meatballs use the fourth option: cheese. Instead of breadcrumbs, you'll use 1 ½ cups grated Parmesan cheese!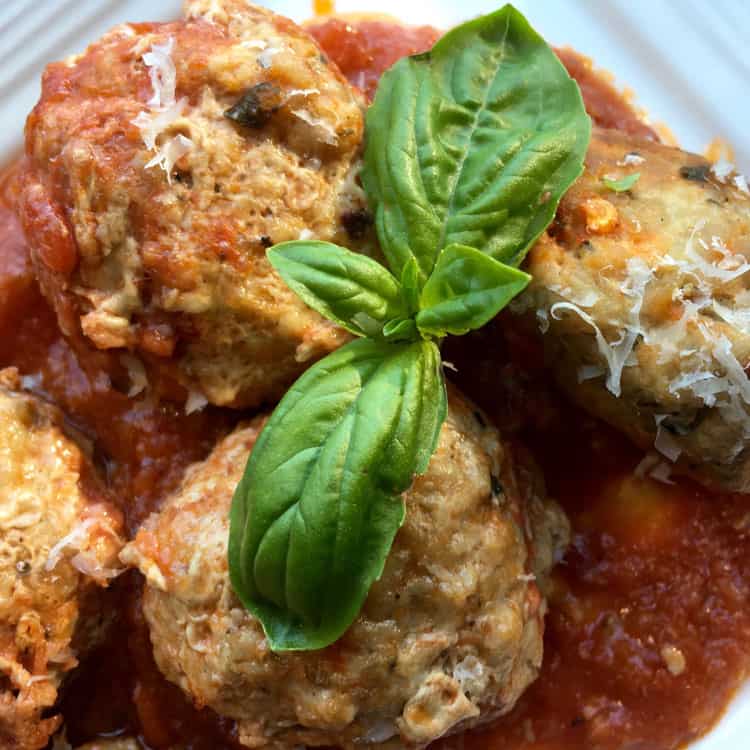 Low-Carb Meatballs without breadcrumbs
Not only are these meatballs without breadcrumbs gluten-free, but they're also low in carbs. You'll make six servings, and each serving contains only 5.1 grams of net carbs (carbs minus fiber). This makes them perfect for low-carb diets and acceptable for keto diets too.
Tips for making these meatballs without breadcrumbs
Garlic-Parmesan Turkey Meatballs are a breeze to make! Here are a few tips to make them an even more enjoyable recipe:
Tip #1: Bake the meatballs on their own before you add them to the tomato sauce. Doing so will help the meatballs hold their shape.
Tip #2: These meatballs freeze well, so don't be afraid to double or triple the recipe. These meatballs are so yummy that you'll be happy to have an extra stash of them on hand! Simply pull them out of the freezer, reheat them, and serve them with your favorite gluten-free pasta (including "zoodles" like these butternut noodles).
Tip #3: Invest in a silicone baking mat for easy clean-up. We're huge fans of silicone baking mats in my household because they make clean-up a breeze!
Tip #4: Serve these meatballs with fresh basil. It makes such a huge difference to the flavor!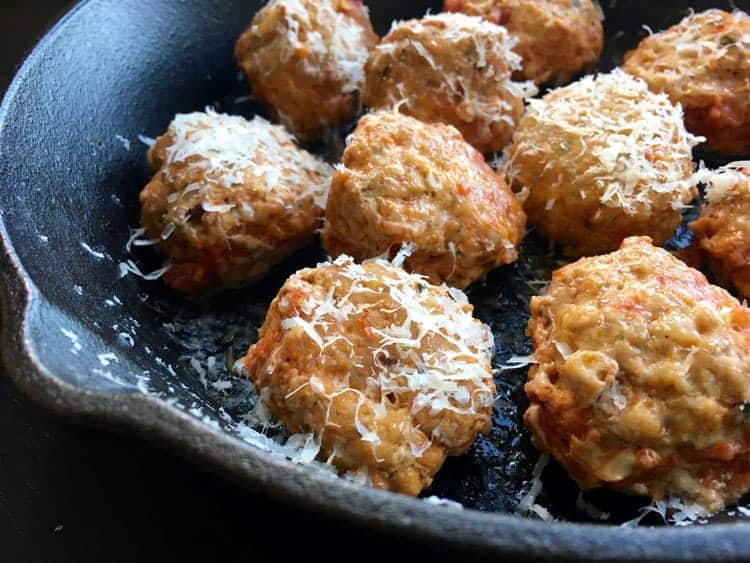 More Gluten-Free and Low-Carb Dinner Recipes
Looking for more tasty gluten-free and low-carb dinner ideas? Try one of these:
Enjoy!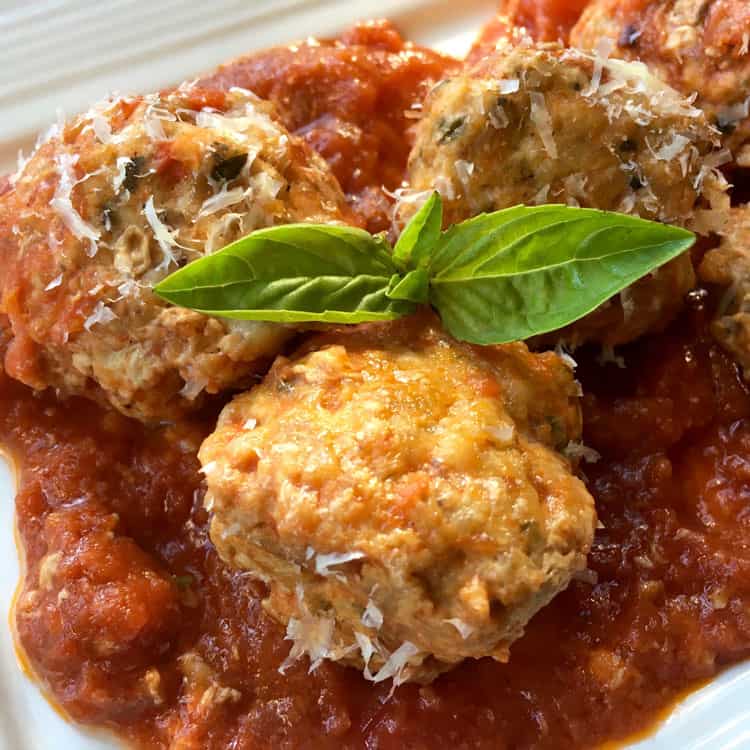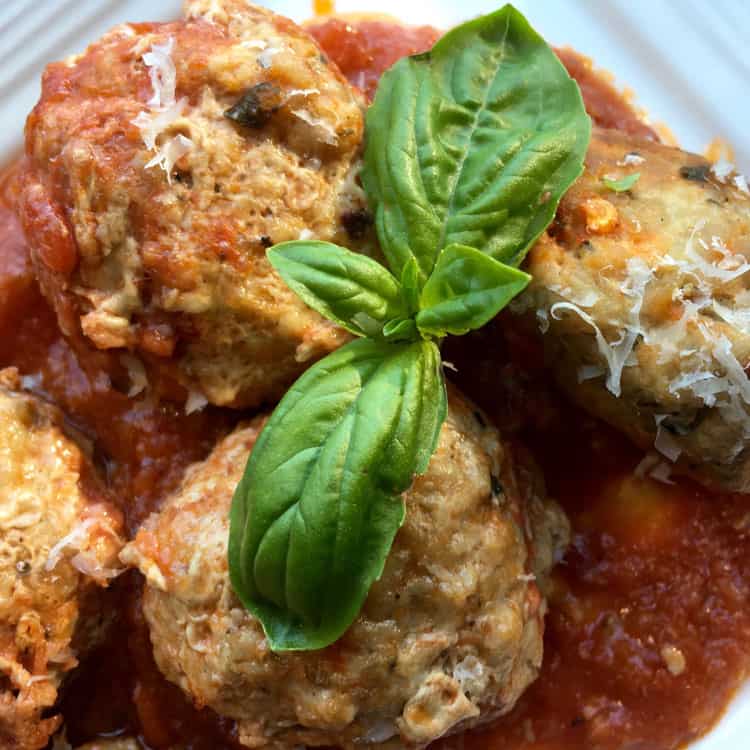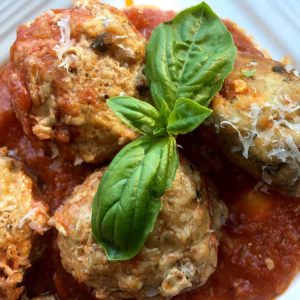 Gluten-Free Garlic-Parmesan Turkey Meatballs
These Garlic-Parmesan Turkey Meatballs are free of breadcrumbs, making them perfect for gluten-free and low-carb diets.
Ingredients
2

cups

sugar-free tomato sauce

2

pounds

ground turkey breast

1

large

or 2 small eggs

1 ½

cup

freshly grated Parmesan cheese

1 ½

tablespoon

fresh oregano leaves

3

tablespoons

fresh basil leaves

chopped

3

tablespoons

fresh parsley

chopped

3

cloves

fresh garlic

finely minced

1

tablespoon

onion salt

½

tablespoon

crushed red pepper flakes

Sea salt and black pepper

to taste
Instructions
Preheat oven to 350°F. Take a rimmed baking sheet and line it with a

Silpat baking mat

or parchment paper.

Set out a 9x13" glass baking dish and pour tomato sauce into it, making sure it is spread in a thin layer that covers the bottom. Set baking dish aside.

To a large glass bowl, add the following ingredients: ground turkey, eggs, Parmesan cheese, oregano, basil, parsley, garlic, onion salt, and red pepper flakes. Season this mixture with salt and black pepper to taste.

Use your hands to thoroughly combine the mixture. Then divide it into 24 equal-sized portions (18 if you prefer larger meatballs). If necessary, add more Parmesan cheese to bind the ingredients.

Gently roll each portion into a ball, then place each meatball onto the prepared baking sheet. Leave room between each meatball. Place baking sheet into the pre-heated oven and bake for 15-20 minutes.

Remove the baking sheet from the oven and transfer the meatballs to a prepared baking dish. If desired, drizzle with additional tomato sauce and Parmesan cheese.

Place the baking dish in the oven for about 10 minutes, or until the meatballs and sauce are heated through. Remove from oven and serve immediately. If desired, add additional tomato sauce, Parmesan cheese, and fresh basil.
Nutrition
Calories:
300
kcal
Carbohydrates:
8
g
Protein:
46
g
Fat:
10
g
Saturated Fat:
5
g
Cholesterol:
100
mg
Sodium:
2081
mg
Potassium:
785
mg
Fiber:
2
g
Sugar:
4
g
Vitamin A:
1027
IU
Vitamin C:
9
mg
Calcium:
341
mg
Iron:
3
mg