No Bake Chocolate Oatmeal Cookies with Peanut Butter are super simple to make! If you're looking for awesome no bake oatmeal cookies, you've come to the right place. This no bake oatmeal cookie recipe is as easy as 1,2,3.
In case you couldn't tell, we love whipping up easy recipes around here.  Which is why you'll find a lot of no bake desserts like Snickers Cheesecake Parfait, Smores Icebox Cake, and Hazelnut Cheesecake Layered Dessert on All She Cooks.  We love simple, and we love recipes that taste great!
I love exploring my favorite no bake cookie recipes, and have found a lot of good ones in No Bake Cookies by Camilla V. Saulsbury.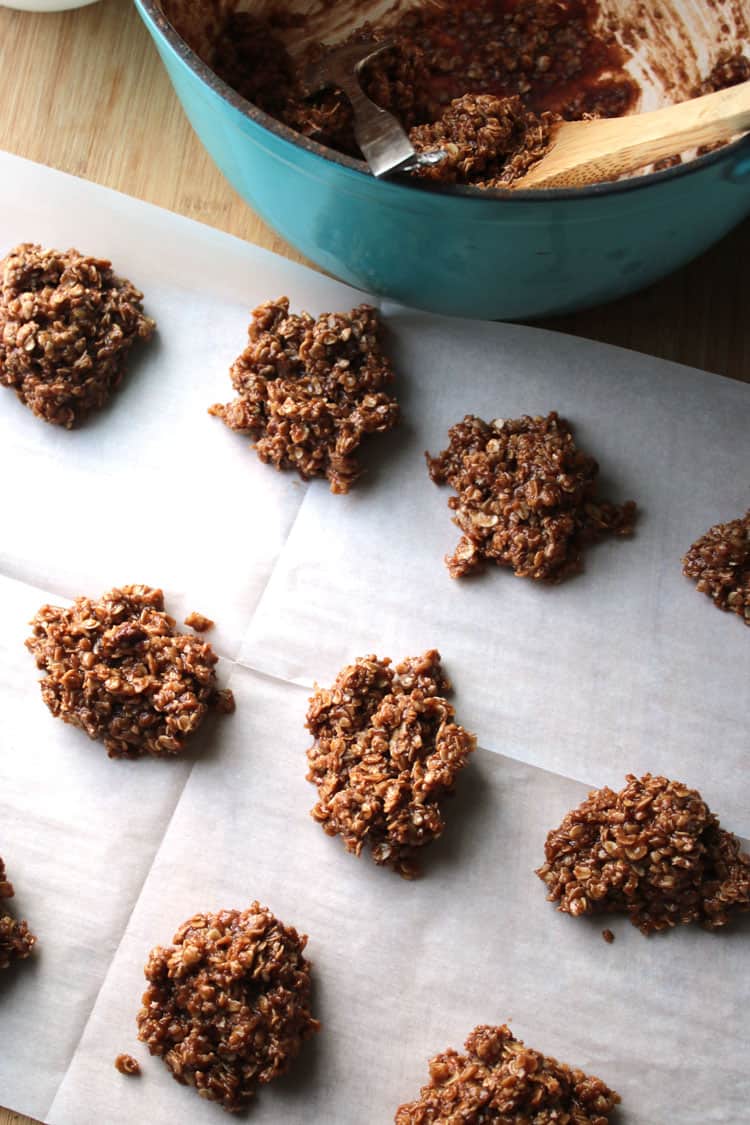 No Bake Chocolate Oatmeal Cookies with Peanut Butter: A Perfect Mix of Chocolate and Peanut Butter
These no bake oatmeal cookies are the perfect mix of chocolatey and peanut buttery goodness. They certainly look like no bake chocolate oatmeal cookies, but the 1/2 cup peanut butter they contain can't help but peek through the chocolate flavor. The peanut butter also gives them a softer, creamier texture… heaven!
Even better, No Bake Chocolate Oatmeal Cookies with Peanut Butter are amazingly easy and inexpensive to make. I couldn't believe how simple and delicious they were, and I didn't even have to turn on the oven!
How to Make No Bake Chocolate Oatmeal Cookie with Peanut Butter Step by Step
Step #1: Mix the butter, sugar, milk, vanilla, peanut butter, and chocolate chips on the stove over low until melted. (If you would like to use less than 1 cup sugar, see my note below in the "tips" section.)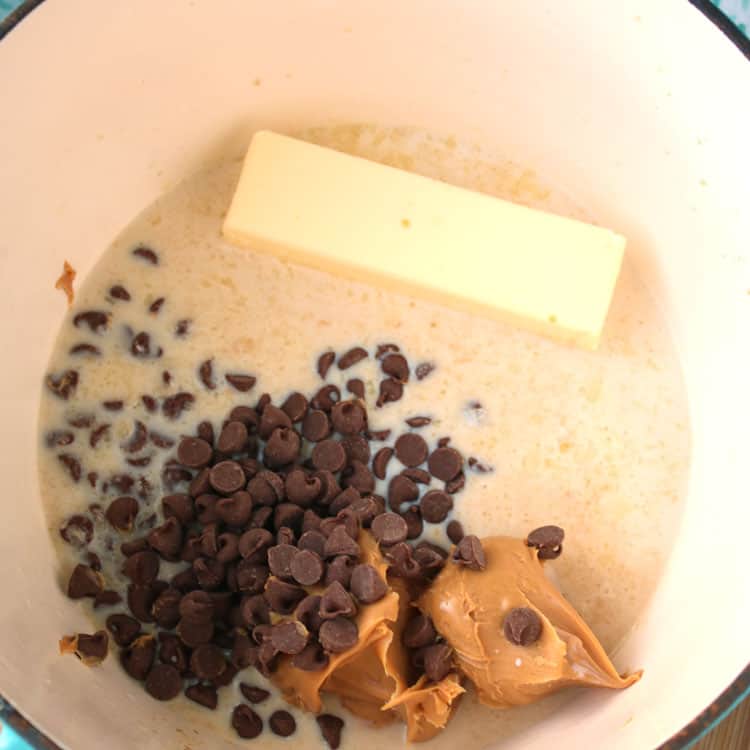 Step #2: Next, mix in 3 cups of oatmeal and stir until mixed. (If you'd like, you can add a bit more oatmeal.)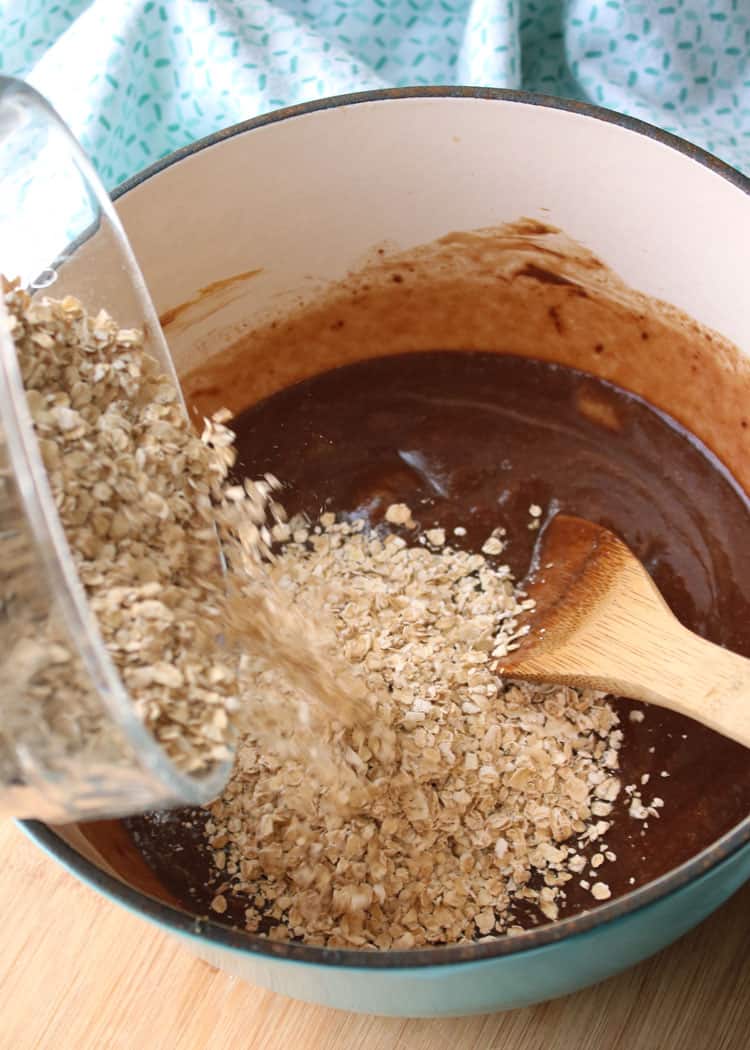 This is what your mixture should look like when all the ingredients are combined: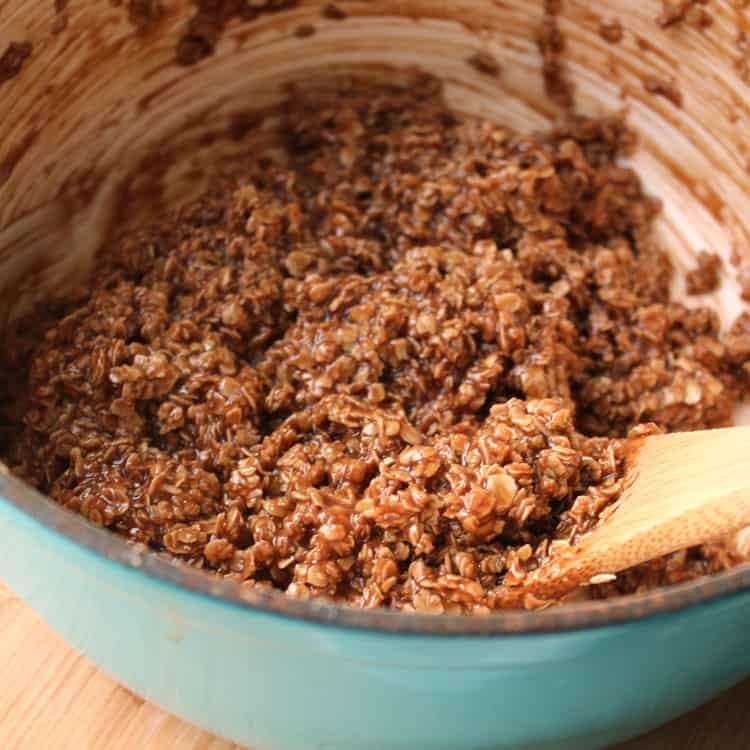 Step #3: Drop cookies on wax paper in spoonfuls to firm up.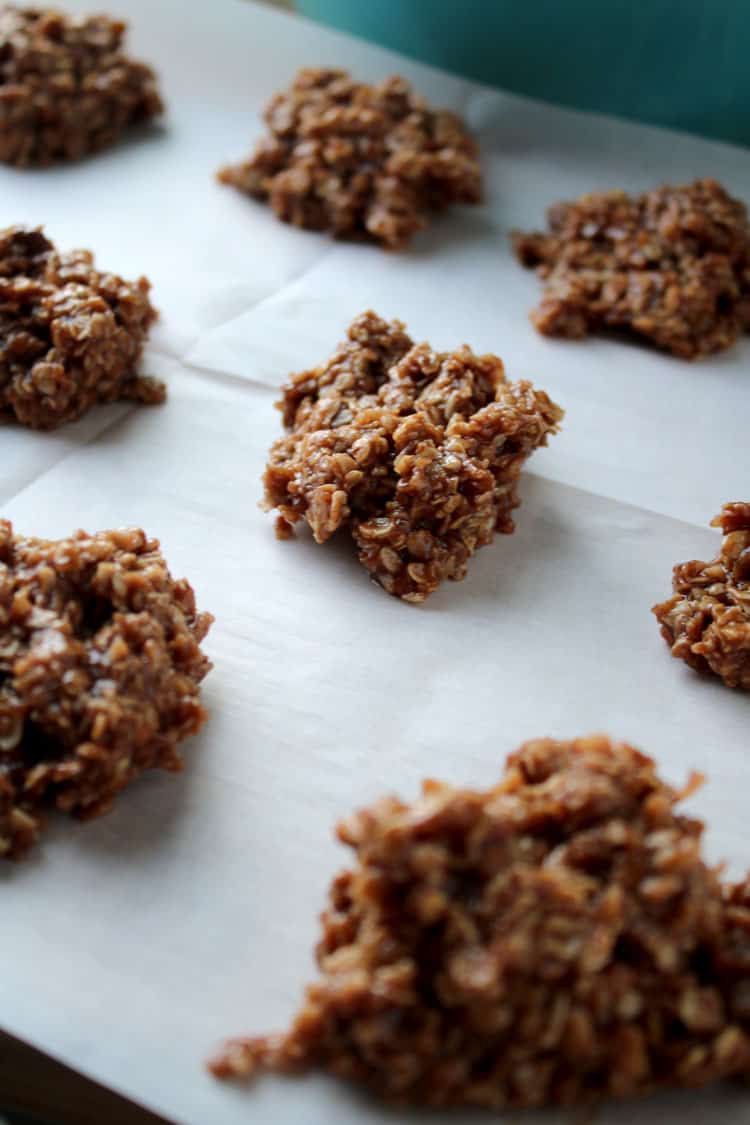 Tips for Making These No Bake Oatmeal Cookies
Tip #1. You can experiment with reducing the sugar content. The original recipe (from Food.com) called for twice as much sugar (of course it didn't use chocolate chips either), and at one cup, my version was plenty sweet. Next time I might reduce it to only 3/4 cup of sugar, so feel free to try that too.
Tip #2: Instead of running to the store for one or two ingredients, see if there is something you can substitute it for.  You will not only be saving on the 1-2 items you needed for the recipe, but the countless other things that might seem appealing at the store.
Case in point with this recipe… I didn't have cocoa powder or quite enough quick oats.  I used chocolate chips and ended up throwing in 1/2 cup of non-quick oats to get the job done.  The no bake oatmeal cookies recipe turned out GREAT and we will make it (or another version depending on what we have on hand) again soon. Never be afraid to experiment in the kitchen!
Yield: 24
No Bake Chocolate Oatmeal Cookies with Peanut Butter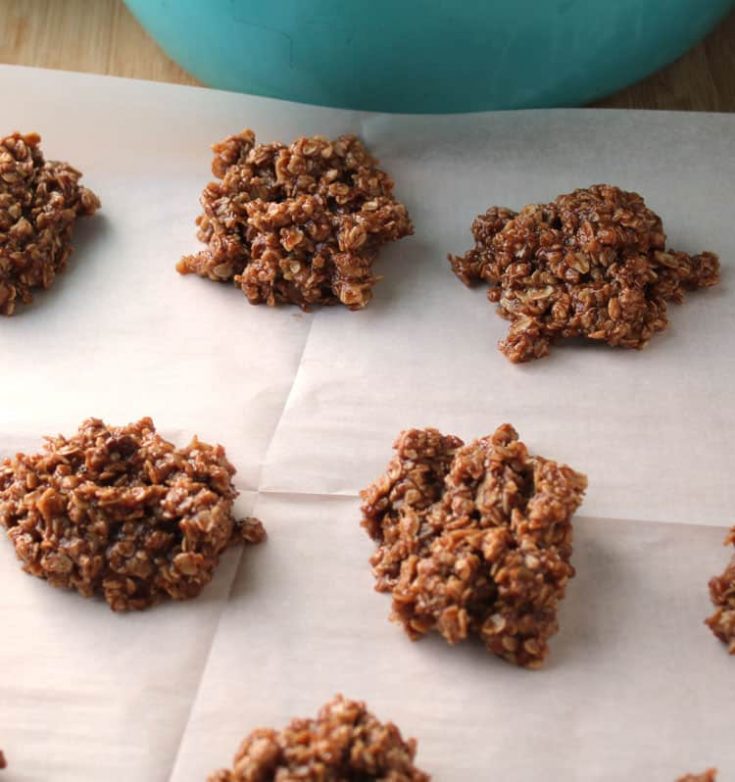 These cookies are divine and you don't even have to turn on the oven!
Ingredients
1/2 cup butter
1 cup sugar
1/2 cup milk
2 teaspoons vanilla
1/2 cup peanut butter
1/2 cup chocolate chips
3 cups oatmeal (I used quick oats)
Instructions
Mix first 6 ingredients on stove top over low heat until melted together.
Mix in 3 cups of oatmeal and stir until mixed. You can add a little more oatmeal if you want. 3 cups worked perfectly for me.
In spoonfuls, drop cookies on wax paper to cool and firm up.
Notes
Adapted from Food.com.
Reduce to 3/4 cup sugar if desired.
Save
Save
The following two tabs change content below.
Latest posts by Jessica McCoy (see all)