This Not Your Mama's Banana Pudding is the BEST banana pudding recipe you will ever have! This creamy homemade pudding is made with real bananas, coconut cream, maple syrup, and more.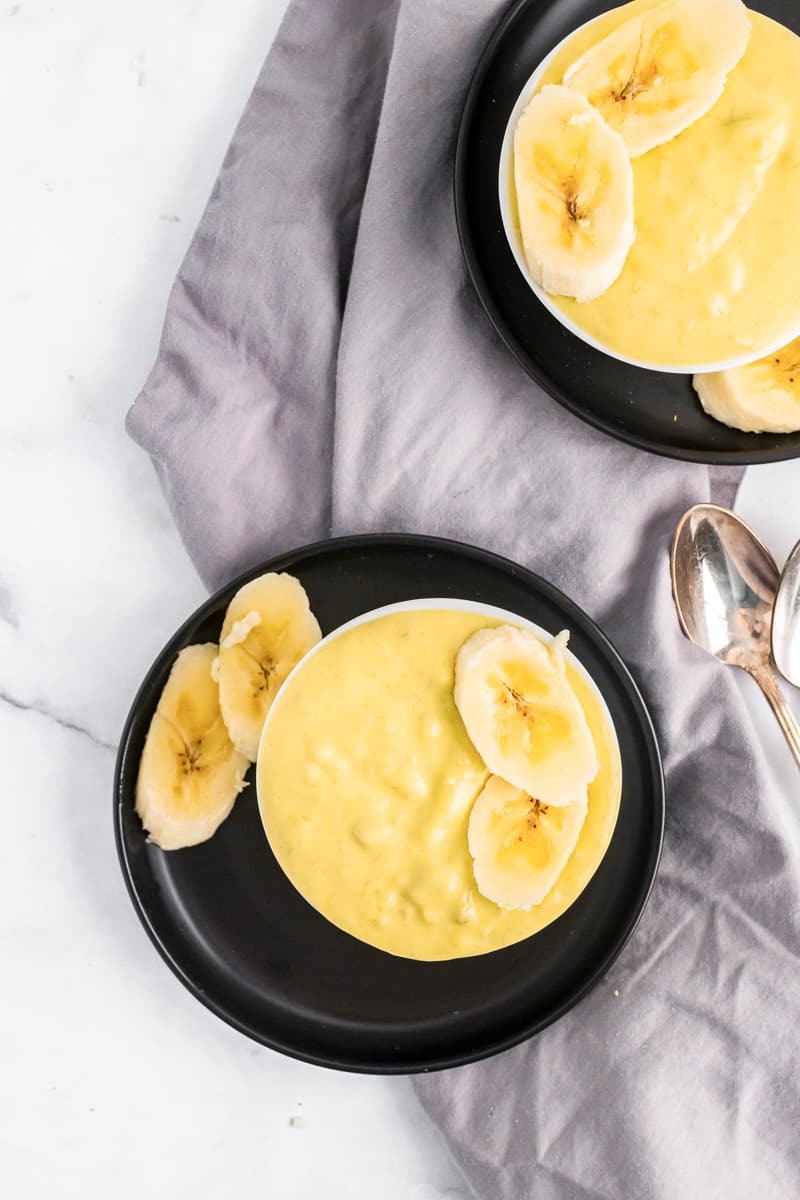 In this Article:
If you are dreaming of a fresh dessert, learn how to make banana pudding! It can easily become a great dessert, potluck treat and more.
Serve this pudding on its own, as a topping for ice cream, alongside a slice of cake, or drizzled over a smoothie bowl.
This Not You Mama's Banana Pudding recipe is...
Made with real bananas 
Dairy-free
Homemade 
Gluten-free 
Sweet and delicious 
Get the latest scoop on all the recipes I'm whipping up in the kitchen by following along with All She Cooks on Facebook, Instagram, and Pinterest. Also, don't forget to join my Facebook Group where you can share your favorite blogger recipes: Easy & Delicious Recipes.
How to Make Not Your Mama's Banana Pudding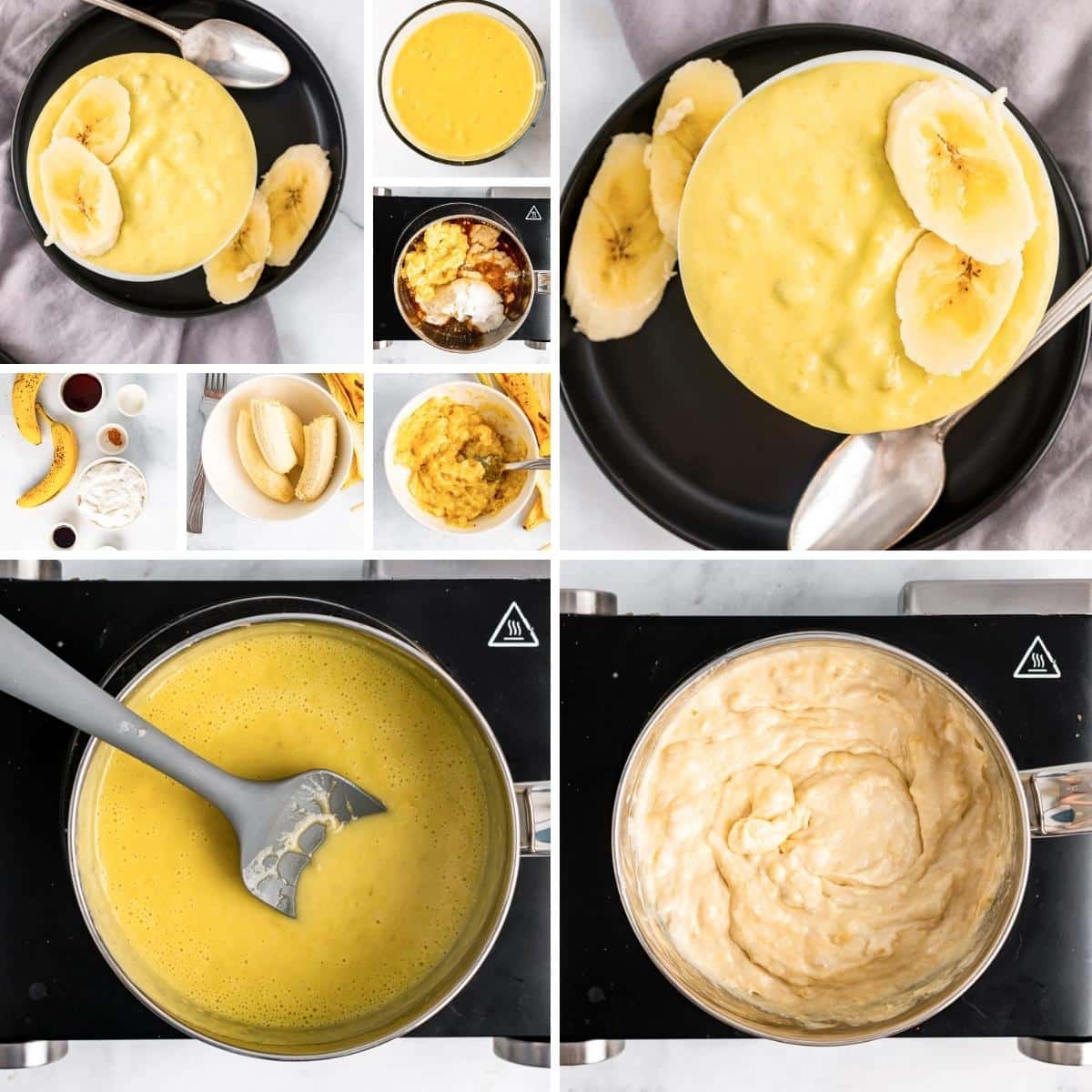 Add bananas to a bowl and mash. 
Add ingredients to a saucepan.
Cook on low heat until just boiling, stirring often. 
Transfer the mixture to a heat-proof bowl, then chill in the fridge. 
Top with sliced bananas and serve. 
Tips & Tricks for Not Your Mama's Banana Pudding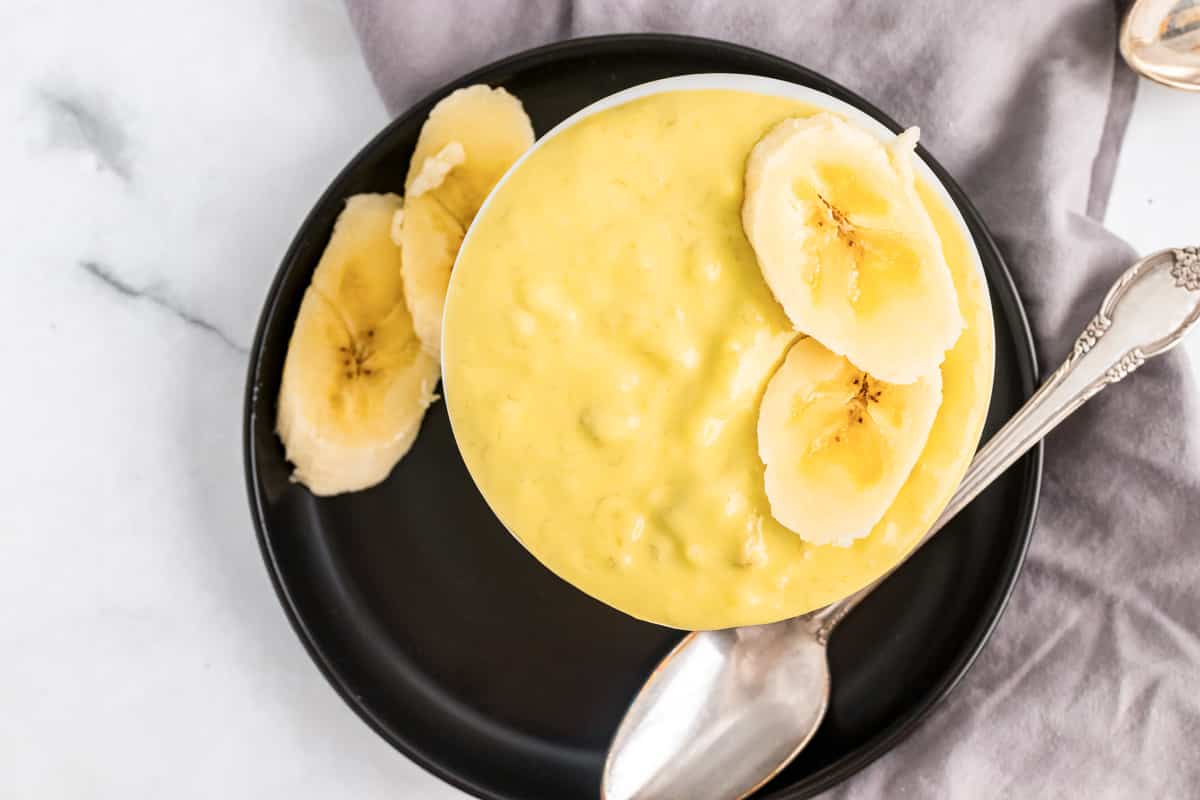 Thickness
Cornstarch is the thickening agent for this pudding. If you want a thicker pudding, add a bit more cornstarch to your recipe—maybe 1 ½ tablespoons. 
Texture
If you want a creamy pudding, mash your bananas really well. Otherwise you will find that your pudding has some lumps. 
Alternatively, you can use an immersion blender or food processor to really blend up your bananas before cooking. 
Ripeness
I recommend using ripe, fresh bananas as they will give your banana pudding the most incredible flavor. Otherwise, you will find your banana pudding is not quite as flavorful. 
Variations to Not Your Mama's Banana Pudding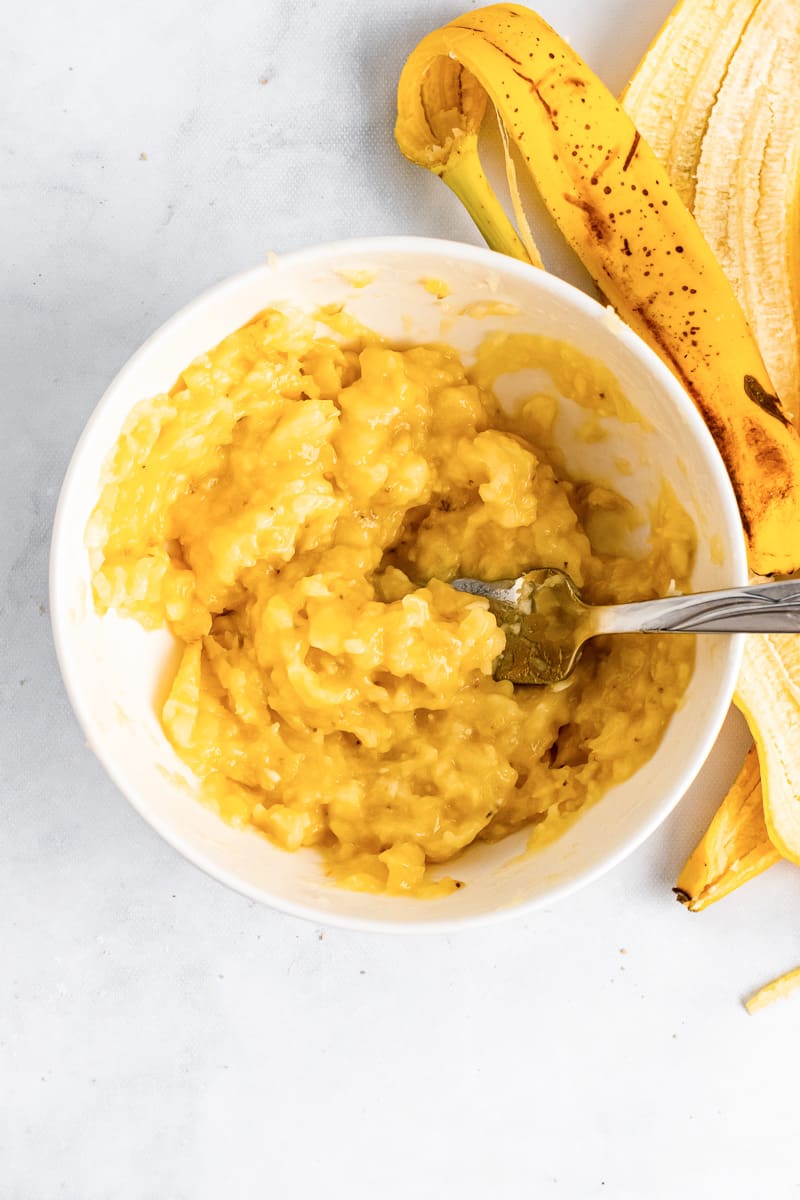 Maple
If you want a mild sweetness, use less maple syrup to sweeten your pudding. Otherwise, your pudding will be very sweet if you add the recommended amount of syrup in the recipe. 
Honey
If you don't want to use maple syrup, you can use honey instead. Just stir the honey in and mix the pudding together. Agave syrup is another alternative for the maple syrup. 
Cookies
Chessman biscuits, vanilla wafers, and other cookies are often served with banana pudding. You can even layer cookies, pudding, and fresh sliced bananas to make a layered, parfait-like dessert. 
Not Your Mama's Banana Pudding FAQs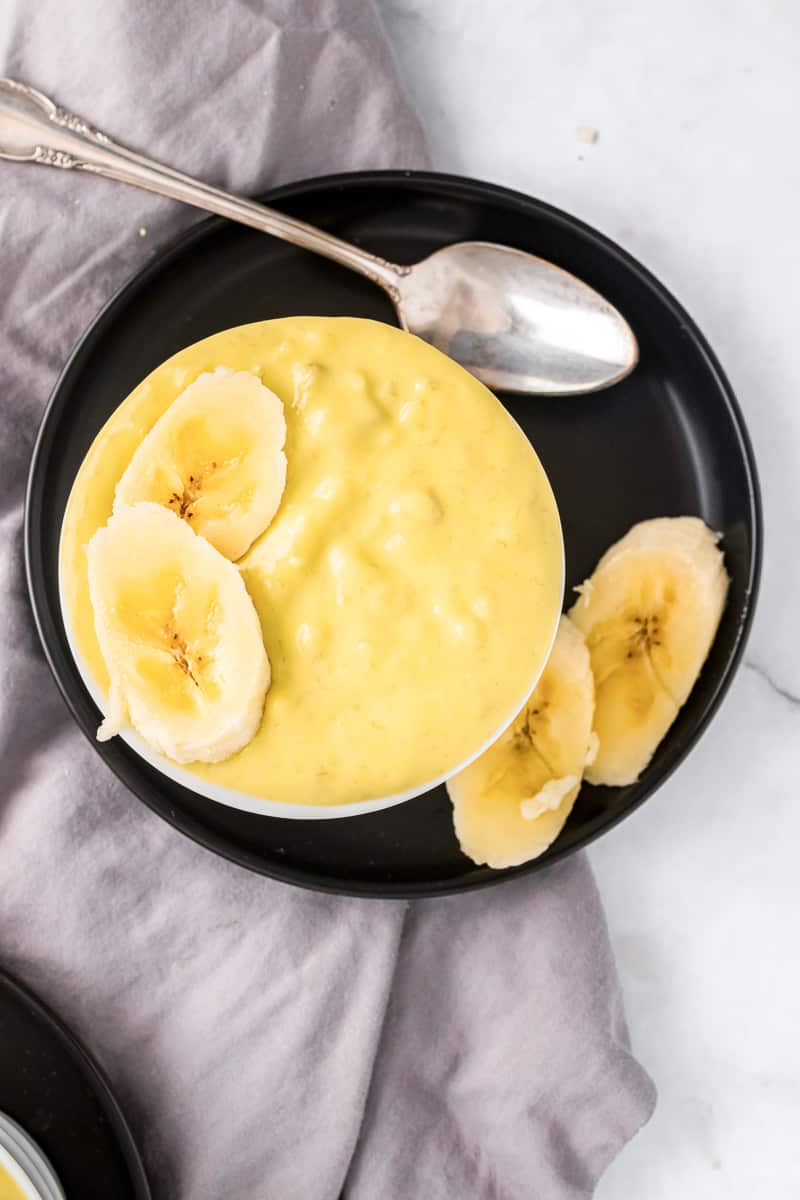 Is coconut cream the same thing as coconut milk?
Coconut cream can be found in the asian aisle at most grocery stores. The cream comes in a can and is very thick. But this coconut cream is not the same as coconut milk, and should not be swapped. Coconut milk is much thinner and won't hold up the same way as coconut cream.
How long does it take banana pudding to set up?
You will want to refrigerate your pudding for at least 4 hours before serving. It takes at least that long to thicken the homemade pudding; if you don't chill your pudding, it won't get thick enough and you'll have a banana-flavored soup on your hands!
Does banana pudding need to be refrigerated?
You do need to refrigerate your pudding if you don't plan to eat it all right away. This pudding will store for 3–4 days in the fridge. After 4 days you'll want to toss out any remaining leftover pudding. 
Recipe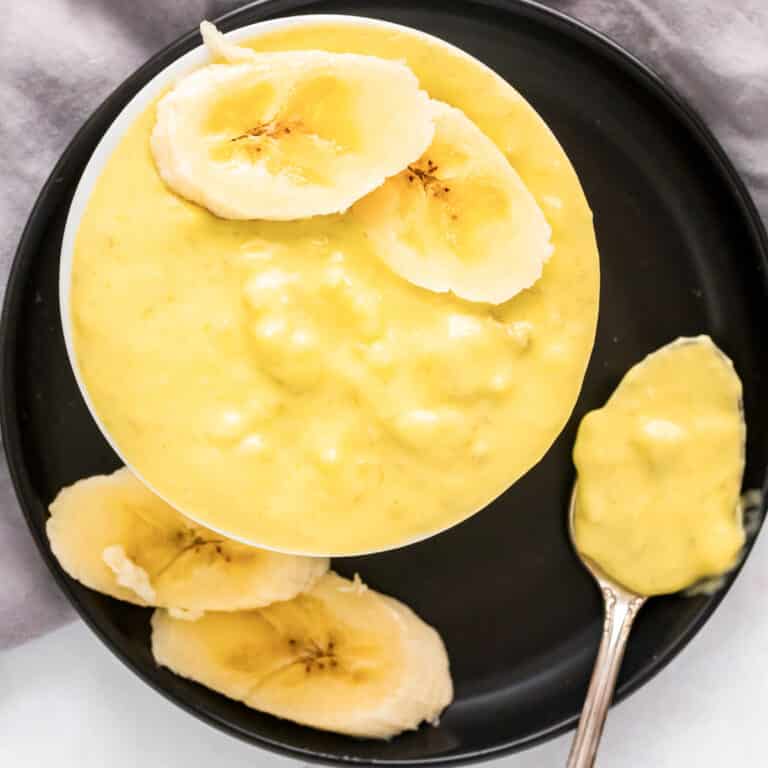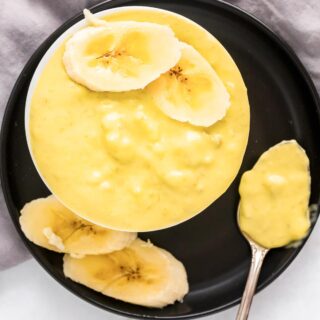 Not Your Mama's Banana Pudding
This Not Your Mama's Banana Pudding is the BEST banana pudding recipe you will ever have—made with real bananas!
Instructions
In a small bowl, mash the bananas with a fork.

Add the bananas, coconut cream, maple syrup, cornstarch, vanilla, salt, and turmeric to a medium saucepan.

Heat over medium low heat until the mixture is just beginning to boil, stirring frequently.

Transfer pudding mixture to a heatproof container.

Chill pudding in the refrigerator until cold and thick, at least 4 hours.

Serve with sliced bananas.
Notes
If you prefer a less sweet pudding, reduce the amount of maple syrup.
For a thicker pudding, increase the amount of cornstarch.
The pudding will have some chunks from the bananas. If you prefer a smoother texture, you can blend the mixture in a food processor before cooking.
This recipe calls for coconut cream, not coconut milk. They are not the same ingredient!
Nutrition
Calories:
937
kcal
Carbohydrates:
97
g
Protein:
8
g
Fat:
63
g
Saturated Fat:
55
g
Polyunsaturated Fat:
1
g
Monounsaturated Fat:
3
g
Sodium:
307
mg
Potassium:
1192
mg
Fiber:
7
g
Sugar:
63
g
Vitamin A:
76
IU
Vitamin C:
15
mg
Calcium:
114
mg
Iron:
5
mg