This Cream Cheese Pound Cake is so easy to make! Whip it up for an afternoon treat, holiday party, or decadent dessert. This tasty pound cake is great for any occasion!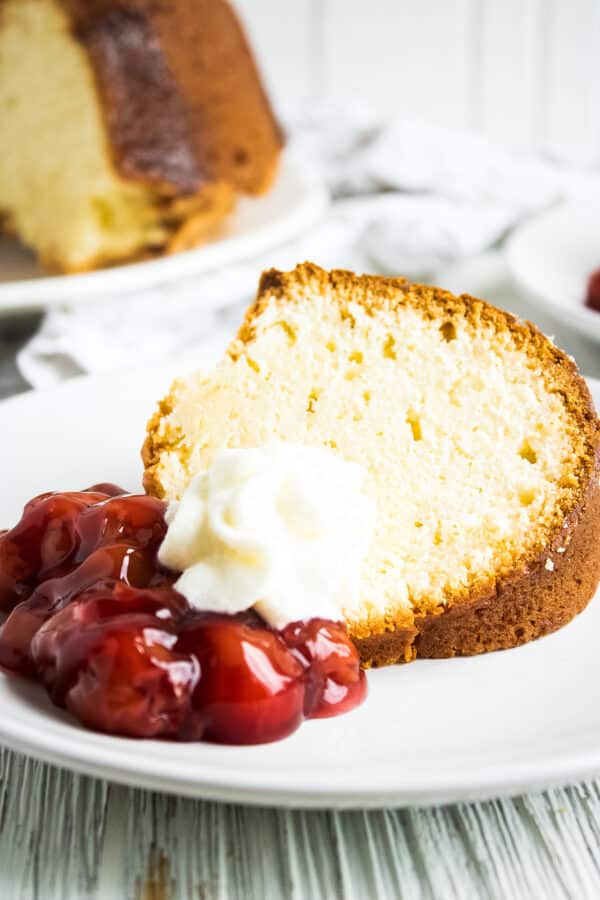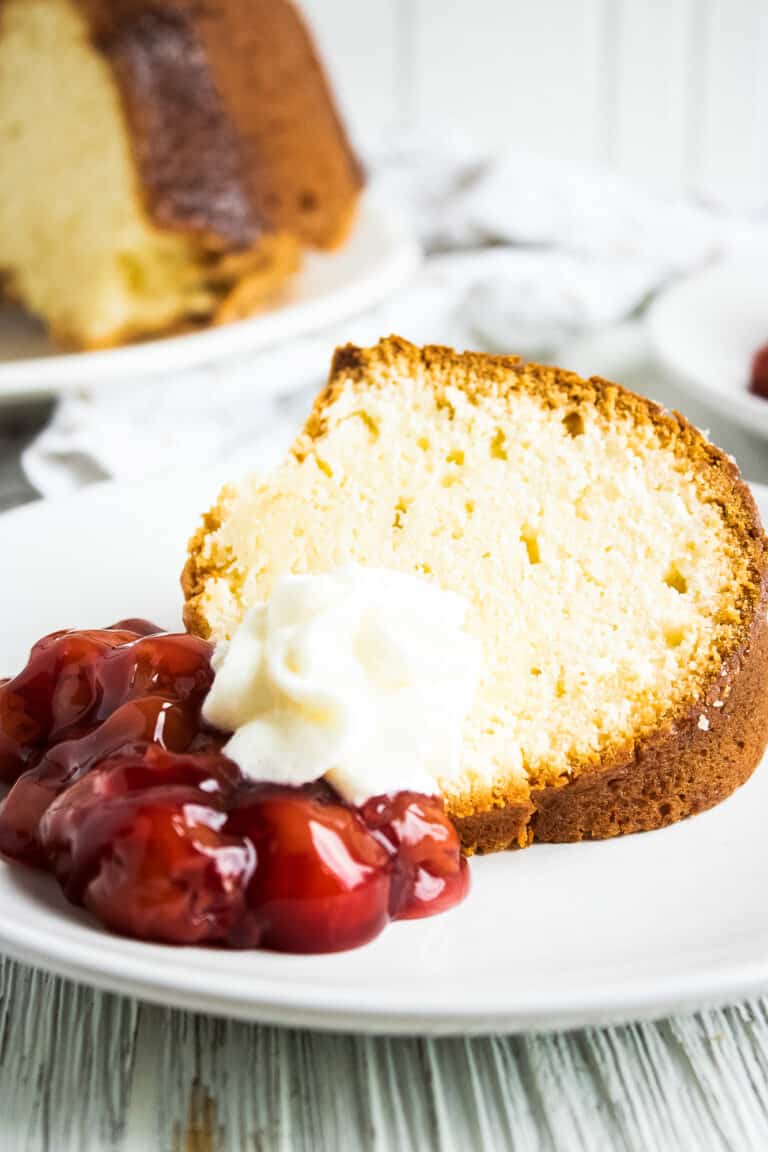 This super moist pound cake has a nice hint of almond flavor in every bite. The cream cheese adds such richness to the cake, that really elevates the flavor. An incredible treat, this pound cake is one of a kind—and you only need 8 ingredients to make it!
Pound cake is something I have always enjoyed. I have an Instant Pot Pound Cake that's super fun to cook! Or I have a pound cake loaf that is another winning dish to serve guests.
This Cream Cheese Pound Cake recipe is...
Made with simple pantry ingredients
Easy to whip up
Moist and buttery
Uniquely flavored
Stunning in appearance
Tangy from the cream cheese
Get the latest scoop on all the recipes I'm whipping up in the kitchen by following along with All She Cooks on Facebook, Instagram, and Pinterest. Also, don't forget to join my Facebook Group where you can share your favorite blogger recipes: Easy & Delicious Recipes.
How to Make Cream Cheese Pound Cake
Preheat oven and spray pan with cooking spray.
Whip together butter and sugar.
Add extracts and cream cheese.
Add eggs one at a time.
Gradually incorporate cake flour.
Pour batter into pan.
Bake for 1 ½ hours or until cooked through.
Full directions for how to make Cream Cheese Pound Cake are in the printable recipe card below.
Tips & Tricks for Cream Cheese Pound Cake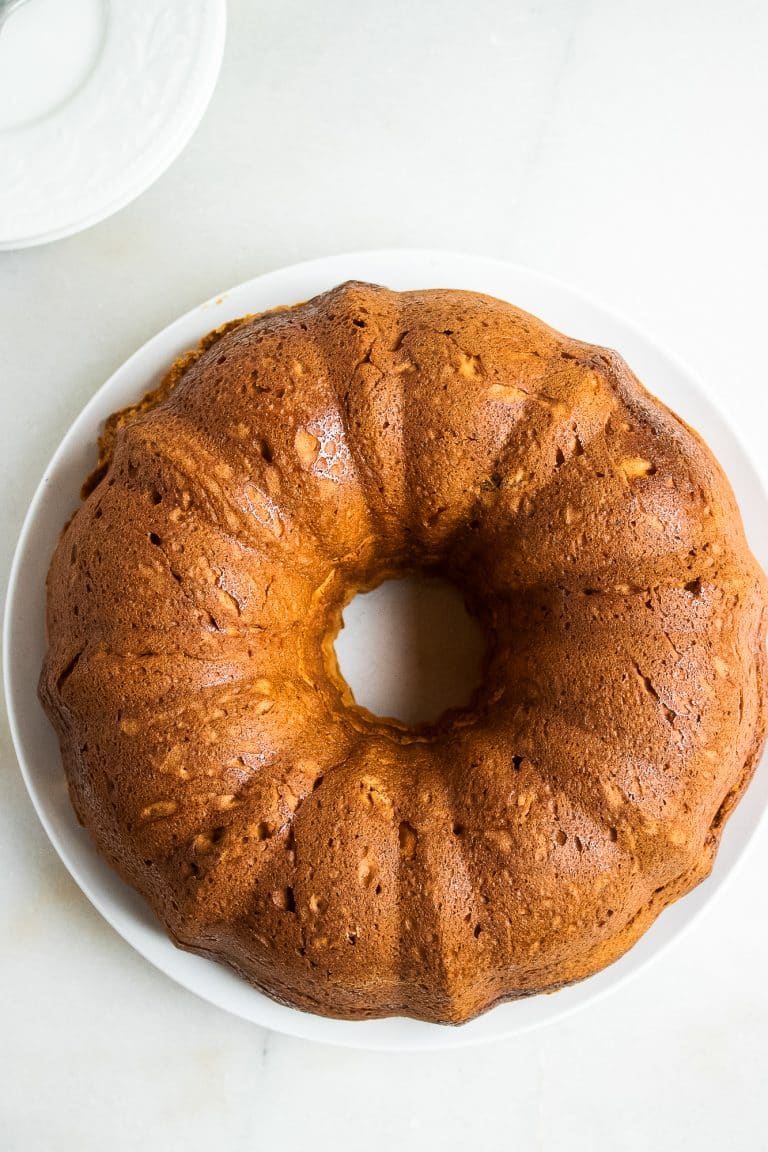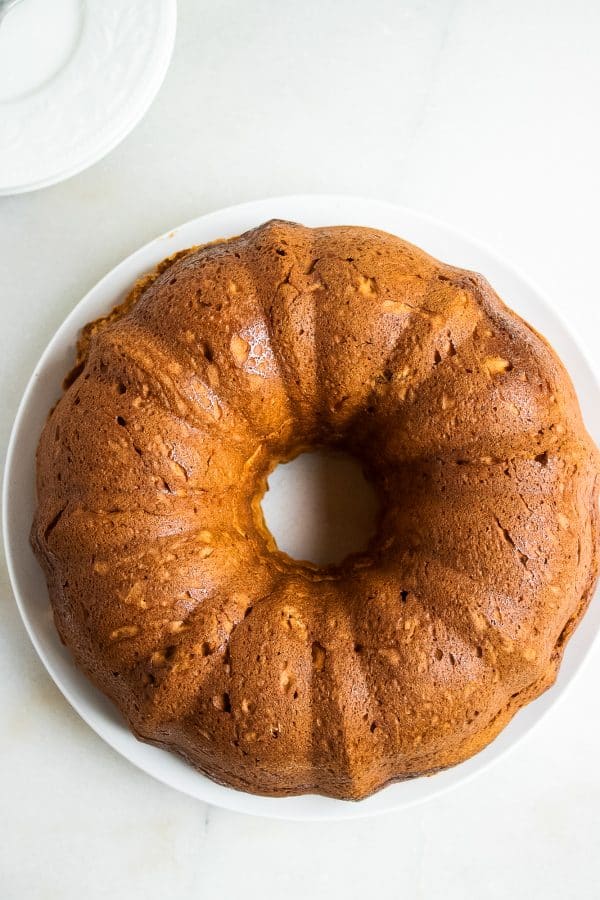 Checking Doneness
To check your cake's doneness, take a toothpick and stick it into the thickest part of the pound cake. If the toothpick comes out clean, the cake is done.
Generally, a pound cake has to bake a minimum of an hour, but if you are curious to see if it's done early, go ahead and test it. You don't want your pound cake to overbake!
Adding Toppings
This pound cake is best served with tasty toppings! Try one or more of the following:
Fresh Berries—Slice up and wash fresh fruit and add it on the side or top to decorate your cake.
Pie Filling—Whether you make homemade pie filling or use store bought, both taste great! Try using cherry, apple, mixed berry, etc.
Lemon Curd—Lemon curd with fresh blueberries is a great spring and summer blend that really adds incredible flavor to your cake.
Whipped Cream—Add a dollop of whipped cream and dive in! This is one of my favorite toppings.
Ice Cream—Add a side of ice cream next to your slice of pound cake. Vanilla bean flavor is a great pairing.
Cream Cheese Pound Cake FAQs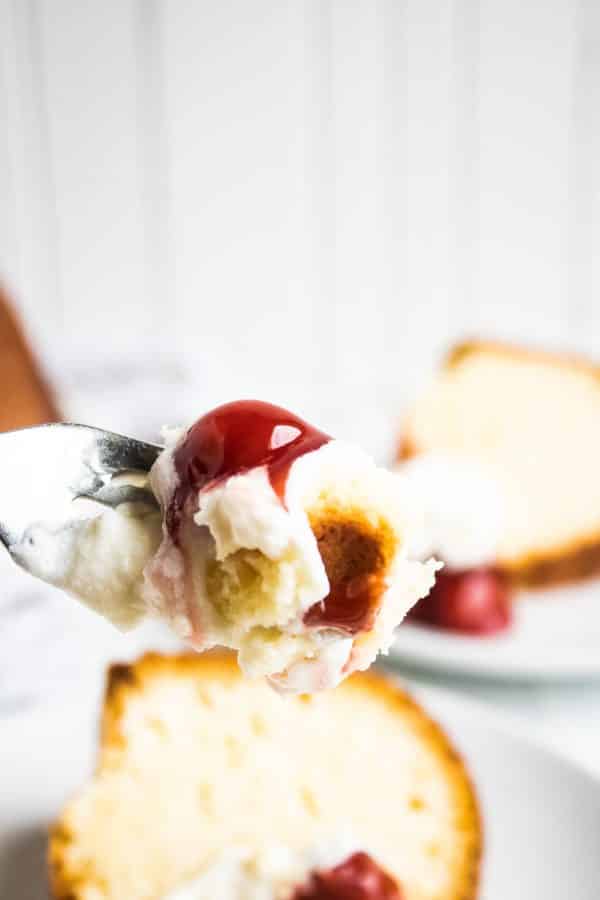 Do I need cake flour for this pound cake?
You will want to use cake flour for this recipe. Cake flour is a lot lighter than all-purpose flour, and you want your pound cake to be light. If you were to use an all-purpose flour, your cake would become rather dense.
You will want to sift the cake flour to help lighten it up even more. The key is to not overmix your pound cake. To ensure this, it's best to mix your cake batter by hand instead of by using a stand mixer or hand mixer.
How should I store my pound cake?
You will want to store your cake in an airtight container in the refrigerator. This cake will store in the fridge for 4–7 days.
Can you freeze pound cake?
Pound cake freezes beautifully. Allow your cake to fully cool, and then wrap tightly in plastic wrap. Place the wrapped cake in a freezer bag or airtight container and store for up to three months.
To thaw, unwrap the cake and allow it to thaw at room temperature before you serve it. Or you can place the cake in the fridge overnight to thaw.
Looking for More Easy Cake Recipes?
Recipe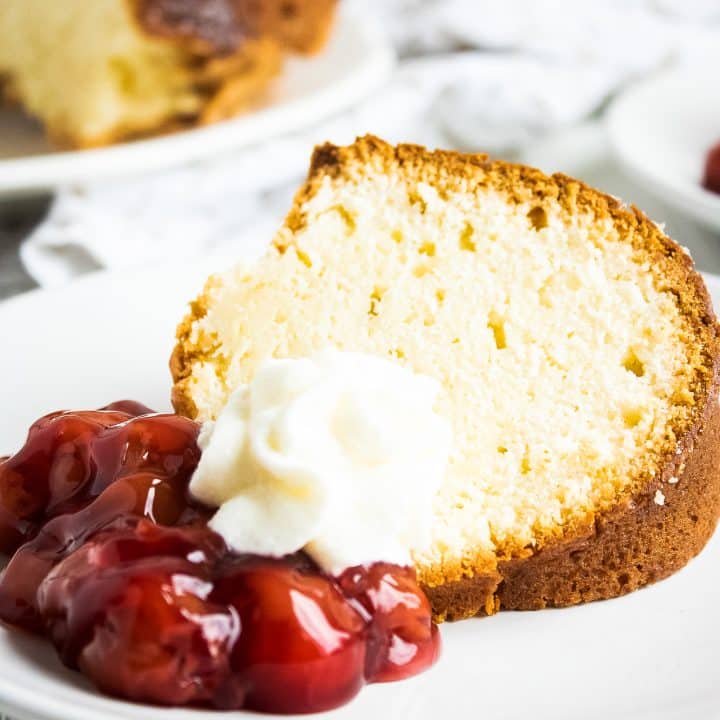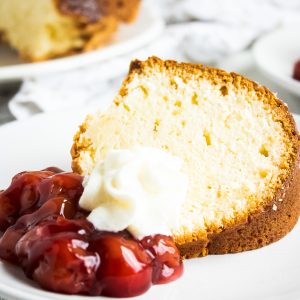 Cream Cheese Pound Cake
This Cream Cheese Pound Cake is so easy to make! Whip it up for an afternoon treat, holiday party, or decadent dessert.
Instructions
Spray a bundt pan or tube pan with non-stick cooking spray.

In a medium-sized mixing bowl, cream the butter and the cream cheese with sugar.

Mix in the salt, vanilla, and almond extract.

Add in the eggs, one at a time while mixing.

Sift in the cake flour and mix or stir until just incorporated.

Bake for 1 ½ hours, and then remove cake from oven and place on a wire cooling rack for 20 minutes. Then invert the pan and remove the cake to a serving plate.
Nutrition
Serving:
1
g
Calories:
625
kcal
Carbohydrates:
78
g
Protein:
7
g
Fat:
32
g
Saturated Fat:
19
g
Polyunsaturated Fat:
11
g
Cholesterol:
173
mg
Sodium:
143
mg
Fiber:
1
g
Sugar:
51
g