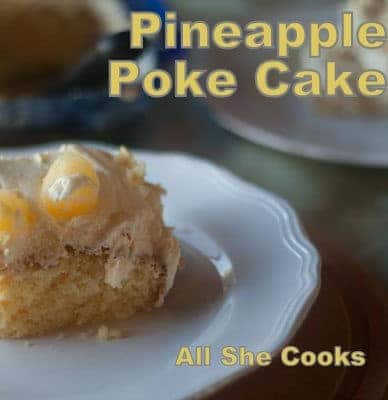 Okay, now I know you've seen these poke cakes all over the place.  If you haven't tried one yet, you are missing out SO bad.  Because they are good.  Moist, delicious and oh so yummy.  And, did I mention, easy to make?
Desserts that are super simple to create are just perfect.  It's something that you can whip up in no time.  Pineapple Poke Cake is like Banana Cream Dessert for my family.  We could have it every day… if I didn't like to try out new recipes all the time.  Have short notice company coming over?  No problem!  If you're making a few things in the kitchen at the same time… pass this one off to one of the kids.  Trust me, it's easy enough that you can direct even a 5-6 year old how to make it with supervision.  And yes, they'll want to lick the whipped cream bowl… and if you're like me, you'll let them.  That's half the fun right?
So… let's make this cake!
Start with a 9×13 pan, lightly sprayed.  Layer pineapples in the bottom of the pan.
Mix the cake batter together and pour over the pineapples.  Bake for 34-38 minutes.  Remove the cake from the oven and cool.  Then, go to town and poke holes all over it.  Use a wooden spoon handle.  I didn't do that and the holes on this cake weren't quite big enough… next time I'll make them bigger.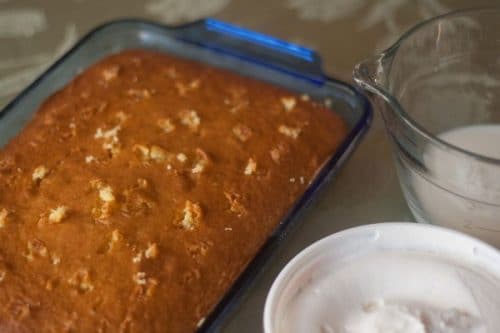 Next, spread the pudding and whipped cream mixture over the cake.  Decorate with pineapple chunks.  Refrigerate for a couple hours and then serve it up.  Trust me, this cake is SO good!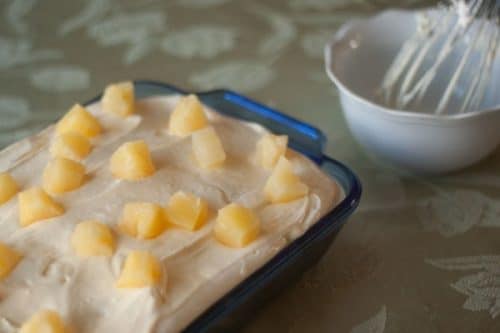 If you like a moist cake and anything with pudding, then you'll love this cake.  This rates up there with my fruit pudding… one of those desserts my family could have again and again.
Enjoy!
Print
Pineapple Poke Cake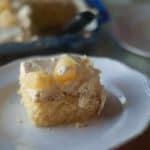 Author:

Jessica, AllSheCooks.com
Ingredients
1 yellow cake mix
1 (8 ounce) can pineapple chunks
2 (8 ounce) cans pineapple slices
Topping-
3.4 ounce vanilla pudding mix
1 cup milk
1/2 small tub cool whip
Instructions
Spray a 9×13 pan with cooking spray. Line bottom of 9×13 pan with cake with pineapple slices.
Mix cake according to package directions. Spread cake batter over pineapple slices.
Bake for 34-38 minutes. Remove from oven. Let cool and then poke holes in the top of the cake with a wooden spoon handle or other utensil.
Mix together vanilla pudding mix, milk and cool-whip. .Pour over cake. Top with pineapple chunks.
The following two tabs change content below.
Latest posts by Jessica McCoy (see all)