Pizza Calzones are stuffed, oven-baked pieces of deliciousness that are full of pizza flavors you know and love. Best of all, they're super easy to customize to your heart's content!
What are Pizza Calzones?
The funny thing about Pizza Calzones is that calzones are technically folded-and-baked pizzas, so calling something a "Pizza Calzone" is a bit redundant. But calzones can be stuffed with all sorts of ingredients — from mozzarella to ricotta cheese to veggies of your choosing — so a calzone can take on a flavor that's a bit different than what we traditionally think of as a "pizza flavor."
When you make Pizza Calzones, you'll take calzones back to their roots by stuffing them with your favorite pizza toppings, such as:
Pepperoni
Mozzarella cheese
Sausage
Mushrooms
Onions
Peppers
Olives
How to Make Pizza Calzones
Pizza Topping Calzones are the easiest type of calzones you could possibly make. Want to know why?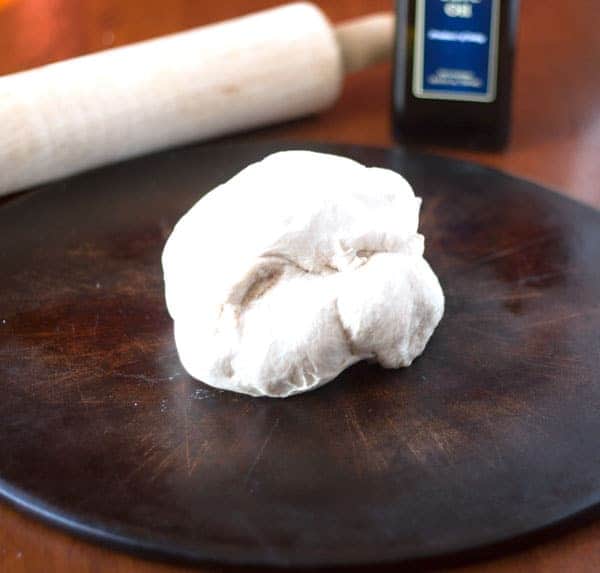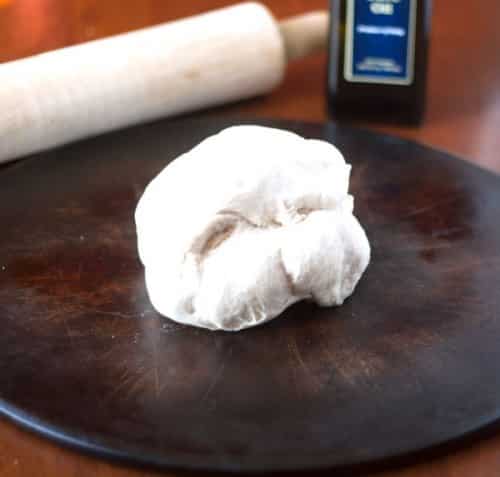 Because all you need is some dough, and whatever pizza toppings you happen to have on hand. As far as the pizza dough, I like to use this super simple pizza dough, whether I'm making pizza or a calzone.
All you're going to do is make the dough, press it out as much as you'd like (if you like a thin crust pizza... you'll want to make a thinner dough for your Pizza Calzones).
Once you press it out, you are ready to fill the dough with all your favorite pizza toppings. There is no recipe, no secret ingredient. Just everything you like (or just a few favorites) all lumped into one gorgeously perfect calzone.
Some ideas: sausage, mozzarella cheese, mushrooms, onions, peppers, pepperoni, and olives. You can put sauce in the calzone, or if you want to make it more of a finger food, make it without the sauce and serve a pizza or marinara sauce on the side for dipping.
Here is a sausage Pizza Calzone I threw together for lunch one day (and then again for dinner after my kids tasted my leftovers and begged for more!):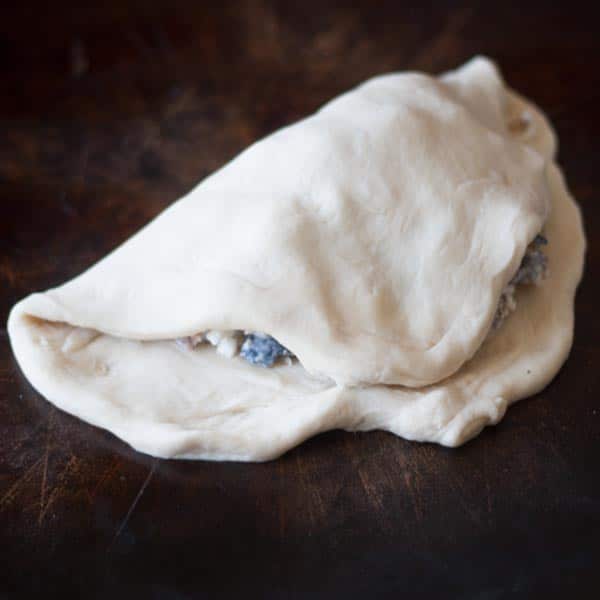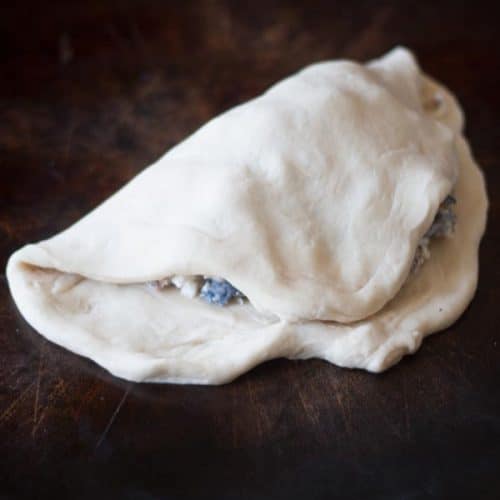 Pizza Calzones Fillings Ideas
For the fillings in this one, I used what I had on hand:
½ cup of cottage cheese
Sausage
Olives
Mozzarella
I served it with a side of pizza sauce and it was... yum!
A week before that I made calzones with other fillings:
Sausage
Pepperoni
Sauce
Onions
Peppers
Mushrooms
And you know what? Those were completely awesome too, and everyone loved them.
Calzone Tips
The easiest way to make a calzone is to roll or press dough into a circle, fill it up and fold it over into a half-moon. Press the edges together to seal.
Another fun way you can make calzones to jazz up the presentation is to braid the dough. This might sound intimidating, but I promise you it does not have to be. Check out this tutorial on how to braid dough. (You can also the braid technique to make outrageously fabulous danishes!)
Another completely optional step: brushing the dough with egg-wash or melted butter before putting it into the oven. This step will give your finished calzone a nice golden tone.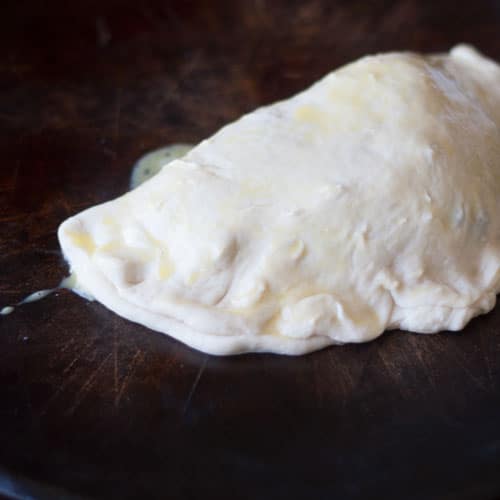 As far as the sauce: pick your favorite. You can use a jarred store-bought spaghetti or pizza sauce. Alternatively, you can make sauce from scratch, which doesn't take a lot of time and tastes so good. We use our homemade pizza sauce, and especially like to make it with fresh tomatoes when in season. However, if you want to make this sauce off-season, these simple ingredients can be found at any grocery store: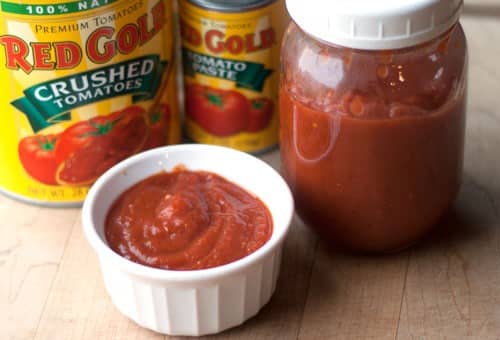 How to Bake Pizza Calzones
Preheat oven to 425 and bake for 12-18 minutes. If you are baking on a pizza stone, you will likely need to bake for a little bit longer.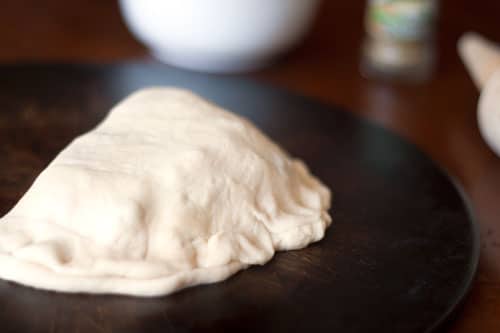 My favorite part of making these calzones? Taking them out of the oven and eating them up!
Recipe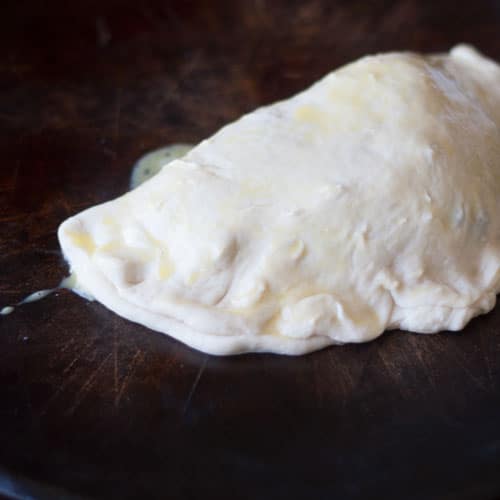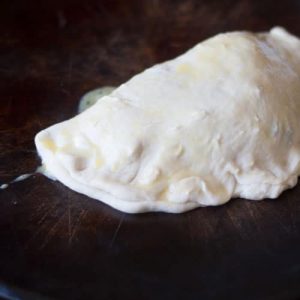 Pizza Calzones
Fill these Pizza Calzones with your favorite pizza toppings!
Ingredients
Instructions
Preheat oven to 425.

Mix together your favorite pizza toppings, pepperoni, mozzarella cheese, and seasonings.

Roll, or press out dough into either a rectangle if braiding or a circle if making enclosed calzones.

Fill with pizza toppings-cheese mix and braid or press dough together to close. Brush top with egg wash or melted butter if desired.

Bake at 425 for 12-18 minutes. If you are baking on a pizza stone, you will likely need to bake for a little bit longer.

Serve with marinara or pizza sauce. We love calzones with our homemade pizza sauce.
Notes
Nutrition facts are calculated without pizza toppings of your choosing.
Nutrition
Calories:
44
kcal
Carbohydrates:
1
g
Protein:
3
g
Fat:
3
g
Saturated Fat:
2
g
Cholesterol:
11
mg
Sodium:
238
mg
Potassium:
11
mg
Fiber:
1
g
Sugar:
1
g
Vitamin A:
95
IU
Calcium:
75
mg
Iron:
1
mg