Slow cooker roast beef with vegetables is a great way to get protein and veggies into a one-pot meal.
When you make this top round roast slow cooker recipe (and any other slow cooker recipe), you'll see how simple it is to put a healthy dinner on the table every night of the week.
Slow Cooker Pot Roast with Vegetables
You can also use this recipe to make eye of round roast slow cooker pot roast. Really, any type of roast beef will work for this delicious recipe.
Using a slow cooker to cook roast beef ensures that it will be tender and juicy.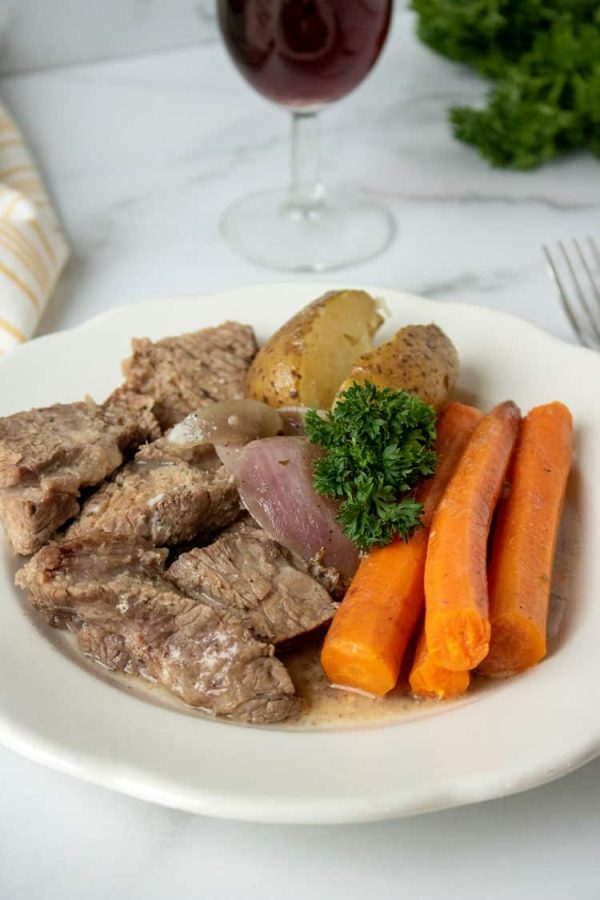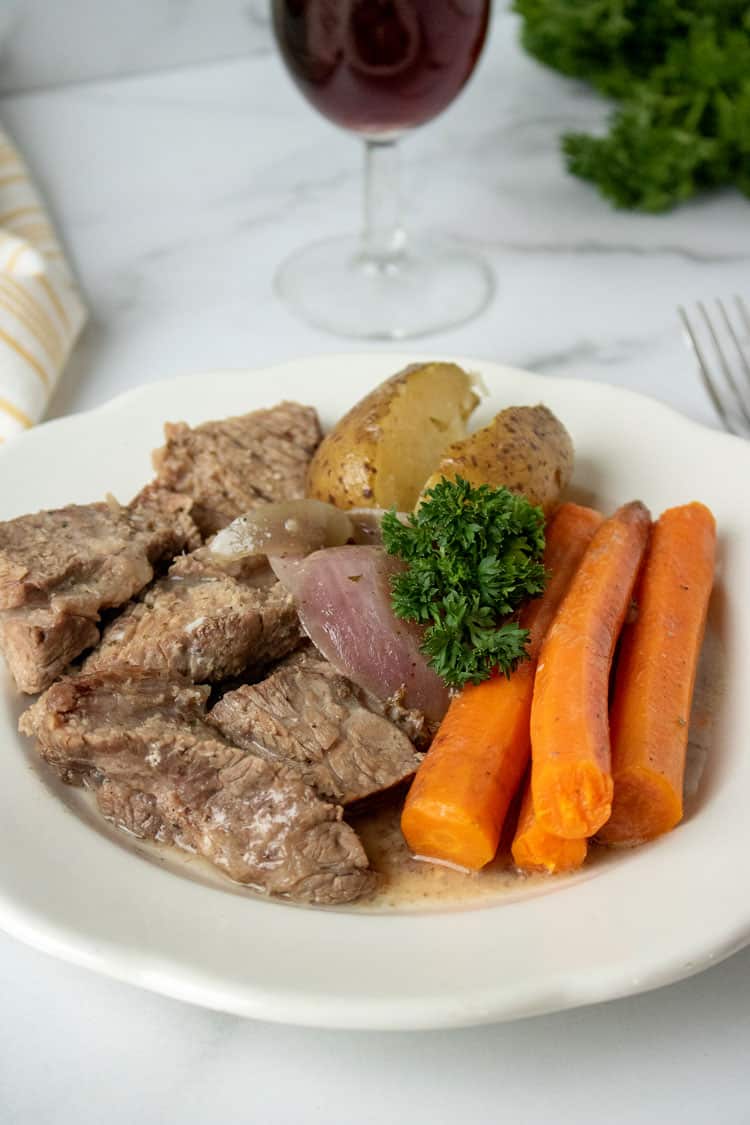 Is this An Easy Slow Cooker Pot Roast Recipe
Yes. It is one of the easiest slow cooker pot roast recipes I've made. Because there are only a few ingredients, it is easy to make with ingredients you probably already have at home.
Keep cream of mushroom soup and dry onion soup mix in your pantry? This is the best beef roast slow cooker recipe and you can make it in just a little bit of time.
What is the Mississippi Pot Roast Slow Cooker Recipe
You can easily use this basics of this recipe to make it into a Mississippi Pot Roast recipe. Leave out the cream of mushroom soup and switch the onion soup mix for a package of dry buttermilk ranch dressing mix.
Then, add in half a 12 ounce jar of pepperoncinis, and half of the juice. Mix in a 1 ounce packet of au jus gravy mix, and add salt and pepper to taste. It really is just that easy.
How Do You Make Slow Cooker Roast with Vegetables
Roast beef with vegetables is one of the easiest recipes you can make in the slow cooker. Crock pot roast is a comfort food favorite, which is probably why families have made this recipe for years.
Slow Cooker Supplies and Resources
One of the best investments for slow cooker cooking is a slow cooker with a locking lid. You can also use a slow cooker liner to make dinnertime clean up easier. There are a variety of sizes available.
Is This a Slow Cooker Pot Roast Onion Soup Mix Recipe
This pot roast recipe does call for onion soup mix. And, since pot roast is a recipe that is easy to adapt, you can switch the onion soup mix for Ranch dip mix.
The flavor of either variation is amazing!
Do I have to Brown the Roast Before Adding It To the Slow Cooker
Yes. It is always a good idea to brown a roast before cooking it. When you make a pot roast in the slow cooker, simply add some oil (or a quarter stick of butter) to a cast iron frying pan.
Then, add the pot roast to the pan and let it brown on each side for a couple minutes.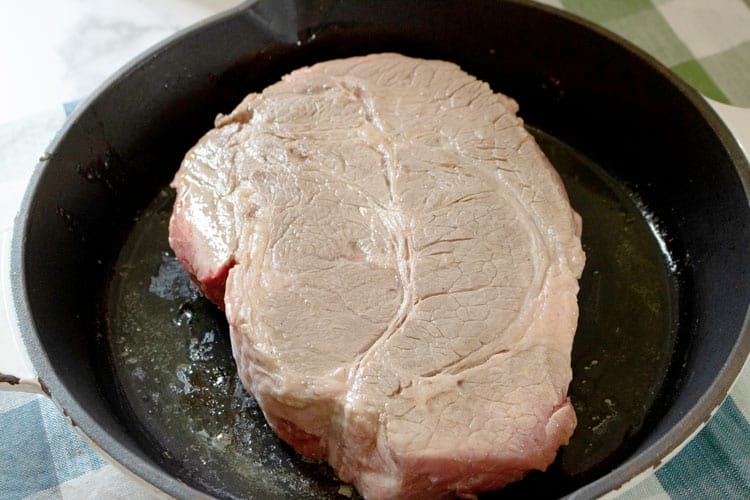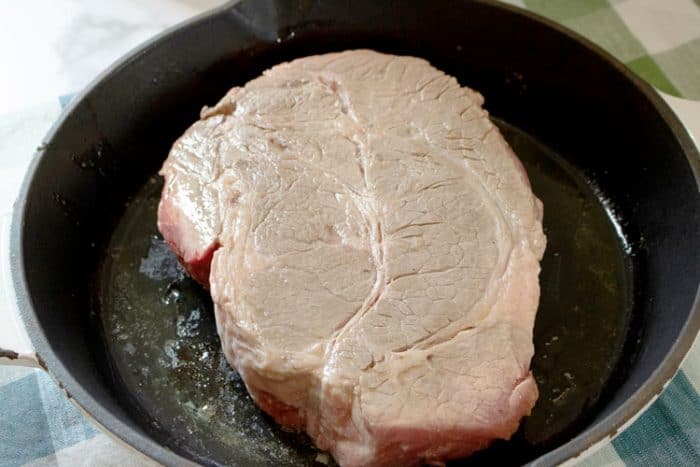 Remove the pot roast from the pan and set it on a plate. In this recipe, you need to add a little bit of water to the pan to deglaze the pan.
Then, add the liquid from the pan to the slow cooker.
You can also use red wine or beef broth to deglaze the pan depending on the recipe.
If using an Instant Pot to make pot roast, you can use the saute mode to brown the roast.
This recipe can also be cooked in a dutch oven, which might be a nice idea for a cold weekend day when you don't mind leaving the oven on.
Does Pot Roast Need to Cook on High or Low Temperature
One of the best things about cooking with a slow cooker or crock pot is that you have more than one temperature option.
This recipe uses low temperature to cook the pot roast. However, check the pot roast when there is about an hour left in the cooking time.
If the roast isn't tender enough for you (or falling apart), it is okay to turn it up to high for the last hour.
Also, if you don't remember to put the pot roast in the slow cooker early enough in the day, it is okay to cook it on high. Just remember to reduce the cooking time.
More of Our Favorite Slow Cooker Recipes
Do you have an Instant Pot? Check out all the delicious Instant Pot recipes we have at our sister site: A Pressure Cooker.
We're still adding new recipes, but we have several easy dinners and cheesecake recipes you'll want to try!
How to Make Pot Roast in a Slow Cooker
I've made pot roast in my slow cooker for years, and normally don't follow a recipe. Pot roast is one of those meals that allows for variation. It's one of the things that makes it so great.
For this slow cooker pot roast recipe, start with browning each side of the chuck roast (or other type or roast--it doesn't have to be a specific kind) in a skillet.
Then, deglaze the skillet with water. Add in the dry onion soup mix and add that liquid to the slow cooker, along with the roast. Season with salt and pepper.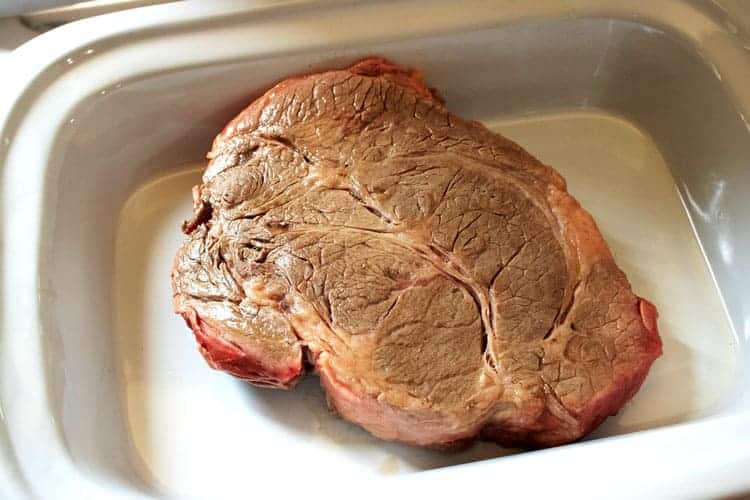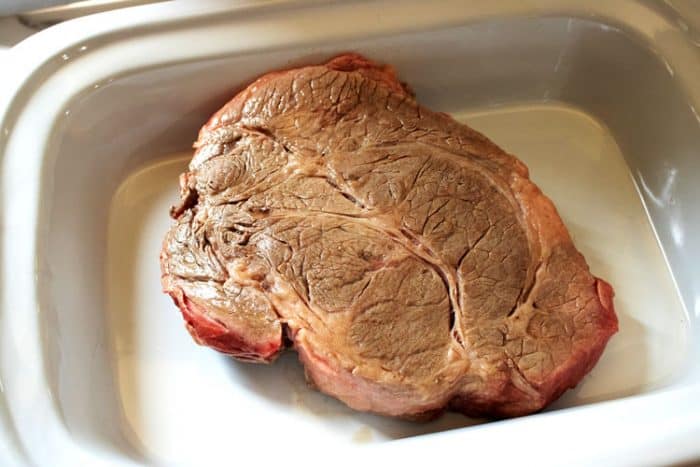 Add in the cream of mushroom soup (golden mushroom soup also offers a nice flavor) and the potatoes to the slow cooker.
This is also where you can add in additional vegetables. I normally add carrots, onion, and sometimes celery or bell pepper.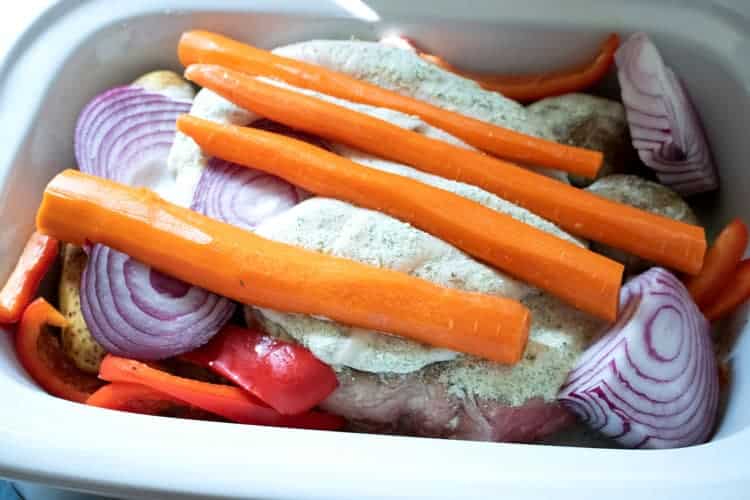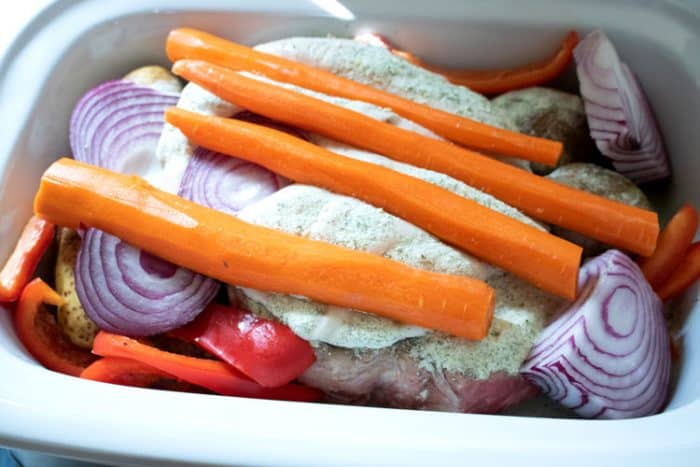 The extra veggies are completely optional, but they do add a nice flavor, as well as rounding out a nice and hearty meal.
After that, all that is left to do is turn the slow cooker on and set a timer. I love my digital Crock-Pot because I can set the cooking time.
When the cooking time finishes, it stays on warm until it is turned off. This prevents meals from over-cooking.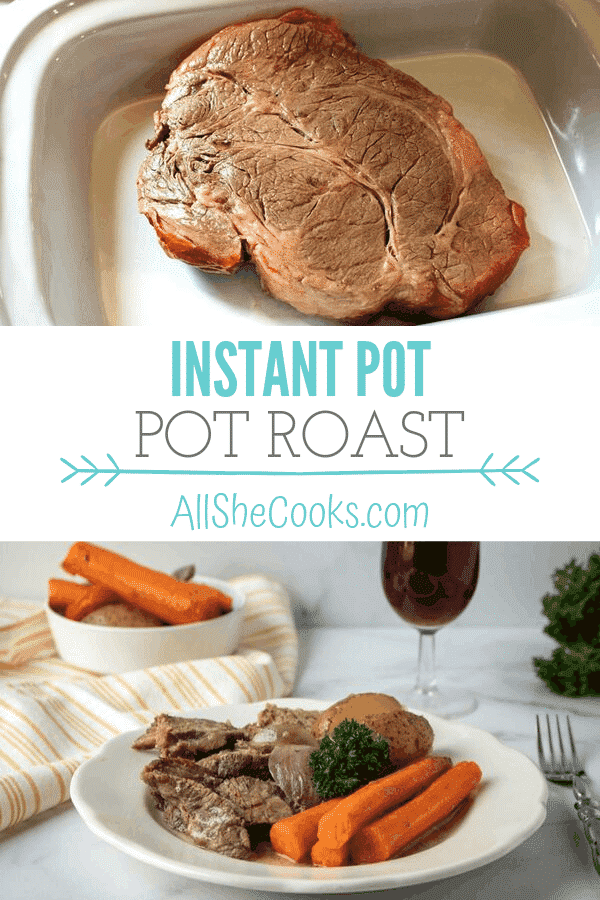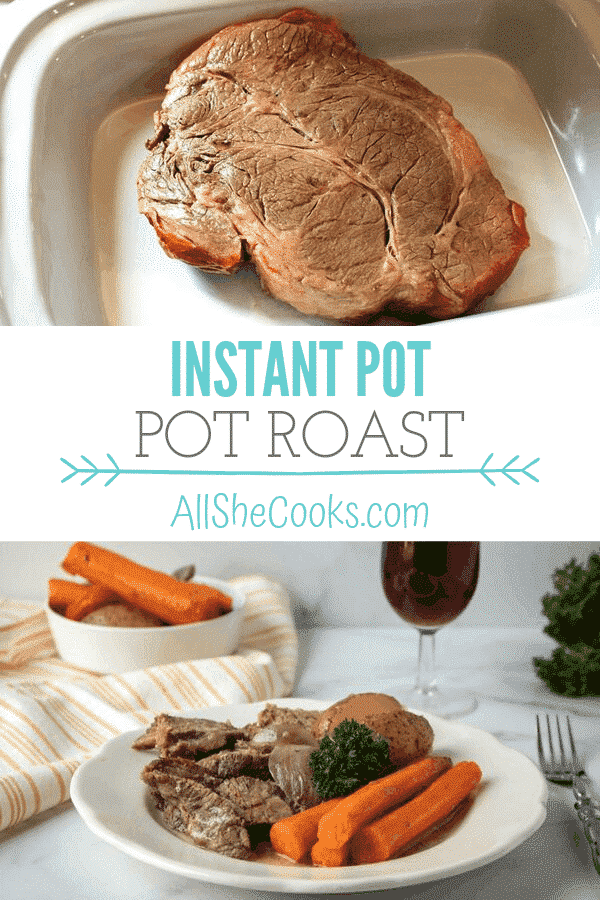 Check Out Some of Our Recent Recipes: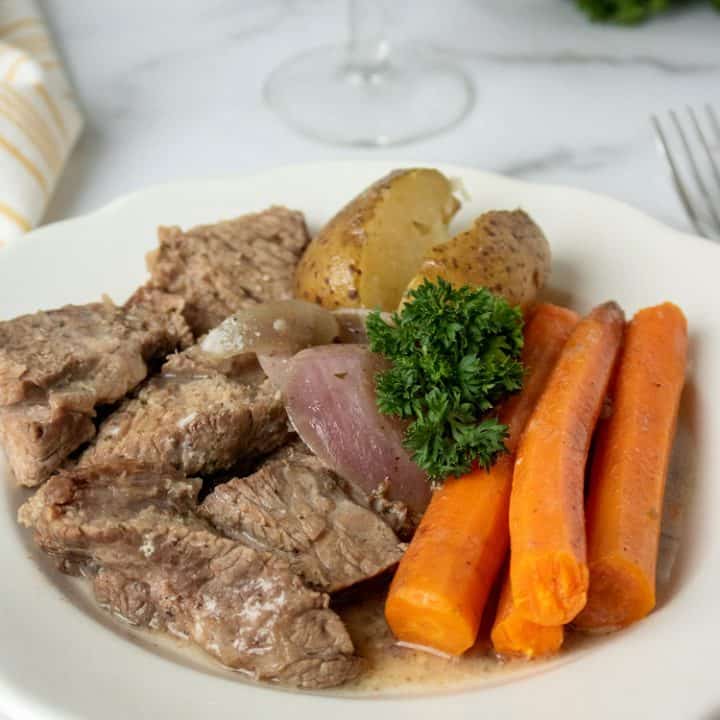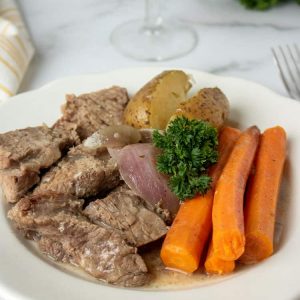 Slow Cooker Pot Roast
A classic roast beef dinner that is delicious served alongside slow cooked root vegetables, or atop mashed potatoes.
Ingredients
4

pounds

beef roast

1

10 ounce can cream of mushroom soup

1

package dry onion soup mix or Ranch dip mix

½

cup

water

6

small red potatoes

scrubbed (or Russett potatoes)

Vegetable oil for frying

Add-ins at your discretion: onions, carrots, pepperoncini peppers
Instructions
Put oil in cast iron skillet, salt and pepper roast, and brown over medium heat, turning to brown all sides of roast.

Remove roast to platter and turn heat to low under skillet.

In same skillet mix together soup, dry onion soup mix, and water and stir to mix and get browned bits off bottom.

Pour ½ mixture from skillet into crock pot, then lay roast in.

Pour remaining mixture from skillet over the top of roast.

Arrange potatoes around the roast in crockpot.

Cover and cook on low for 6 to 8 hours or until roast falls apart and potatoes are tender.
Notes
For a larger meal, add in additional root vegetables. Carrots and potatoes work well to stretch this meal. It can also be served with mashed potatoes.
Nutrition
Serving:
1
g
Calories:
823
kcal
Carbohydrates:
22
g
Protein:
71
g
Fat:
48
g
Saturated Fat:
18
g
Polyunsaturated Fat:
24
g
Cholesterol:
273
mg
Sodium:
381
mg
Fiber:
2
g
Sugar:
2
g