Some of the links in this post are affiliate links. This means if you click on the link and purchase the item, I will receive an affiliate commission at no extra cost to you. All opinions remain my own.
Our easy Slow Cooker Breakfast Casserole will delight your senses with every bite. Get ready to enjoy the yummy taste of bacon, sausage, and cheese with vegetables combined together.
This is one of the easiest breakfast ideas ever! With delicious ingredients like meat, vegetables, and cheese, your whole family will be begging to have this for breakfast every day.
We're featuring a spicy breakfast sausage in our easy breakfast casserole recipe, but feel free to replace it with your favorite breakfast sausage flavor.
This is a super easy recipe to create when you're having a busy work week but need to feed the family. The tasty blend of ingredients and the slight kick of spice will start your day off right.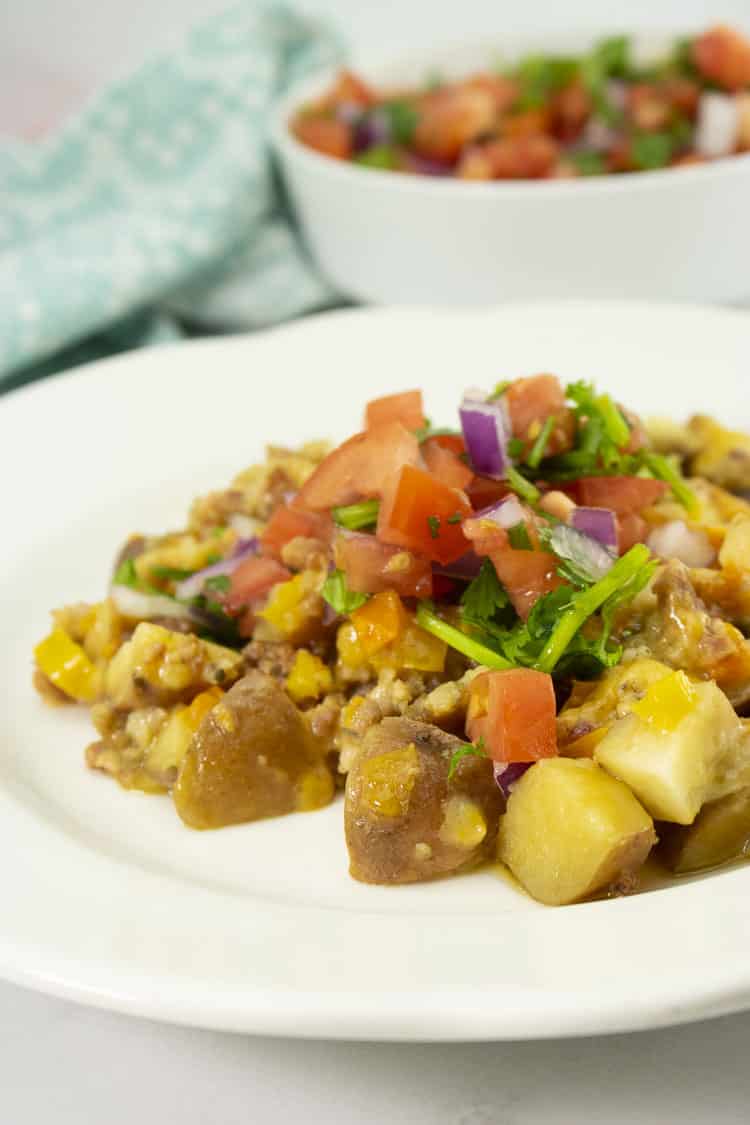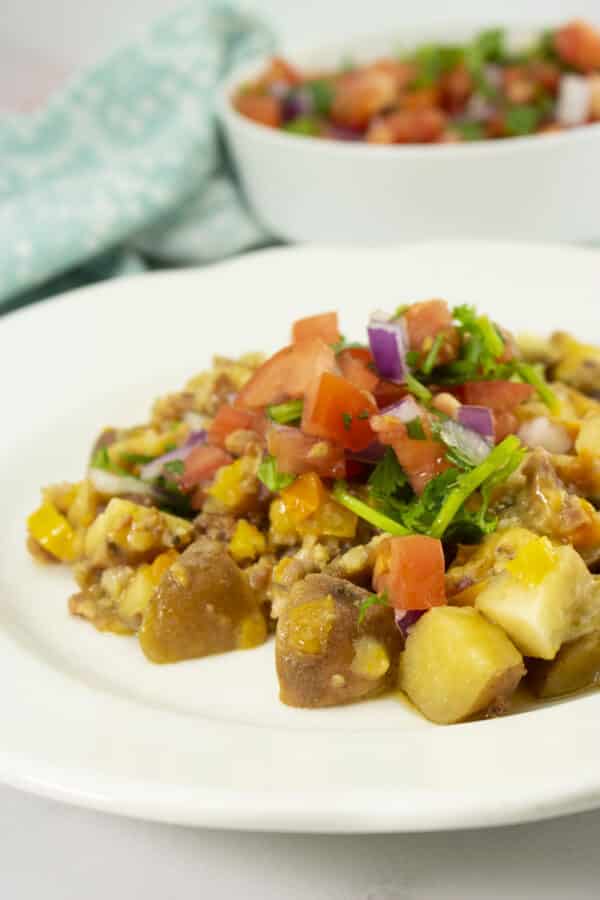 There are many variations of the breakfast casserole that you've probably seen.
While I do enjoy mixing it up and trying new overnight breakfast casseroles, today I'm featuring a super easy breakfast casserole that gives you that kick you need to get up and get moving!
Why is breakfast the most important meal of the day?
Breakfast is one of the most important meals of the day. While this important meal helps jumpstart your metabolism and allows you to have the energy for a busy day, it's not always easy to find a super easy breakfast recipe.
Eating a super easy slow cooker breakfast casserole will tell your body that it's time to start burning calories.
Those who opt to skip breakfast often signal to their body that it's time to store up food, because who knows when it will get food again.
Using my easy overnight breakfast casserole will let you jump start your day and boost your metabolism with the kick of spicy sausage casserole with Pico sauce on top.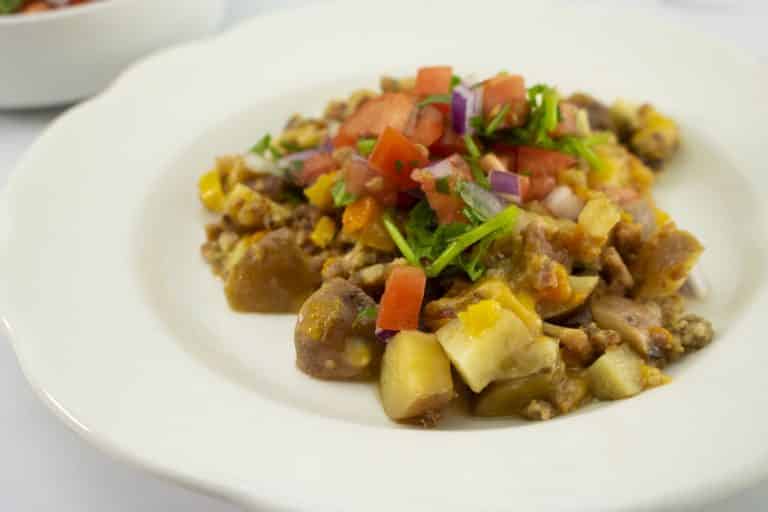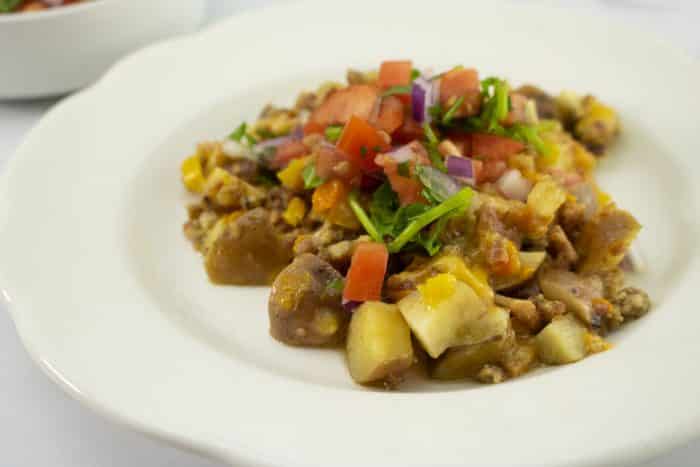 A slow cooker can be a super time saver for any busy household. From the workday to the household chores and errands that must get done, I find that using my slow cooker helps remove one thing off my daily task list.
There are many different brands, types, and styles of slow cookers. I recommend owning a slow cooker that automatically goes to the "keep warm" setting when the cooking time has completed.
With digital timers, and easy to set options, slow cookers that have automatic settings to switch to keep warm are perfect for recipes like this easy overnight breakfast casserole.
You can go to sleep knowing that your slow cooker will keep your breakfast warm while you prepare your Pico sauce for this simple breakfast idea.
Can you leave slow cooker on overnight?
Yes. You can leave your slow cooker on overnight. The slow cooker was created to be set on a flat surface and left alone to cook.
As long as you're following the manufacturer's instructions, then you'll be perfectly fine leaving your slow cooker on to cook this easy overnight breakfast casserole.
For this easy overnight breakfast casserole, you'll leave your slow cooker on overnight for 8-9 hours on its low setting.
I highly advise you place your slow cooker on a flat surface, with nothing around it. This serves as a precaution to keep your kitchen safe as your breakfast cooks overnight.
Can you open slow cooker while cooking?
Yes, you can open the slow cooker while cooking but don't do it! Opening your slow cooker lid will remove heat from the unit. This will create a longer cooking time.
As soon as you have all your overnight breakfast casserole ingredients in the slow cooker, close the lid, and do not open until the casserole is cooked fully.
Using a slow cooker can be a fabulous way to reduce the time involved with meal prep. While I'm talking about serving this breakfast casserole recipe in the morning, you can easily use this easy recipe as a dinner idea.
I know that breakfast for dinner is a favorite in our house! The spicy taste of sausage and bacon can be enjoyed all day long.
Whether you want to make this for breakfast, lunch, or dinner is completely up to you.
Slow Cooker Supplies and Resources
One of the best investments for slow cooker cooking is a slow cooker with a locking lid. You can also use a slow cooker liner to make dinnertime clean up easier. There are a variety of sizes available.
Do you need to brown beef slow cooker?
One of the frequently asked questions I receive is, "do you need to brown beef before putting it in the slow cooker?"
Strictly speaking, you don't have to brown beef before placing it in a slow cooker. With my easy breakfast casserole, I do advise you to bring your spicy sausage to a brown state and bacon to a slightly crispy texture using a frying pan.
The reason I recommend browning your meat before placing it in the slow cooker is to ensure the meat is fully cooked in this breakfast casserole recipe.
Here are Some of Our Best Slow Cooker Recipes
We're doing a 30-Day Slow Cooking Challenge. Here is a list of the recipes we're cooking up. Let me know if you try one of them by leaving a comment on that recipe post and rating the recipe!
There are several types of recipes that we are making during the challenge, from chicken slow cooker recipes, beef recipes, and even vegetarian recipes.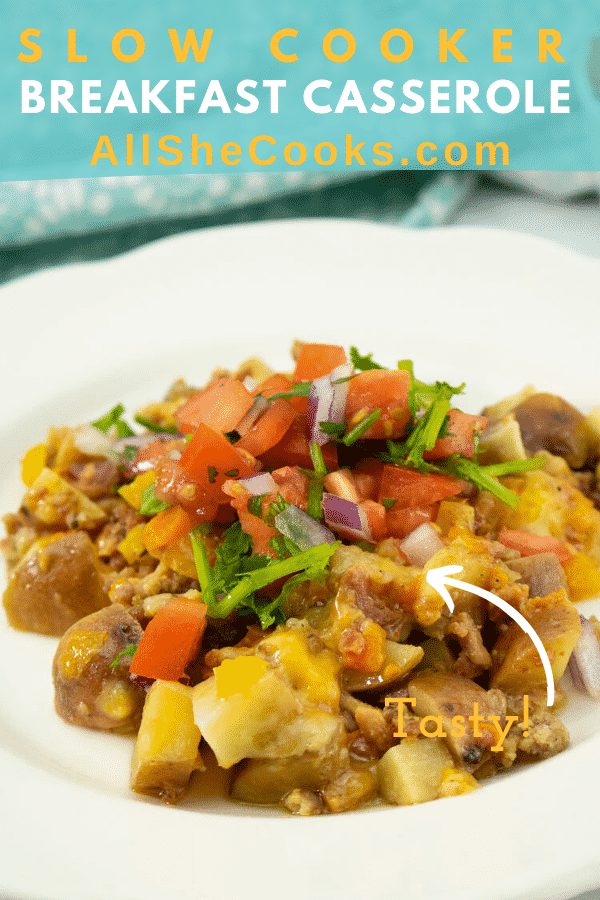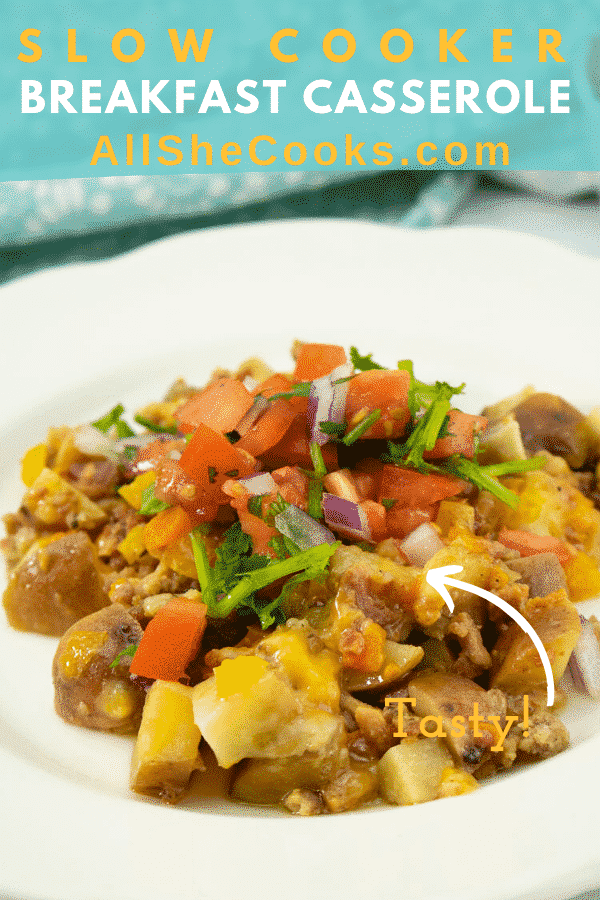 How to Make a Breakfast Casserole
Are you ready to give my overnight breakfast casserole recipe a try? Below you'll find the step by step instructions to make this delicious start-of-the-day meal!
First cook your sausage and chopped bacon in a skillet over medium-high heat. You'll cook the sausage until it's browned and bacon until it's mostly crisp.
Second, drain the grease from both the sausage and bacon.
Third, add 1/2 of the meat to the slow cooker. Top with half of the peppers, half of the potatoes, and half of the cheese.
Repeat this process with a second layer of each; meat, peppers, potatoes, and cheese for this breakfast casserole recipe.
Next, you'll place the slow cooker on low and allow to cook your overnight breakfast casserole for 8-9 hours.
If you're setting this easy overnight breakfast casserole to cook overnight, then make the pico sauce in the morning.
How to Make Pico Sauce
Forget buying Pico sauce. You can easily make Pico sauce at home with just a few ingredients.
Follow my step by step instructions below to make your Pico sauce to place on top of your overnight breakfast casserole recipe.
Chop tomatoes, onion, and cilantro.
Combine the chopped ingredients into a medium-size bowl.
Stir to blend ingredients.
This easy to make breakfast casserole can be served on a plate with fresh Pico Sauce.
Now that you know how to make the best overnight breakfast casserole ever, you can enjoy serving your family a quick, spicy meal to start their day regularly.
The delicious flavor of homemade Pico sauce on top of my breakfast casserole recipe truly completes the meal.
Feel free to print this easy breakfast casserole recipe card so that you can make this breakfast idea for your family soon.
Looking for More Breakfast Recipes?
Here are a few breakfast recipes that are fast and easy that you'll want to try: Instant Pot Asparagus Frittata, Healthy White Egg Scramble, Asagio Cloud Eggs (Keto-friendly), Baked Oatmeal.
Get the latest scoop on all the recipes I'm whipping up in the kitchen by following along with All She Cooks on Facebook, Instagram, and Pinterest. Also, don't forget to join my Facebook Group where you can share your favorite blogger recipes: Easy & Delicious Recipes.
Have you tried this recipe? Don't forget to Rate This Recipe below. While you're at it, share a picture on Instagram with #allshecooks so we can see how your recipe turned out!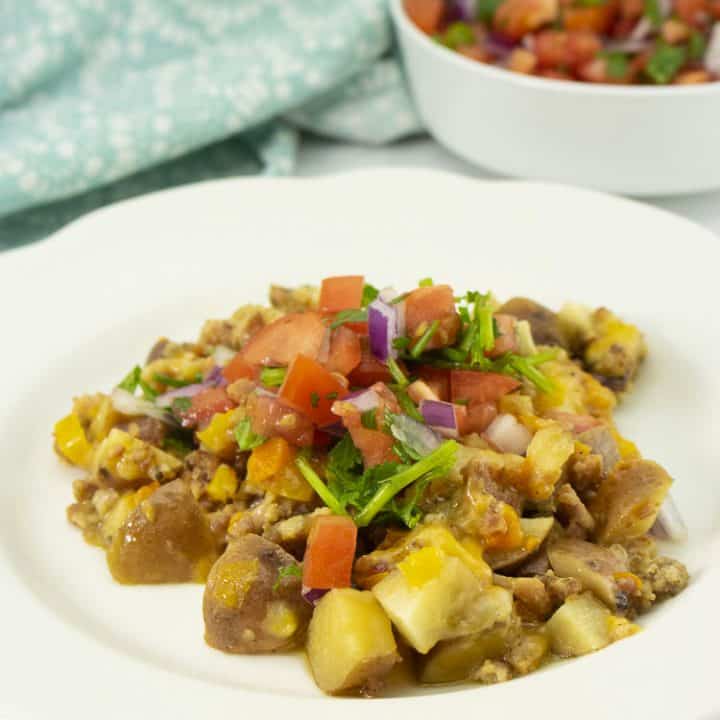 Slow Cooker Breakfast Casserole with Pico Sauce
Total Time:
8 hours
15 minutes
Easy overnight breakfast casserole filled with potatoes, sausage, bacon and cheese is topped with a freshly made flavorful Pico sauce.
Ingredients
1 pound spicy breakfast pork sausage
1 pound bacon, chopped into small pieces
1 yellow bell pepper, diced
1 orange bell pepper, diced
24 ounces small red potatoes, diced
2 cups shredded cheddar jack cheese
4 Roma tomatoes, chopped
1/2 cup chopped red onion
1/3 cup chopped cilantro
Instructions
Cook sausage and chopped bacon in a skillet over medium-high heat until sausage has browned and bacon is mostly crisp.
Drain grease from the sausage and bacon.
Add 1/2 of the meat to the slow cooker. Top with half of the peppers, half the potatoes, and half the cheese.
Repeat a second layer of each: meat, peppers, potatoes, and cheese.
Cook on low for 8-9 hours.
Make Pico Sauce: chop tomatoes, onion, and cilantro and combine them in a medium-size bowl. Stir to blend ingredients.
To serve, top breakfast casserole with fresh Pico Sauce.
Recommended Products
As an Amazon Associate, I earn from qualifying purchases.
Nutrition Information:
Yield:

8
Serving Size:

1
Amount Per Serving:
Calories:

676
Total Fat:

46g
Saturated Fat:

18g
Trans Fat:

0g
Unsaturated Fat:

25g
Cholesterol:

136mg
Sodium:

1637mg
Carbohydrates:

24g
Fiber:

3g
Sugar:

4g
Protein:

40g