Obsessed with Olive Garden's Zuppa Toscana Soup? So is the rest of the world. And now you can make your own version at home with this easy copycat recipe. Soup's up!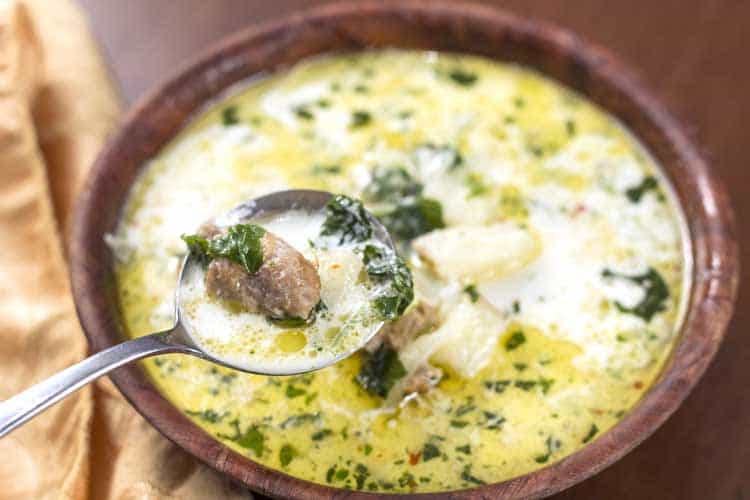 Who doesn't love a good soup? Especially when the weather gets a bit cooler and you're looking for yummy ways to warm up yourself and your family.
And it doesn't get much better than that famous Zuppa Toscana Soup at Olive Garden. You know the one.
Our whole household really loves this Italian Sausage Soup With Kale, and it has long been a family favorite. As copycat recipes go, this is one of the best you can possibly find.
And while we can't say this is the exact recipe you've eaten at Olive Garden (because that's top secret!), I can say that it taste very much like it to me.
So go ahead and indulge in a bowl or three of this yummy Zuppa Toscana Soup alongside a dish of delicious salad - like this Italian Chopped Salad.
This is my favorite soup EVER.
What Does Zuppa Toscana Mean?
Zuppa toscana literally means "soup in the style of Tuscany". Zuppa Toscana is traditionally made from kale, zucchini, cannellini beans, potatoes, celery, carrots, onion, tomato and either Italian sausage or rigatino, which is a type of Italian bacon.
One of the reasons I particularly love Zuppa Toscana Soup so much has to do with the flavor. The sausage really adds to the meaty flavor of the broth in a way that really hits the spot. All the flavors in this selection of seemingly simple ingredients come together and make a pot of soup that is exceptional.
And that is something you really can't beat. Which is why we like to make (and eat) this soup pretty often. In fact, a few years ago I also made a copycat version of the recipe that I could cook up in my slow cooker.
Of course, one of the reasons I LOVE to cook it in the slow cooker is because I can use handy dandy slow cooker liners and not have to worry about clean up. At all.
And I've used that recipe a ton too.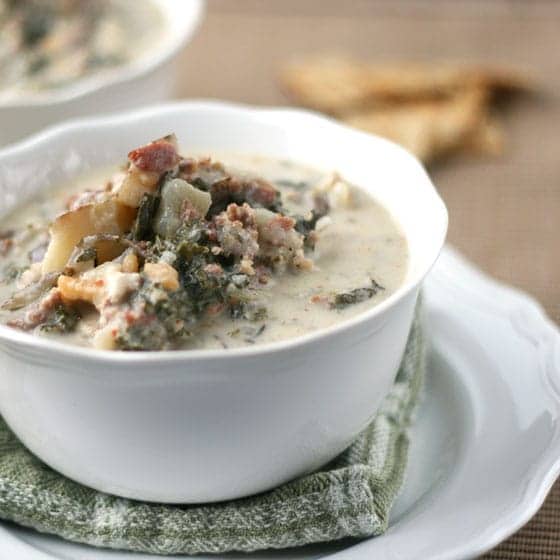 Easy Zuppa Toscana Recipe
You know when you take a bite of the best food you've ever had and you just want to eat it again and again? Because a couple bite-fulls will just never be enough? That is how I feel about Zuppa Toscana.
It's a recipe that is easy enough to serve by itself, but pair it with a yummy salad or breadsticks and you've really hit the jackpot.
And, seriously folks--we're all busy. Like super busy. So, you better believe that I've cooked Zuppa Toscana about a gazillion times in my slow cooker.
Can I make this Copycat Zuppa Toscana in the Slow Cooker?
Yes! In fact...I was just talking about cooking with our slow cooker more and more because currently we don't all get back to the house until around 7 pm each night during the week.
Club sports after school mean a 30 minute commute right after school (which seriously isn't bad), followed by a two hour practice and then the 30 minute drive back home.
But, sports are so worth it. Especially for teenagers.
I love seeing how involved my son is with his new group of friends that he's met through soccer. And the kids come from all over, so a few here and there go to school together, but she is meeting kids that go to several different schools and they are all becoming fast friends.
Which means, sometimes they linger after practice because they are trying to finish a conversation that they had to put on hold during the actual practice. And that means we get a later start on our drive home and an even later start on dinner.
And now I'm rambling. But that my friends, is the perfect reason to have dinner ready to go in the slow cooker so I'm not making dinner at 8:00 in the evening!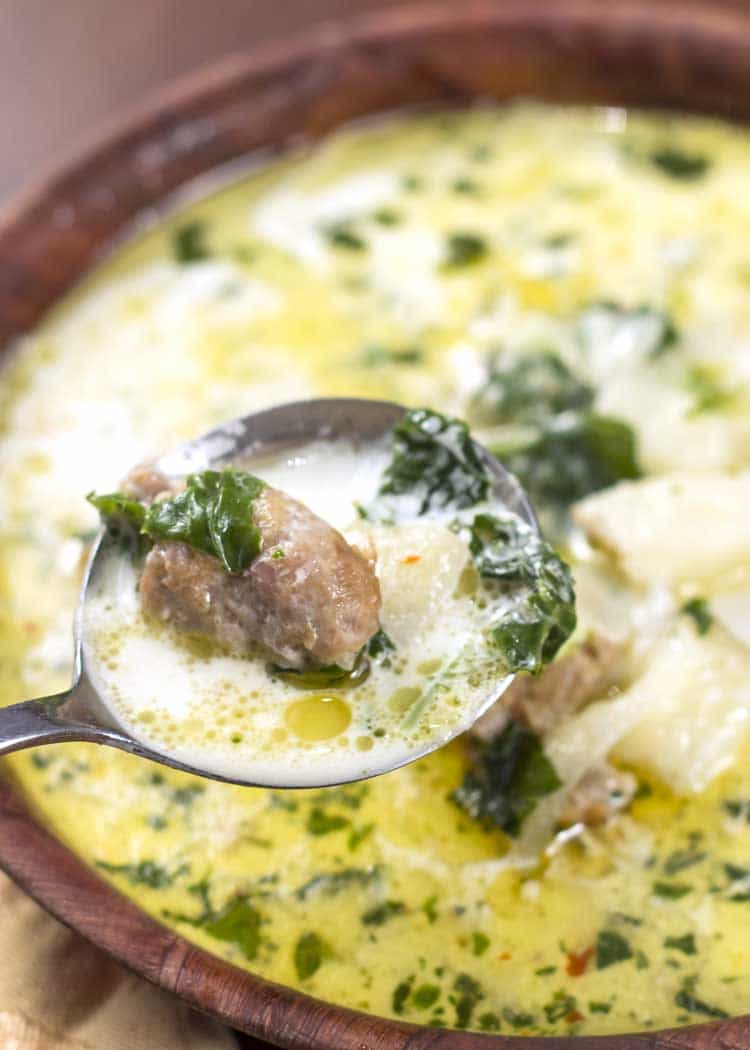 To make this recipe in the slow cooker, just prep everything through step 5 in the recipe card below. Then dump all the remaining ingredients in the slow cooker and cook on high for 4 hours or low for 6 hours.
Whether you cook Zuppa Toscana in the slow cooker or on the stove top, this recipe is delicious! I can seriously eat a couple bowlfuls without thinking about it, so I have to watch myself to make sure I don't go crazy with the portions.
What To Serve With Zuppa Toscana
Adding a few bread sticks or a slice of bread or garlic toast on the side is the way to a bread-lover's heart.
Trust me - I know this. My family are huge bread lovers and sometimes we'll have garlic bread as a side and they are all fighting over the last piece.
We spent the last week driving home each night past a restaurant that we can't see but can smell...the aroma of fresh garlic bread hanging in the air as we drove by.
I finally got smart and made a slow cooker spaghetti sauce and meatballs and asked my husband to heat up the garlic bread and make pasta noodles while we were on our drive home last night.
And that was perfect because dinner was almost ready when we got home AND we got our garlic bread craving taken care of.
One of our favorite choices to go with this soup is our copycat Restaurant Style Bread Sticks -YUM! And Olive Garden is famous for their breadsticks too, so it's super fitting.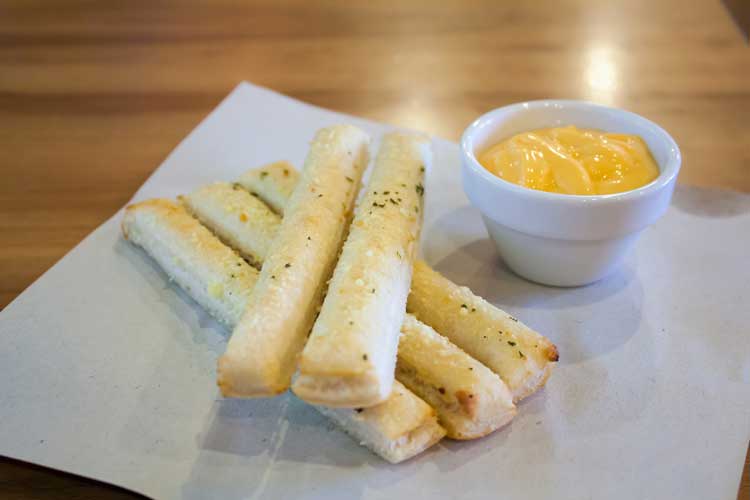 Or maybe some Rosemary Bread. This Copycat Macaroni Grill Rosemary Bread is one of our favorite recipes. It is a great side for so many meals and by far the most popular bread recipe on the blog!
You might as well make an extra loaf of bread while you're at it...this bread can go quick. Seriously- this is one of our family favorite bread recipes.
Making Memories with Favorite Recipes
Do you have recipes that your family likes to eat again and again? Those recipes probably have some great memories to go along with them. I know ours sure do.
For Zuppa Toscana, and whichever bread we serve up alongside it, it conjures up memories of going out to eat with my son for lunch...just the two of us. We would always order the same exact thing, until more recent years when he switched up his order to Fettuccine Alfredo along with a bowl of soup.
Either way, it brings up memories of our fun lunch dates. And of course, lunch dates typically involved shopping trips too. Fun times!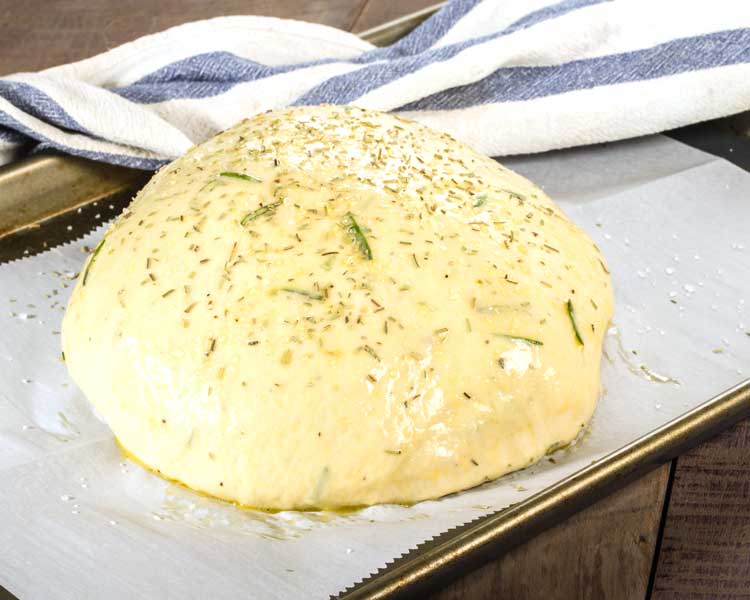 Is Kale Good For You?
You better believe it. Kale is amazing for you!
Kale is a superfood, and this soup is a super delicious way to prepare it. Eating kale has been shown to reduce cholesterol, reduce risk of cancer, and even to help detoxify the body.
In fact, we're seeing kale pop up in recipes everywhere. Like the yummy Kale and Blueberry Salad we whipped up.
Kale can be used in so many recipes. Try it in salads, toss some in with a smoothie or add it to some cooked spinach.
A lot of people even eat kale chips. Seriously--if you haven't tried kale chips, you're missing out.
It is such a good idea to have multiple ways to eat this healthy for you ingredient. Kale is so full of health benefits.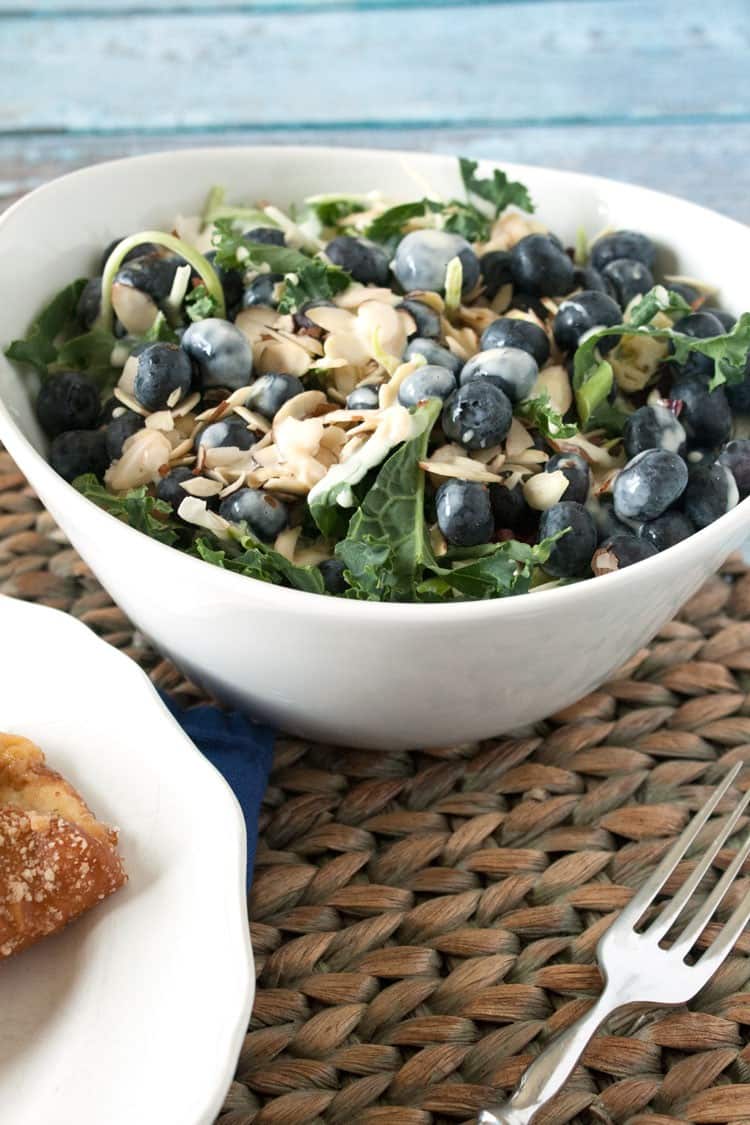 Zuppa Toscana is a gentle foray into the world of kale. The fat in the soup will actually help your body absorb the important nutrients found in this green.
And if that's not a glowing recommendation for a recipe with some fat in it... I don't know what is.
Eat your greens. Eat your soup. Love your body.
A Winning Soup Recipe
Soup recipes abound the internet, and a few are worth saving and making repeatedly. This is one of those soup recipes.
The aroma of Zuppa Toscana cooking is fantastic. And, it's a welcoming scent to my kids and husband alike when they come home from a long day.
Especially a chilly day.
I am so fortunate to be able to work from home. And, while that doesn't mean I have endless time on my hands to be doing chores and making lavish meals-- trust me, I don't have that kind of time - it does mean that when I'm able to I can toss some ingredients into the slow cooker in the middle of the day.
I count 15-20 minutes spent on meal prep during the middle of the day as a time-savings for later in the evening. It all works itself out.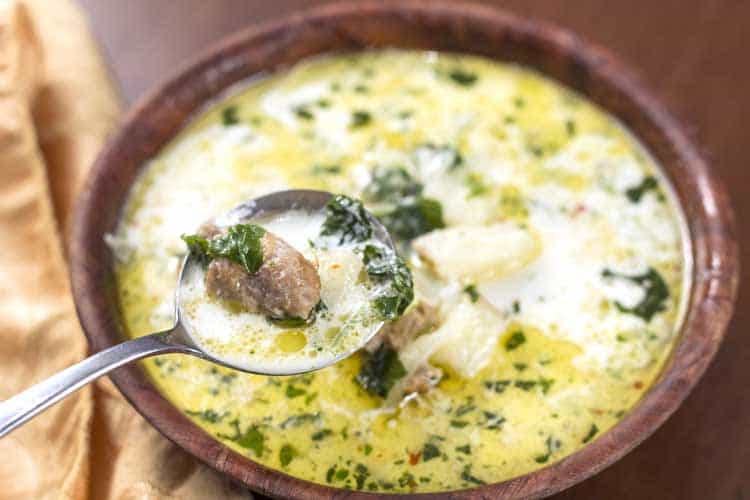 Family Favorite Soup Recipes
When it comes to soup recipes, this one is a family favorite.
Not only is this Zuppa Toscana Soup absolutely FULL of amazing flavor, it contains kale, which is great for digestion and a super food to boot! You'll love this Zuppa Toscana recipe served up alongside a plate of Italian Chopped Salad for the perfect soup and salad combination.
In fact...whenever we go out to lunch at Olive Garden, that is almost always what we order. We just can't help ourselves.
That taste! Yum!
Copycat Recipes are Like Dining Out at Home
I love eating out as much as the next person. Sometimes it's easier to just grab takeout or stop at a restaurant.
However, it is so much more fulfilling to make dinner from scratch and know exactly what you're putting into your body. It also is a great way to be able to tweak a recipe here or there and make it healthier for your family. That's why I love making restaurant copycat recipes so much.
Sometimes when I make Zuppa Toscana Soup, I add in some extra kale so I know my family is getting more of that nutritious ingredient. Or, if I'm trying to cut down on the fat, I might substitute the heavy cream for half and half.
See, simple things like that are possible to do when you're cooking from scratch at home. However, those are requests that you really can't make at a restaurant.
Don't forget to savor the flavor when you dish up a delicious bowl of Zuppa. It's good, but you don't want it to be gone in a minute. Zuppa Toscana is worth taking leisurely bites. It's kind of like taking a stroll versus a jog.
You want to enjoy the journey to your destination, not have it hurry on by.
And Zuppa Toscana is certainly worth a leisurely indulgence. It is worth savoring every single bite.
More Recipes Like Copycat Zuppa Toscana Soup
If you love this Copycat Zuppa Toscana Soup, you'll want to check out these other delicious soup recipes: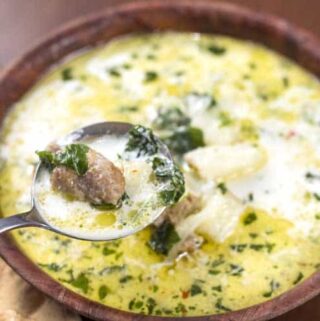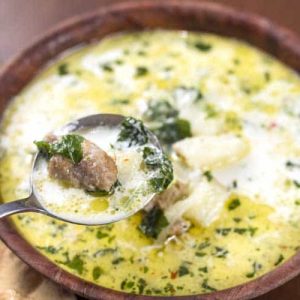 Zuppa Toscana Soup (Copycat Olive Garden Recipe!)
Obsessed with Olive Garden's Zuppa Toscana Soup? Make your own version at home with this easy copycat recipe. Soup's up!
Ingredients
1

pound

Italian sausage

5 to 7

slices

bacon

5

russet potatoes

medium

2

cups

kale

fresh, chopped into bite sized pieces

1

cup

heavy whipping cream

4

cups

water

28

oz

chicken broth

½

onion

large, diced

3

garlic cloves

minced

2

teaspoons

crushed red pepper flakes
Instructions
Using a baking sheet, crumble the sausage.

Preheat oven to 300 degrees Fahrenheit and bake until no longer pink, bout 30 minutes.

Drain fat and grease off using paper towels.

Fry or bake the bacon and crumble into small pieces.

Slice the potatoes between ⅛ inch and ¼ inch, making the slices about the same size so they cook evenly.

Using a large pot, toss the potatoes, onion, garlic, chicken broth, and water in together and cook on medium heat until the potatoes are cooked through.

Add the sausage, bacon, red pepper flakes, and salt and pepper to taste.

Simmer, stirring occasionally, for another 10 minutes.

When the potatoes start breaking apart into smaller bite sized pieces because they are so tender, turn the heat to low and add in the kale and heavy cream.

Let the soup heat through and serve.
Nutrition
Calories:
472
kcal
Carbohydrates:
27
g
Protein:
14
g
Fat:
35
g
Saturated Fat:
15
g
Cholesterol:
93
mg
Sodium:
546
mg
Potassium:
855
mg
Fiber:
3
g
Sugar:
1
g
Vitamin A:
2259
IU
Vitamin C:
48
mg
Calcium:
79
mg
Iron:
2
mg
Save
Save