This post has been sponsored by Cascade, but all opinions are my own.
Making Sloppy Joes is Easy
Sure, you could go with the classic out-of-can experience, but you'll be doing yourself (and your family) a favor if you decide to make this recipe from scratch.
Homemade Sloppy Joes are pretty easy to make with a few simple ingredients: ground beef, onion, garlic, pepper and seasonings. The combination of all these ingredients is utterly delicious. The key for the perfect Sloppy Joes is to allow the mixture to simmer on the stove-top for about an hour, letting the flavors of all the spices meld together.
Do you love to make a mess in the kitchen?
You're in good company! Yes, that's right. If you could only peak into the behind the scenes action of a food blogger (namely myself!) you'd find a mess in the kitchen just waiting to happen. In fact, it pretty much goes without saying that if I'm cooking, there is a mess in the future.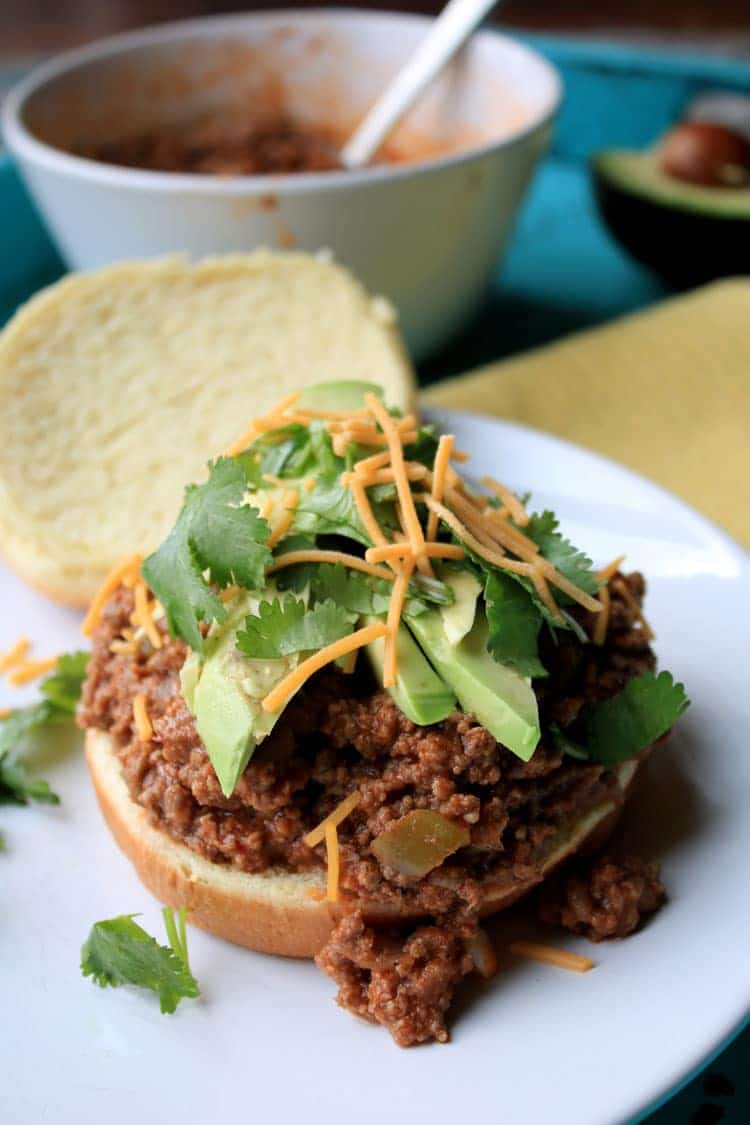 But, don't let fear of messes keep you down! Get in your kitchen and cook up a storm because the best recipes often come from someone who is willing to get a little down and dirty in the kitchen. And playing with food just comes with the territory.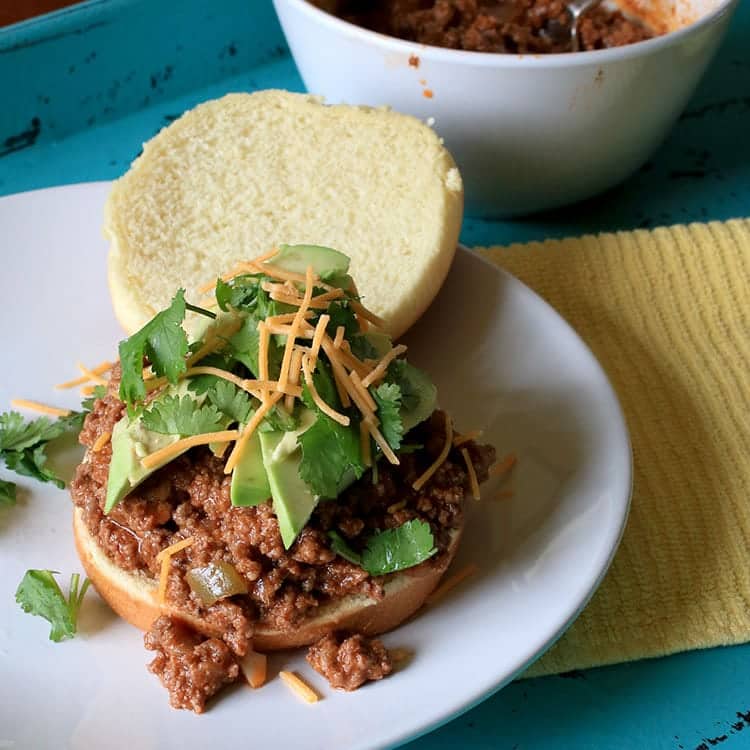 We've made our share of messy. As in, if you could dive into our pork ribs or grilled chicken halves from the screen, you'd save yourself a HUGE mess. Sure, you wouldn't get to lick your fingers (and we know that's half the fun) but you wouldn't get stuck cleaning up all the dishes either!
Thankfully, I have a dishwasher that likes to work hard. THANK YOU dishwasher. You do a wonderful service for our household. And, I have to say…you work hard, and that is why you aren't the first dishwasher to grace our humble abode and probably won't be the last.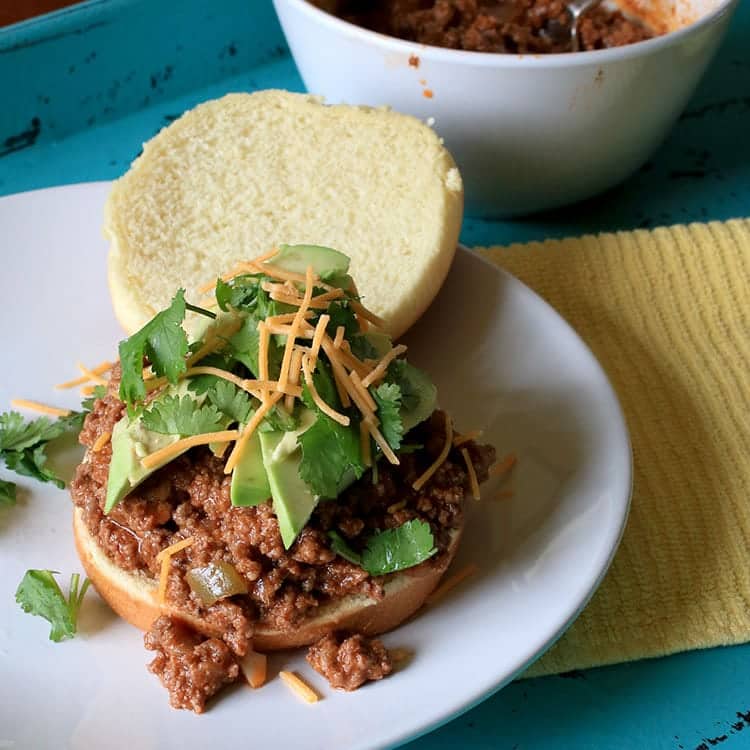 How Often Do You Run Your Dishwasher?
On a busy day--one where I'm cooking a few recipes to test out for the blog, or making a big meal for the kids and their friends--I might run the dishwasher twice in one day. Eek!
Yes, I try to clean as I go the best I can. This last week, I've been throwing a little bit of spring cleaning into the mix AND cleaning out the refrigerator at the same time. The day I did that was definitely a two loads day because it added several containers into the mix.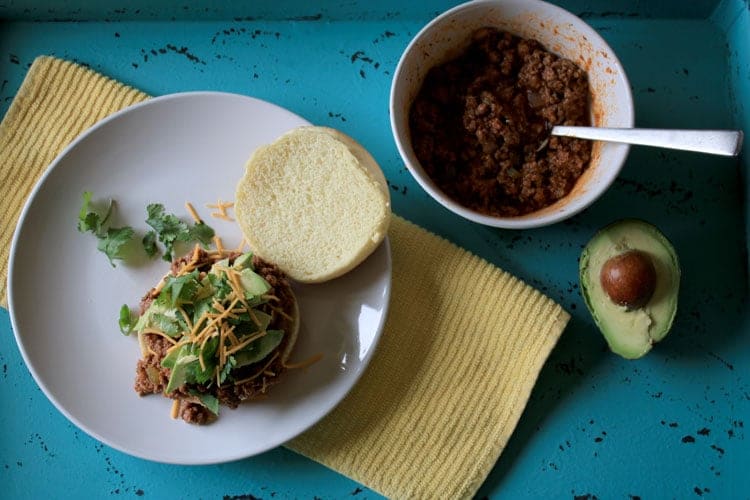 Food is fun, the messier, the better.
Truth be told, I adore messy food. It screams comfort. And comfort food, in my humble opinion, is the BEST kind of food.
We've taken a classic homemade Sloppy Joe recipe and added a few yummy flavoring tweaks to it. First, we added tomato sauce to the meat mixture and decided we wanted something more than just meat and a bun. Not that there is anything at all wrong with that---but avocado and cilantro? Um, yeah. Mmmhm! That's what we're talking about. YUM!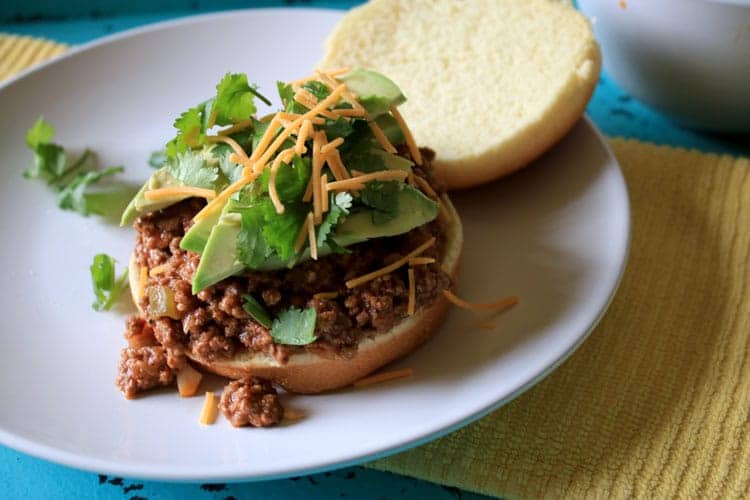 I've tried all kinds of dishwashing detergent, and a lot of them just plain do not work. In fact, recently I asked my husband to pick up some dishwashing detergent at the store, and he unwittingly brought back the wrong kind. I had to send him a photo the next day and tell him to pick up Cascade Platinum ActionPacs. True story.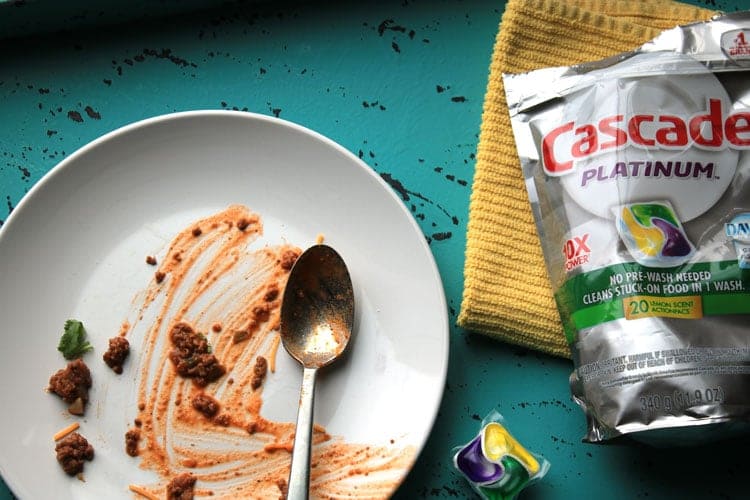 If you don't believe Cascade is as good as I say it is, check out CascadeClean.com for product samples. Being able to skip the pre-wash routine and let my dishwasher work harder for me is a huge bonus. Cascade Platinum ActionPacs also work to prevent hard-water build-up—which is huge!
The reason why I'm a stickler about the type of dishwasher detergent I use is that I know what works and what doesn't in my dishwasher. From experience, I know that the only way to get sparkling dishes is by using Cascade. I'm sure I had found an amazing Cascade coupon (like this coupon for Cascade) before I tried it the first time.
Time to get sloppy with Sloppy Joes...
Sloppy Joes. Comfort food in a bun. Serve up these delicious sandwiches open-faced and use a fork, or squish it all between the bun and let it get messy. That's half the fun, right?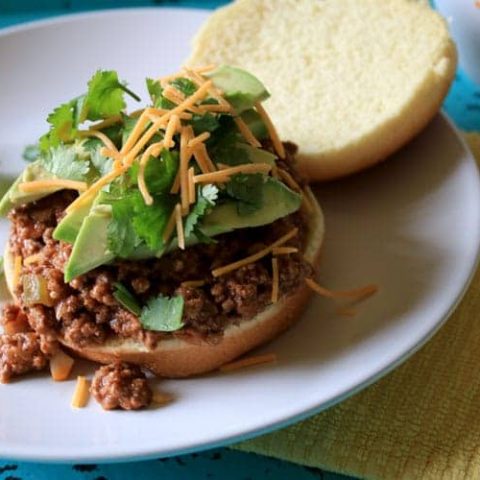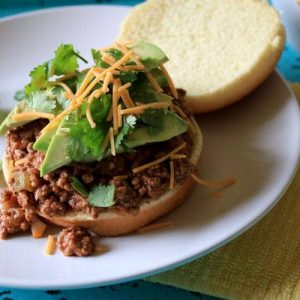 Southwestern Sloppy Joe Recipe – How to Clean Up That Messy Sandwich
Southwestern Sloppy Joes make an easy and delicious meal. This recipe is a great twist on a fun favorite meal that your family will ask for again and again.
Ingredients
1 ½

pounds

lean ground beef

½

onion

chopped

1-2

cloves

garlic

chopped

½

cup

green pepper

diced

1

cup

water

8

ounce

can tomato sauce

2

tablespoons

brown sugar

2

teaspoons

Dijon mustard

1 ½

teaspoons

salt

½

teaspoon

pepper

Buns

Avocado

sliced

Cilantro

few sprigs per sandwich
Instructions
Over medium-high heat, brown ground beef in skillet until cooked though. Drain grease.

Add garlic, onion and green pepper. Stir and combine and cook for 2 to 2 minutes until softened.

Add 1 up of water and tomato sauce. Mix to combine well.

Stir in brown sugar, Dijon mustard and simmer for about 40 minutes or until sauce has thickened and liquid has reduced.

Add in seasonings and serve up on sandwich buns or rolls.
Nutrition
Calories:
282
kcal
Carbohydrates:
12
g
Protein:
38
g
Fat:
9
g
Saturated Fat:
4
g
Cholesterol:
105
mg
Sodium:
1316
mg
Potassium:
829
mg
Fiber:
2
g
Sugar:
9
g
Vitamin A:
314
IU
Vitamin C:
20
mg
Calcium:
31
mg
Iron:
5
mg