A great Fall squash salad packed full of flavour with butternut squash, feta cheese, lentil, spinach and onion and topped with garlic sour cream dressing.
This squash salad is incredibly easy to make and is so comforting. I love to eat this warm but it's just as delicious eaten cold. Make this the day before for lunch throughout the week or enjoy it for dinner with a glass of vino.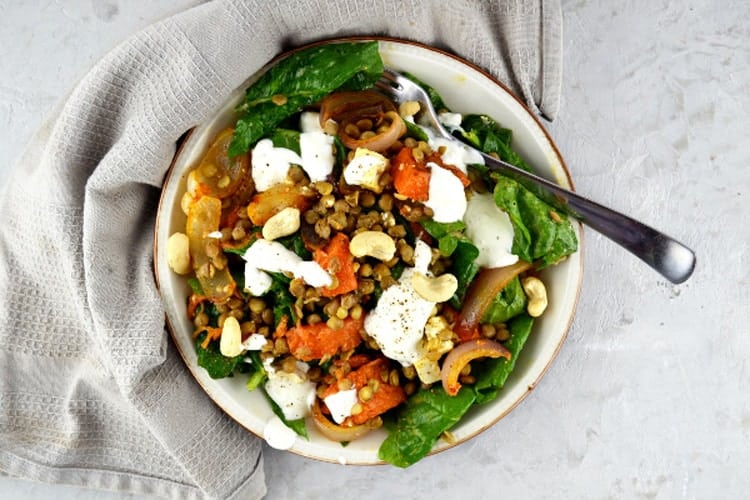 Isn't this year just flying by? I'm so glad the weather is cooling down and the leaves are all turning that beautiful fiery orange colour.
This is my absolute favourite time of the year.
I love Fall ingredients such as squash, lentils, mushrooms, grains, and nuts. This squash salad is a bowl packed full of some of the best fall ingredients with a gorgeous garlic, sour cream dressing.
This is proper comfort food...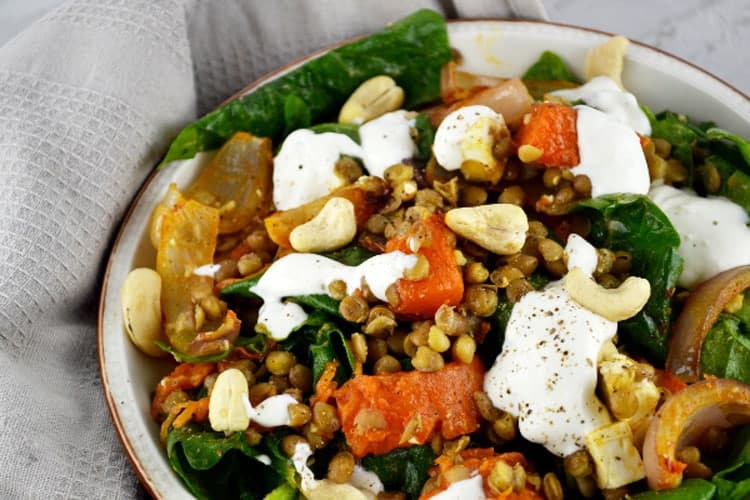 I use butternut squash here but pumpkin would work perfectly too. I sprinkle the squash and red onion with some chili flakes (not too much just enough for a little heat) and paprika and roast that in the oven until soft.
Then I toss lentils that are coated in Dijon mustard, feta, spinach and the spicy, warm squash and onion all together into a dreamy salad.
The salad is then topped with creamy cashews and dollops of garlicy sour cream. Oh it's SO good.
More salads to try:
Broccoli Pasta Salad Recipe for an Easy Lunch
Pesto Pasta Salad with Artichokes, Proscuitto and Mozzarella
Salsa Verde Mexican Pasta Salad
Bresaola Salad with Aplle and Radicchio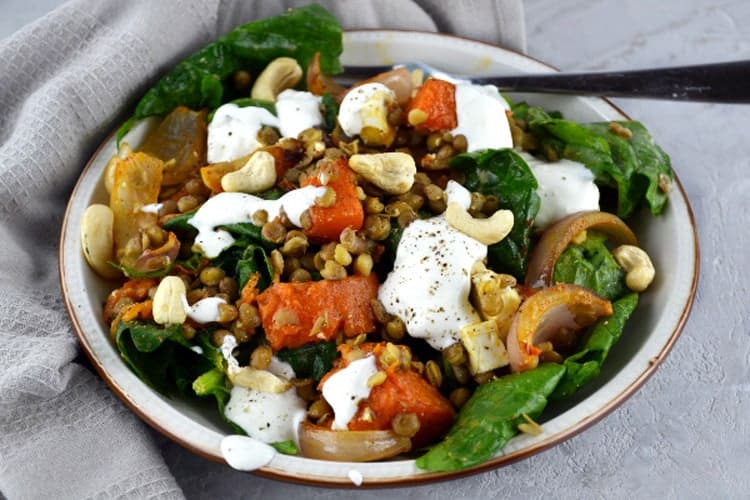 I hope you enjoyed today's recipe, don't forget to stop by Inside The Rustic Kitchen to say hi!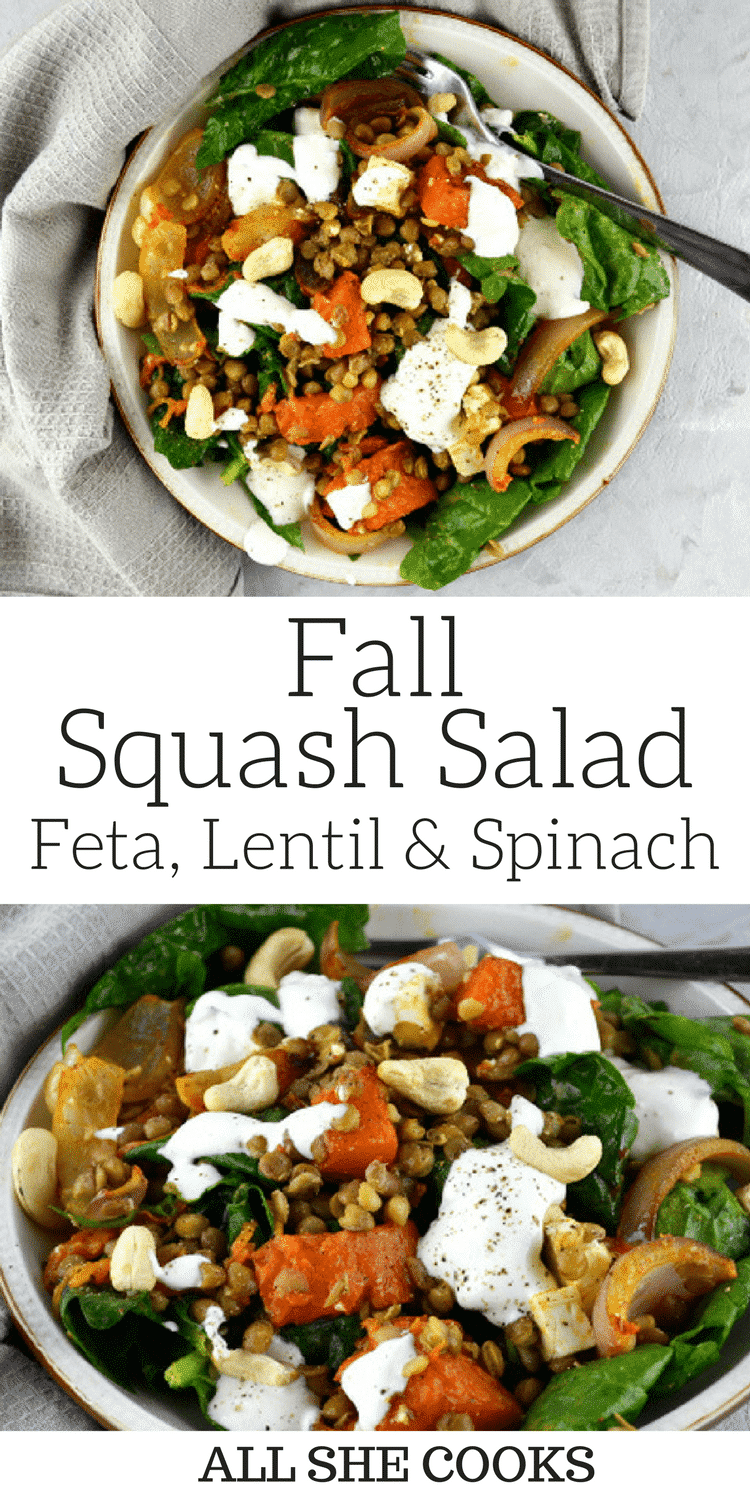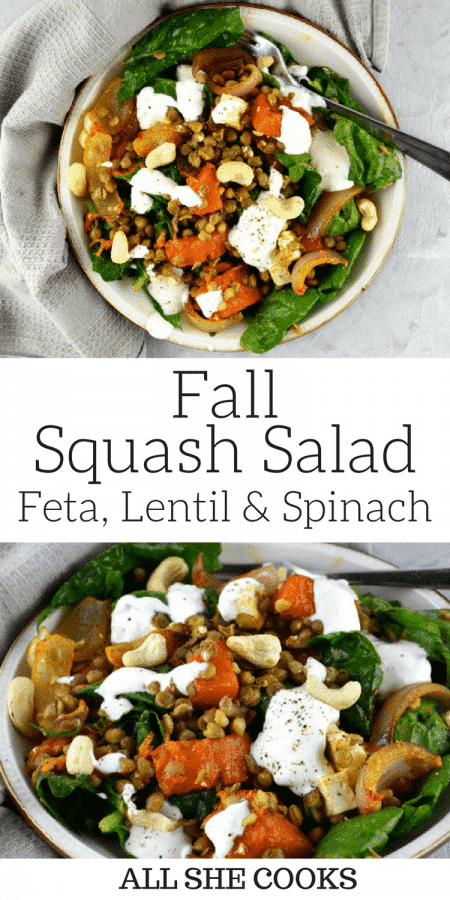 Recipe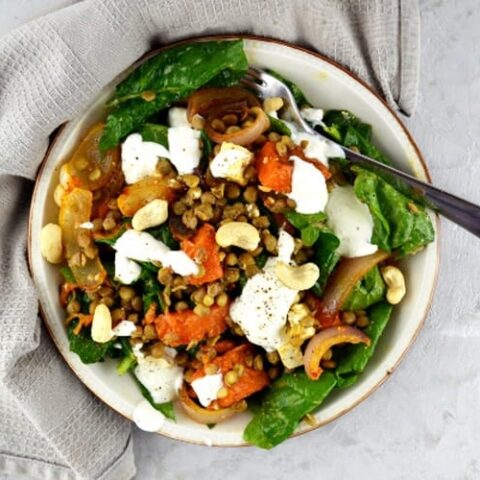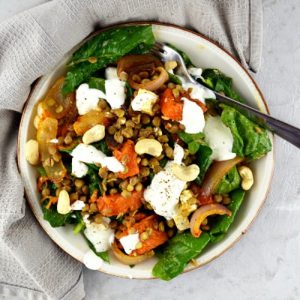 Squash Salad with Lentils and Feta
A delicious and healthy salad with butternut squash, feta cheese, lentils and spinach.
Ingredients
Instructions
Preheat the oven to 180°C/350F/gas mark 4. Chop the squash into medium sized cubes and place on a baking tray. Cut the red onion into rough chunks and add to the tray with the squash. Sprinkle over the chili flakes, paprika, salt and pepper and 1 tbsp of oil, mix with your hands until the squash and onion is coated nicely. Roast in the oven for 30-35 minutes until soft, set aside.

Add the garlic to the sour cream with a little salt and pepper and stir, set aside. Put the lentils in a large mixing bowl and add the mustard, lemon and 1 tbsp oil. Mix until the lentils are coated. Add the spinach and feta to the bowl and the cooled squash and onion, mix until all combined. .

Serve in large bowls topped with the cashews and dollops of sour cream
Notes
Please note this recipe was tested and developed in metric measurements all imperial measurements are an approximate.
Nutrition
Serving:
4
people
Calories:
1177
kcal
Carbohydrates:
172
g
Protein:
73
g
Fat:
23
g
Saturated Fat:
9
g
Cholesterol:
40
mg
Sodium:
382
mg
Potassium:
2956
mg
Fiber:
81
g
Sugar:
11
g
Vitamin A:
12438
IU
Vitamin C:
38
mg
Calcium:
370
mg
Iron:
21
mg