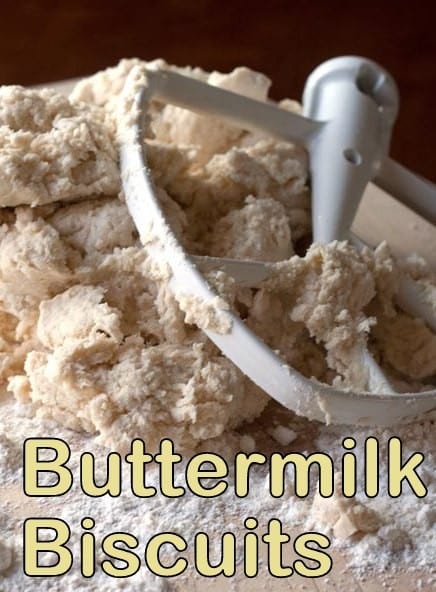 Copycat Restaurant Style biscuits are the perfect addition to a dinner.  Or for breakfast.  And even just for a snack.
Especially just for a snack.  And oh so good as an accompaniment with Poor Man's Soup, Crockpot Ham and White Beans, and one of my favorites: Meat and Potato Parsley Soup.  Yum!
Now, I don't remember what kind of biscuit it was that I used to make as a teenager, but I do remember that was one of the things I liked to bake.  I would make a batch of biscuits and then smother the top with butter and strawberry jam.  I don't think I even bothered to slice them in half like I do now.  I can see why they are a fan favorite to subscribers in my 52 Weeks of No-Repeat Meal Plans program.  I had a handful of these scrumptious biscuits (with strawberry jam!) on hand while I was working on my first eBook.  You can't beat good sustenance to get you through hard work!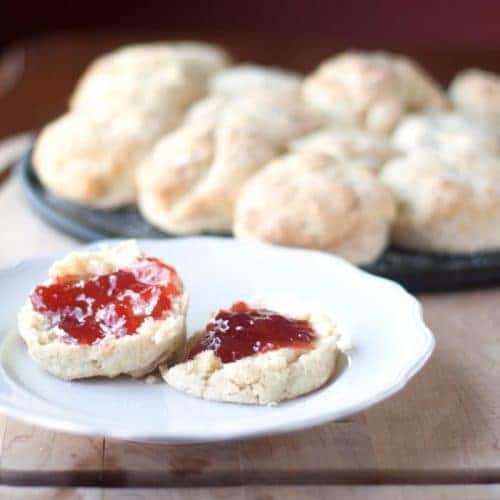 I'm really not sure what it is about buttermilk that makes a restaurant style buttermilk biscuit THE biscuit to eat, but I dare you to make this recipe without it.  I just don't think it would be the same.  Now, a little trick I learned years ago is that if you don't have buttermilk on hand, simply add a tablespoon or so of vinegar, and substitute regular milk for the buttermilk.  So… if you don't have time to run to the store and don't have buttermilk on hand… try that little tip.
Super simple recipe here, because you know I like to Keep it Super Simple (K.I.S.S.).
First off, mix together your dry ingredients and slice up your butter.  And then cut it in.  I use a mixer for this, but use whatever method you favor.  The mixer worked great for me and saved me time.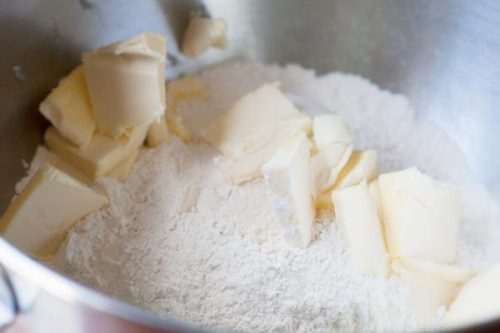 Once the butter is cut in nicely, add the buttermilk a little at a time.  You'll want to take it slowly toward the end, because you might not need all of the buttermilk.  Watch for the dough to start to stick together, without allowing it to get too wet.  It needs to be moist without being super sticky.  Don't over-mix the dough.  It should look similar to this: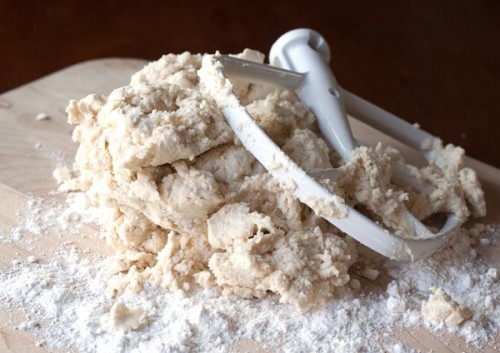 Sprinkle some flour out onto a wood cutting board or counter (note: not as much flour as I have in the picture… my daughter got carried away.) and then knead the dough just a few times.  Don't overwork it.  Press it out so it is 1/2 (or a tad more) thick.  Remember, we want nice big puffy biscuits.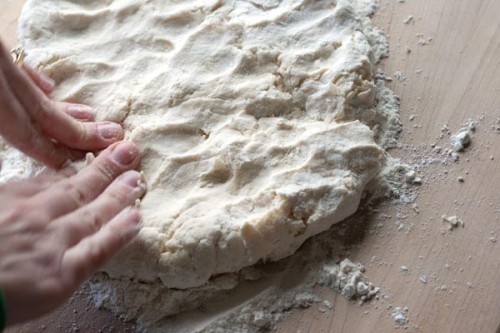 Use a biscuit cutter or a jar to cut your biscuits.  I use a mason jar, because I have a gazillion on hand.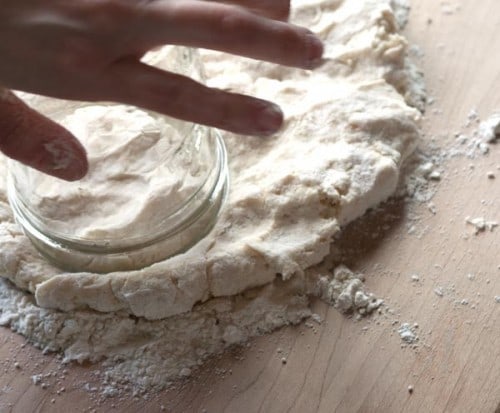 Number of biscuits will vary based on dough thickness and cutter size.  I made roughly 9 biscuits with this recipe.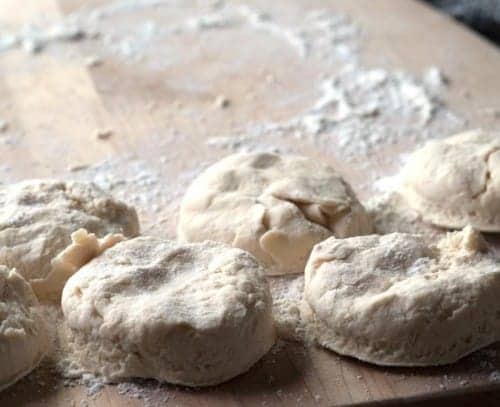 Place biscuits on baking sheet pressed up against each other and bake on 450 degrees for about 12 minutes.  Again, baking time will vary a little depending on the type of baking sheet you use (a baking stone takes longer) and size of the biscuits.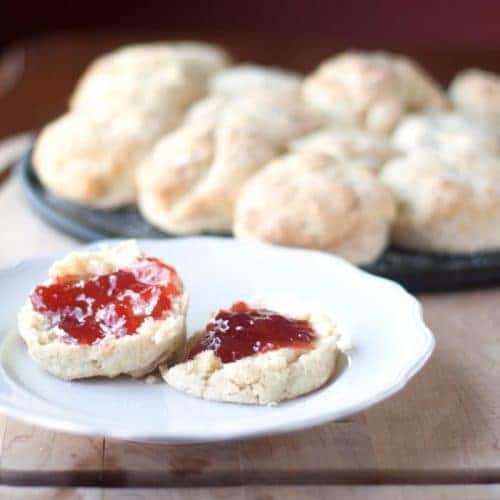 Butter them up, top them with jam (or gravy) and ENJOY!

Restaurant Style Buttermilk Biscuits
Author:
Jessica, AllSheCooks.com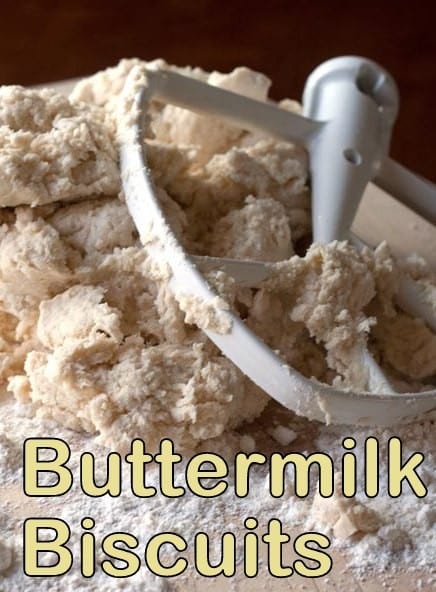 The only biscuit recipe you'll ever need.
Ingredients
3 cups all purpose flour
1 tablespoon baking powder
½ teaspoon baking soda
½ cup salted butter (I use I Can't Believe It's Not Butter)
1¼ cup buttermilk
Instructions
Preheat oven to 450 degrees.
Mix together dry ingredients. Cut butter in thin slices and then cut into flour mixture using a mixer, by hand, or using other preferred method.
Once butter is cut in, slowly add buttermilk a little at a time to incorporate into flour mixture. It is possible that you won't need the entire amount of buttermilk. Don't over-mix. Dough is mixed together when it starts to stick together and before it is all lumped together in one tidy ball (if using a mixer).
Sprinkle a small amount of flour on a wood cutting board or counter and knead dough just a few times. Press dough out to ½" or slightly greater thickness, and then cut biscuits out with a biscuit cutter or jar.
Bake biscuits for approximately 10-12 minutes at 450, checking on them after 8 minutes. Baking time will vary depending on type of baking sheet used as well as biscuit size. (I used a baking stone, and baked my biscuits for 12 minutes. Baking on stones typically adds slightly to the baking time.)
You May Also Like: