This 5-ingredient Crock Pot White Beans and Ham recipe puts dinner on the table for less than $5.00 and is a super easy recipe to make.
White Beans and Ham in the Slow Cooker
Can't cook? Doesn't matter! With this recipe, skill isn't even required. The only thing you need to know is how to pour dry beans in a pan, cover with water overnight, and then rinse them out in the morning.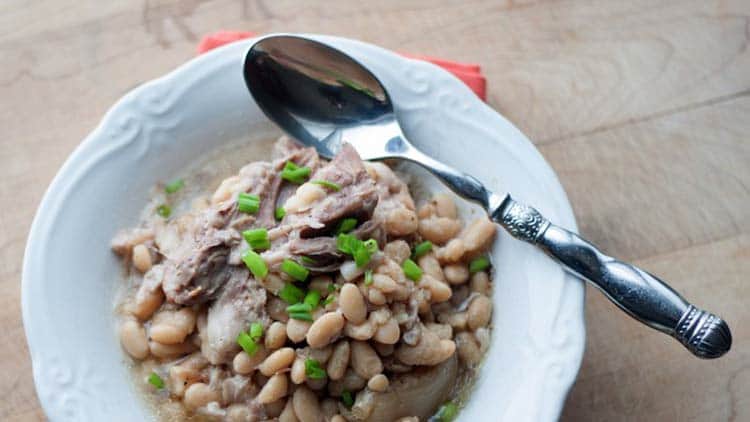 Everything else you do involves throwing a few things in the programmable crock pot, walking away for the rest of the day, and coming back when there is about an hour or so left to add some spices. Flavoring is so good with this slow cooker bone in ham. Sounds easy, right?
Get dinner on the table for under $5 with this crock pot ham and beans recipe
Low-cost meals are important. That's why I still love our simple Spicy Quesadillas and Easy Pizza Dough recipes. You can be on a tight budget and make recipes like these. That matters.
And this is one of those easy slow cooker dinner recipes and can throw together in no time flat. It's a way to help stretch your grocery budget, save some money, and even try new things.
Some of my favorite low cost dinner recipes are the easiest to make. My family loves soup and salad (well, some of us love the salad).
We also enjoy a good homemade pizza. Serve a soup for your main course like my family favorite Poor Man's Soup. Use up your leftover mashed potatoes in a Chicken Enchilada Casserole.
Simple recipes that can be made on a dime are a winner all around.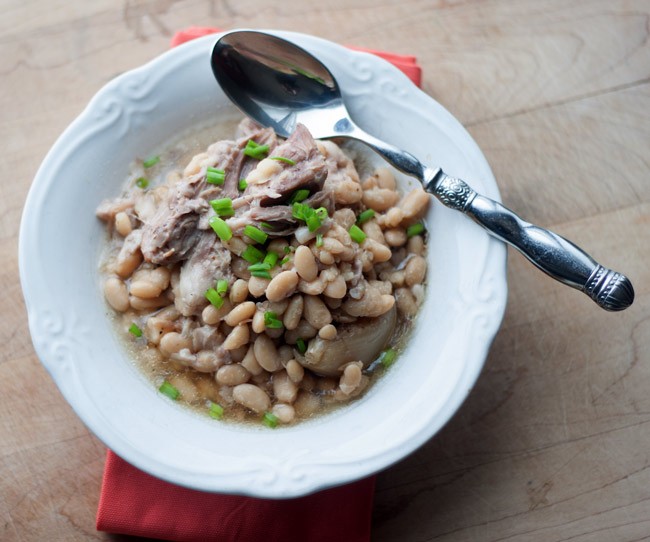 Here are Some of Our Best Slow Cooker Recipes
We're doing a 30-Day Slow Cooking Challenge. Here is a list of the recipes we're cooking up. Let me know if you try one of them by leaving a comment on that recipe post and rating the recipe!
There are several types of recipes that we are making during the challenge, from chicken slow cooker recipes, beef recipes, and even vegetarian recipes.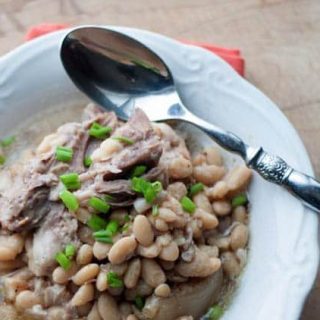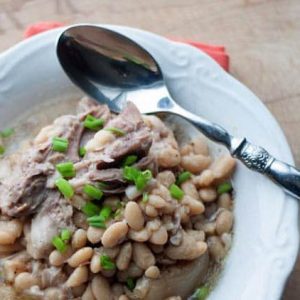 White Beans and Ham
Enjoy this easy slow cooker meal that not only tastes amazing, but is also easy on the grocery bill.
Ingredients
Instructions
Soak beans overnight. In the morning, drain and rinse the beans and then put them in the crock pot.

Toss in ham shanks or hocks and onion, and then cover with 2-3 inches of water. You want to have enough water to cook the beans, and if you like your beans soupy, more water is better.

Set the crock pot on high to have this cooked up in 4-6 hours, or low if you want to keep it on all day. The beans have already been soaked, so you definitely don't need to have it on high for the entire day.

About an hour before it's ready to serve, go ahead and add the salt and pepper to the beans and ham. Stir it up and let it finish cooking. Enjoy!
Notes
Store leftovers in the refrigerator and use within a couple days.
Nutrition
Serving:
1
g
Calories:
195
kcal
Carbohydrates:
21
g
Protein:
20
g
Fat:
4
g
Saturated Fat:
1
g
Polyunsaturated Fat:
2
g
Cholesterol:
36
mg
Sodium:
545
mg
Fiber:
5
g
Sugar:
1
g