How to Make Sausage Gravy
Thousands of people just like you search for this every month: 'How make gravy'. It's a query that thankfully has a simple answer, and hopefully you will take it to heart. Use this lesson to make Homemade Sausage Gravy, hamburger gravy and even a good cup of broccoli soup.
How Make Gravy- Easy Peasy
It might seem a bit overwhelming to make homemade gravy, but it really doesn't have to be. Before long, you'll thing there is nothing to it at and will be whipping up overnight French toast and a potato casserole to go with it- all for a perfect breakfast buffet.
But first, before I explain how to make this amazing classic breakfast recipe, let me start by saying that once you've made sausage gravy from scratch, you will never (ever) want to go back to making 'sausage' gravy from a gravy mix. Ever.
And I say that with love.
Secondly, if you don't already have one, I highly recommend using a Pre Seasoned Cast Iron Skillet when making sausage gravy. Once you use a pan like this, you will use it for almost everything.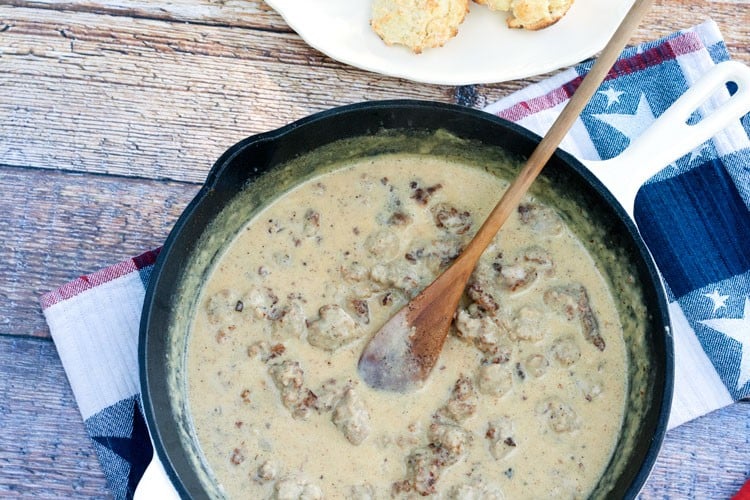 Sure, it takes a little bit longer to make--but the taste. And the aroma. I mean, seriously folks... I could live for days off the smell wafting through the air alone.
I kid you not.
It really is that good. So good in fact that at this very moment--while I'm sitting at the airport eating a bowl of clam chowder (which is rather tasty, btw)--I'm still thinking about this sausage gravy. With Homemade Drop Biscuits. Or out of this world buttermilk biscuits if you have a little more time.
How could I not?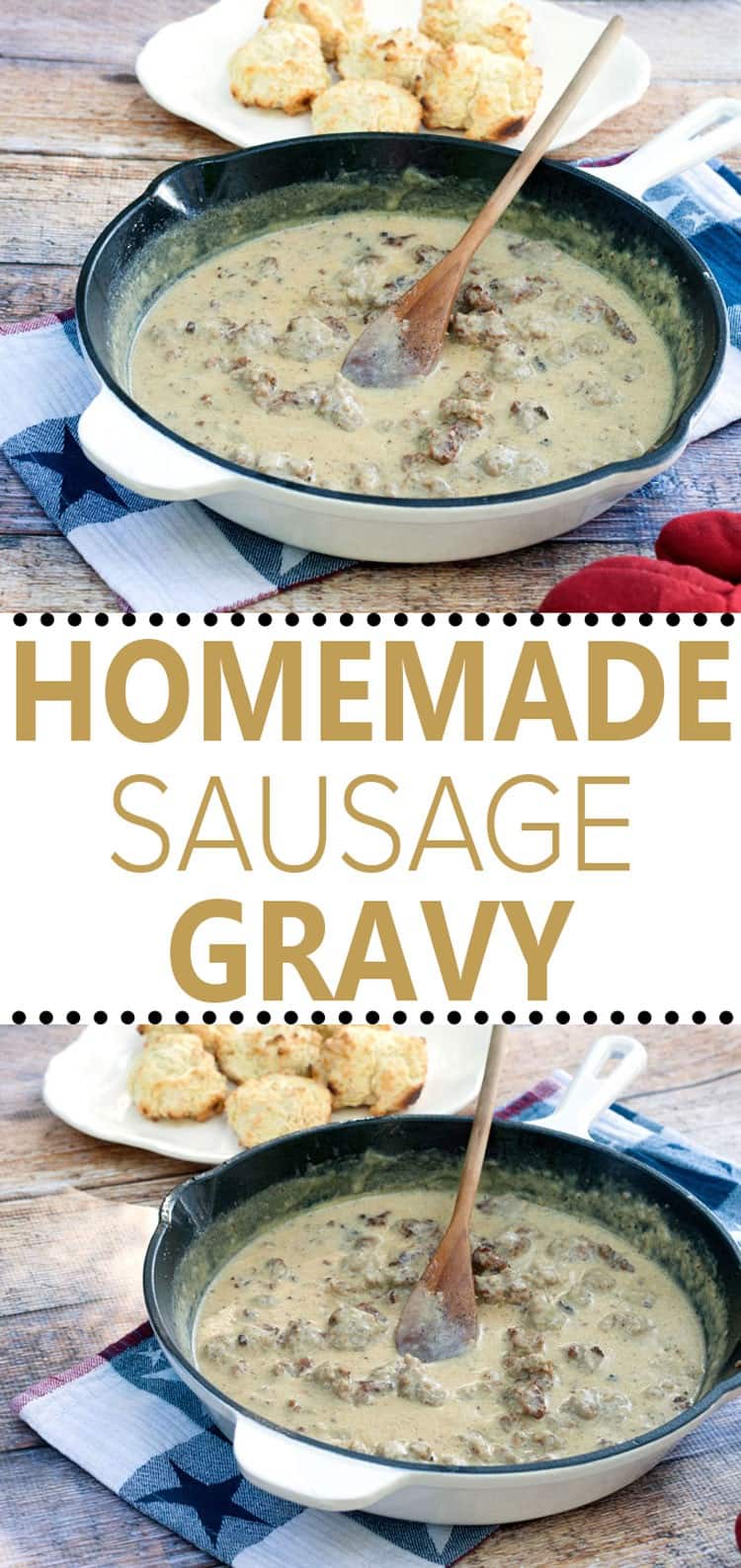 Many of the best things that come out of my kitchen start with a roux.
A roux (/ruː/) is a brilliant mix of butter, fat, or sometimes drippings from sausage or bacon that is mixed together with flour to form the base for delights like gravy, soups and sauces.
Mastering the art of mixing up the perfect roux is actually quite easy, and it makes cooking meals like homemade soup (completely from scratch) seem not only possible but a goal that is extremely attainable.
Tip #1--Don't be afraid.
There is something so entirely satisfying about making a meal from scratch, and Homemade Sausage Gravy is no exception. Even though it the food is gone so quickly--because it is so good--it tastes that much better just because of the love that went into it. Not to mention, food made with love is sure to be appreciated by everyone you serve it to.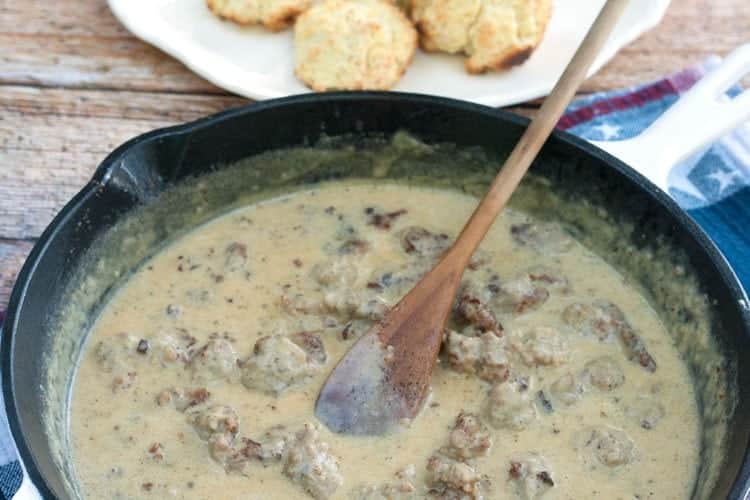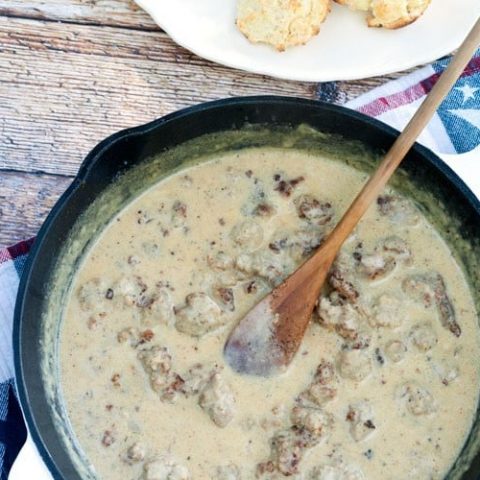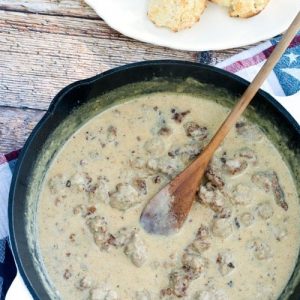 How Make Gravy- Homemade Sausage Gravy
Learn how to make sausage gravy!
Ingredients
8

ounces

breakfast sausage

2

tablespoons

all purpose flour

2

cups

milk

½

teaspoon

salt

1

teaspoon

pepper
Instructions
Brown sausage in a large skillet, crumbling up the meat as you go. When the sausage is finished cooking, remove from the pan and set aside in a bowl. Reserve 2 tablespoons of grease for gravy. Drain the rest.

Over medium-low heat, mix together flour with reserved grease until well combined. Slowly add in the milk while stirring constantly. Turn to a simmer and cook for 5 minutes while whisking the gravy. Add in seasonings and serve.
Nutrition
Calories:
262
kcal
Carbohydrates:
9
g
Protein:
13
g
Fat:
19
g
Saturated Fat:
7
g
Cholesterol:
53
mg
Sodium:
704
mg
Potassium:
302
mg
Fiber:
1
g
Sugar:
6
g
Vitamin A:
240
IU
Vitamin C:
1
mg
Calcium:
143
mg
Iron:
1
mg