Apple Caramel Cheesecake Recipes
We've made a lot of mini mason jar dessert recipes over the years, and they are each extraordinary in their own right. This Apple Caramel Cheesecake Parfait recipe is a pure delight.
I mean--cheesecake! Need I say more? When you put together things like cheesecake and apple pie, you get a result that is entirely awe inspiring.
Caramel Apple Cheesecake Recipes
One thing I really love about this recipe it that it is a quick easy no bake dessert.
No bake desserts are where it is at! Like our No Bake Pumpkin Cheesecake, No Bake Chocolate Drop Cookies, and Banana Cream Dessert.
Easy no bake dessert recipes are a great thing to have on hand for busy days when you want to serve something special, but don't have a lot of time to invest in the kitchen.
I buy mason jars online, so I happen to have a lot of them sitting around, especially if I've had a slow canning season like this year, so I like to use them for serving desserts. They just look cuter that way!
You can make the Apple Caramel Cheesecake Parfaits ahead and refrigerate.
I especially love plastic jar lids for this reason. Unfortunately, I'm constantly loosing lids--the house seems to eat them--so that's on my list to stock up on soon.
Ball Mason Jars Wide-Mouth Can or Freeze - 16 oz 12pk Ball Wide-Mouth Plastic Storage Caps, 8-Count
Easy No Bake Desserts
When we're able to take a few ingredients, mix them together and/or layer them, and make an extraordinary delicious dessert--well, that is the perfect day for me.
And if it's a messy dessert...even better!
Apple Caramel Cheesecake Recipe--One of My Favorite Perfect Mason Jars Dessert Recipes
What's your favorite mason jar cheesecake recipe?
Like I said before, making desserts in mason jars is a fun. It's a great way to make it look like you took a lot of time to prepare those cheap easy no bake desserts.
Just because you take a short cut or two in the kitchen doesn't mean you can't pretend it took forever!
Or that your dessert can't look more extravagant than the cost really was.
Super Easy No Bake Desserts: Mason Jar Cheesecake Recipe a Winner!
Personally, I could eat one of these mason jar dessert recipes every day of my life. Of course, I don't...but the point is that I could. Easy desserts. Good desserts. Super tasty desserts.
Umm...did I mention desserts?
That is all! 🙂
Recipe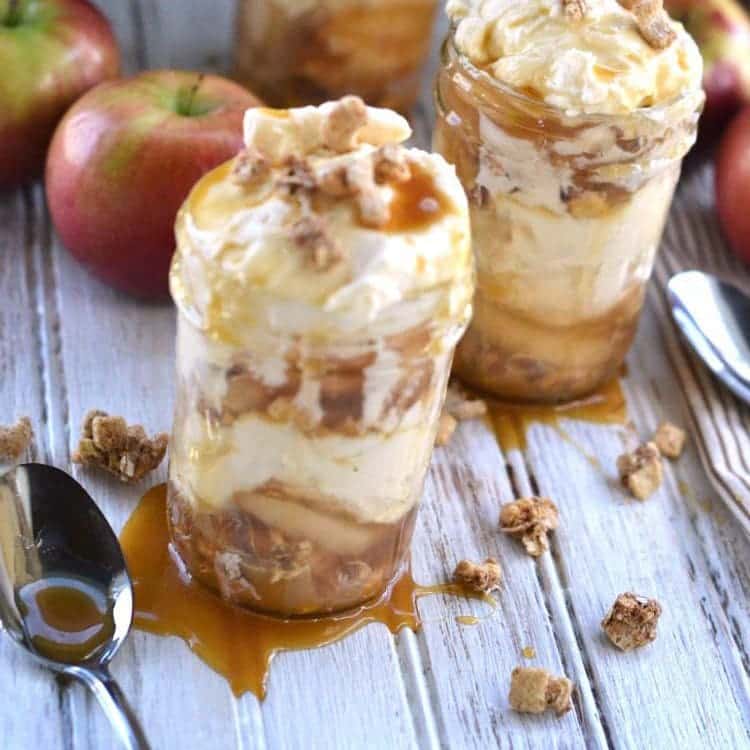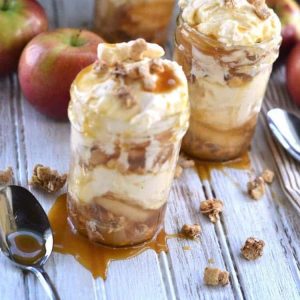 Apple Caramel Cheesecake Parfait
Love Mason Jar Desserts? So do we! This Apple Pie Caramel Cheesecake Parfait Recipe is so easy to make. We love sharing easy no bake dessert recipes!
Ingredients
2

cups

of granola

1

canned apple pie filling

1

pint

heavy cream

1

cup

sugar

8

oz

cream cheese

1

tbs

cinnamon

caramel topping

We like Ghirardelli
Instructions
In a mixer mix heavy cream, sugar, cinnamon,and cream cheese. On high speed for 1-2 minutes or until a peak forms.

In mason jars, place granola covering the bottom, top with caramel, a scoop of apple pie filling, followed by cheesecake filling. Top with granola and caramel. Repeat until your dish is full. Serve!
Nutrition
Calories:
4342
kcal
Carbohydrates:
393
g
Protein:
52
g
Fat:
297
g
Saturated Fat:
158
g
Cholesterol:
898
mg
Sodium:
992
mg
Potassium:
1615
mg
Fiber:
17
g
Sugar:
258
g
Vitamin A:
10002
IU
Vitamin C:
3
mg
Calcium:
820
mg
Iron:
12
mg