Oven Baked Coconut Shrimp with a homemade avocado lime sauce is the perfect meal or appetizer to serve up this week.
Coconut shrimp that is baked offers a healthier alternative to the classic fried coconut shrimp you see. Gluten-free and absolutely mouthwateringly delicious.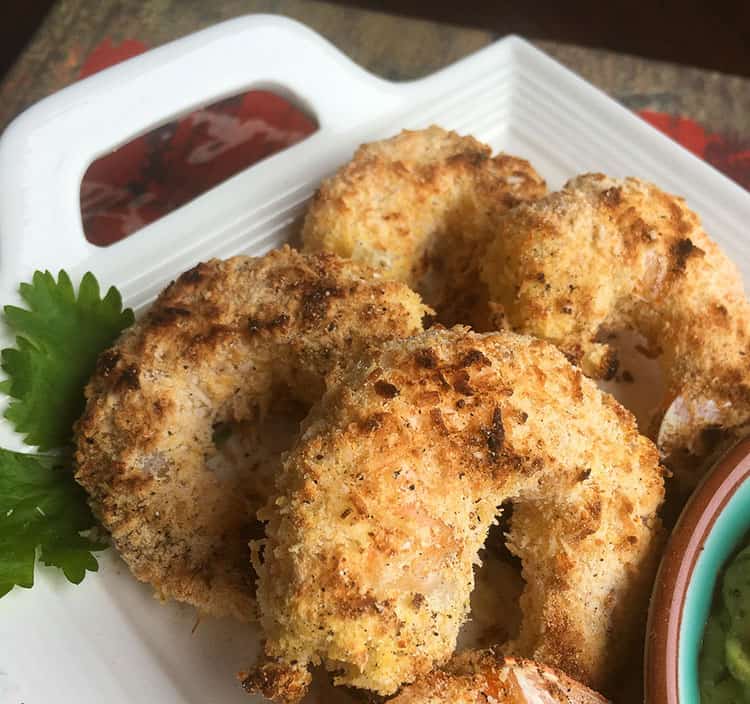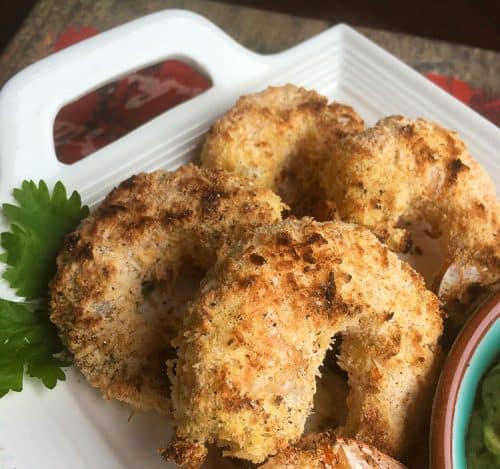 This baked coconut shrimp recipe uses unsweetened coconut flakes. Unsweetened flakes will help to bring out all the flavors of the seasoning and not be overly sweet.
So make sure your bag says unsweetened coconut for the best flavor results of this baked shrimp.
Baked Coconut Shrimp
The batter is simple, and with a little time, you can get all your shrimp coated and in the oven baking for one tasty and outstanding flavor that tastes better than ordering takeout from your favorite restaurant.
Do You Leave Tails On Or Off Shrimp for Coconut Shrimp
It is all about your personal preference! I find that having the tail on is a great way for you and your family or guests to hang on to the shrimp while you dip and enjoy.
But if you have shrimp that already has the tails removed, you are still more than welcome to use the shrimp! You just won't have to tail to grab, but you could always use your hands, fork or even toothpicks.
Do You Use Raw Or Pre-Cooked Shrimp For Baked Coconut Shrimp
Raw. If you use pre-cooked shrimp you will overcook the shrimp and it will be less than enjoyable. Make sure your raw shrimp is deveined and then your choice on having the tail on or off.
Tips For Crispy Baked Coconut Shrimp
Parchment or Silpat | Make sure to line your baking dish with parchment paper or Silpat to help prevent your shrimp from sticking to the pan. If you skip this step, your breading could get ripped off if it sticks to the pan.
Allow Excess to Drip | When dipping in the egg mixture, allow the excess to drip off. If you don't do this your batter could be extra clumpy, cause an uneven cook and even fall off. So make sure to take a second and let that egg wash drip into the bowl before moving to next step.
Unsweetened Coconut | I just want to really stress you need unsweetened coconut for this recipe. If you use sweetened it will affect the flavor greatly, and quite frankly not taste the best. Just make sure you reach for unsweetened.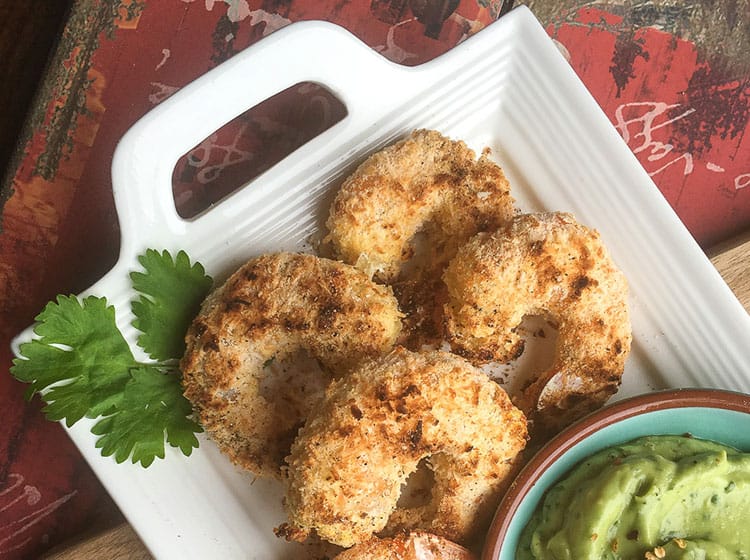 Avocado Lime Sauce
So you are welcome to use any of your favorite dipping sauces for your oven baked coconut shrimp. With avocados being in the season we are eating them all the time. I whipped up this avocado lime sauce and it was the perfect compliment to the juicy shrimp.
Start by grabbing your food processor or a blender. Then toss in the cilantro, avocado, cumin, and lime juice. You want to blend until it is nice and smooth.
Then add in a little bit of water a tablespoon at a time to reach the consistency you would like. Then season with salt and pepper and serve fresh with shrimp!
If you enjoy some spice, sprinkle some red pepper flakes over the top, for added heat factor to the dip.
How To Store Leftover Oven Baked Shrimp
You will want to store any of your leftovers you may have in an airtight container in the fridge. You can store your shrimp for 2-3 days, just use your best judgment on if the shrimp is still good or not.
Best Way to Reheat Leftover Baked Shrimp
I generally warm the shrimp up in the oven as it offers the best texture to the batter of the shrimp.
It, of course, won't taste as good as fresh, but baking will help to crisp up the coating some. Then once warm serve with dipping sauce and enjoy.
Here Are More Ways To Cook Shrimp
Lemon Garlic Shrimp | Keto lemon garlic shrimp that is bursting with flavor. A really easy shrimp recipe that takes no time to cook up and get to the dinner table.
Shrimp Boil | One of our favorite ways to serve up shrimp. This is a great recipe for serving a crowd, summer cookouts, and just a fun way to eat dinner.
Shrimp Pasta | Creamy, savory, and bursting with seafood flavor. This shrimp pasta is stunning but tastes even better than it looks.
Recipe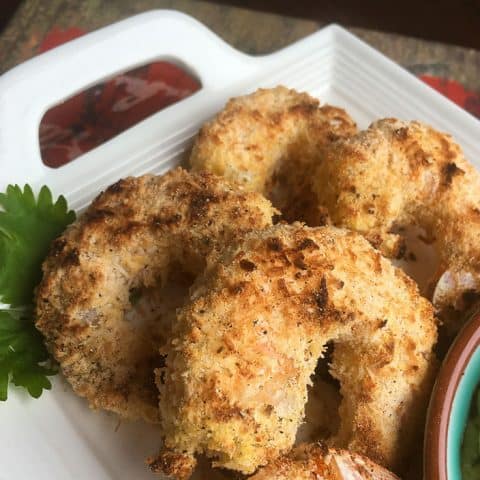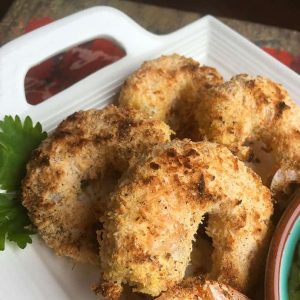 Baked Coconut Shrimp with Avocado Lime Sauce
This healthier, lighter version is gluten free and baked, rather than fried. This version also calls for unsweetened coconut flakes, bringing out the flavors of the amazing seasonings and avocado lime sauce.
Instructions
Preheat oven to 400°F and line a large, rimmed baking sheet with parchment paper or a Silpat® baking mat. Set aside.

Combine almond flour, smoked paprika, ground cumin, garlic powder, and onion powder in a pie pan or shallow bowl. Season with salt and black pepper, to taste, and set aside.

In a second pie pan or shallow bowl, gently whisk the eggs and water until frothy. Season with salt and black pepper, as desired, and set aside.

Add shredded coconut to a third bowl and set aside.

Working one at a time, dredge each shrimp in the seasoned almond flour, then dip in the egg mixture. Allow excess egg to drip off before transferring shrimp to the bowl of shredded coconut. Turn to coat shrimp thoroughly before transferring to the prepared baking sheet. Repeat with remaining shrimp and season with additional salt and black pepper, if desired.

Place baking sheet in preheated oven and bake until golden-brown and crispy, around 12-15 minutes, turning once halfway through.

Meanwhile, add avocado, cilantro, lime juice, and cumin to a food processor or blender and blend until smooth. Add a tablespoon or two of water, if necessary, to reach desired consistency. Season with salt and black pepper, to taste. Transfer to a small serving bowl and sprinkle with red pepper flakes. Set aside.

Remove shrimp from oven and serve immediately with avocado-lime dip on the side. Enjoy!

Tip: For crispier results, reduce baking time to 10 minutes, then place the shrimp under the broiler for 1-2 minutes per side.
Nutrition
Serving:
1
g
Calories:
384
kcal
Carbohydrates:
23
g
Protein:
30
g
Fat:
19
g
Saturated Fat:
9
g
Cholesterol:
368
mg
Sodium:
999
mg
Potassium:
451
mg
Fiber:
10
g
Sugar:
9
g
Vitamin A:
533
IU
Vitamin C:
12
mg
Calcium:
190
mg
Iron:
4
mg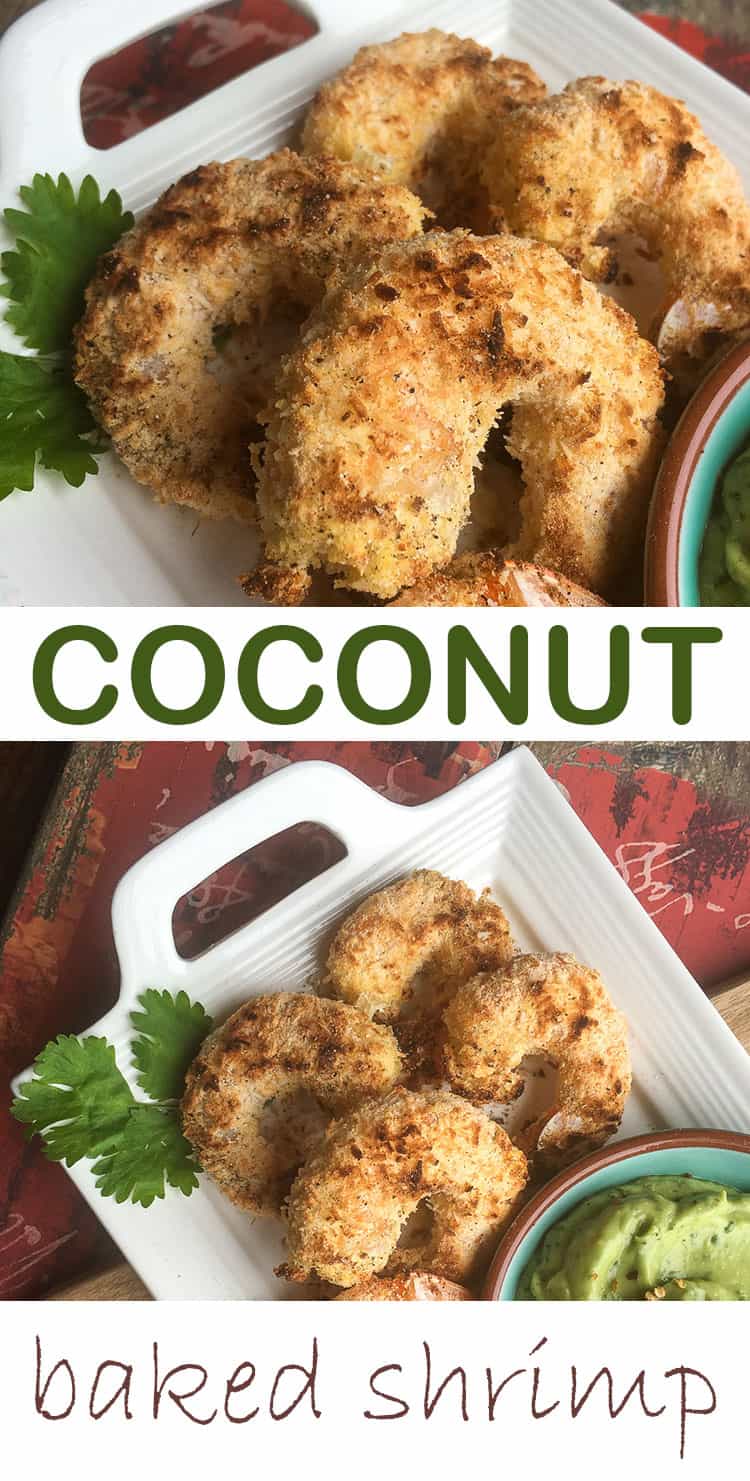 Have you ever tried coconut baked shrimp before?