Craving a banana bread with a twist? This Banana Oat Bread is a crowd-pleaser! I am a sucker for the added flavor and fiber of this healthy banana bread with oats. Whip this up and serve it as a breakfast option or as a mid-day snack.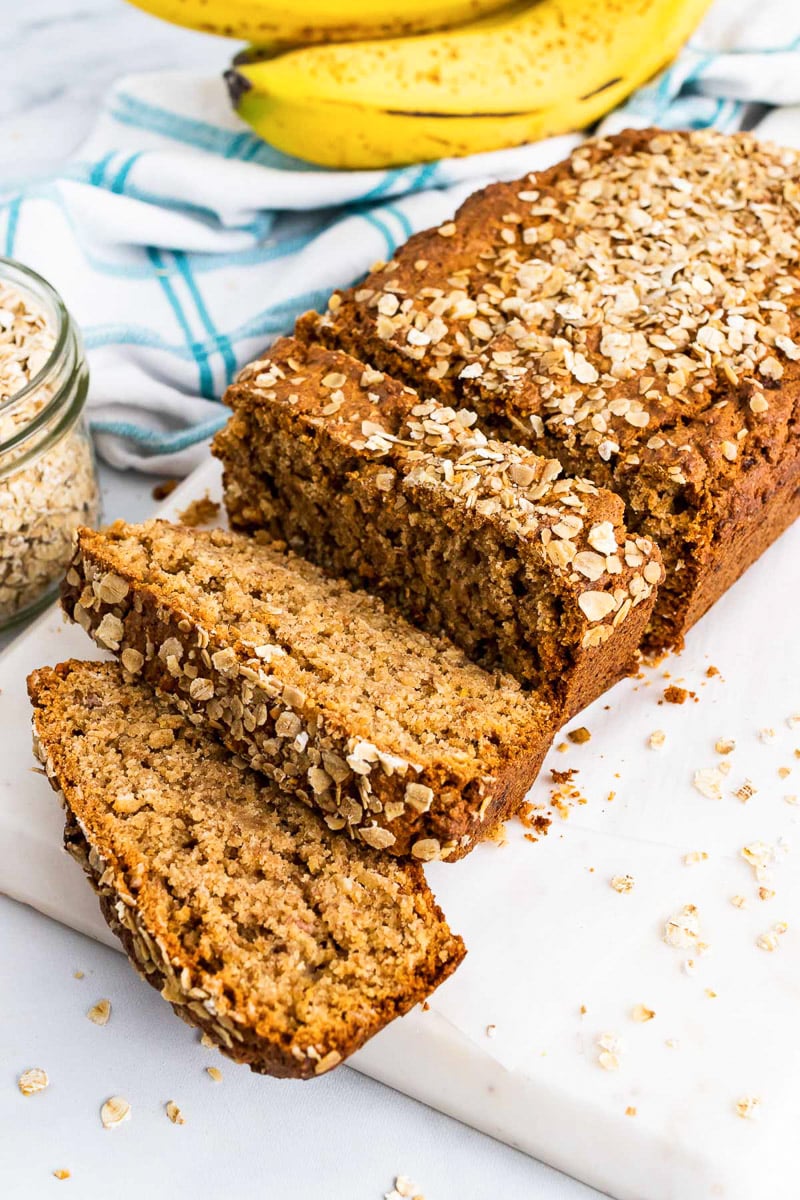 In this Article:
The oat flour with the banana really add so much warmth and flavor to this bread, and will leave you wanting another slice! Serve it on its own, alongside a fresh breakfast smoothie, or with some sweet, cool ice cream.
This Banana Oat Bread recipe is...
Made with oat flour and almond flour
Gluten-free
Made with real bananas
Freezer-friendly
Get the latest scoop on all the recipes I'm whipping up in the kitchen by following along with All She Cooks on Facebook, Instagram, and Pinterest. Also, don't forget to join my Facebook Group where you can share your favorite blogger recipes: Easy & Delicious Recipes.
How To Make Banana Oat Bread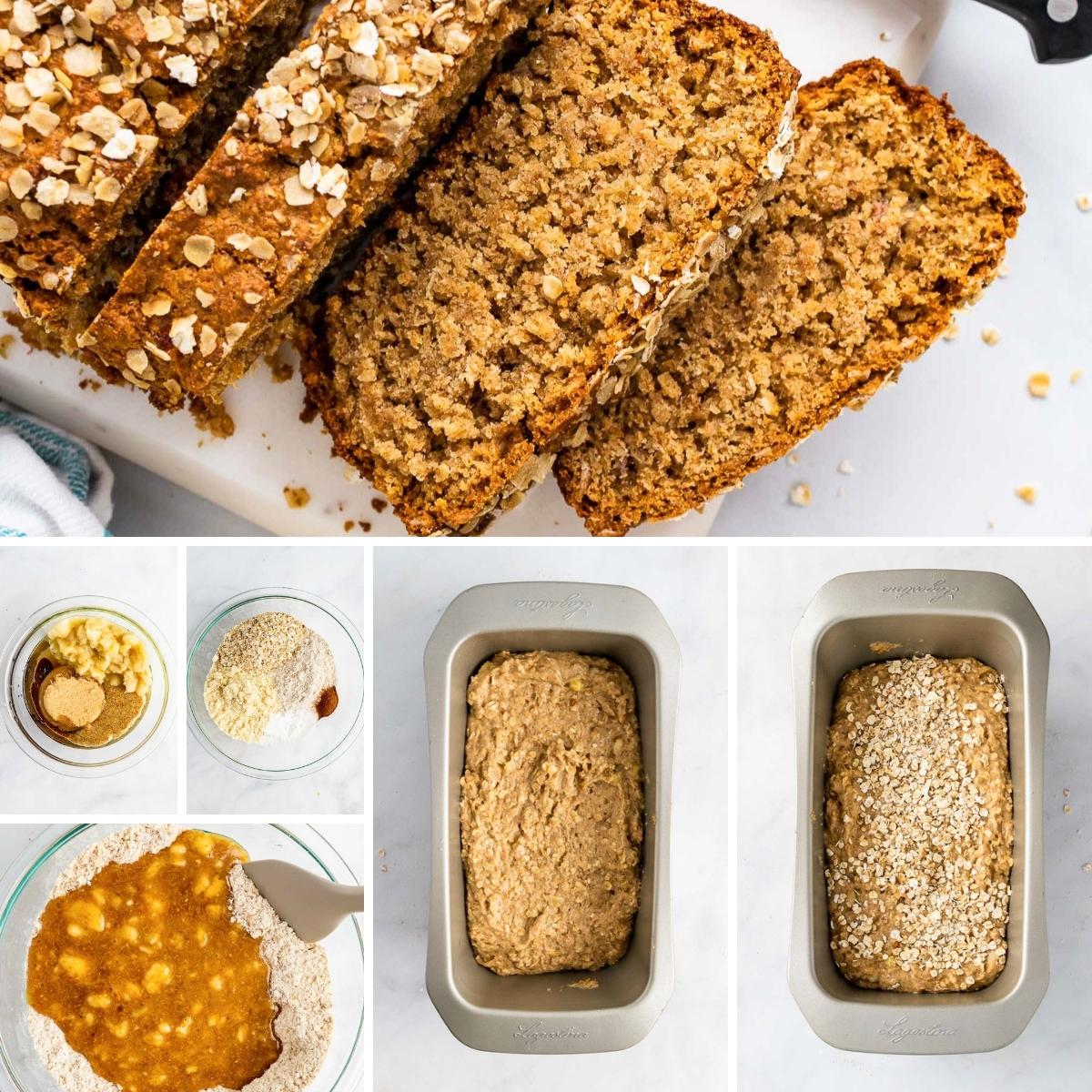 Preheat the oven and prep your pan.
In a bowl, mix together dry ingredients.
In a smaller bowl, mash bananas and add oil, sugar, eggs, and vanilla.
Mix in the dry ingredients.
Pour batter into the baking dish, then bake.
Allow to cool, then slice and serve.
Full directions for how to make Banana Oat Bread are in the printable recipe card at the bottom of the post.
Tips & Tricks for Banana Oat Bread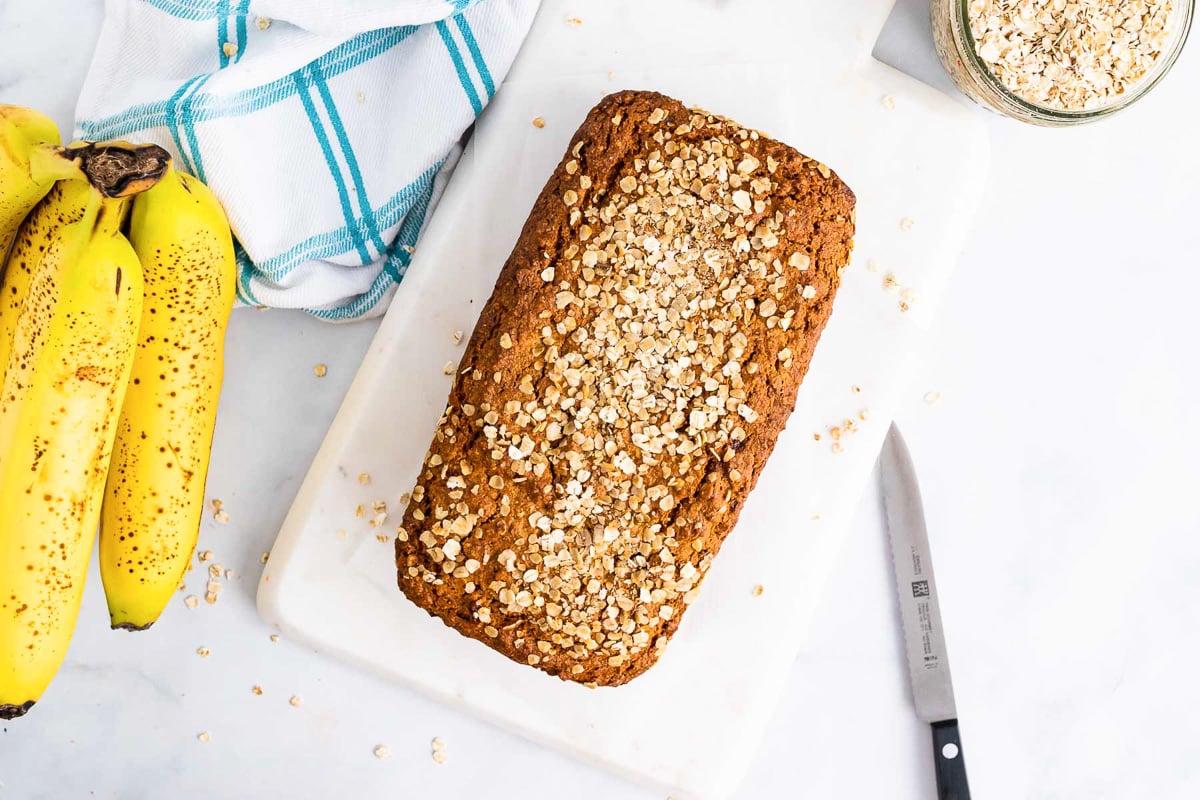 Ripe Bananas
Using ripe bananas is important as they will give your bread that rich banana flavor. If your bananas are a little under-ripe, warm them in the oven in the peel for 5 minutes or so to help them ripen naturally. Then cool and mash.
Mixing Ingredients
You do not need a mixer to make this banana bread. You can use a spatula or whisk to mix up the batter. It's okay for the bread to have some lumps from the bananas.
Variations to Banana Oat Bread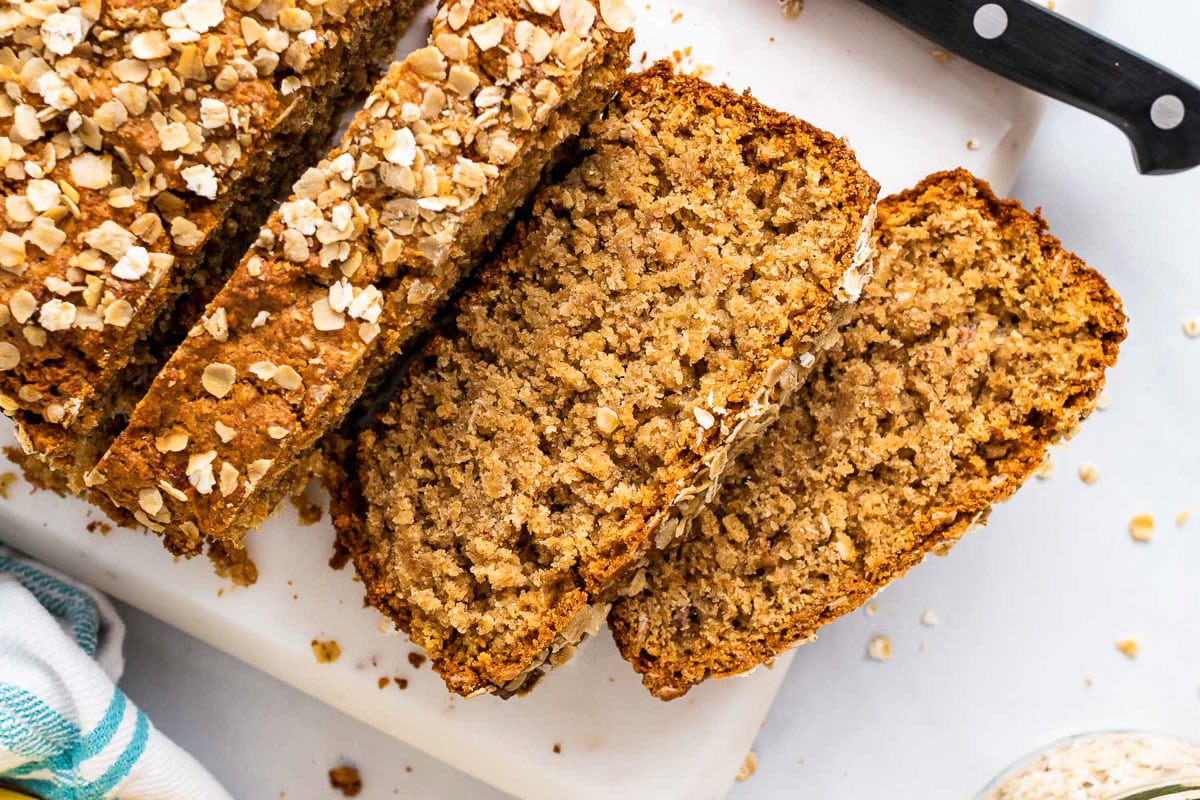 Nuts
Do you like a crunch to your bread? If so, add some pecans or walnuts to the mix. You can around ½ cup of nuts.
Chocolate Chips
Stir ½ cup of chocolate chips into the banana batter to add a nice chocolate twist to your bread. You can use milk, semi-sweet, or even white chocolate chips!
Nutella
You can pour half the batter in the pan, and then swirl in some Nutella. Then pour the rest of the batter over the nutella and bake. The nutella will add a rich flavor to the bread.
Banana Oat Bread FAQs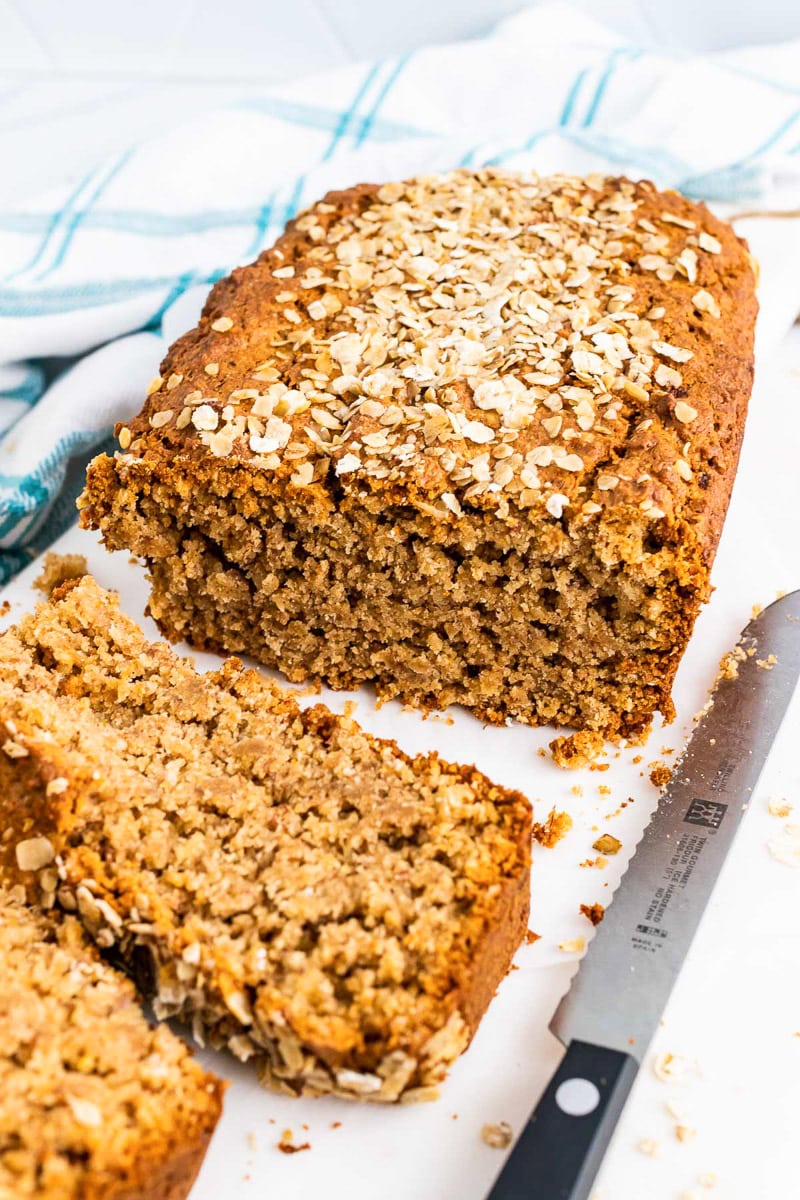 Where do you find oat flour?
You can find oat flour in the specialty section at most grocery stores. They will carry special flours that are great for those on special diets. You can also order flour and ship it to your home.
How do you know when the oat banana bread is done?
The bread is done when you stick a toothpick in the bread and it pulls out clean of wet batter. The center will take longer to bake compared to the sides. For this reason, it's better to stick the toothpick into the center of the bread to test its doneness.
What if my top is getting too brown and my bread is not done baking?
Take aluminum foil and tent it over the center of the bread. This will help protect the bread from browning too much and still allow the bread to cook more.
Can you freeze the leftover bread?
This bread will freeze for 2–3 months. Simply wrap the bread in foil twice and place in an airtight container. Then freeze as directed.
Recipe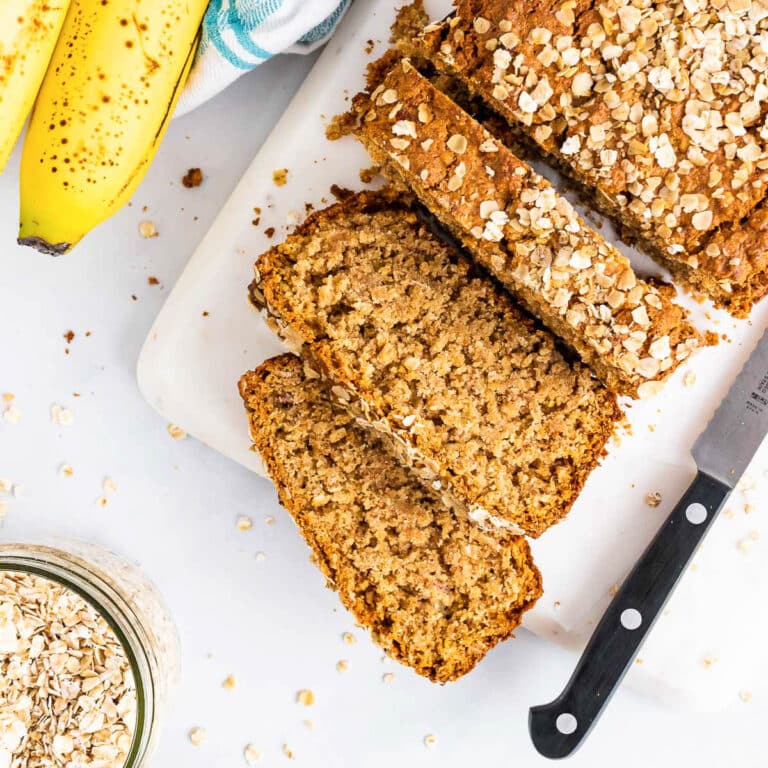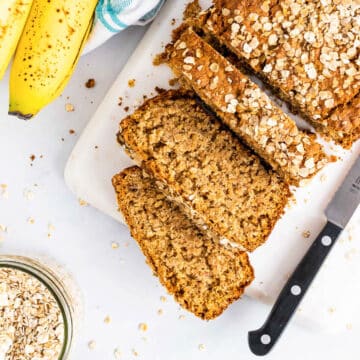 Banana Oat Bread
Craving a banana bread with a twist? This Banana Oat Bread is a crowd-pleaser! Whip this up and serve it as breakfast or as a mid-day snack.
Instructions
Preheat oven to 350°F, and grease a 9x5 loaf pan.

In a large bowl, stir together the oat flour, quick oats, almond flour, baking powder, cinnamon, and salt.

In a smaller bowl, whisk together the bananas, oil, brown sugar, eggs, and vanilla until smooth (some banana lumps are ok).

Add the banana mixture to the dry ingredients, and stir until just combined.

Pour the batter into the prepared loaf pan and bake for 60–70 minutes, or until the loaf is a nice golden brown and a toothpick inserted into the center comes out clean.

Allow bread to cool completely before slicing and serving.
Nutrition
Calories:
391
kcal
Carbohydrates:
63
g
Protein:
12
g
Fat:
12
g
Saturated Fat:
2
g
Polyunsaturated Fat:
2
g
Monounsaturated Fat:
2
g
Trans Fat:
1
g
Cholesterol:
55
mg
Sodium:
439
mg
Potassium:
366
mg
Fiber:
6
g
Sugar:
24
g
Vitamin A:
105
IU
Vitamin C:
3
mg
Calcium:
198
mg
Iron:
3
mg