Mustard Pork Loin Recipe
Do you enjoy cooking pork recipes? Mustard Pork Loin is a healthy dinner choice because pork loin is one of the leaner meats you can cook.
We cook a bit of pork around here. Perfectly Grilled Pork Ribs, Spinach and Goat Cheese Stuffed Pork Loin, and Spicy Slow Cooker Pork and Cabbage Soup are all absolutely delicious recipes that you'll want to try if you like cooking pork or if you're look for pork recipes to add to your meal plan.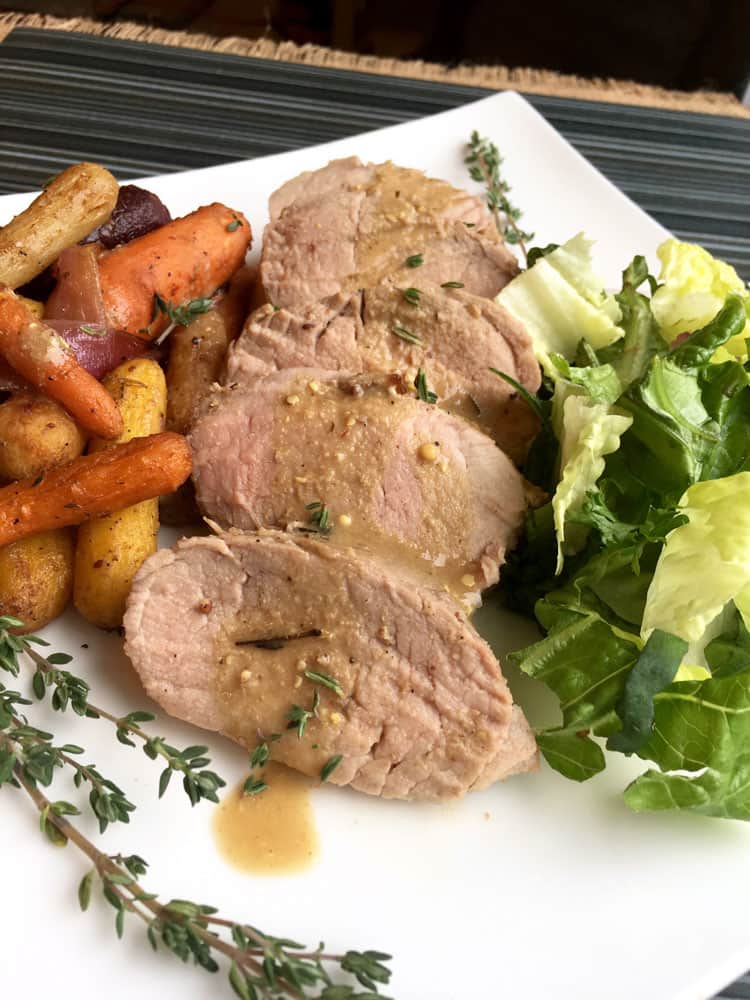 Added to this phenomenal pork loin recipe are oven roasted carrots. These tasty roots are seasoned with oil and herbs and roasted, which is a fabulous way to infuse their flavor.
Eating naturally sweet foods like carrots and sweet potatoes is a great way to keep your sweet tooth at bay. Roasting these vegetables brings out their natural sugars and makes them taste even sweeter. The sweetness of these thyme-roasted carrots works perfectly with the savory mustard pork loin.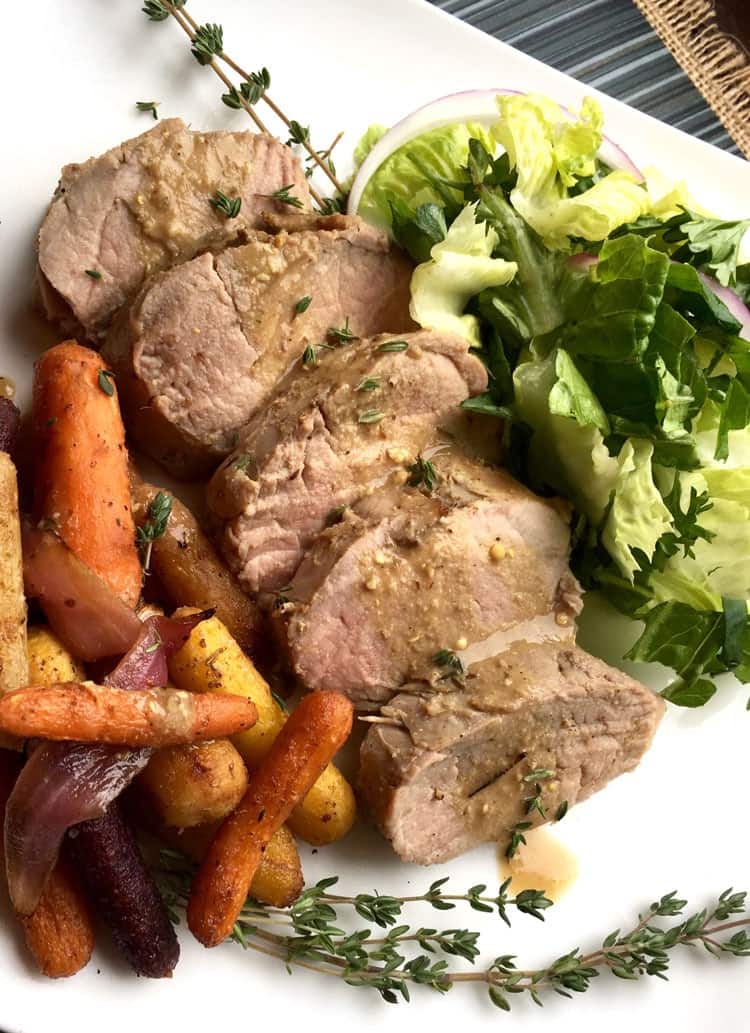 Thyme Roasted Carrots – A Perfect Side Dish
If you're looking for a tasty side dish to add to a weeknight meal plan or to a holiday dinner, Thyme Roasted Carrots are a good bet.
We'll be making Thyme Roasted Carrots as a Thanksgiving side dish this year and absolutely can't wait to see them sitting out with some of our other favorite side dishes like Cheesy Potatoes, Sweet Potato Casserole and our Classic Green Bean Casserole.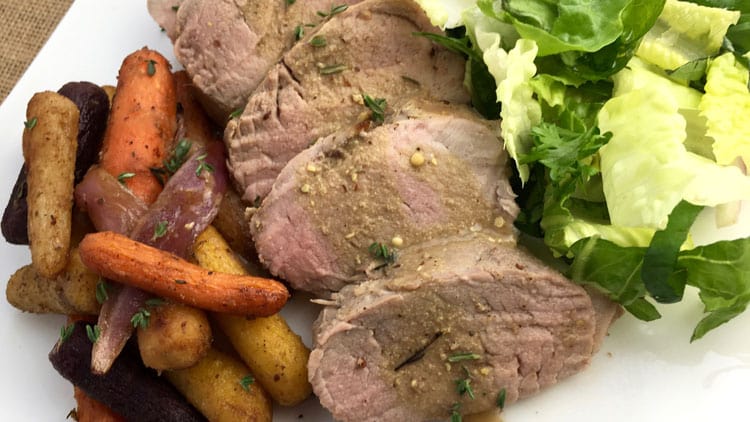 Easy Pork Recipes Make for Easy Weeknight Dinners
You will love how easy this dinner is to whip up. Do your prep work in the morning before you leave for work if you need that extra time. With a short cooking time of 40 minutes, you can multitask and do a little cleaning while dinner is in the oven.
We know your time is precious, so make use of cooking time and set a time for 5 minutes at a time and do a quick cleaning of 3-4 rooms while you are waiting to put dinner on the table.
It's amazing how little time it actually takes to clean a room.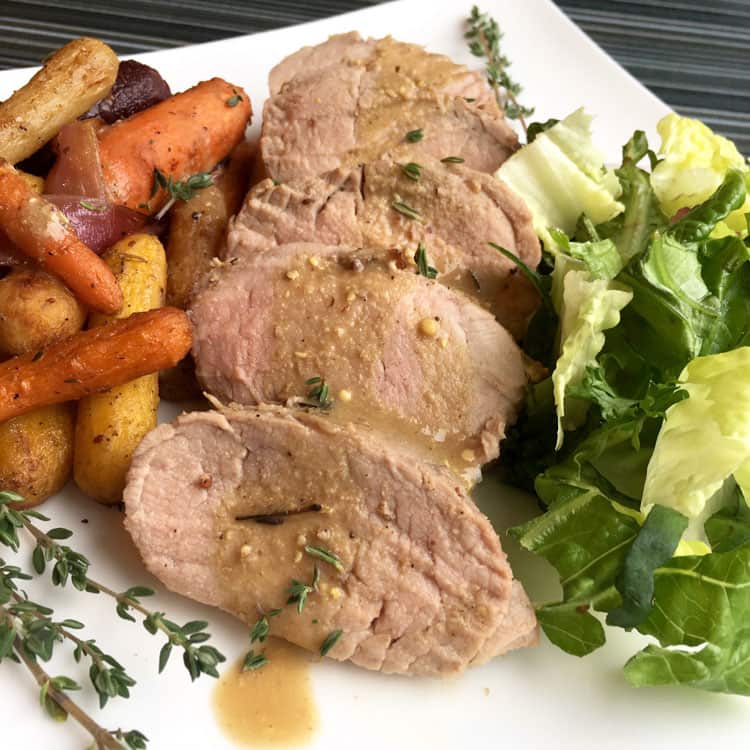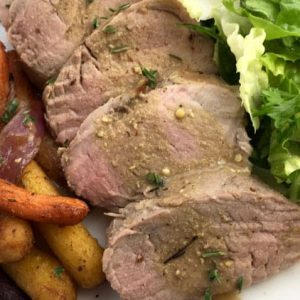 Best Mustard Pork Loin and Tasty Thyme-Roasted Carrots
Learn how to make a tender pork loin with mustard seasoning that is so flavorful and delicious. This tender pork loin is a perfect dinner recipe.
Ingredients
Serves: 4 - 6
2

pounds

pounds pork loin

2

tablespoons

Dijon mustard

2

tablespoons

sugar-free whole grain mustard

1

tablespoon

extra virgin olive oil
Salt and pepper

to taste

1

pound

tri-color baby carrots

2

garlic cloves

minced

2

tablespoons

balsamic vinegar

1

tablespoon

coconut oil

melted

2

tablespoon

fresh thyme leaves

Salt

to taste

pepper

to taste
Instructions
Preheat your oven to 400 degrees F and line a large, rimmed baking sheet with a piece of parchment paper. Place the pork loin in the center of the lined baking sheet and set aside.

In a small glass or other non-reactive bowl, combine the Dijon and whole-grain mustard with the olive oil. Massage the pork loin with the mustard mixture, then sprinkle both sides with salt and pepper, to taste.

Place the baby carrots in a large bowl and add the garlic, balsamic vinegar, coconut oil, and fresh thyme. Season with salt and pepper, to taste, and toss to combine.

Spread the carrots in a single layer around the seasoned pork tenderloin on the baking sheet and pour any remaining juices from the bowl on top.

Cook for 20 minutes, then remove the baking sheet from the oven and flip the pork. Cook for another 15-20 minutes, or until the pork reaches an internal temperature of at least 145° for medium-rare and the carrots are nicely caramelized.

Remove from oven and let pork loin rest for 3-5 minutes before slicing. Serve warm with roasted baby carrots. Enjoy!
Nutrition
Calories:
423
kcal
Carbohydrates:
13
g
Protein:
52
g
Fat:
17
g
Saturated Fat:
6
g
Cholesterol:
143
mg
Sodium:
372
mg
Potassium:
1168
mg
Fiber:
4
g
Sugar:
7
g
Vitamin A:
15804
IU
Vitamin C:
9
mg
Calcium:
73
mg
Iron:
3
mg