Apple crumble pie is a easy and delicious pie you will want to make over and over again. This apple crumble pie recipe is incredibly easy, and topped with a flavorful crumble so every bite is incredible.
6 ingredients is all you need for this apple crumble pie recipe. I wanted to create a pie that is easy, delicious, and great for those who don't even consider themselves a baker.
APPLE CRUMBLE PIE
If you are looking for a pie to make for the holidays, family gathering, or even a weeknight dessert, give this pie recipe a try.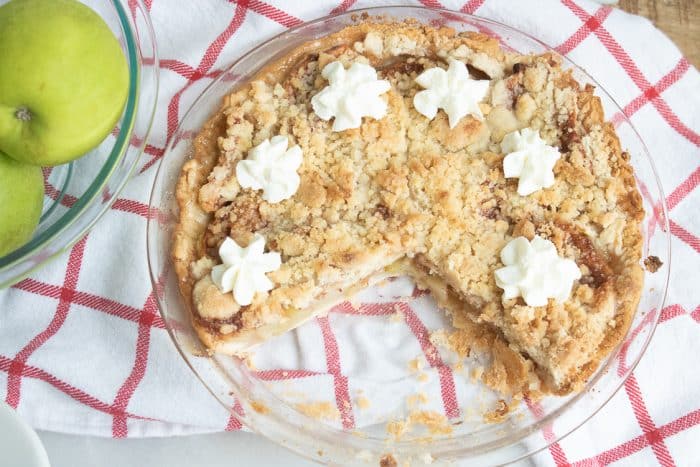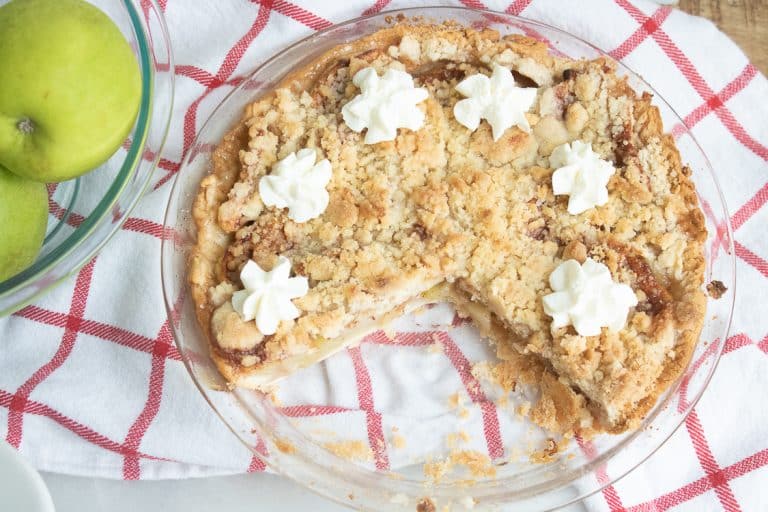 Helpful Baking Tools
Stand Mixer or Hand-held Mixer- This makes it SO much faster to whip the topping. Like I said above, it can be done without a mixer, but make sure you have a strong arm and patience. I have a KitchenAid Pro Mixer that I've had for 12+ years and love it!
Round Cake Storage and Carrier- Having a pan with lid and carrier makes it easier for storage. No more having to deal with plastic wrap that gets messy and twisted up.
8-inch Parchment Rounds- No more dealing with cake sticking to the bottom of the pan!
Cake Leveler- This tool is a must if you want to make layered cakes. It allows you to evenly remove the rounded part of the cake top and make perfectly level layers.
Cake Server- A good cake server makes a world of difference. It makes it so much easier to lift the dessert lasagna out of the pan in nice and even slices.
Cake Decorating Set- Making a pretty cake is reasonably easy when you use the tools in this decorating set. With a little practice, you will be decorating cakes like a pro in no time.
WHAT ARE THE BEST APPLES FOR PIE
Granny Smith apples are a favorite of mine when you go to bake a pie. You want to reach for an apple that is crisp, and will hold up during the baking process. I will make a list of apples below to consider.
Granny Smith
Gala
Honeycrisp
Golden Delicious
Braeburn
Fuji
Courtland
Jazz
You are not limited to these apples, but they are some of the more popular apples for baking. You can also mix and match varieties to add the dimension of flavor to your pie.
HOW MANY APPLES ARE NEEDED FOR A PIE
For my crumble apple pie, you will want 5 cups of apples. In that, you will aim to buy 6-7 medium-size apples to get around the 5 cups of apple mark.
IF YOU LOVE APPLE CRUMBLE PIE, CHECK OUT MY OTHER PIE RECIPES
Pecan Pie with Meringue | A traditional pecan pie that is topped with a light and airy meringue. Give this pie recipe a try this holiday season.
Chocolate Cream Pie | I love a good chocolate cream pie, and this recipe is velvety smooth. Add a dollop of whipped cream and dive in.
Apple Rhubarb Pie | If you are looking for another pie that features apples, give this one a try. I am a huge fan of the pairing of apple and rhubarb!
HOW TO MAKE APPLE CRUMBLE PIE
To start, preheat oven to 400 degrees.
Then, you want to start by making pie crust or using store-bought pie crust and placing it into a pie dish. If making a pie crust from scratch, be sure to use a pastry cutter to cut the butter and dry ingredients in together to make the crust.
I use room temperature butter for all baking with the exception of crusts and biscuits. For crust, having cold butter is best so it can be cut in with the all-purpose flour.
Then you want to set it aside, and peel, core, and prep your apples.
Lay your apples into the pie crust evenly in the pie plate, and then evenly spread the cinnamon and sugar over the apples. You could also toss the apples with cinnamon and sugar in a large bowl so you can stir them together easily.
The apple pie crumb topping recipe is so easy to make. Mix the crumble topping in a small bowl and then sprinkle it over the apples.
Bake the pie for 35-40 minutes. Bake a couple minutes longer if needed or until the apples are tender and the crumble topping is golden brown color. Then remove from the oven and place on a cooling rack to cool.
DO YOU PEEL APPLES FOR BAKING PIES
Yes, if you do not peel apples you will find your pie will offer a really chewy texture. This isn't that pleasing so I recommend peeling and coring apples.
You could also use canned pie apple filling in place of the apples, and then add the crumble topping over the pie filling. This pie would be super easy to throw together if you used pie filing.
HOW TO PREVENT PIE CRUST FROM OVER BAKING IN THE OVEN
You can buy a cover that sits on the edge of the pie crust or opt for aluminum foil. Tear off thin layers of aluminum foil and press it around the pie crust edge. Then bake the pie with the aluminum foil on or pie crust cover, and then remove the last 5-10 minutes of baking.
This will give you that golden-brown crust without overcooking it each and every time. I have done this for years and it works great.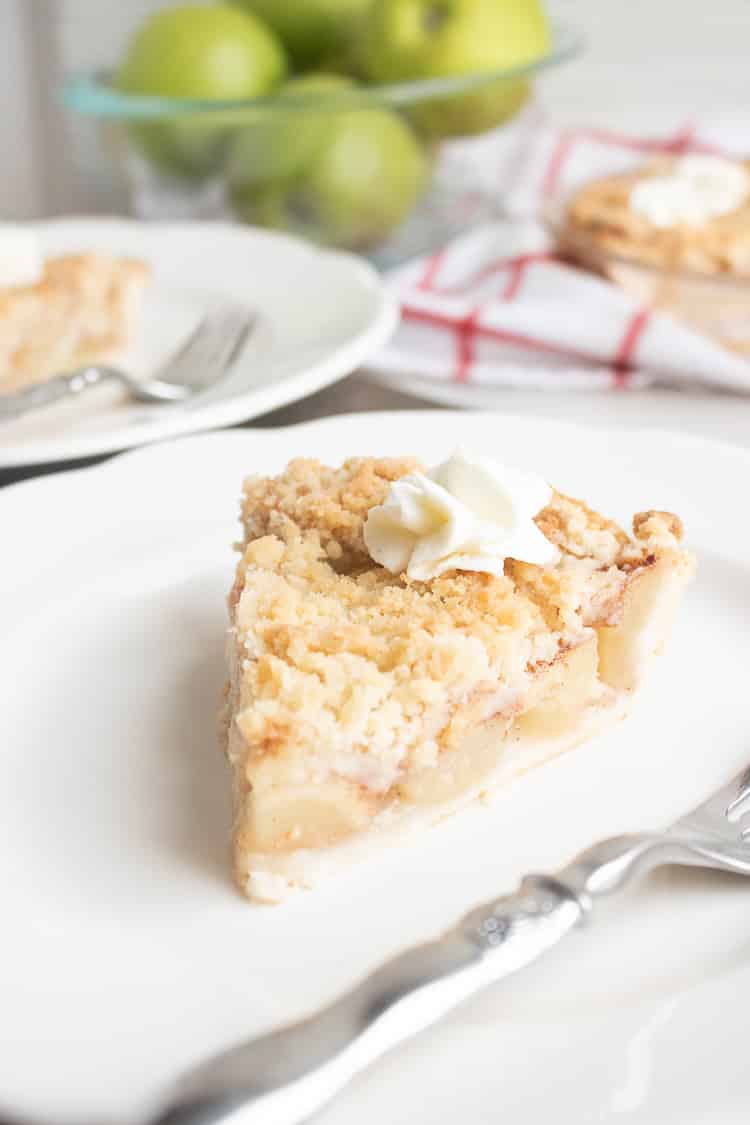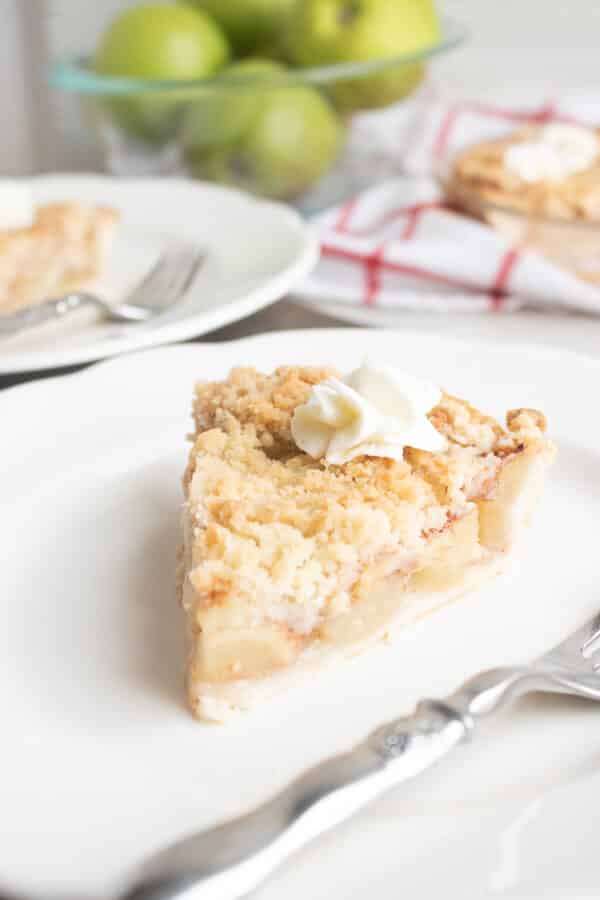 More of Our Favorite Recipes
DOES APPLE CRUMBLE PIE NEED TO COOL BEFORE SERVING
Yes, I recommend allowing your apple crumble pie to cool down before you slice into it. I know it could be hard to resist, but you will want to let it sit so it can thicken up. If you slice early the filling won't be near as thick as you would like.
WAYS TO SERVE UP APPLE CRUMBLE PIE
Ice Cream | Add a dollop of ice cream to the side or on top of your pie. I prefer vanilla but feel free to try other flavors.
Whipped Cream | Reach for whipped cream to add a dollop on top of the pie or add to the side.
Caramel Sauce | Make homemade caramel or store-bought, and drizzle over the top of the pie.
This apple crumb pie is incredibly easy to make, and delicious down to the last crumbs. Give this apple pie recipe a try today, and let me know how you enjoy it.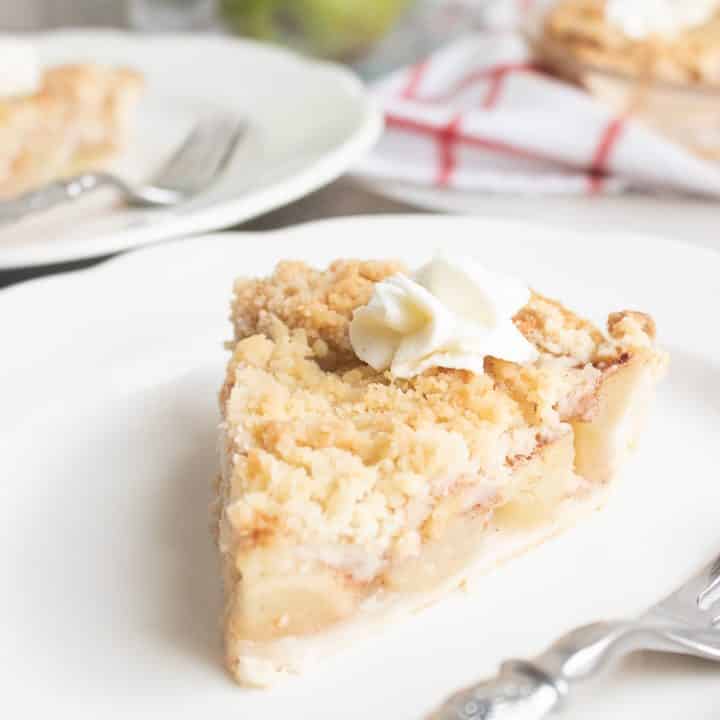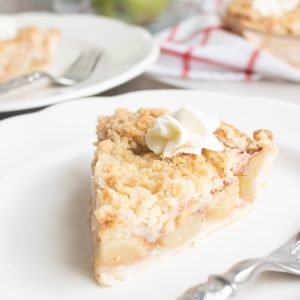 Apple Crumble Pie
This apple crumble pie is so easy to make. Top it with whipped cream or ice cream.
Ingredients
1 9-

inch

refrigerated pie crust

or your favorite pie crust recipe, uncooked

5

cups

sliced apples

½

+ ⅓ cup granulated sugar

¾

teaspoon

ground cinnamon

¾

cup

all-purpose flour

6

tablespoons

unsalted butter
Instructions
Preheat oven to 400 degrees. Spray 9-inch pie pan with non-stick cooking spray, and place unbaked pie crust in the pan.

Arrange apple slices in an unbaked pie crust.

Mix ½ cup sugar with ¾ teaspoon ground cinnamon, and pour over the apples.

Next, mix ⅓ cup sugar with flour and then cut the butter into the flour/sugar until crumbly.

Spoon crumbles over the pie, and bake for 35 to 40 minutes, or until apples are soft and the top is lightly browned.
Notes
For a shortcut, you can use apple pie filling with this recipe.
Nutrition
Serving:
1
g
Calories:
369
kcal
Carbohydrates:
45
g
Protein:
4
g
Fat:
20
g
Saturated Fat:
9
g
Polyunsaturated Fat:
10
g
Cholesterol:
23
mg
Sodium:
182
mg
Fiber:
3
g
Sugar:
13
g
More Of Our Pie Recipes You'll Love:
Brown Sugar Pie
Cherry Almond Mousse Pie
Dutch Apple Pie
Oatmeal Pie
Sweet Potato Pie