Sometimes pictures can speak a thousand words.  Pictures of Chocolate Chocolate Chip Banana Nut Muffins...well, I'm thinking that might be over a thousand words.  Just about all of them having to do with OH MY YUM!
You've heard about people being crazy for muffin tops, right?  Well, these muffins are definitely worthy of topping that muffin top list.  I mean, on top of double chocolate banana muffins, a scattering of chocolate chips and walnuts!  The toppings on the muffin tops have got to be calling your name.
I used just a little bit of nonstick cooking spray when baking these delicious muffins, and had the best luck I have ever had with muffins not sticking AT ALL.  I just barely loosened around the muffins, but really don't think I even needed to do that.
Chocolate Chocolate Chip Banana Nut Muffins--yes, the name is a mouthful--but you can be sure that its a mouthful worth biting into.
I'm not much of a morning person, so baking up a batch of muffins on a school night is the perfect solution for me.  It's nice to be able to surprise my kids with a yummy breakfast treat without having to get up super early to bake.  Not that these muffins really even take all that long from start to finish.  But, some mornings every last minute I can sleep is appreciated.
My kids dug into these muffins.  As did their friends.  And my friends. With several rave reviews, I know I've found myself a keeper.
Moist, chocolate, and so, so tasty.  And a little bit nutty (like me).  Yep, I went for the win on this one folks.
Enjoy my out of the ballpark homerun Chocolate Chocolate Chip Banana Nut Muffins (recipe at the bottom of post), straight from my kitchen to yours--or one of these other delicious recipes:
Banana Bread with Streusel Topping
Peanut Butter Chocolate Chip Muffins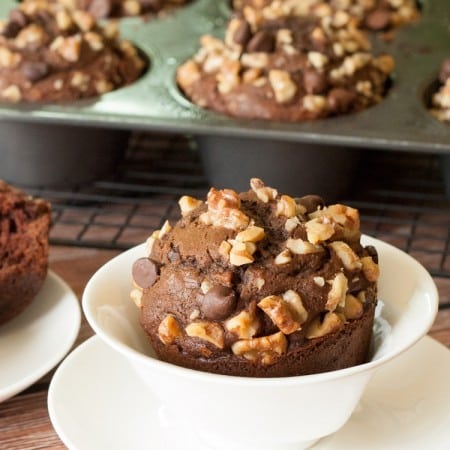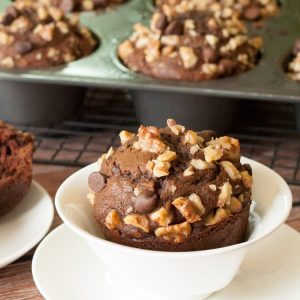 Chocolate Chocolate Chip Banana Nut Muffins
Calling all chocolate lovers! This breakfast muffin is for you!
Instructions
Mash bananas in mixer on low to medium speed until well mashed. Add in the remaining (except chocolate chips and walnuts) ingredients one at a time while mixing on low speed. Add in ½ of the chocolate chips.

Spray muffin pan with cooking spray. I used two jumbo muffin pans, and the recipe made 12 jumbo muffins.

Divide muffin batter between muffin cups. Sprinkle remaining chocolate chips and the chopped walnuts over the top of the unbaked muffins.

Bake on 375 for 15-20 minutes or until a toothpick stuck in the center of a muffin comes out clean.
Nutrition
Calories:
496
kcal
Carbohydrates:
61
g
Protein:
7
g
Fat:
26
g
Saturated Fat:
4
g
Cholesterol:
29
mg
Sodium:
344
mg
Potassium:
286
mg
Fiber:
3
g
Sugar:
31
g
Vitamin A:
89
IU
Vitamin C:
4
mg
Calcium:
41
mg
Iron:
2
mg
We are muffin crazy at All She Cooks -- Check out these other great muffins:
Blueberry Oatmeal Muffins with Brown Butter Glaze