There's just something about a refreshing cocktail recipe like this Classic Mojito Recipe that screams perfection.
Whether you're searching for the perfect cocktail recipe for a party or simply want a fun drink recipe you can whip up in no time flat to enjoy for your private happy hour… a classic mojito cocktail is simple, cool and refreshing.
We love refreshing cocktails around her like these favorites: Strawberry Limeade Rum Punch, Blackberry Mojito, and Lemon Drop Cocktail.
Classic Mojito Recipe
Yes, mojitos are every bit as refreshing as they look.
The key to a great mojito is using fresh herbs, which is a great reason to have a little herb garden.
Mojitos Offer A Taste Of Sophistication
When you're entertaining, say sophisticates, Mojitos should be on your list. This refreshing cocktail of lime, mint and rum, which hails from Cuba, is the rage from coast to coast and everywhere in between. The mojito has been called the new cosmo.
The "mojito," which means "to cast a little spell," has its roots in Cuba and rose to fame with the development of Bacardi rum on the island.
One secret to a great mojito is muddling the mint and the lime. Muddling refers to combining ingredients in the bottom of a cocktail glass with an instrument that looks like a small baseball bat. It extracts the great oils and flavors of both. If you don't have a muddler, use the back of a spoon.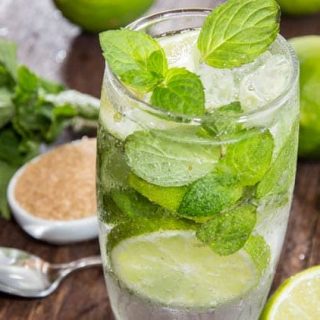 Classic Mojito Recipe
Ingredients
12 fresh spearmint leaves
1/2 lime
2 Tbsp. simple syrup (mixture of 2 parts sugar to 3 parts hot water, chilled) or just sugar
11/2 oz. Bacardi rum
Club soda
Instructions
Muddle mint leaves and lime in tall glass. Cover with simple syrup or sugar and fill glass with ice. Add rum, top off with club soda and stir well. Add crushed ice to tall glasses when ready to serve. Garnish glass with lime wedge and sprigs of mint.
Note: Can also be made by the pitcher.
Save
Save
Save