5 ingredients is all it takes to make a creme brulee that tastes even better than your favorite restaurant. This creme brulee recipe is easy, and absolutley decadent, down to the last drop.
You might be surprised at how easy creme brulee is to make at home. I will give a fool-proof recipe that is great for serving up your family or a crowd.
Creme Brulee
Velvety smooth, creamy, and a sweet sugar crust that is so rewarding as you break into with a spoon.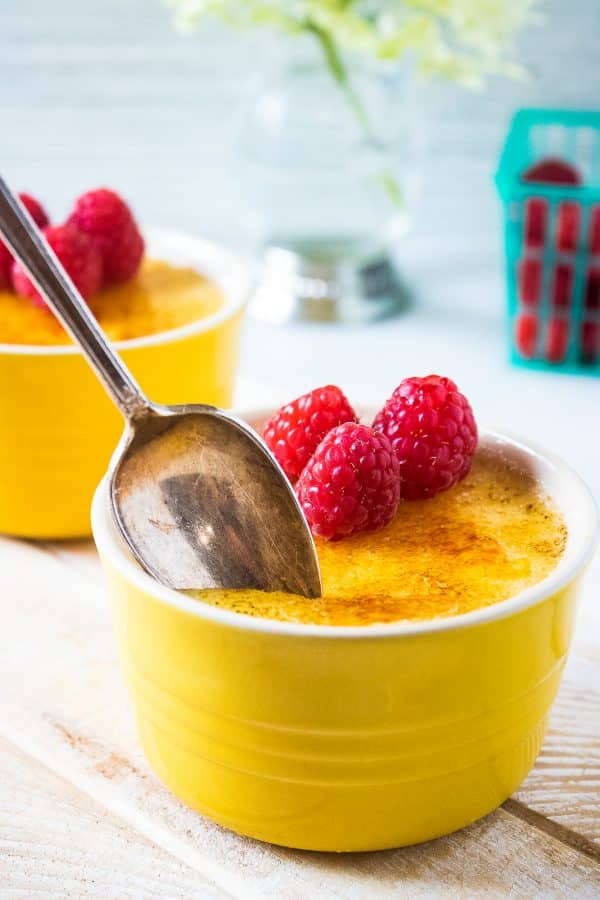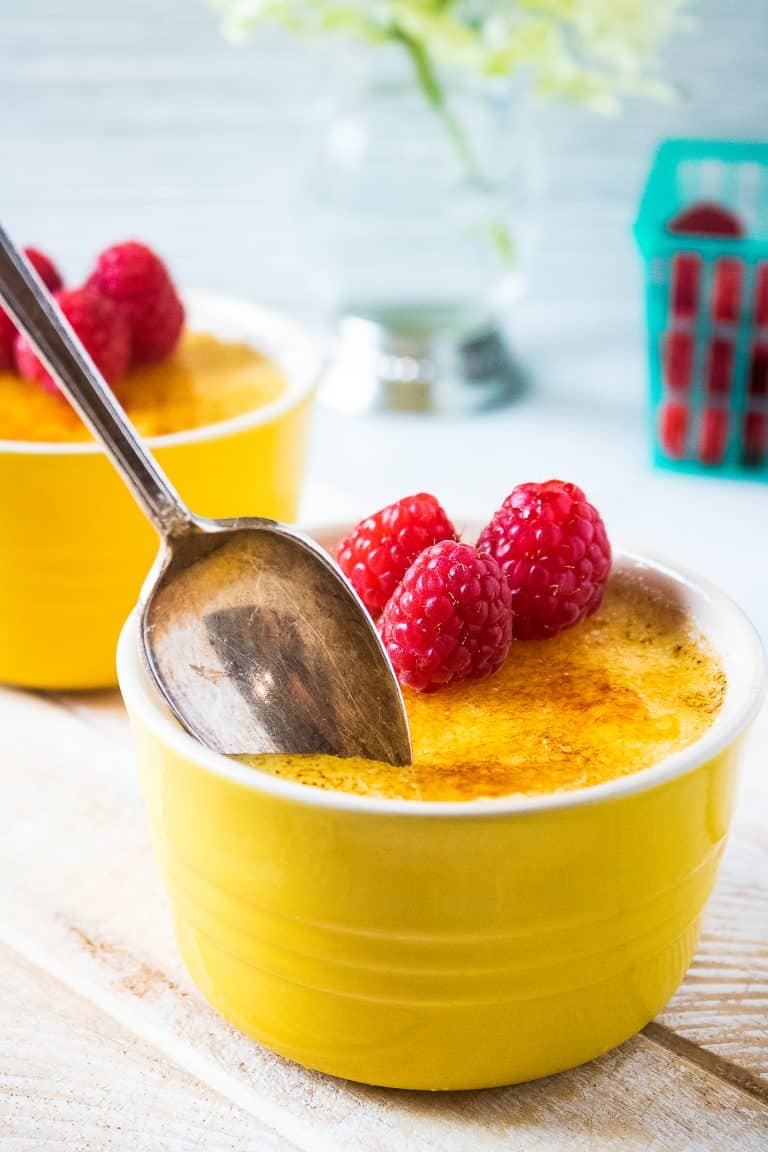 What Does Creme Brulee Taste Like
Creme brulee is a very creamy custard that has a somewhat burnt sugar topping that many love. You will love the smooth and rich filling and the sugar topping really adds a nice texture to the brulee.
Creme Brulee is a dessert that is very well known at restaurants. It can be a little pricey to order since it takes a little bit extra TLC to make. But every bite tends to be worth it.
Can You Overcook Creme Brulee
Just like with any recipe you can undercook over overcook your Brulee. You want to try and use the right size ramekins and watch the cooking time.
Ensure the center is fully cooked before you remove it from the oven. Sometimes people think it is done when the center is still a bit undercooked.
How Long Can You Store Brulee In Fridge
You can store your brulee in the fridge for up to three days. It is best when served within the first 24 hours of being made. But if you want to wait feel free to use within three days.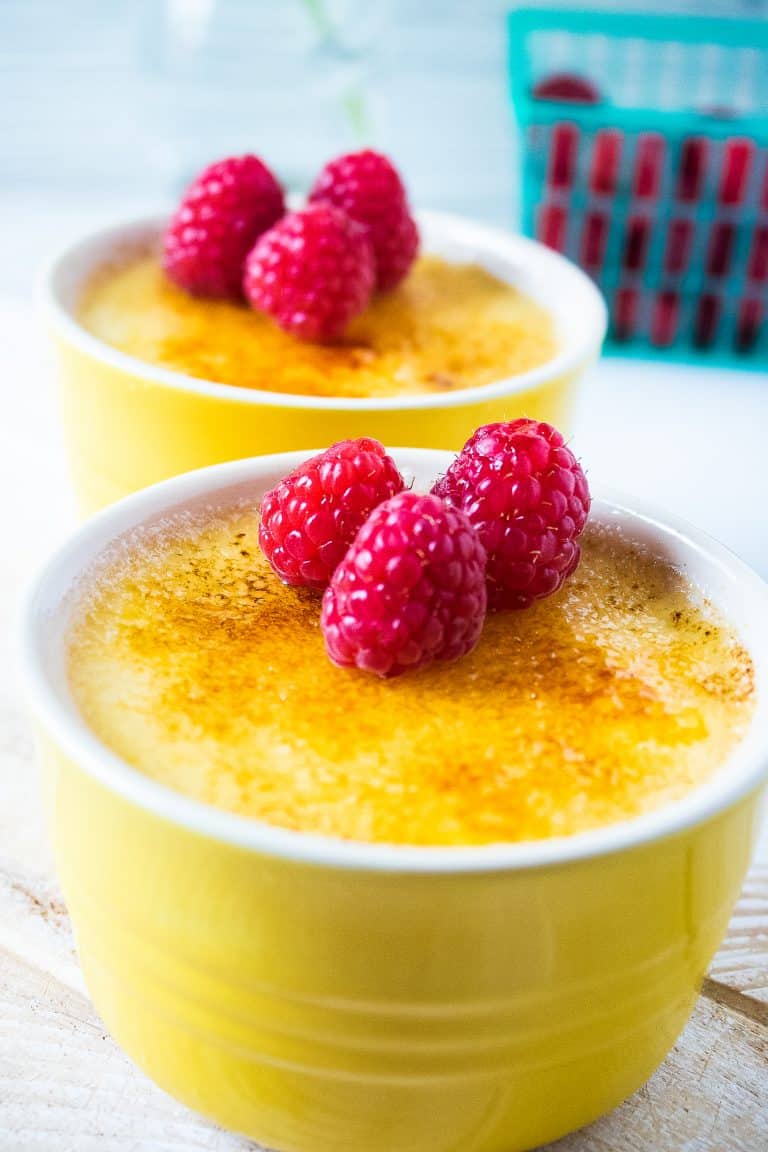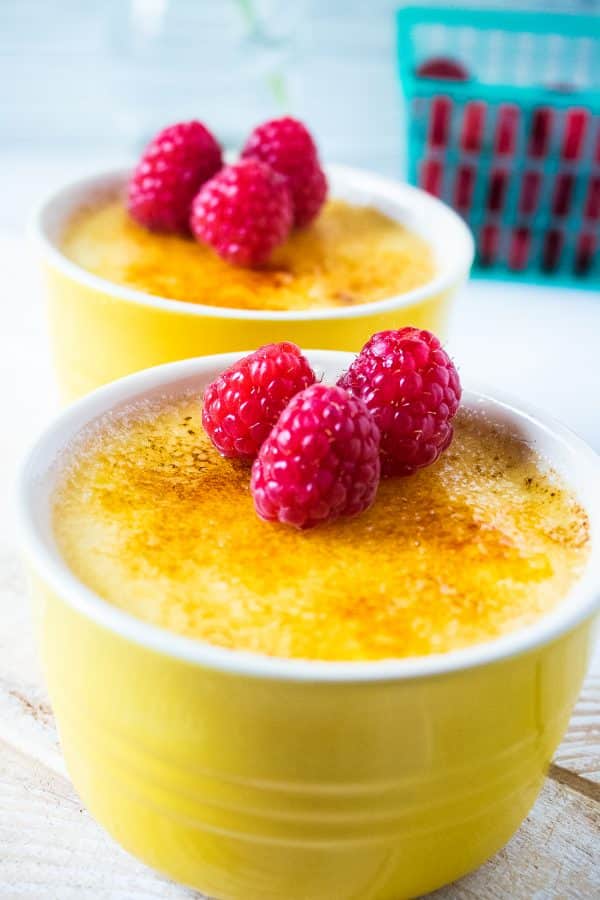 Is Creme Brulee Served Warm or Cold
You will find this dessert can be cold or warm. You will still want to top with sugar and torch the top right before serving. It is up to you if you prefer it at a warm texture or chilled.
I am a fan of both, and I love it chilled after it has sat in the fridge and fully cooled.
Check out more easy dessert recipes
Heavy Cream vs Milk
If you want an ultra rich and creamy brulee you need to use heavy cream. I think there are some recipes that use milk but I have found heavy cream to be an essential ingredient that can not be substituted.
Why Did My Creme Brulee Curdle
Overheating can cause the dish to curdle. The goal is low and slow and don't turn the heat up to speed up the process.
If you do this you can get that curdled texture to where the eggs almost scramble instead of give you that creamy recipe.
Is Creme Brulee and Custard the Same Thing
Creme Brulee is a baked custard that is topped with a caramelized sugar glaze. A kitchen torch is used to get the 'burnt' sugar topping that Creme Brulee is known for.
Custard is a bit different in the process of how it is made. Same concept but you will find the technique of how it is made will be different between the two.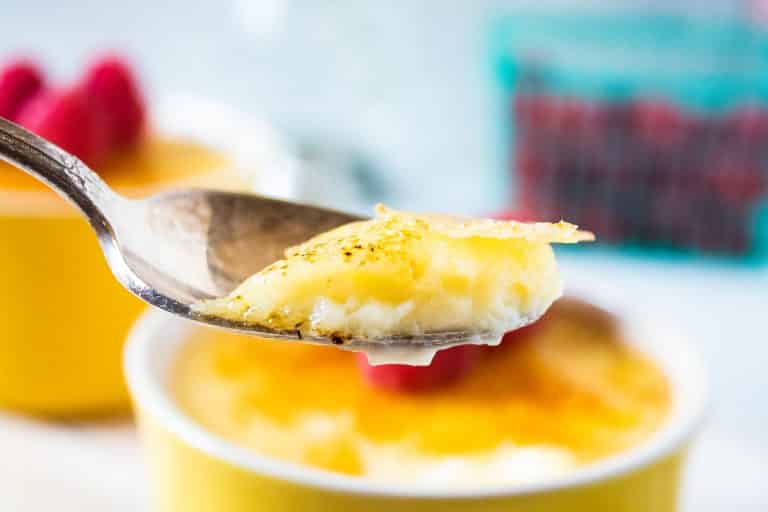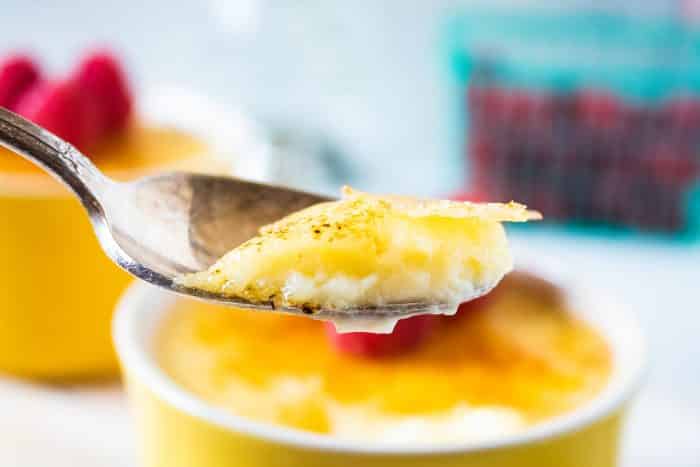 Is There Raw Eggs in Creme Brulee
The eggs are fully cooked in this dessert. You will find many are not sure if you can eat brulee when pregnant. This recipe fully cooks the eggs so that it makes it safe to consume.
Other recipes like tiramisu or even a homemade slow-churned ice cream can have raw eggs. But this dessert indeed fully cooks the eggs.
If you are a fan of Creme Brulee you have to try my version. You will love the ease of the recipe, simple ingredients and the final result is absolutely phenomenal.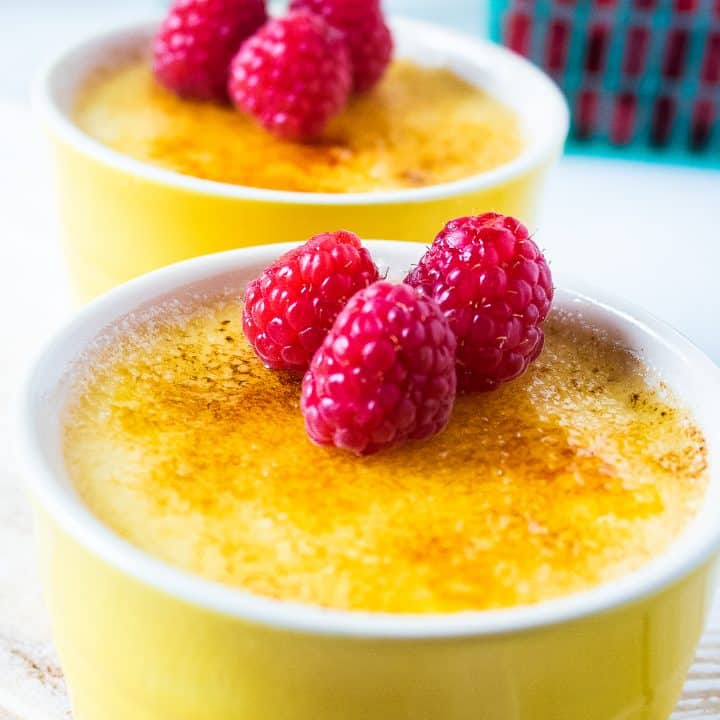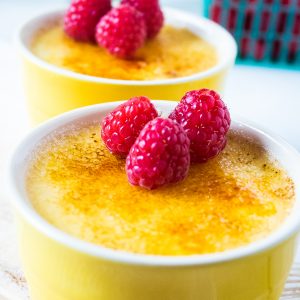 Crème Brulee
Crème Brulee is an easy custard recipe that has a tasty caramelized burnt topping. It's delicious.
Instructions
Preheat oven to 325 degrees.

Heat first two ingredients on stove top over medium heat until the mixture comes to a low boil, stirring constantly. Remove from heat and cover with a lid for 15 minutes.

Meanwhile, beat egg yolks and mix with sugar, and vanilla.

In a small bowl, add a little bit of the heated cream and slowly pour in the same amount of the egg mixture, while beating to temper the eggs. Add more of the hot cream, mixing while adding it. This is to prevent the eggs from cooking and the mixture from becoming lumpy.

Mix the rest of the egg and cream together and then pour all of it into a container with a spout, if available. This makes it easier to pour. Otherwise, a ladle is fine.

Pour (or ladle) into ramekins. The number of servings will depend on the size of the ramekin.

Place filled ramekins in a roasting pan and fill the pan ½ up the side of the ramekin with boiling water.

Bake for 55-60 minutes.

Remove from oven and let cool on the counter before refrigerating for a few hours or overnight.

Before serving, let Crème Brulee sit out for 30 minutes and then sprinkle sugar over the top and fire with a kitchen torch.
Nutrition
Serving:
1
g
Calories:
281
kcal
Carbohydrates:
15
g
Protein:
3
g
Fat:
24
g
Saturated Fat:
15
g
Polyunsaturated Fat:
8
g
Trans Fat:
1
g
Cholesterol:
159
mg
Sodium:
37
mg
Sugar:
14
g
More of Our Latest Posts