Love a good blueberry dessert? You'll adore how easy this Blueberry Galette is to make. With just a few simple ingredients, this blueberry pastry will be ready to enjoy just in time for dessert.
Blueberry Galette Recipe
Have you ever had a galette? Our Blueberry Galette is a great example of an easy to make galette recipe.
So, what is a galette? A galette is a flat cake or pastry that is often coupled with fruit or berries.
In this case, a pie crust is used for the pastry and the filling is a combination of a cream cheese base topped with blueberry preserves and fresh blueberries.
How to Make Blueberry Pie
There are many types of blueberry pies and because of that, there are many ways to make blueberry pies.
Some pies with blueberries have a creamy base like this blueberry pie does, and others are made with blueberry pie filling alone.
Because there is such a wide variety of blueberry pie recipes, it is always fun to find a new spin on this type of berry pie.
If you're able to pick blueberries when they are in season, there is no end to the number of blueberry recipes that you can find.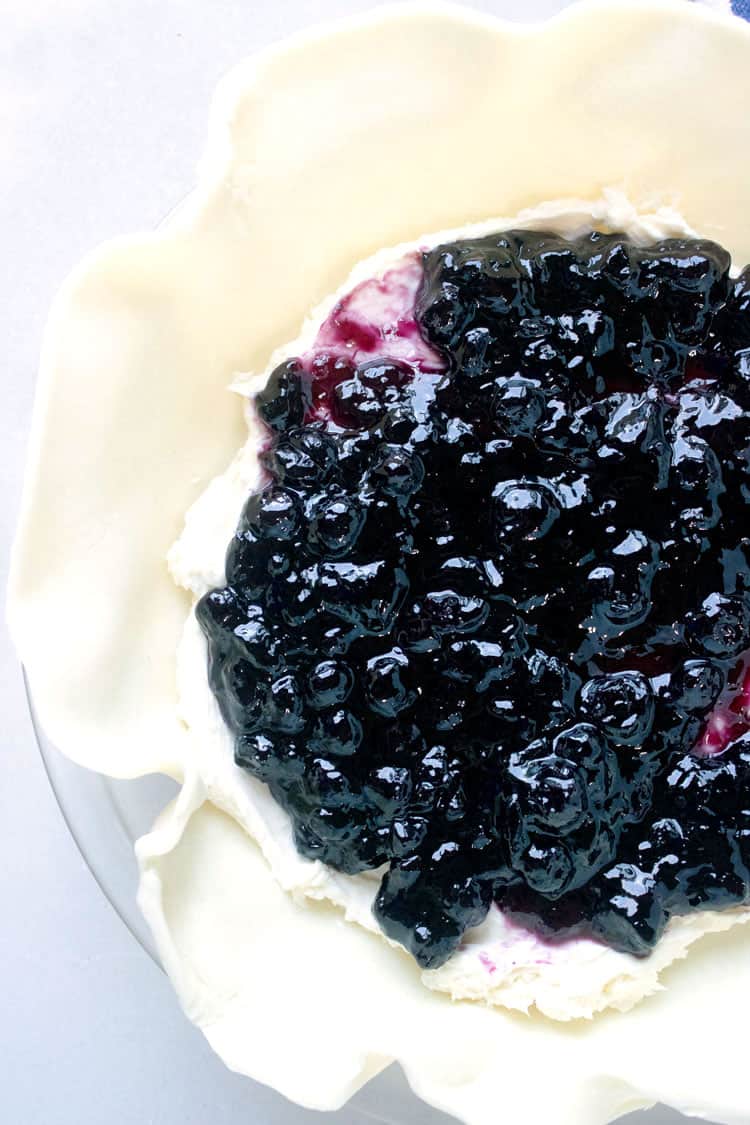 Easy Blueberry Pie
This recipe for Blueberry Galette is an easy blueberry pie recipe. I used a refrigerated pie crust to save time, but you could always make a homemade pie crust. This recipe for pie crust is a family favorite pie crust recipe, and it is easy to make.
The ingredients for my Blueberry Pie Galette are simple: pie crust, cream cheese, sugar, blueberry preserves, and blueberries.
I didn't use blueberry pie filling, but you could swap out the blueberries and preserves for blueberry pie filling if you have that in your pantry.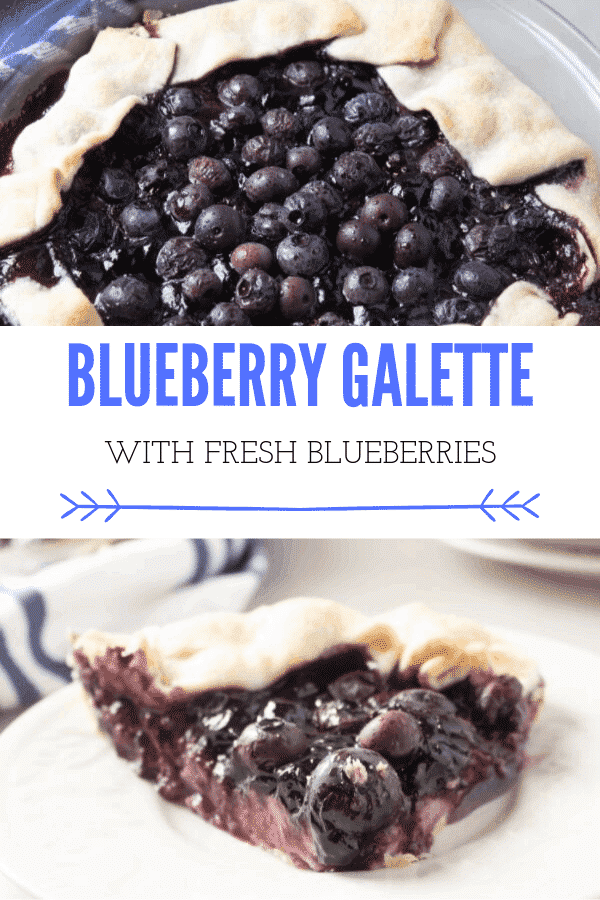 When is National Blueberry Pie Day
If you follow along with all of the national days for food, you might already know this. If you don't, here is some good trivia information for your next game night.
National Blueberry Pie Day is April 28th.
National Blueberry Day is July 11th.
And, National Blueberry Month is every July.
It turns out there are a lot of days of the year--especially during July--when you can whip up delicious blueberry desserts and join in the celebration of blueberries.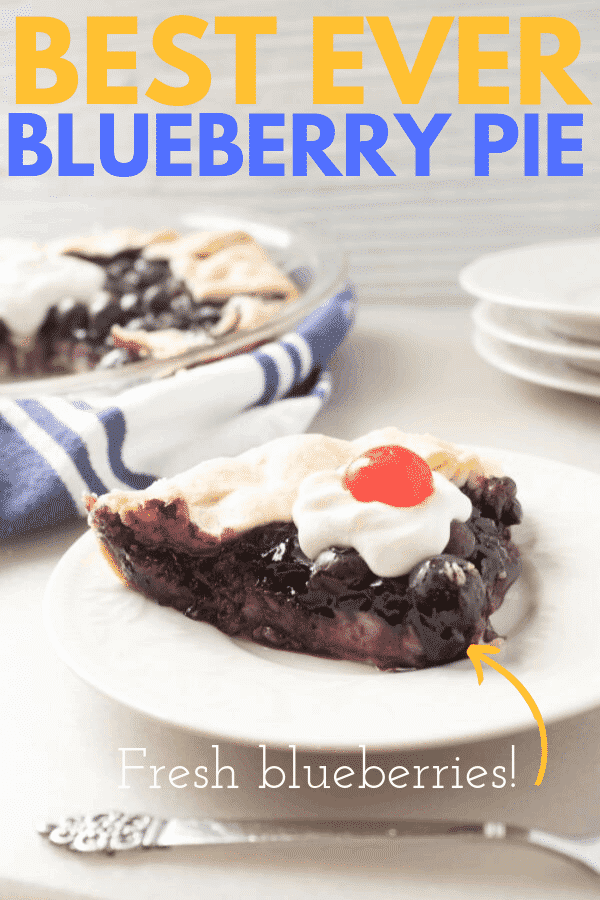 Recipes Using Blueberry Pie Filling
There are a lot of tasty recipes using blueberry pie filling, and although this recipe doesn't use pie filling, it can be substituted.
One of our favorite ice cream recipes, Berry Pie No-Churn Ice Cream uses pie filling. Our delicious Danish recipe would be even tastier with blueberry pie filling. And we can't forget this amazing sheet cake recipe, which is another recipe where you can switch out the berries for blueberry pie filling.
It was only natural to make a scrumptious Blueberry Tart, since I had some blueberry preserves on hand.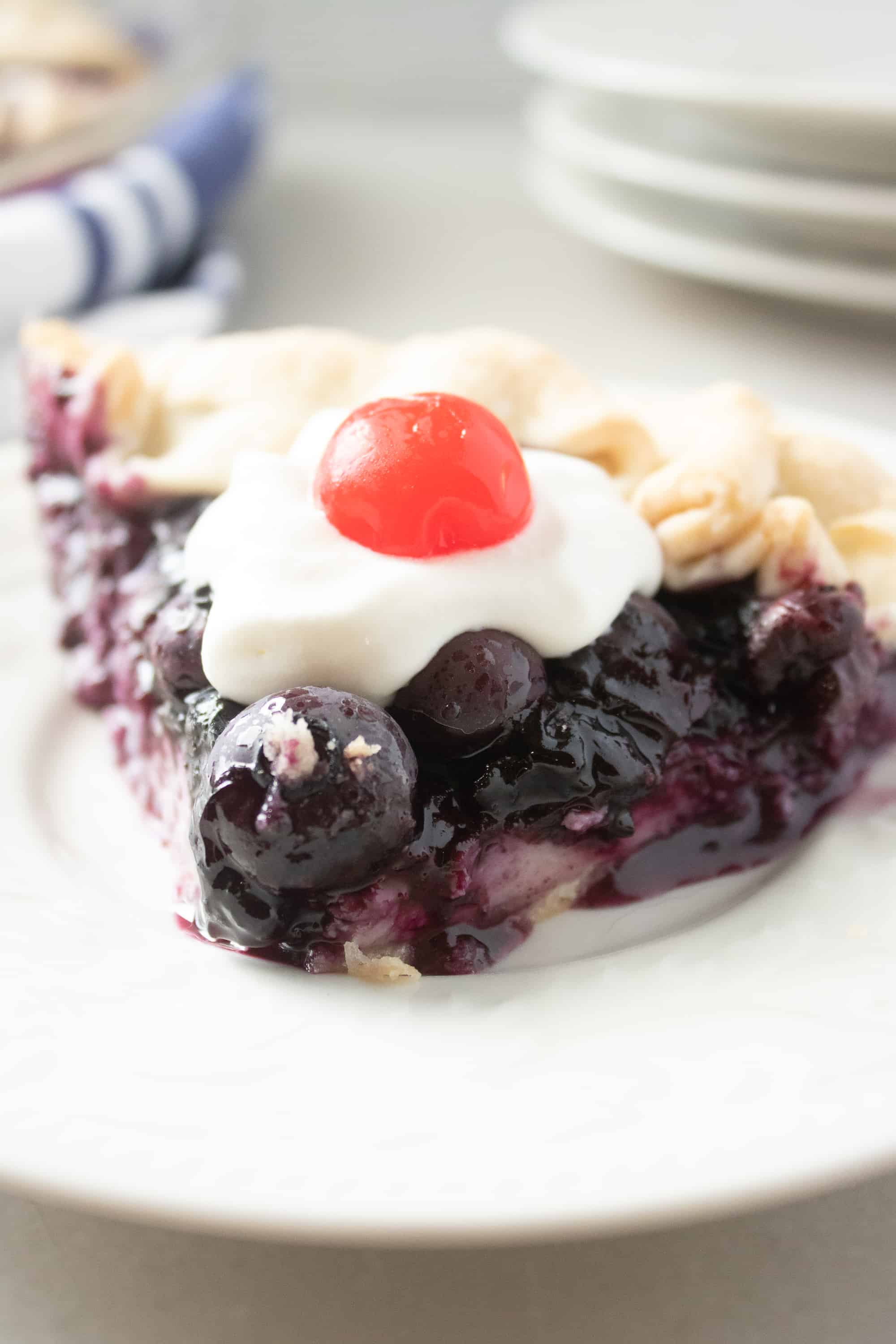 How to Make Blueberry Galette Tart
This blueberry dessert is easy to prepare in just five minutes, not counting baking time.
Here's How to Make the Blueberry Galette
First, a half an hour or so before you plan to start making the blueberry pie, take the pie crust out of the refrigerator and allow it to come to room temperature. This will make it more pliable and easier to unroll and handle.
At the same time, take the cream cheese out of the refrigerator and allow it to soften on the counter.
Second, whip the cream cheese with a hand-held mixer until perfectly smooth. Then mix in the sugar and vanilla. Put the pie crust in a pie plate and spread out the cream cheese mixture evenly over the bottom of the pie crust.
Third, spread the blueberry preserves over the cream cheese.
The preserves don't have to be spread out to the edges, and it is perfectly okay to swirl the blueberry preserves in with the cream cheese filling.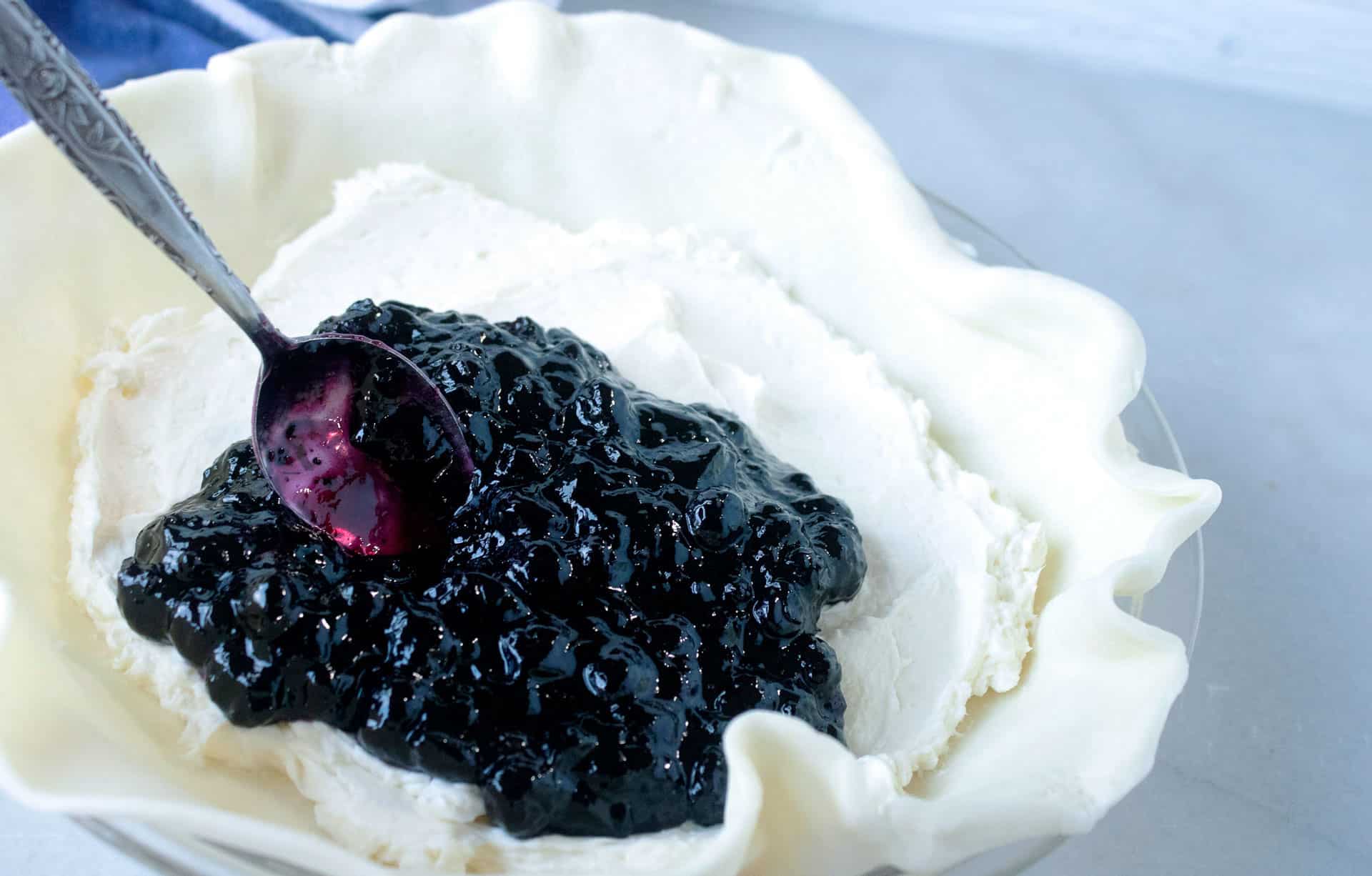 Fourth, top the blueberry preserves with fresh blueberries.
You really can't go wrong with blueberries on top of blueberries. Because, fresh blueberries add a pop of color to the dessert, not to mention a delicious fresh blueberry flavor.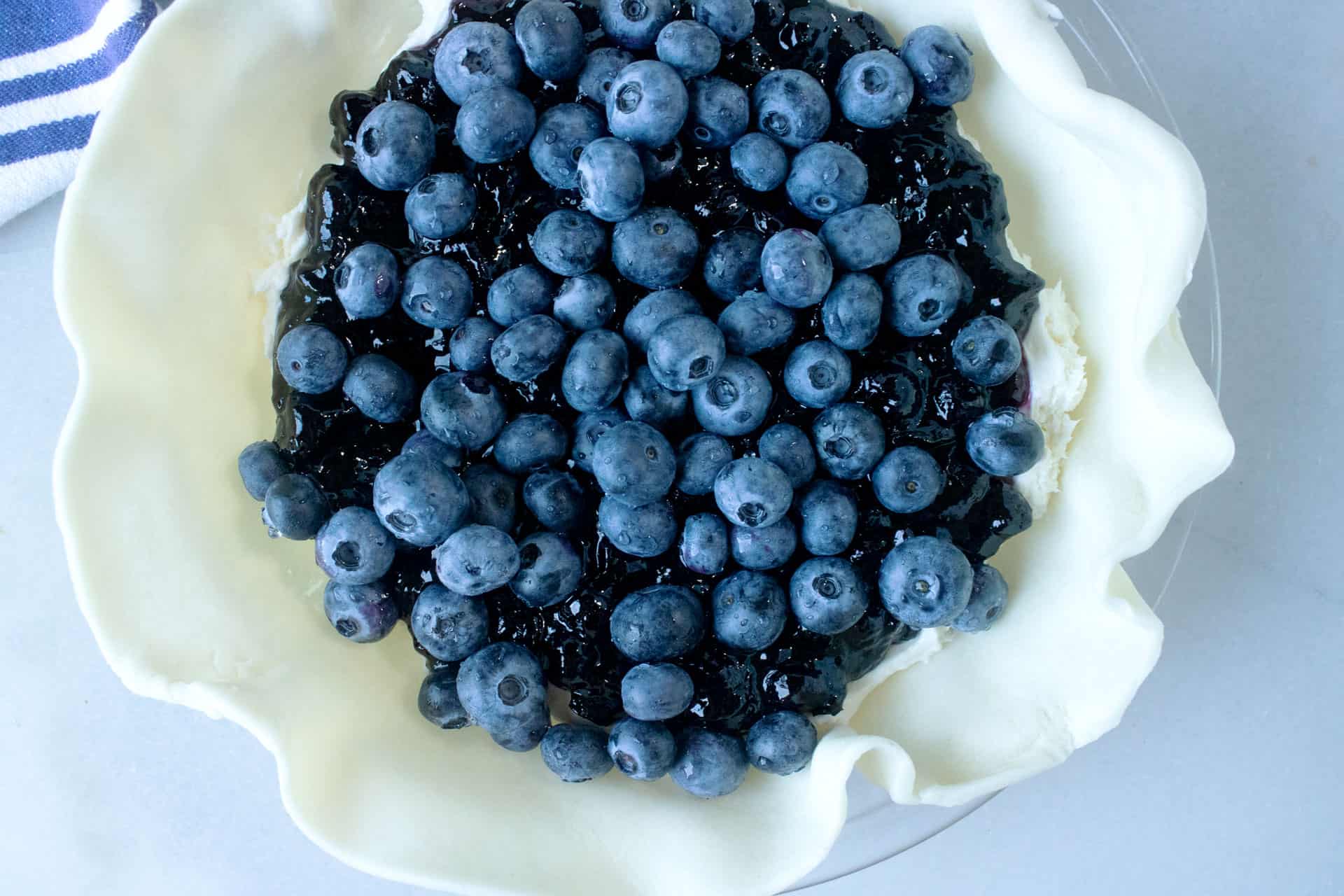 Finally, prior to baking the galette fold the edges of the pie crust over.
There isn't a special way to do it, but take a look at the photo of how I folded the edges over to get an idea of how easy it is to do.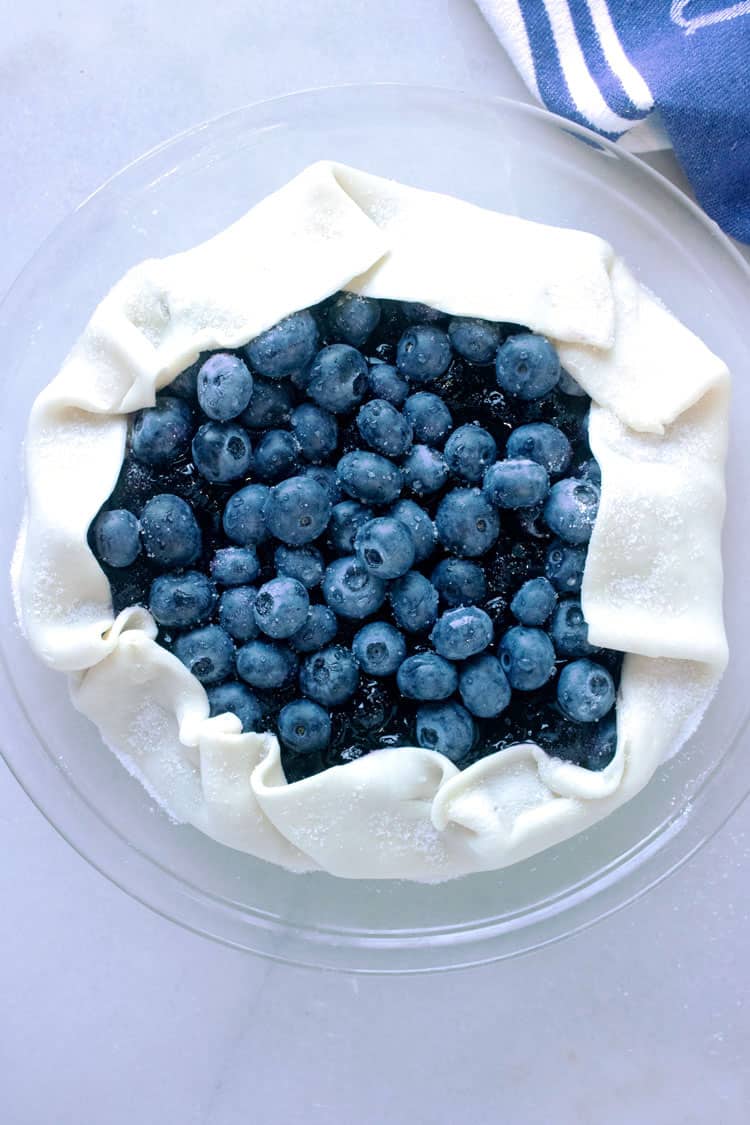 Once this step is done, the Blueberry Galette is ready to bake. If you want to add an egg wash to the pie crust, this would be the time to do it. It's not a mandatory step, but it can add a nice golden color to the crust.
Now, put the galette in the oven and bake it up. Simple as pie.
This recipe for Blueberry Galette is so delicious. Serve it on it's own or add homemade whipped cream or vanilla ice cream to the top.


More Dessert Recipes to Try
Blueberry Lemon No-Churn Homemade Ice Cream- This homemade no-churn ice cream dessert is the perfect blend of lemon and blueberries.
If you haven't tried the combination of lemon and blueberry flavors before, you're missing out. Blueberries and lemons offer fresh flavors that really compliment each other.
Pecan Pie with Meringue- Pecan pie is a holiday staple on the dessert table, but it isn't often served up topped with meringue. The meringue topping on our pecan pie takes it to a whole different level and makes a classic pie spectacular.
Easy Apple Pie Recipe- If you want a pie reminiscent of the apple pie your mom or grandma used to make, this is it. My simple twist is that I normally use a store-bought refrigerated pie crust as a time-saver.
Blueberry Buckle Poke Cake- Are you a fan of poke cakes? This blueberry poke is insanely delicious and is definitely a dessert that you'll want to consider for the dessert table, for a potluck, or even for a block party dessert. It is a great dessert for any number of holidays.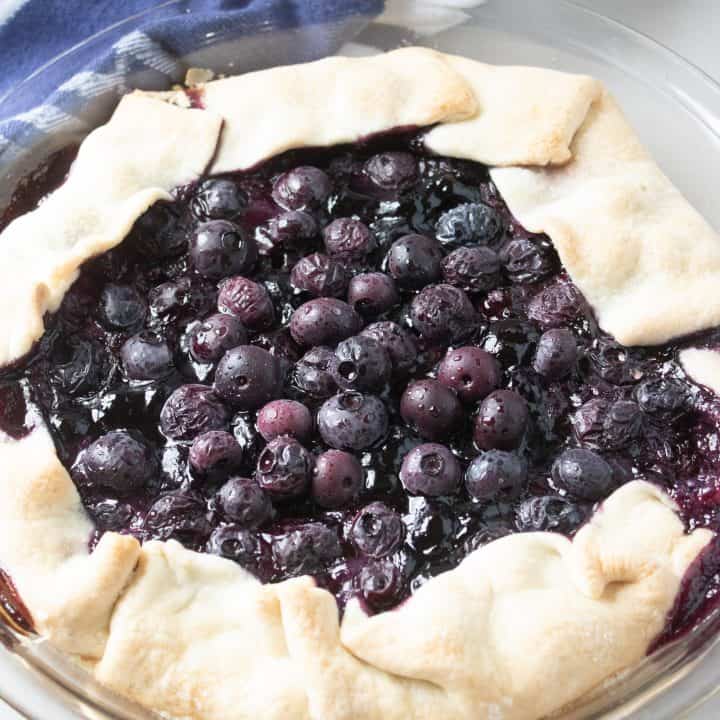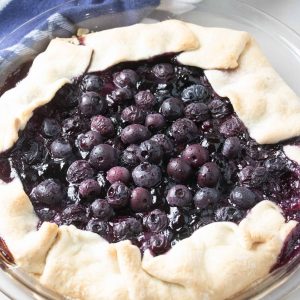 Easy Blueberry Tart Recipe
Blueberry Tart, or Blueberry Galette, is a quick and easy dessert recipe requiring just a few ingredients, including fresh blueberries. It's baked in a pie crust, and you can use store-bought or homemade crust.
Ingredients
Instructions
Preheat oven 375. Put pie crust in pie plate.

Soften cream cheese and stir until smooth. Stir in sugar and vanilla.

Layer blueberry preserves on top of cream cheese, spreading around to disperse.

Top with blueberries, fold pie crust edges over and bake for 375 for 40 minutes.
Nutrition
Serving:
1
g
Calories:
260
kcal
Carbohydrates:
39
g
Protein:
4
g
Fat:
10
g
Saturated Fat:
4
g
Polyunsaturated Fat:
5
g
Cholesterol:
15
mg
Sodium:
202
mg
Fiber:
1
g
Sugar:
22
g

Save
Save
Save
Save
Save
Save
Save
Save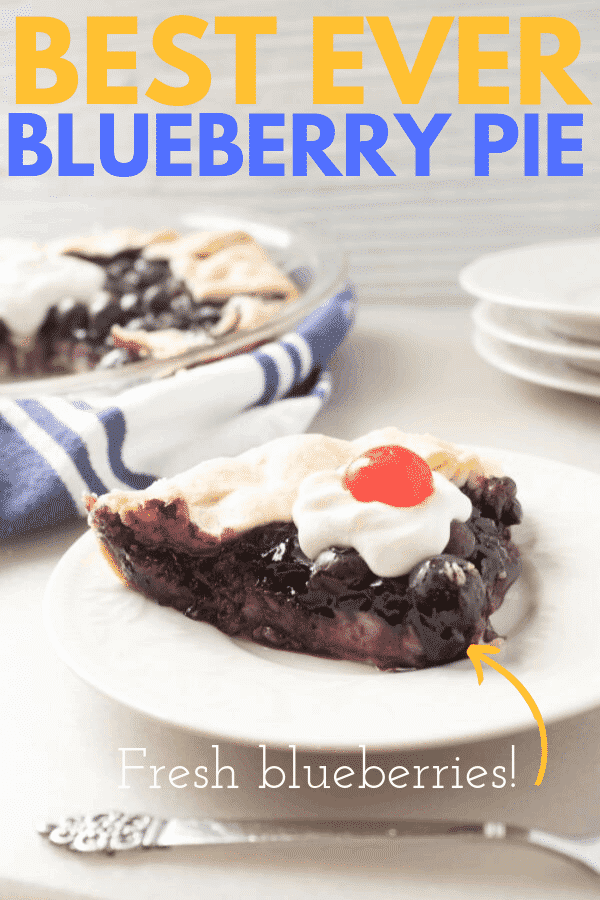 Save
Save