Give this Easy Cheese Sauce for Vegetables a try! This dressed up simple side dish will wow your friends and family.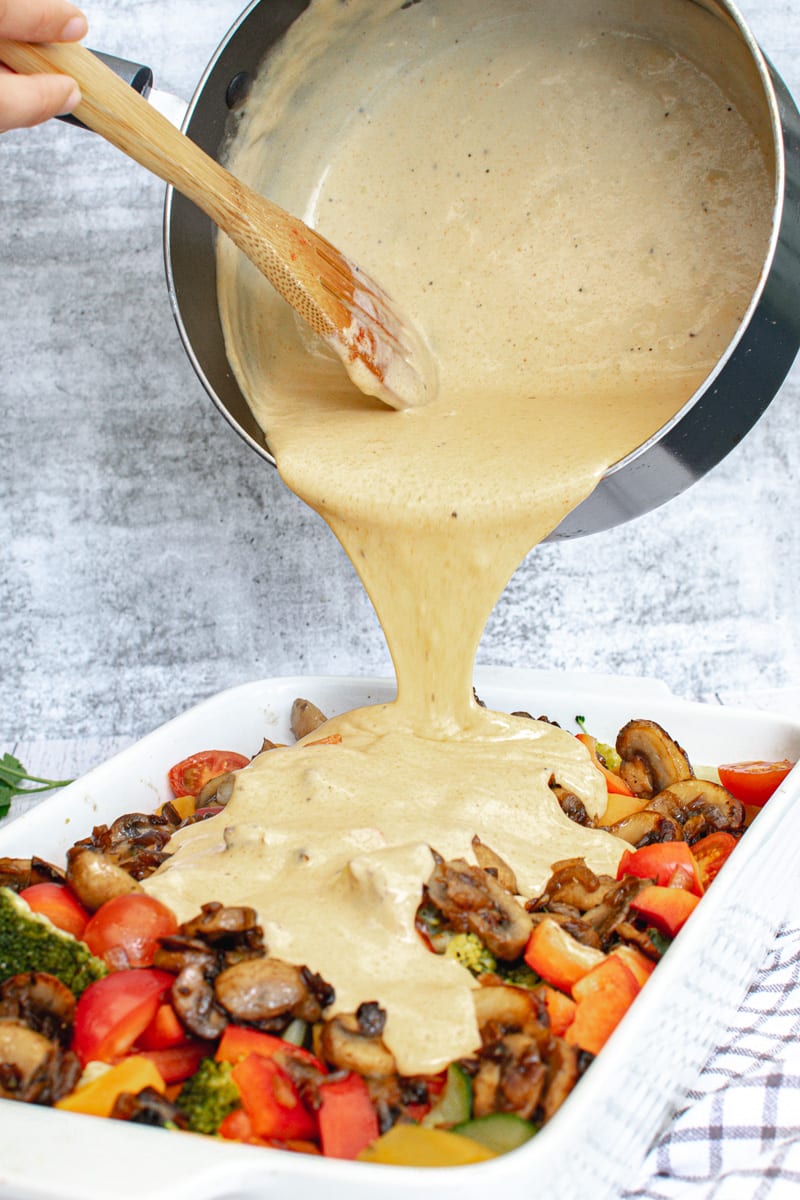 You can mix this cheddar cheese sauce with roasted veggies for an addictive way to eat more vegetables. 
You'll love this sauce on everything! I pour it over vegetable salads, plant-protein dishes, and even soups! You can even pour this sauce over broccoli, cauliflower, brussels sprouts, or other root vegetables—and it will taste amazing.
This Easy Cheese Sauce for Vegetables Is...
Easy 
Simple pantry ingredients 
Gluten-free 
Quick 
Versatile
How to Make Easy Cheese Sauce for Vegetables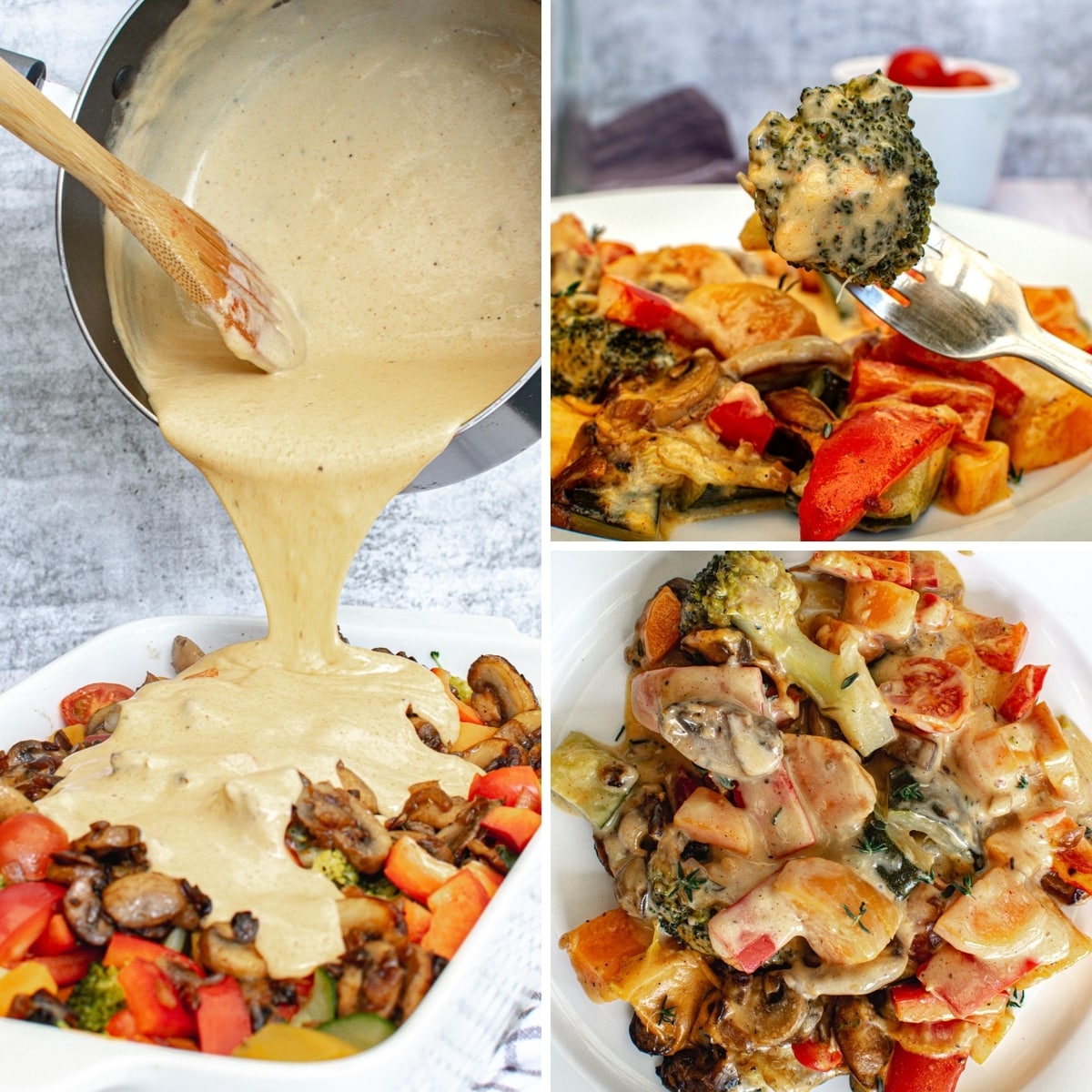 Add ingredients to the saucepan and cook, stirring continuously. 
Make sure to stir the cheese sauce non-stop to prevent the it from burning. 
Once the sauce thickens, remove sauce from stove and pour over vegetables. 
Full directions for this recipe are in the printable recipe card below. 
Tips & Tricks For Easy Cheese Sauce for Vegetables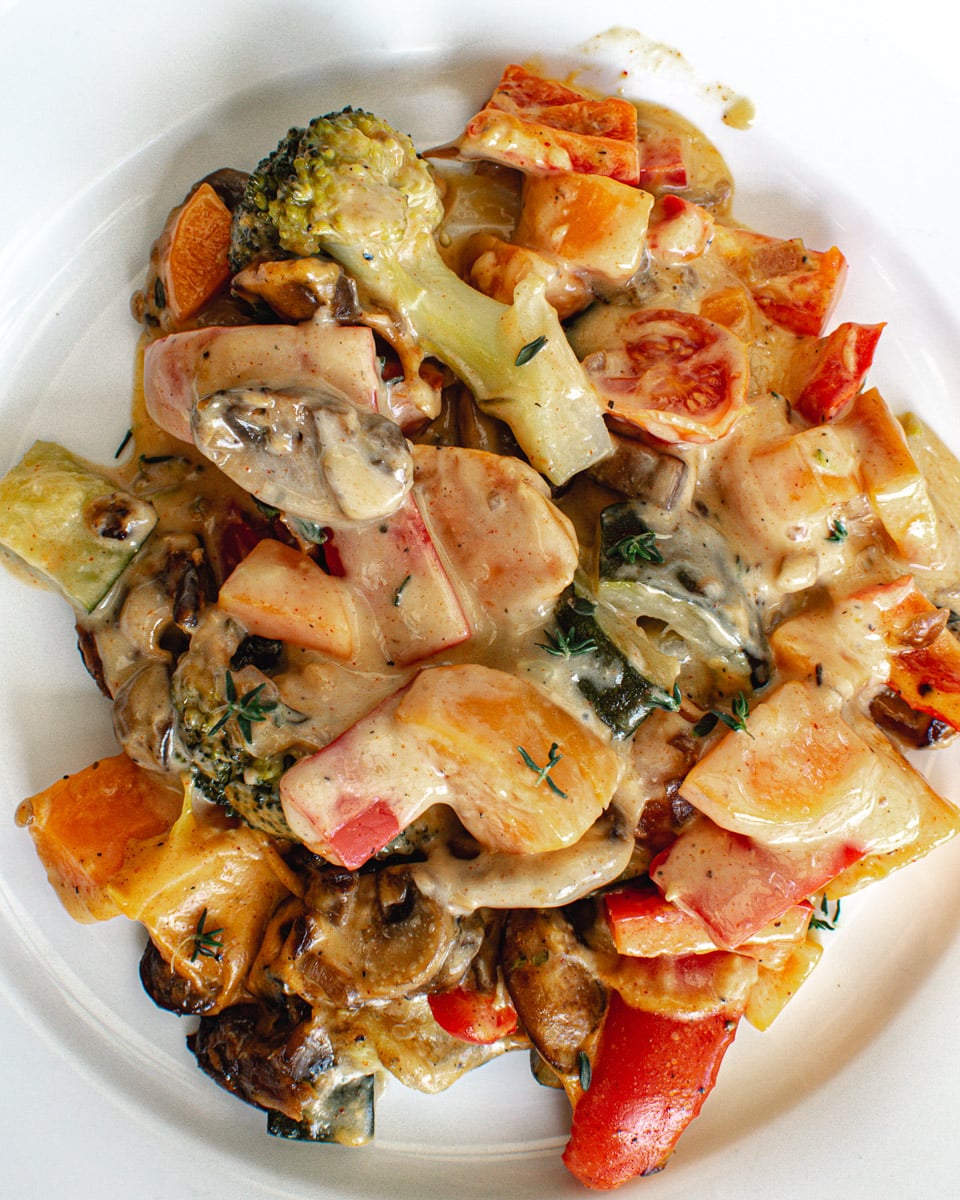 Stir Continuously
You need to make sure to stir the sauce as it heats. If you don't, your sauce may burn or begin to clump. 
Whisk vs Rubber Spatula 
Feel free to use a whisk or a rubber spatula to mix up your cheese sauce. 
Use Block Cheese
For this recipe, you need to use block cheese that you can shred yourself. If you use pre-shredded cheese, you will find that it can clump and become oily. 
Shredded cheese uses starches to separate the shreds, and those extra starches can affect the texture of your sauce. 
Variations For Easy Cheese Sauce for Vegetables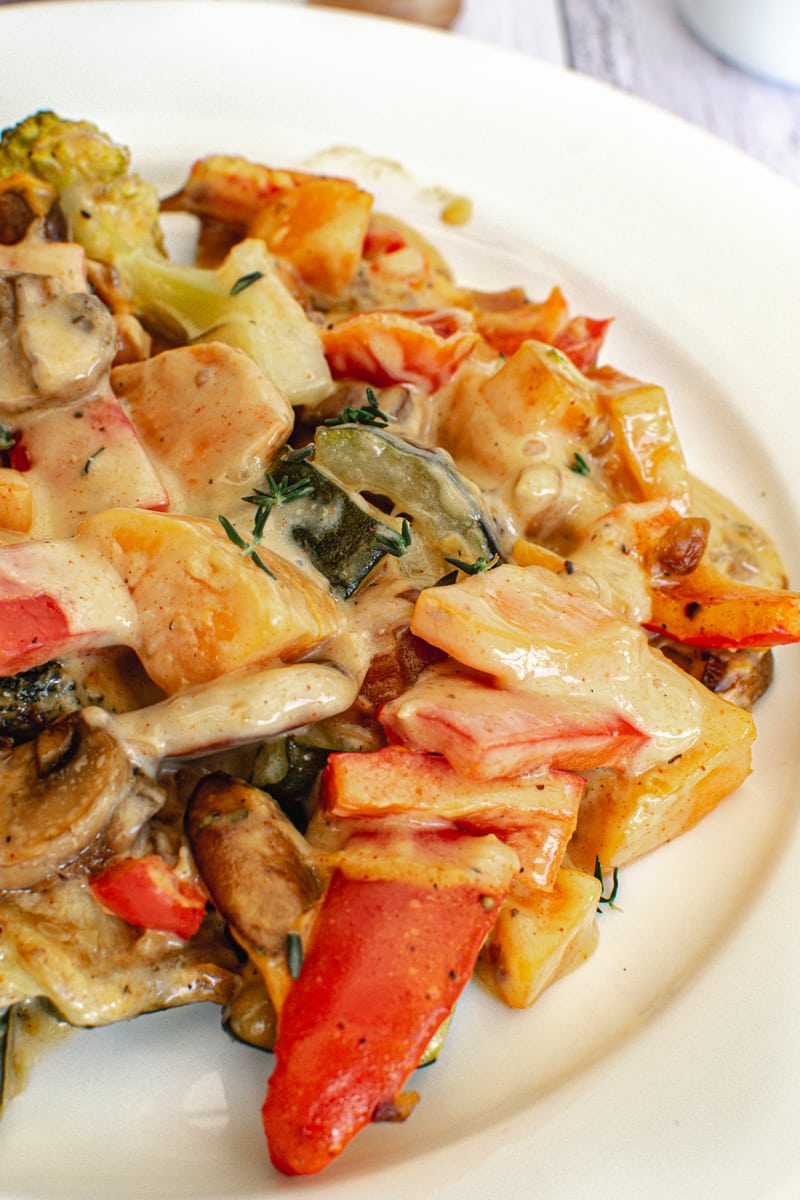 Use Different Cheeses
I used cheddar cheese for this recipe, but you are welcome to use any variety of cheese. Feel free to reach for any cheese you prefer—Pepper Jack, Monterey Jack, Sharp cheese, etc.
Add Rotel
Adding a drained can of Rotel (diced tomatoes and green chiles) can easily turn this cheese sauce into a Rotel-flavored cheese dip!
Use Different Spices
Go ahead and alter the spices in this recipe to your liking. Try adding garlic, Italian seasoning, or other spices to change up the flavor of your cheese sauce. 
Easy Cheese Sauce for Vegetables FAQs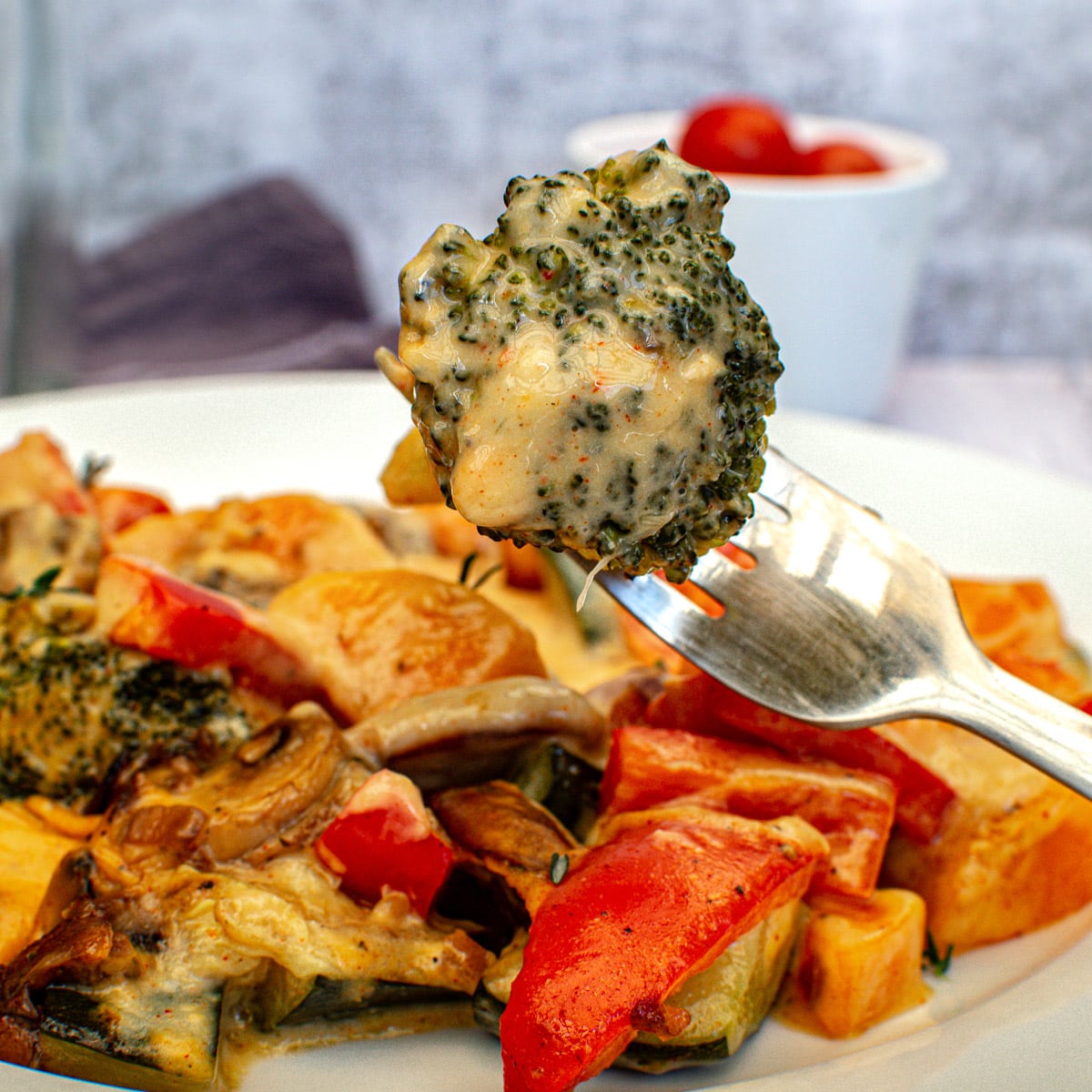 Can I make this cheese sauce ahead of time?
Yes, you can make this cheese sauce in advance if you would like. Just whip up a batch of sauce, and store it in the fridge until you are ready to eat.
You can reheat your sauce in a pan on the stove—but make sure to stir it often or it will burn. 
How do you store cheese sauce? 
You can store your cheese sauce in an airtight container for around 4–5 days. When you're ready to eat it, warm it up in the microwave or in a saucepan on the stove. 
Can you freeze cheese sauce?
This cheese sauce will not freeze very well. You will find that the sauce separates a bit once it thaws after being frozen. 
How can you use cheese sauce? 
You can drizzle your cheese sauce over vegetables, pair it with protein, and dip chips—and even vegetables—into it. Essentially, you can use this cheese sauce for anything you might want to add a some cheesy flavor to!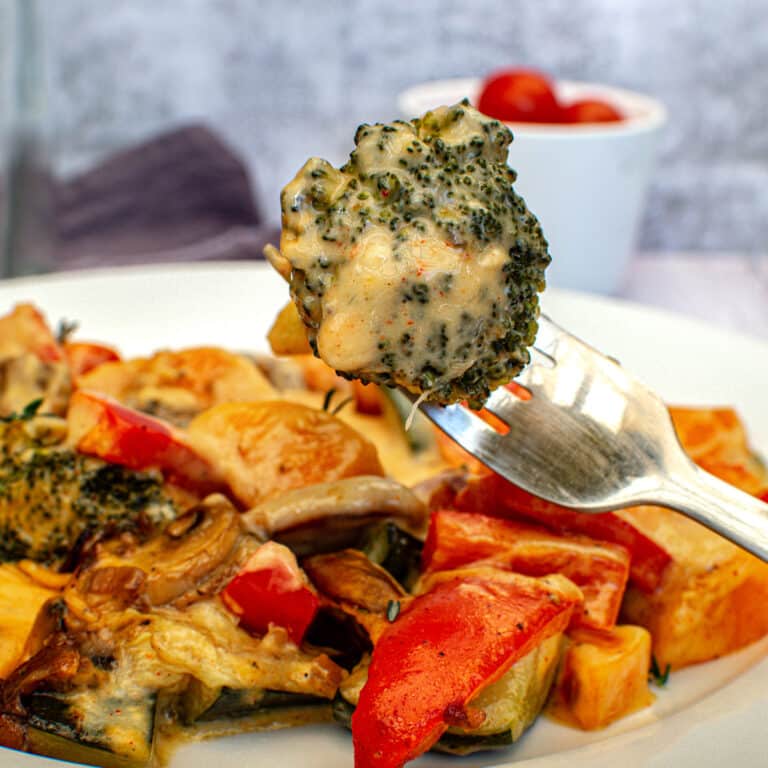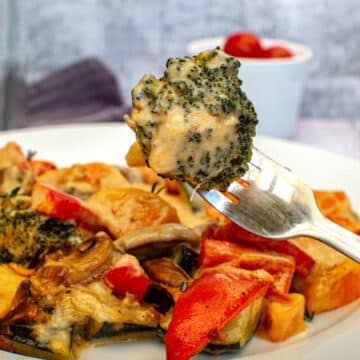 Easy Cheese Sauce for Vegetables
Give this easy cheese sauce a try for your vegetables. Dress up your vegetables with this easy homemade cheese sauce.
Ingredients
For the Roasted Vegetables:
4

cloves

garlic

minced

1

onion

peeled and chopped

1

large sweet potato

chopped into bite sized pieces

2

carrots

peeled and chopped into ½" pieces

1

zucchini

halved and sliced into ½" thick half moons

½

head broccoli florets

roughly chopped

1

red bell pepper

chopped into bite sized pieces

1

cup

cherry tomatoes

2

cups

button white mushrooms

cleaned and sliced
Instructions
Preheat the oven to 400°F.

Heat olive oil in a non-stick pan over medium-high heat. Add onion and sauté for 2-3 minutes.

Add garlic and mushroom. Sauté until onion is translucent and mushrooms are cooked, 5-6 minutes. Set aside.

Meanwhile, bring a pot of water to a boil.

Add the carrots, broccoli, and sweet potatoes to the boiling water and cook for 10 minutes. (They don't need to be totally cooked, as the cooking will finish in the oven.)

For the sauce, simply place all the ingredients into a saucepan stirring continuously until you get a thick-cheesy sauce.

Place all the vegetables, including the red pepper and cherry tomatoes, onto a baking sheet. Drizzle with additional olive oil. Season with salt and pepper, to taste.

Roast vegetables in the oven for 10-15 minutes, until the red pepper is tender.

Then pour the cheesy sauce over the vegetables, and cook for 5 more minutes, or until all the veggies are fork-tender.
Nutrition
Calories:
541
kcal
Carbohydrates:
56
g
Protein:
20
g
Fat:
29
g
Saturated Fat:
10
g
Cholesterol:
42
mg
Sodium:
361
mg
Potassium:
1762
mg
Fiber:
11
g
Sugar:
25
g
Vitamin A:
29654
IU
Vitamin C:
127
mg
Calcium:
470
mg
Iron:
4
mg