This Mediterranean Roasted Vegetables recipe roasts mini sweet peppers, Portobello mushrooms, red onions, and Brussels sprouts to perfection.
What's the best way to make vegetables taste amazing? Drown them in salad dressing? Deep fry them? Hide them in desserts? (Pumpkin pie does include a vegetable...)
While all of those will work, they aren't exactly healthy. I happen to think that roasting vegetables (or grilling vegetables) makes them taste incredible. Roasted vegetables aren't just "oh, these are tolerable" — they're "I could easily eat a second serving!"
Don't be surprised if this roasted vegetable recipe becomes a new favorite in your household. Roasting intensifies the natural sweetness of vegetables, so you may find yourself reaching for a second serving of Mediterranean Roasted Vegetables instead of your normal after-dinner dessert!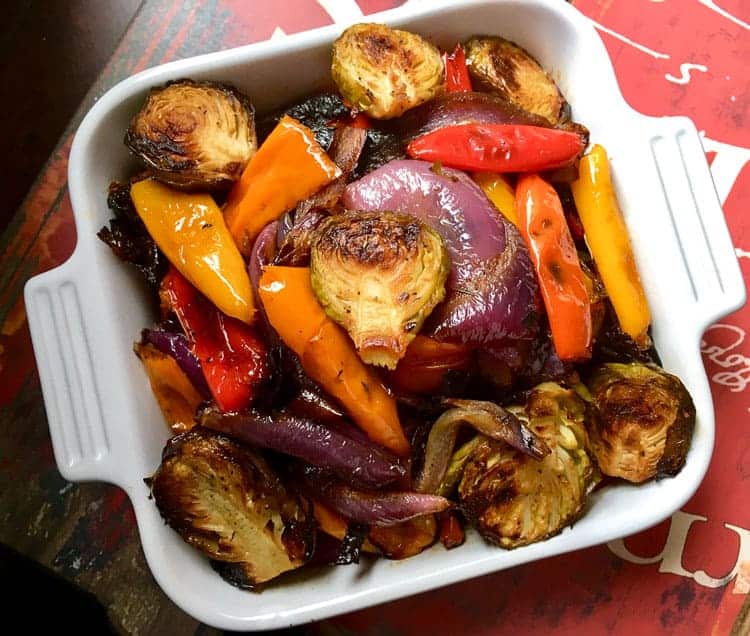 Vegetables Used in Mediterranean Roasted Vegetables
This recipe calls for:
Mini sweet peppers
Portobello mushroom caps
Red onion
Brussels sprouts
These four vegetables make a tasty combination, but, as you will see in my Tips for Making Mediterranean Roasted Vegetables section below, they can be swapped out for other choices if you don't have them available or you don't like them. (Do me a favor, though. If you think you don't like Brussels sprouts based on your prior consumption of mushy, flavorless Brussels sprouts, please try them roasted. They're crispy and sweet pieces of heaven when you roast them!)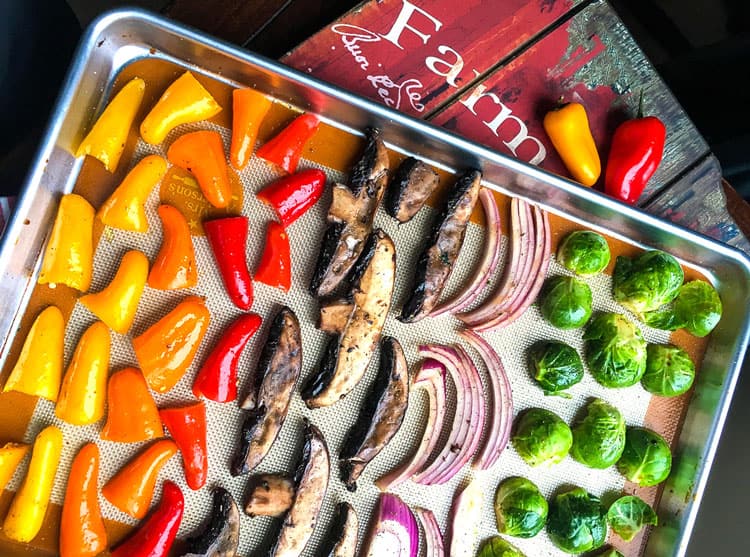 Tips for Making Mediterranean Roasted Vegetables
If you don't have Herbs de Provence on hand, you can use Italian seasoning instead. This will alter the flavor a bit, but you'll still love the results! If you're wondering what the difference is between Herbs de Provence and Italian seasoning, Herbs de Provence often includes savory and/or lavender, both of which don't appear in Italian seasoning.
This recipe is a great way to use up the leftover vegetables in your fridge. While fresh vegetables will always be the best choice when making roasting vegetables, if you have some veggies on their last leg in your fridge, add them to this dish!
You can make vegetable substitutions. If you don't have one or a few of the veggies listed here, feel free to substitute them with any study vegetable. By that, I mean vegetables like parsnips, carrots, fennel, butternut squash, and eggplant.
For best results, cut vegetables in a uniform shape (as much as you can) and thickness. Take a look at the vegetables on the sheet pan in the above photo. Notice how the peppers, mushrooms, and red onions are in about the same shape? And all the vegetables, Brussels sprouts included, are cut to the same thickness? That's what you want to aim for with this recipe so everything is cooked evenly.
Use a silicone baking mat for easy clean-up. We're huge fans of silicone baking mats in my household because they make clean-up a breeze!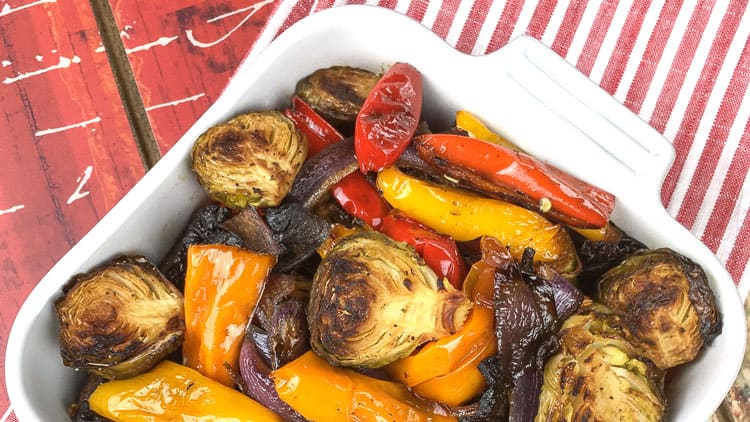 More Sheet Pan Recipes
If you'd like more convenient sheet pan recipes like Mediterranean Roasted Vegetables, try a few of these:
Enjoy!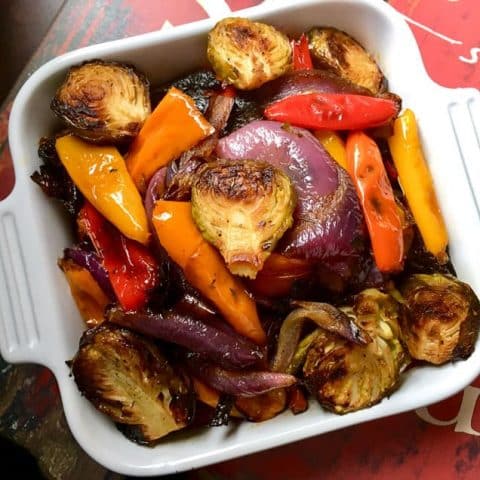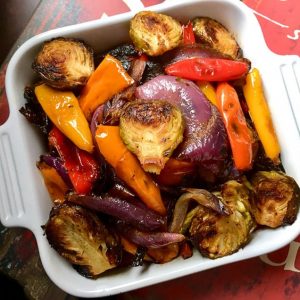 Mediterranean Roasted Vegetables
This Mediterranean Roasted Vegetables recipe might just become a new family favorite!
Ingredients
3

portobello mushroom caps

cleaned and sliced

12

mini peppers

halved and seeds removed

1

red onion

1

cup

brussels sprouts

1

tsp

herbs de provence

½

tsp

garlic powder

2

tbsp

olive oil

2

tbsp

balsamic vinegar

salt and pepper

to taste
Instructions
Line a large, rimmed baking sheet with a silicone baking mat or parchment paper, and then set aside. Preheat oven to 425°F.

To a large mixing bowl, add Portobello mushrooms, mini peppers, onion, and Brussels sprouts. Add Herbs de Provence, garlic powder, olive oil, and balsamic vinegar. Gently toss to combine. Generously season with salt and black pepper to taste.

Onto the prepared baking sheet, arrange seasoned vegetables in a single layer. Be careful not to overcrowd them. (If necessary, use two large baking sheets to prevent overcrowding.)

Place sheet pan in oven. Roast for 40-45 minutes, stirring halfway through. The vegetables should be roasted until they're tender and have developed a caramelized color.

Remove from oven and serve immediately.
Notes
If necessary, you can use Italian seasoning instead of Herbs de Provence. The flavor will be slightly altered, but still delicious.
Nutrition
Calories:
131
kcal
Carbohydrates:
14
g
Protein:
3
g
Fat:
8
g
Saturated Fat:
1
g
Sodium:
18
mg
Potassium:
541
mg
Fiber:
4
g
Sugar:
8
g
Vitamin A:
2796
IU
Vitamin C:
128
mg
Calcium:
26
mg
Iron:
1
mg