Gooey Peanut Butter Brownies are just about my favorite dessert recipe. They are full of all the flavors I love and meld the combination of chocolate and peanut butter together perfectly.
Desserts that are gooey or chewy are fun and tasty. And making brownies from scratch is so much easier than you might think.
Watch my video below to see how to make gooey chocolate brownies with peanut butter swirled in.
How to Make Brownies from Scratch
In just a few steps, you can learn how to make brownies from scratch.
Is your pantry stocked up with standard baking supplies like flour, cocoa powder, baking soda, granulated sugar and salt? You might already have everything needed to make gooey chocolate brownies with peanut butter.
You'll also need two mixing bowls: one for the chocolate brownie mixture and one for the peanut butter mixture.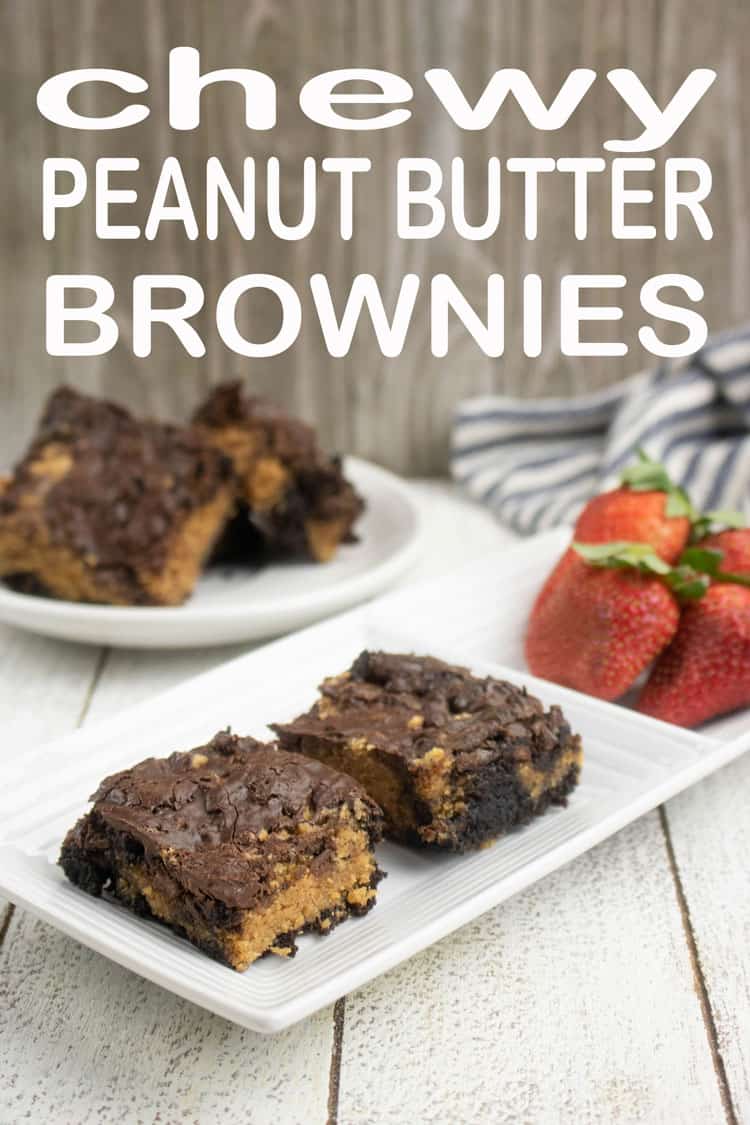 Make Easy Homemade Brownies
A couple baking shortcuts I like to remember when making a chewy brownie recipe are:
Use parchment paper in your square baking pan. There are even handy pre-cut parchment papers that you can use. These will make clean up a breeze and save time during your baking process also.
Clean up as you go. This is a tip that I often overlook because I want to put my brownies in the oven as quickly as possible. However, it really saves time to at least have a sink full of soapy water and rinse the dishes off as you finish using them. And, if you have several recipes to make at once, this makes life so much easier!
Don't cut brownies in the pan! I used to always cut brownies while they were in the pan, but once I started using parchment paper, it was a total game changer. Lift the brownies out of the pan and then slice them.
Fudgy Peanut Butter Brownies Recipe and More
Are you a brownie fan? You've come to the right place.
Have a bite or two of our Chunky Brownies recipe, and then skip on over and try our Cheesecake Brownies.
You won't want to leave out our Dark Chocolate Brownies either. Chocolate Cherry Brownies and another fun twist on Peanut Butter Fudge Brownies will keep you full of fresh dessert recipe ideas.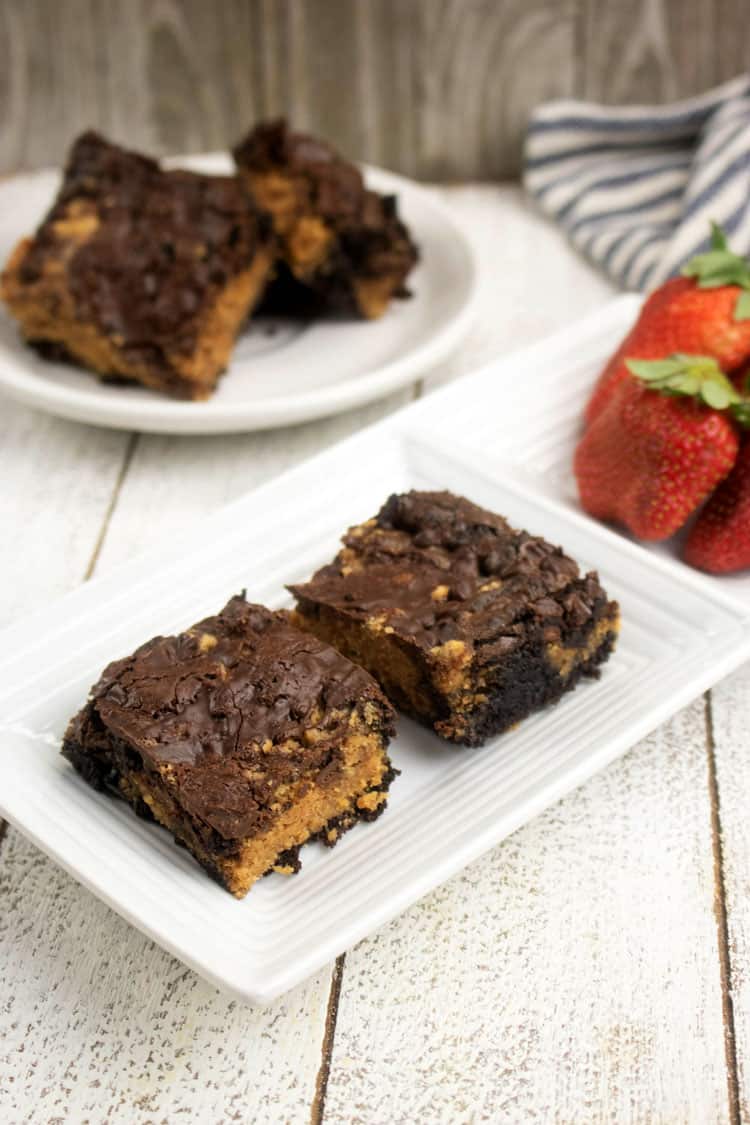 This chewy chocolate and peanut butter brownie recipe has a few steps since it has both a chocolate batter and a peanut butter batter. However, it is SO easy to make.
Making brownies from scratch is simple to do as long as you have the ingredients needed.
Follow the step-by-step instructions in the recipe card below, and watch our recipe video to see how easy these brownies are to make.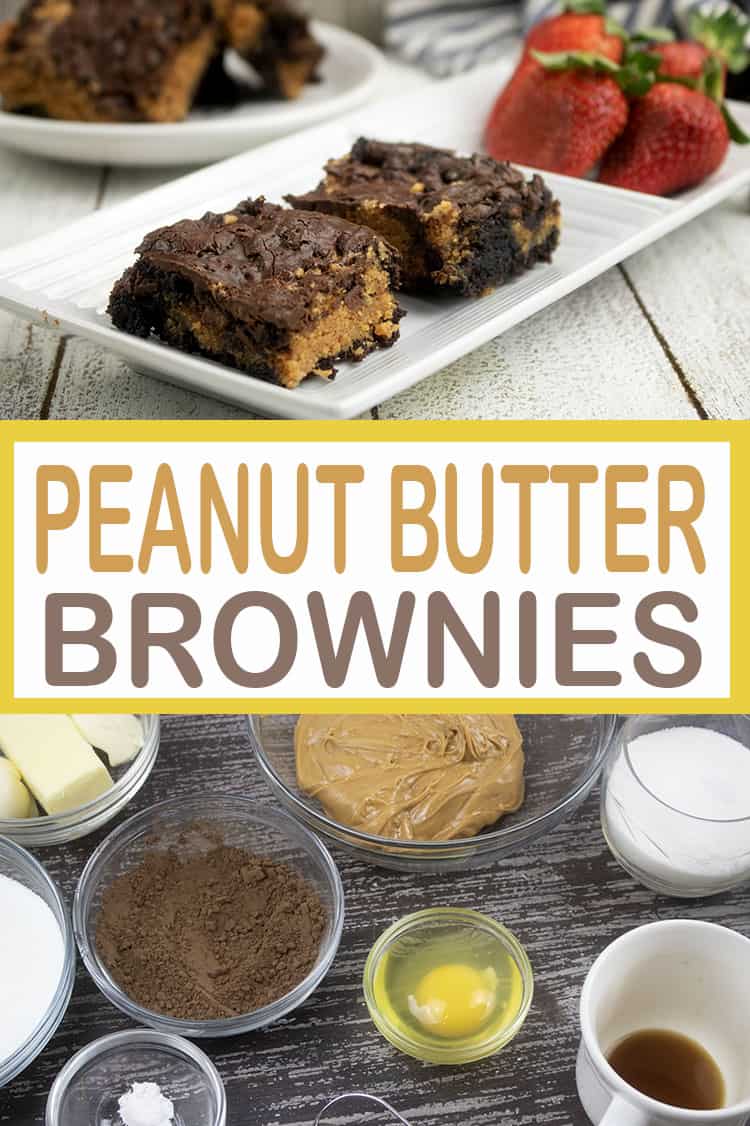 Simple baking ingredient staples are used to make our gooey peanut butter brownies.
Just wait until you pull these fresh brownies out of the oven and take a bite. Don't forget to let them cool off for a few minutes first!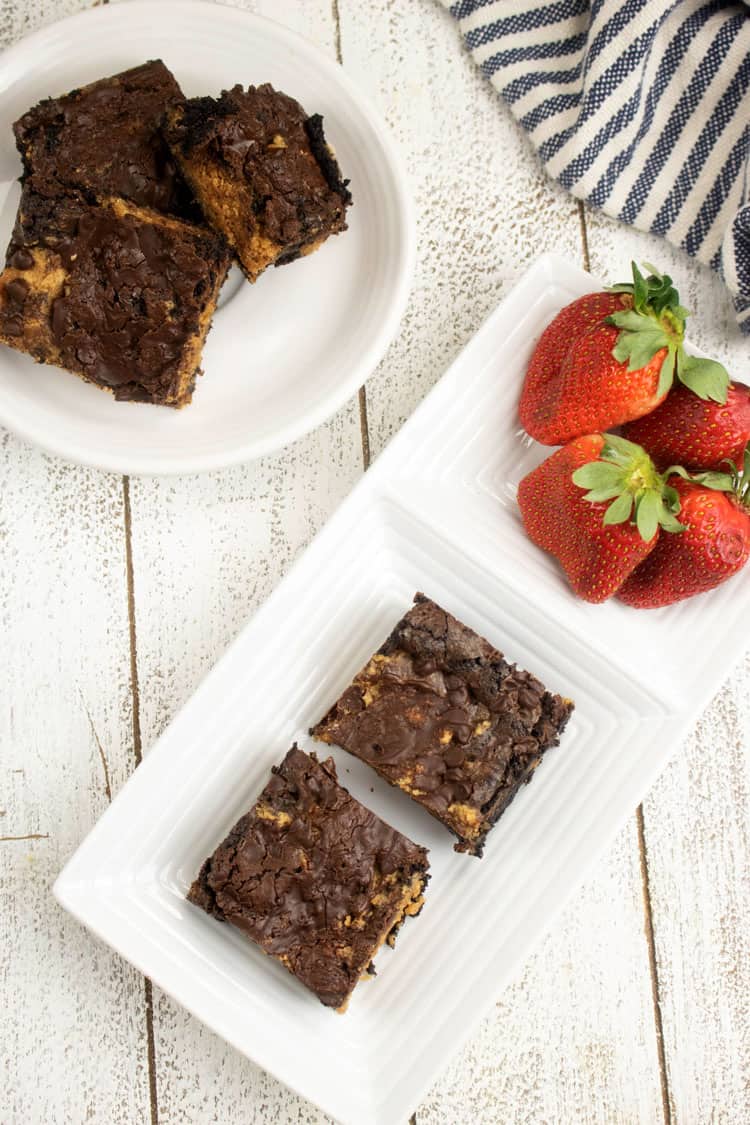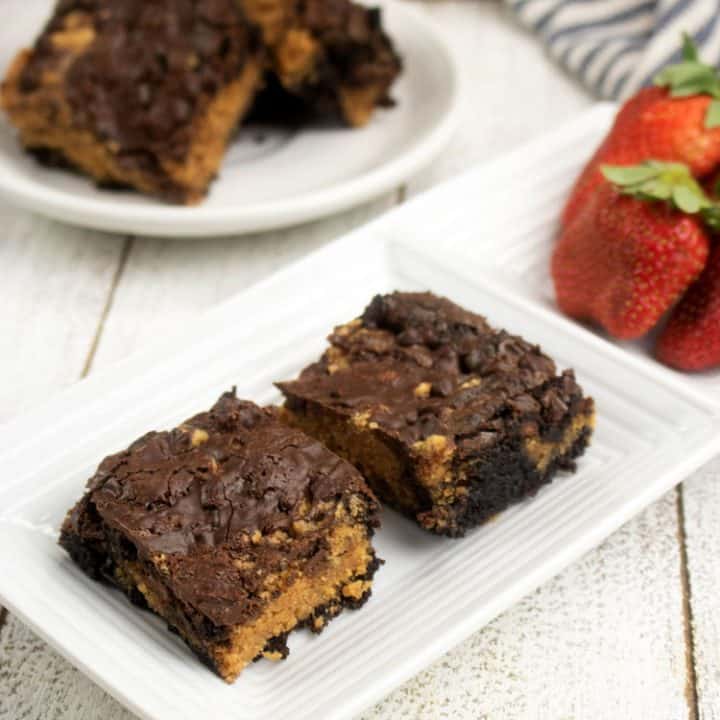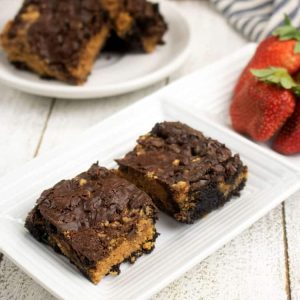 Fudgy Peanut Butter Brownies Recipe
Gooey dark chocolate brownies with a yummy peanut butter batter swirled and baked together with the easy chocolate brownie recipe.
Ingredients
Instructions
Preheat oven to 350 degrees Fahrenheit.

Prepare the brownie batter, by whisking all the ingredients together ina large mixing bowl. Whisk until the mixture is nice and smooth.

In a separate bowl, whisk together the peanut butter layer ingredients. You can also do this in a stand mixer, if you prefer.

Line a 9x9 inch baking pan with aluminum foil, allowing some to overhang the sides of the pan, and spray with non-stick cooking spray.

Pour ⅓ of the brownie batter into the pan in an even layer.

Add the peanut butter layer on top. It will be thicker than the brownie batter, so you can dollop it around the pan.

Pour the remaining brownie batter over the top and even it out.

Top with the chocolate chips.

Bake for approximately 35 minutes, until a toothpick inserted in the center comes out clean.

Let cool. Use the aluminum foil to gently lift the brownies from the pan. Cut and serve.
Nutrition
Serving:
1
g
Calories:
312
kcal
Carbohydrates:
36
g
Protein:
7
g
Fat:
17
g
Saturated Fat:
7
g
Cholesterol:
61
mg
Sodium:
149
mg
Potassium:
162
mg
Fiber:
2
g
Sugar:
29
g
Vitamin A:
296
IU
Calcium:
23
mg
Iron:
1
mg