Free Freezer Meal Recipes Series
Best Meatloaf Recipe Worldwide
Let's face it.  We all have a favorite meat loaf recipe that we love to make, but we have to say--we think we have discovered the best meatloaf recipe worldwide--at least in our neck of the woods. And yes, we do like to toot our own horn on occasion, but its only because we've had such rave reviews on other meaty dishes like Mama's Meatballs and Spinach and Goat Cheese Stuffed Pork Tenderloin.
Because let's face it, when you make a big meatloaf (with the intention of having leftovers) for a family of four and EVERYONE gobbles it down, that's saying something. They liked it so much that the didn't even save room for snickerdoodles!
When your picky eater, who's an athletic growing girl, goes back for seconds and then THIRDS--that's saying something.  And when your family asks you to make that same recipe again--well, that's saying something too. But of course, she still managed to take a few bites of fruit pudding, which just so happens to be the all time easiest dessert to make and a family favorite.
Good Make Ahead Meals Freeze Well and Cook Up Great
Just like our top-rated meatloaf recipe, Baked Spaqhetti, and our favorite Smothered Beef and Bean Burritos, make ahead meals bring comfort to us on busy days.
Whether its a good old fashioned Italian meatloaf recipe or more along the lines of a healthy meatloaf recipe--all meatloaf has something in common.  Whoever is making it probably thinks its the best meatloaf ever.
If you want to aim for a healthy meatloaf recipe, you can simply substitute the breadcrumbs in our recipe below for Quaker oats and you've got a Quaker oats meatloaf recipe--and we all know that oatmeal is heart-healthy! We're pretty big fans of baked oatmeal for breakfast around here, so we get in enough of the heart-heathy fiber rich nutrient.
Supplies for freezer cooking include
bulk zip-style freezer bags
. I also like to have a few freezer cooking cookbooks on hand.
Ree Drummond's cookbook
is GREAT! Another thing on my shopping list for freezer cooking is a
FoodSaver
.
Make Ahead Meals for Freezer are the Perfect Solution for Busy Nights
Come on moms and dads! Ever feel like you're pulling your hair out at the end of the day trying to figure out something to make for dinner?
Or, maybe you've been trying your hand at meal planning only to find out that you're coming out way over budget and still don't have enough time to make all those dinners that you've been planning on?  They all sound great on paper--or in your head--but the fact is, if you don't have enough time in the evening to make a healthy dinner, you're much more likely to order takeout.
Let's face it. Takeout can be good on occasion, but it can also be HUGE diet downfall. Now, I'm all about being on a healthy smoothie diet--especially with my favorite banana smoothie--but so many calories can be saved just by eating at home and watching portions.
Good Make Ahead Meals Freeze Well and Make Dinner Easier
And that folks, is exactly how dinner prep should be done. So today, as I write this blog post, I'm about to cook a delicious freezer meatloaf with a side of Alfredo Potatoes with Ham. Simple. Absolutely yum. And no hassle at all.
That's how dinner's done on a busy night around here.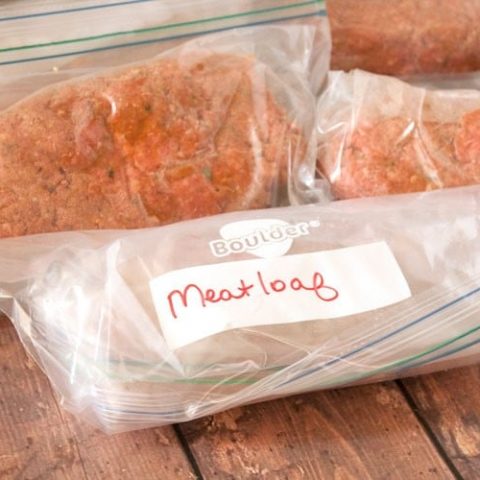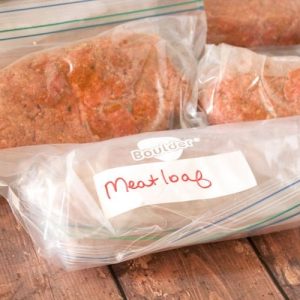 Best Meatloaf Recipe
Make ahead meatloaf to enjoy for any dinner meals!
Ingredients
5

pounds

ground beef

I use 73/27 fat

2 ½

cups

Italian-style breadcrumbs

you can also sub Quick oats, but then you'll want to add additional seasonings

5

eggs

¼

cup

A1 steak sauce

1

tablespoon

garlic powder

1

tablespoon

onion powder

2

teaspoons

pepper
Instructions
Mix together all ingredients in a large food-safe container. Divide evenly into 5 zip-bags and shape into loafs. Double bag into a freezer-safe gallon-size zip bag.

To cook- defrost in refrigerator at least overnight. Cook either in oven at 375 degrees for one to one and a half hours. Alternatively, cook in

slow cooker

 on a

roasting rack

.

Makes 5.
Nutrition
Calories:
1815
kcal
Carbohydrates:
56
g
Protein:
114
g
Fat:
122
g
Saturated Fat:
46
g
Cholesterol:
607
mg
Sodium:
1198
mg
Potassium:
1839
mg
Fiber:
4
g
Sugar:
6
g
Vitamin A:
341
IU
Vitamin C:
1
mg
Calcium:
270
mg
Iron:
16
mg