Mashed Potatoes Recipe full of BUTTER
I grew up in the South, but I wasn't exposed to Southern cooking on a regular basis until I met my husband.
If you're at all familiar with Paula Deen, you already know everything is better with butter.  Well… our mashed potatoes recipe is no different.
Hamburger gravy on the other hand was something I grew up eating on a regular basis.
You won't find a heartier, simpler meat and potatoes meal than Mashed Potatoes with Hamburger gravy.  It's simple and economic, and a great comfort food.
I think the whole meal cost $4.00 to make, and there are sure to be leftovers.
Best Mashed Potato Recipe
We love making this recipe. It is so good!
It's a classic recipe that is best enjoyed topped with gravy and a heaping side of corn. Of course, we also love Garlic Mashed Potatoes. The flavor in that recipe is also amazing.
If you want to serve up a side dish with these potatoes that is something other than corn, consider our recipes for Parmesan Green Beans, Pan Roasted Brussel Sprouts with Bacon , or Spicy Easy Roasted Cauliflower.
And of course, it's a perfect pairing for fried chicken - like this copycat recipe for Proposition Chicken's Fried Chicken. Yum!
How Do You Mash Potatoes?
Mashed potatoes can be made in a variety of different ways. I grew up watching my mom dump the boiled potatoes into a mixing bowl, adding a little bit of milk and letting the mixer do its work.
We would all then load our plates up with potatoes and gravy and add our own salt, pepper and butter to the potatoes--to our own liking.
When I got married, I discovered a whole new way of mashing potatoes.
My husband had grown up watching his own mother add a stick of butter along with some milk and a bunch of salt and pepper to the pot of boiled potatoes and then use a hand-held masher to mash the potatoes by hand.
Today, I normally make potatoes using a combination of our methods...I still prefer the mixer to hand mashing. But, my husband will mash them up with the hand-masher.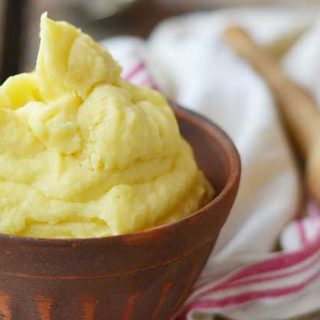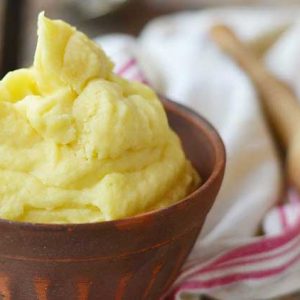 Southern Mashed Potatoes Recipe
Enojy the best Souther Mashed Potatoes with an dish!
Ingredients
3

lbs

potatoes

peeled and boiled

splash of milk

½ to 1

whole stick of butter

Salt

my husband likes a bunch mixed in, so that is how we do it

pepper

to taste
Instructions
With mixer set on a low speed, combine all ingredients together until smooth. This should just take a couple minutes. Easy peasy. Pair with gravy.
Nutrition
Calories:
263
kcal
Carbohydrates:
59
g
Protein:
7
g
Fat:
1
g
Saturated Fat:
1
g
Sodium:
22
mg
Potassium:
1432
mg
Fiber:
7
g
Sugar:
3
g
Vitamin C:
67
mg
Calcium:
41
mg
Iron:
3
mg
Hamburger Gravy Recipe-
1 pound hamburger, browned and drained
3 teaspoons beef bouillon
⅓ cup of butter or margarine
¼ cup of flour
3-4 cups of water
Directions-
Brown hamburger, drain, and return to burner. Over medium heat, add butter and bouillon. When the butter has melted, add flour and mix until blended. Slowly add water while stirring. Cook for a few more minutes, adding more water to reduce thickness as desired.