German Potato Pancakes, also known as Kartoffelpuffer, are crispy pan-fried pancakes made with shredded potatoes. Serve these potato pancakes up with a dollop of sour cream, green onions, etc.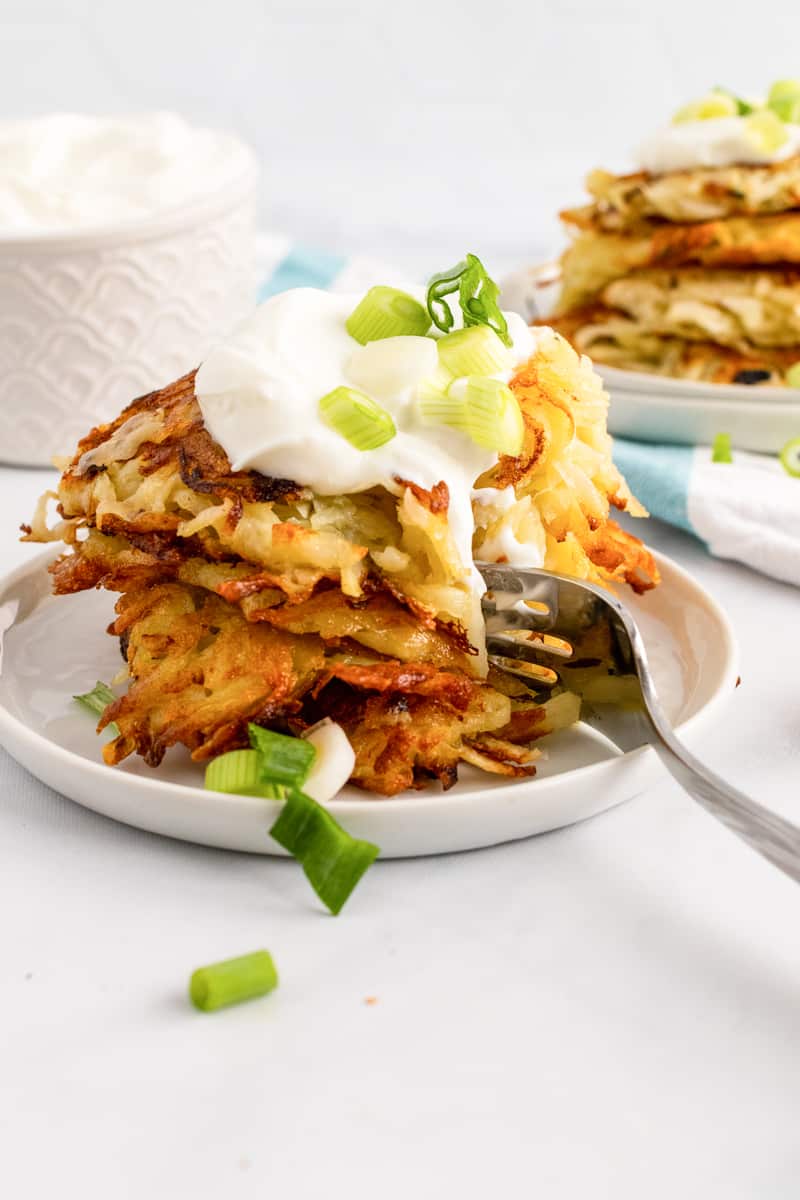 In this Article:
Potato pancakes are a big favorite in our home. Whip these up to serve up as a side or even appetizer.
Serve your potato pancakes alongside something sweet like a smoothie or a breakfast cookie. Or, when I'm feeling really indulgent, I like to whip up this fruity breakfast pizza for a sweet breakfast treat.
These pancakes are a dippable, delicious potato recipe that will leave you wanting one more bite!
These German Potato Pancakes are...
Gluten-free
Made with 6 simple ingredients
An easy side dish or appetizer
Simple to prepare
How to Make German Potato Pancakes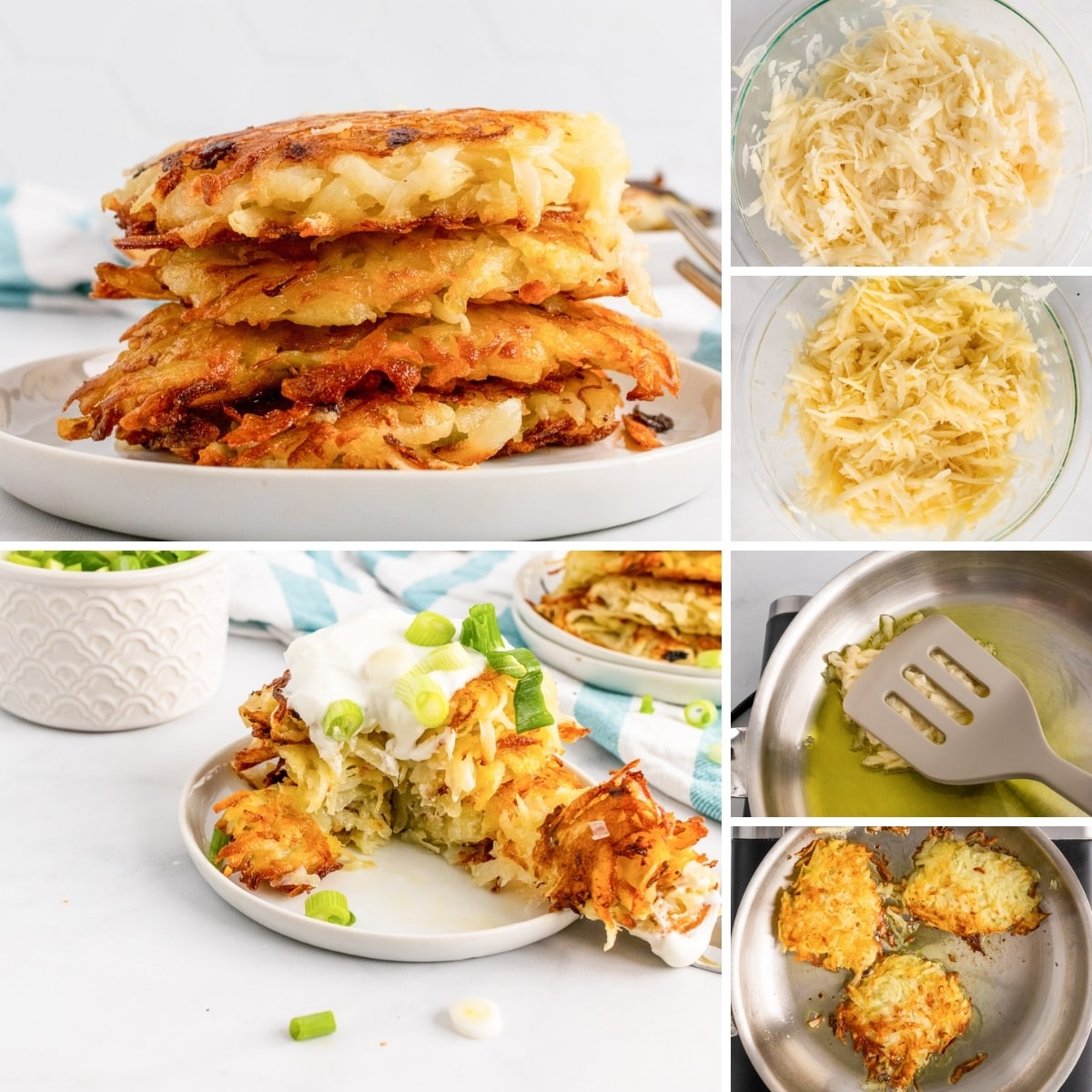 Preheat oil in a heavy duty skillet. While pan is warming up, grate your potatoes and onion.
Squeeze out excess liquid from potatoes and onions with a towel. Add the other ingredients to the bowl and mix well.
Place the pancakes in a skillet and cook until golden brown, about 3–4 minutes per side.
Remove cakes, sprinkle with salt, and serve up with sour cream and green onions.
Full directions for these German Potato Pancakes are in the printable recipe card below.
Tips & Tricks For German Potato Pancakes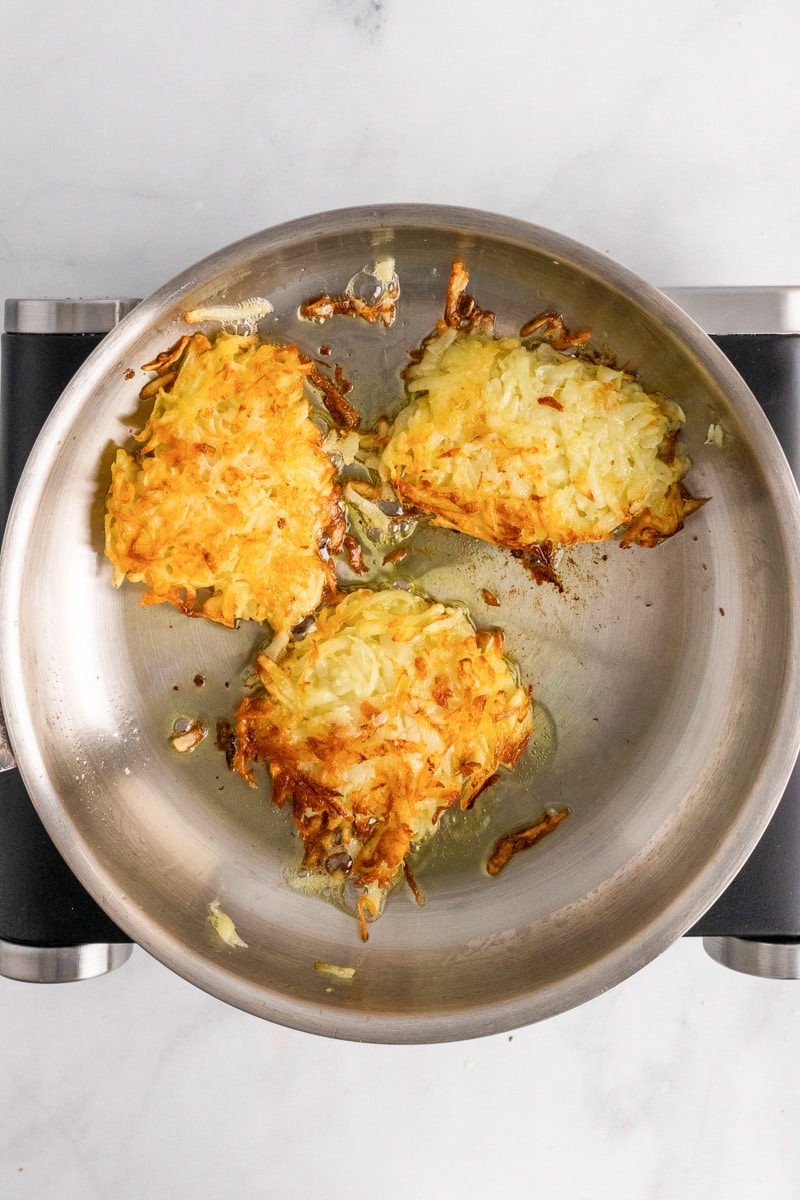 Grating Potatoes and Onions
I used a cheese grater for grating my potatoes and onions. You want the pieces to be thin and small. The smaller they are, the easier they are to shape together with the egg and the flour mixture. 
If you have an electric grater, using that will definitely speed up your prep time.
Heavy-duty Pan 
Make that you fry up these potato cakes in a heavy-duty pan. You want your pancakes to cook evenly. If your skillet cooks unevenly, you will find some areas can be overcooked while other areas of the pancake are undercooked.
Variations To German Potato Pancakes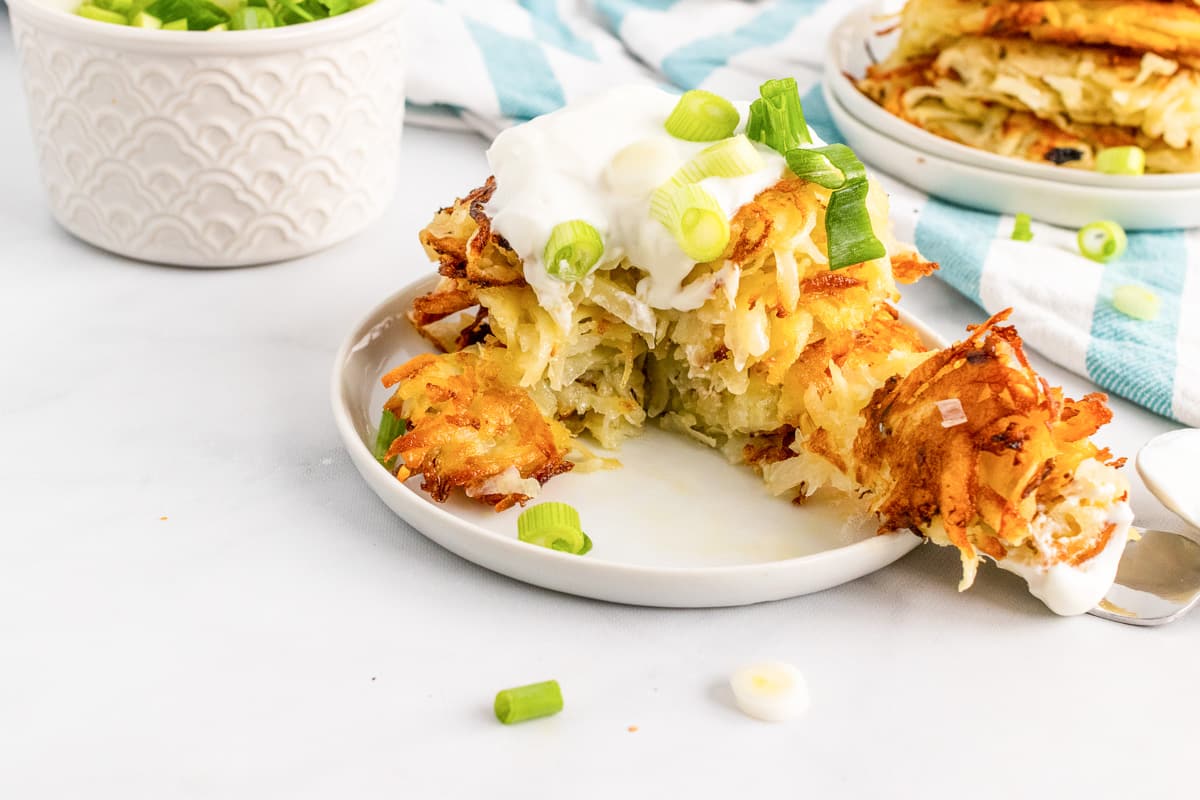 Seasonings
Feel free to add in different spices and seasonings to change up the flavor of your potato cakes. I used a simple salt, but you could try Creole, lemon pepper, etc. 
Mashed Potatoes
If you have leftover mashed potatoes, go ahead and use them instead of grated potatoes. The mashed potatoes will work just as well as grated; they will just have a fluffier texture on the inside when you bite into the cakes.
Gluten-Free Option 
Reach for a gluten-free flour blend instead of using classic flour. This will allow the potato pancakes to become gluten-free!
German Potato Pancakes FAQs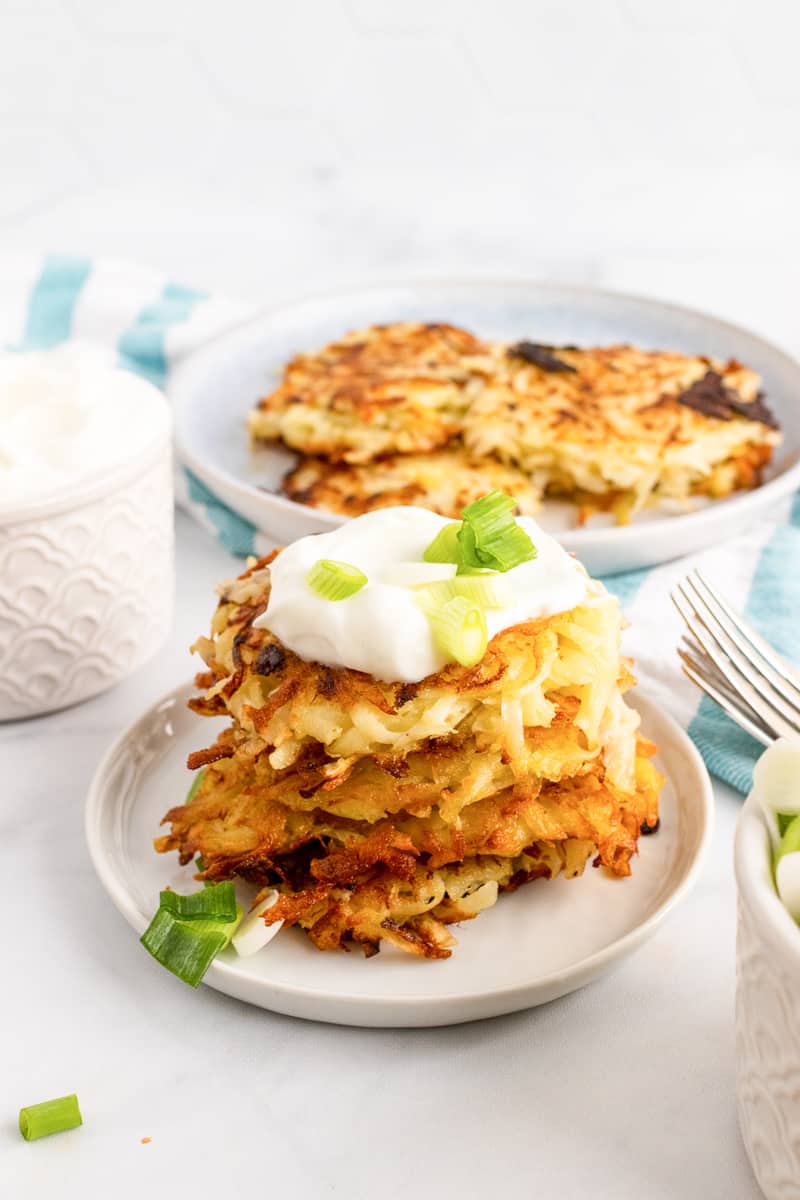 What is a potato pancake?
Potato pancakes are shredded potatoes with onion, egg, and flour, that is shaped into a pancake and cooked till nice and crispy in the skillet. They make for a savory side dish or appetizer!
How do you store leftover potato cakes? 
If you happen to have leftovers, store them in an airtight container in the fridge for 2–3 days. You will find that the potatoes will soften up quite a bit, but you can reheat them in the microwave or the oven. 
What is the best variety of potato to use?
I recommend using Russet or Yukon Gold potatoes. You will find the pancakes made with these potatoes hold up best when cooked and will give you that golden crispy crust you are wanting. 
Recipe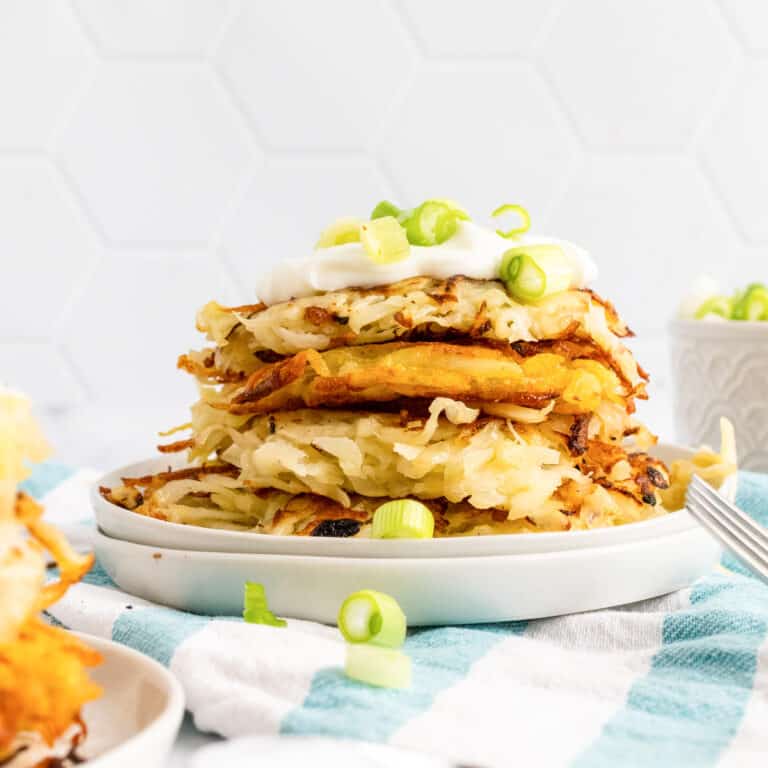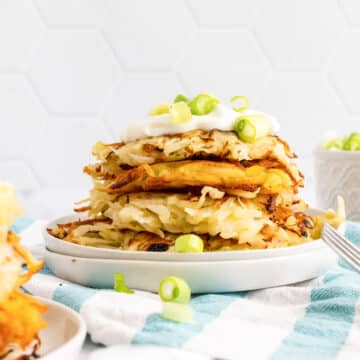 German Potato Pancakes
German Potato Pancakes, also known as Kartoffelpuffer, are crispy pan-fried pancakes made with shredded potatoes. Serve these potato pancakes up with a dollop of sour cream, green onions, etc.
Ingredients
1.5

lbs

russet potatoes

5 small or 3–4 large

1

medium

onion

1

large

egg

1

tbsp

all-purpose flour

½

tsp

salt

½–½

cup

oil

for frying
Instructions
Preheat a skillet over medium heat with enough oil to make a ⅛" layer on the bottom.

While oil preheats, wash and peel the potatoes and onion.

Using a grater, shred the potatoes and onion, then stir together in a large bowl.

Using a clean kitchen towel or some paper towels, squeeze out as much liquid as you can from the potatoes and onion, then return to bowl and set aside.

Use a fork to mix together the egg, flour, and salt.

Pour wet mix into potato shreds and stir well.

Use a scoop or large spoon to transfer the potato mixture into the preheated pan full of oil, then flatten scoops of potato mixture with a spatula.

Allow potato pancake to cook 3–4 minutes or until the edges are starting to brown, then flip and continue cooking an additional 3–4 minutes.

Repeat until all the potato shreds have been used up—you may need to add additional oil between batches.
Notes
Do not rinse the potato shreds—the starch will help the pancake stick together.
Both sides of the pancakes should be golden brown.
You can keep your finished potato pancakes in the oven in a baking dish at 200°F while you finish cooking the rest of them.
Garnish your potato pancakes with sour cream and green onions.
You can add some of your favorite seasonings to the potato mixture to change it up a bit!
Nutrition
Calories:
209
kcal
Carbohydrates:
17
g
Protein:
3
g
Fat:
15
g
Saturated Fat:
1
g
Polyunsaturated Fat:
4
g
Monounsaturated Fat:
9
g
Trans Fat:
1
g
Cholesterol:
23
mg
Sodium:
159
mg
Potassium:
384
mg
Fiber:
1
g
Sugar:
1
g
Vitamin A:
35
IU
Vitamin C:
6
mg
Calcium:
18
mg
Iron:
1
mg