Ah, it is time for back to school.  It also means a little bit of sanity for yours truly, because when the kids go back to school–I get my schedule back.  A schedule I can count on, mind you.  That means: drop kids off, come home and work, pick kids up, and work a little more.  If all goes well, then (and only then) I can chill out, make dinner, go to bed and start it all over again in the morning.
Only, I'm leaving out the part about picking kids up from sports practices, going to volleyball games and basketball games.  Oh yeah (*sigh*), did I ACTUALLY think for a brief moment that things were going to get EASIER when summer is over?
Regardless,  back to school doesn't have to mean hectic mornings, rushed breakfasts, or unhealthy packed lunches thrown together in a hurry.  Really.  It doesn't.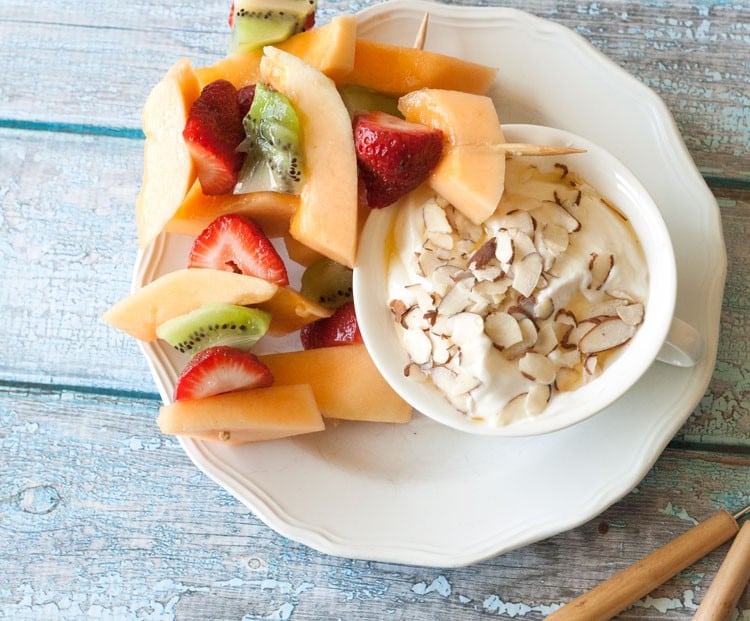 It can be a time for healthy choices like this combination of Honey Almond Greek Yogurt with Fruit Kabobs that I threw together in a hurry.
Did you hear that–no time at all.  This could be breakfast or a packed lunch.  And, in case you didn't already know this–anything served on a stick is just plain APPEALING.  To kids of all ages.  Which actually includes grown-ups.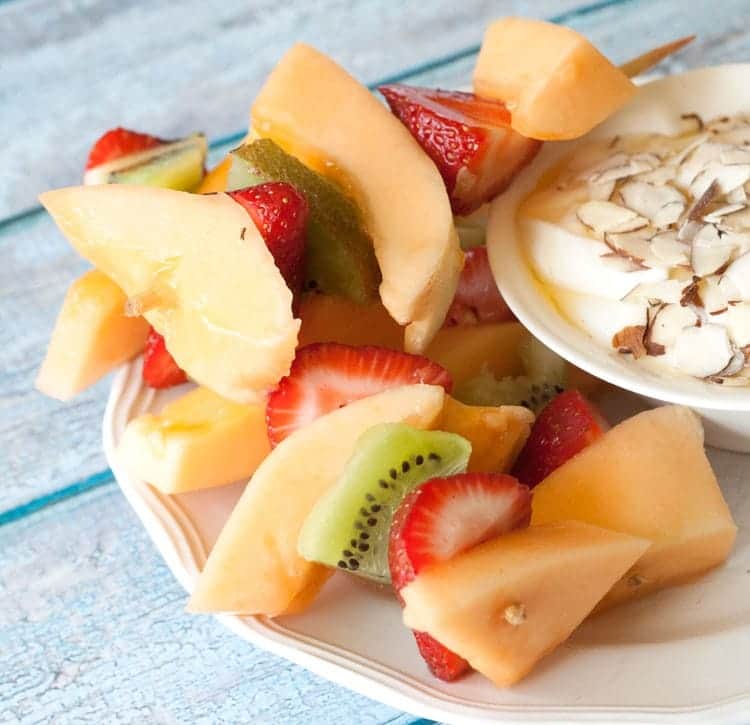 There is absolutely nothing to feel bad about in this meal.  It has all kinds of fiber, calcium, protein, and did we mention fresh fruit FLAVOR.

Whether you choose to dip the fruit in the yogurt like I did, or keep the two completely separate, this is a meal to be enjoyed.  Simple, yet somewhat fancy (uh-hum…kabobs!) and easy to eat.  What's not to enjoy?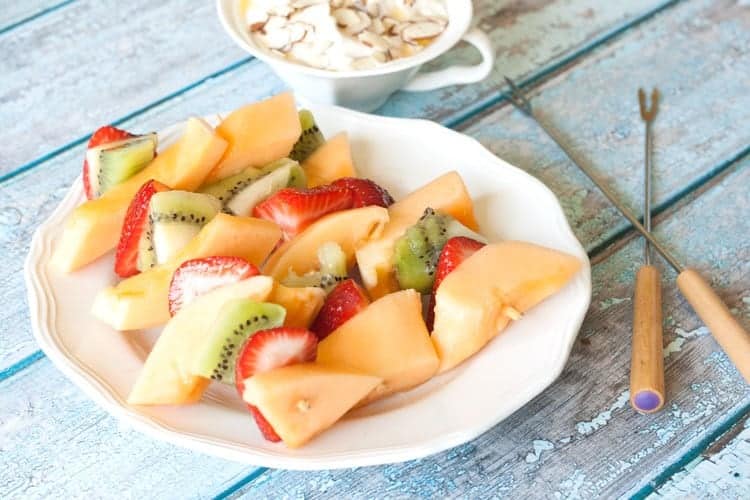 School Lunches
It's inevitable.  With the end of summer comes thoughts of what to do for school lunches.
Thankfully, this year, my almost teenage daughter decided to take the decision off my hands, at least for her lunches.  She asked if I would consider letting her do a money-savings project with school lunches, where instead of buying her lunch at school each day, she would bring her lunch and keep the difference in the amount of money that was spent.
Of course, I said a big YES. Because, why wouldn't I want my daughter to have to do math, manipulate spreadsheets, and think about measurements, product costs and the like?  Do you see how many life lessons are rolled up into one SELF-assigned project?  I'm all over that one!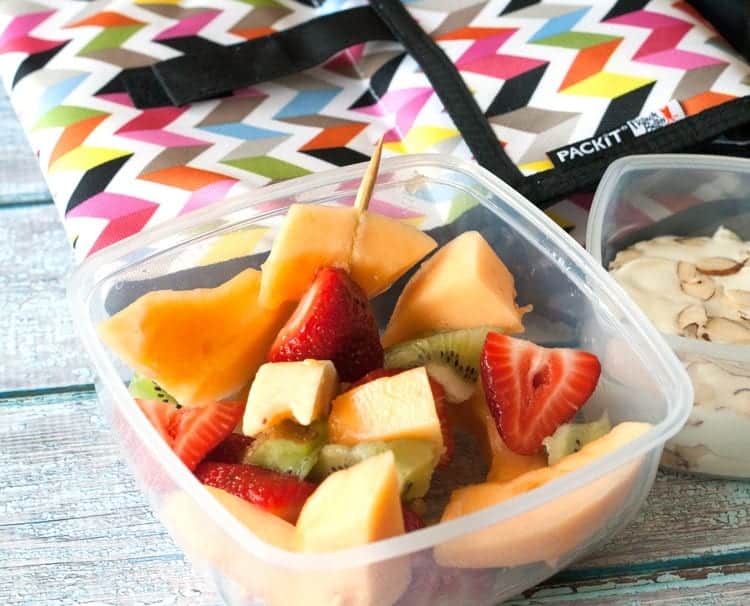 So… alas.  We're (she's) spending August thinking about school lunches and different yummy options that she could bring so she's not stuck with a standard (yet affordable) PB&J. As well as taking practice shopping trips to our local Pick 'n Save, where she's in charge of buying ingredients for her lunch.
I have to say, our Honey Almond Greek Yogurt with Fruit Kabobs will fit in perfectly with her menu. Kabob or not, this lunch has it going on.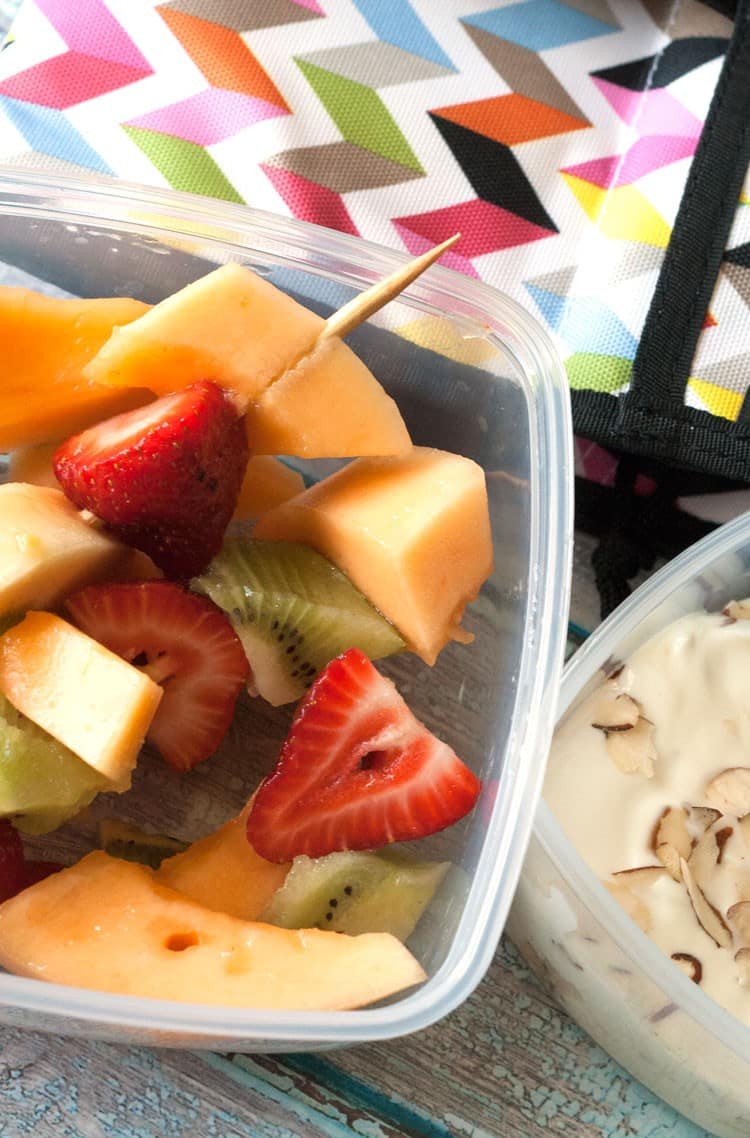 If you haven't done it already, it's a great idea to think about what you'll be doing for breakfasts and school lunches when school starts back up.  If you've already started- what are you doing to prepare for back to school meals? 
Print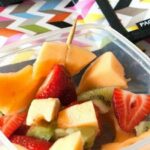 Save
Save
Save
The following two tabs change content below.
Latest posts by Jessica McCoy (see all)