Want to change up your go-to potato dish? If so, give these Loaded Twice Bakes Potatoes a try! Each delicious potato is filled with sour cream, ranch dressing, jalapeños, and cheddar and topped with bacon.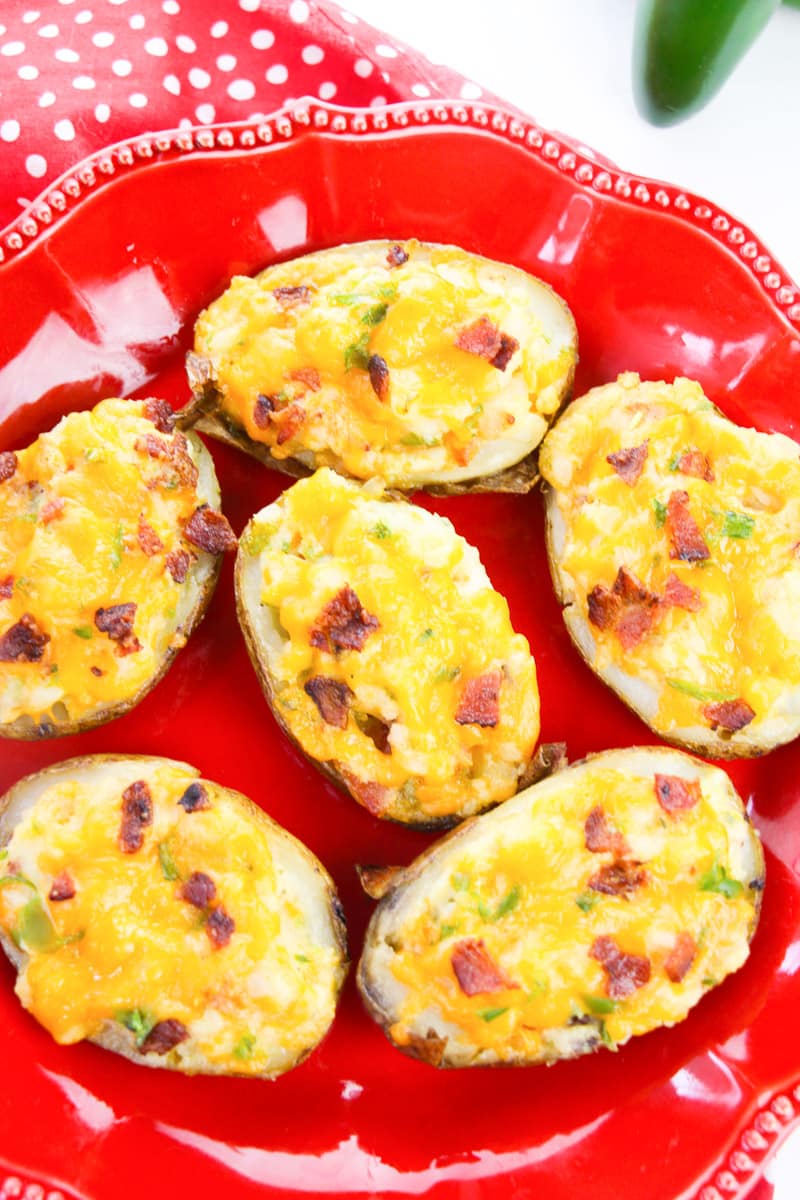 In this Article:
This twice baked potatoes recipe is one that we like to pair with main dishes made of chicken, steak, pork, etc. Or, you can make these potatoes the main dish and serve them with a side salad or soup. You can tame the heat of the jalapeno by de-seeding the peppers.
This Loaded Twice Baked Potatoes recipe is...
Gluten-free
Loaded with toppings
Cheesy
An easy side dish
Freezer-friendly
Get the latest scoop on all the recipes I'm whipping up in the kitchen by following along with All She Cooks on Facebook, Instagram, and Pinterest. Also, don't forget to join my Facebook Group where you can share your favorite blogger recipes: Easy & Delicious Recipes.
How to Make Loaded Twice Baked Potatoes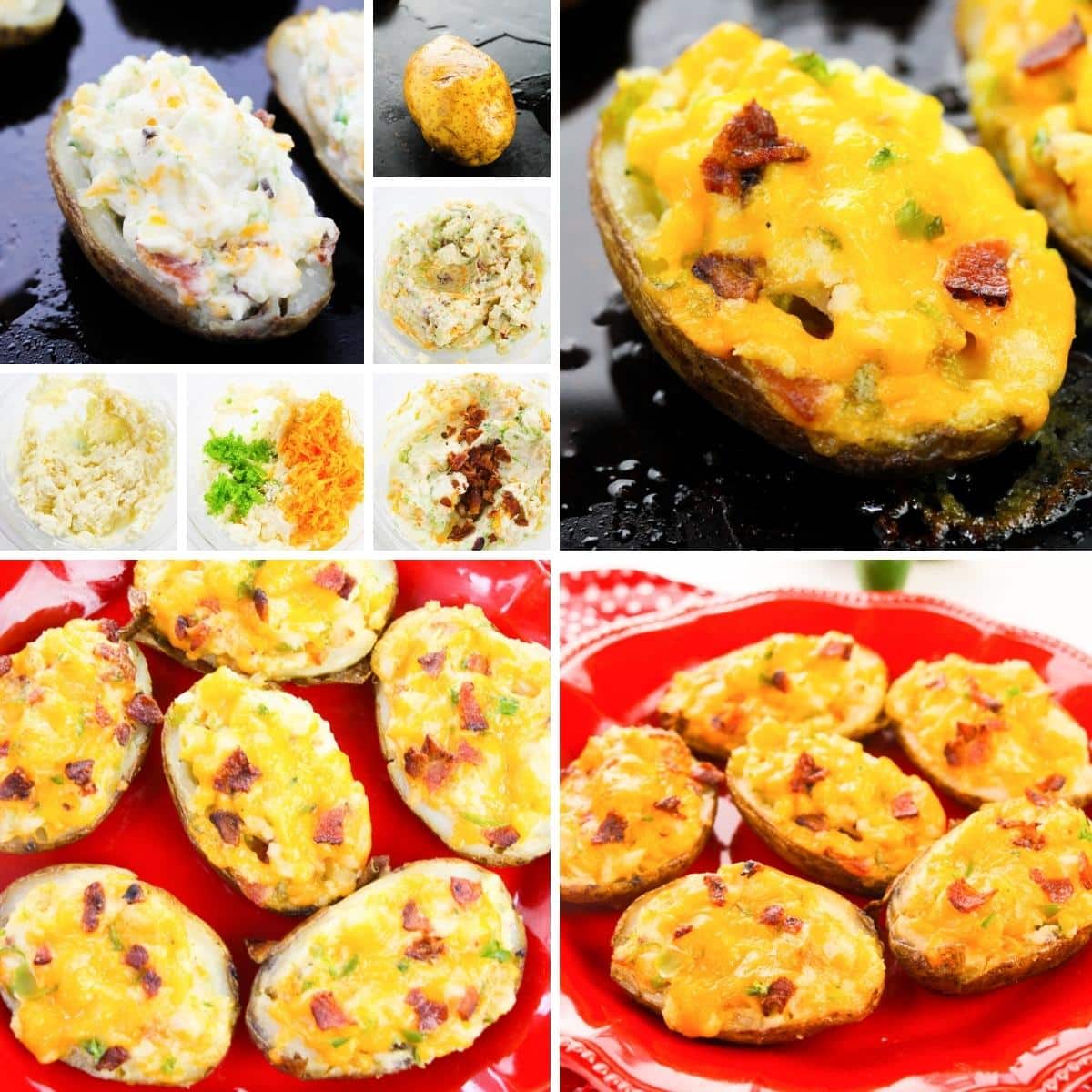 Bake potatoes in the oven.
Once done, remove from the oven and let cool.
Slice and remove the potato flesh from intact skins, then place in a bowl.
Add in other ingredients to make the filling.
Spoon the mixture into the potato skins and add toppings.
Bake again in the oven.
Remove and serve!
Full directions for how to make Loaded Twice Baked Potatoes are in the printable recipe card below.
Tips & Tricks for Loaded Twice Baked Potatoes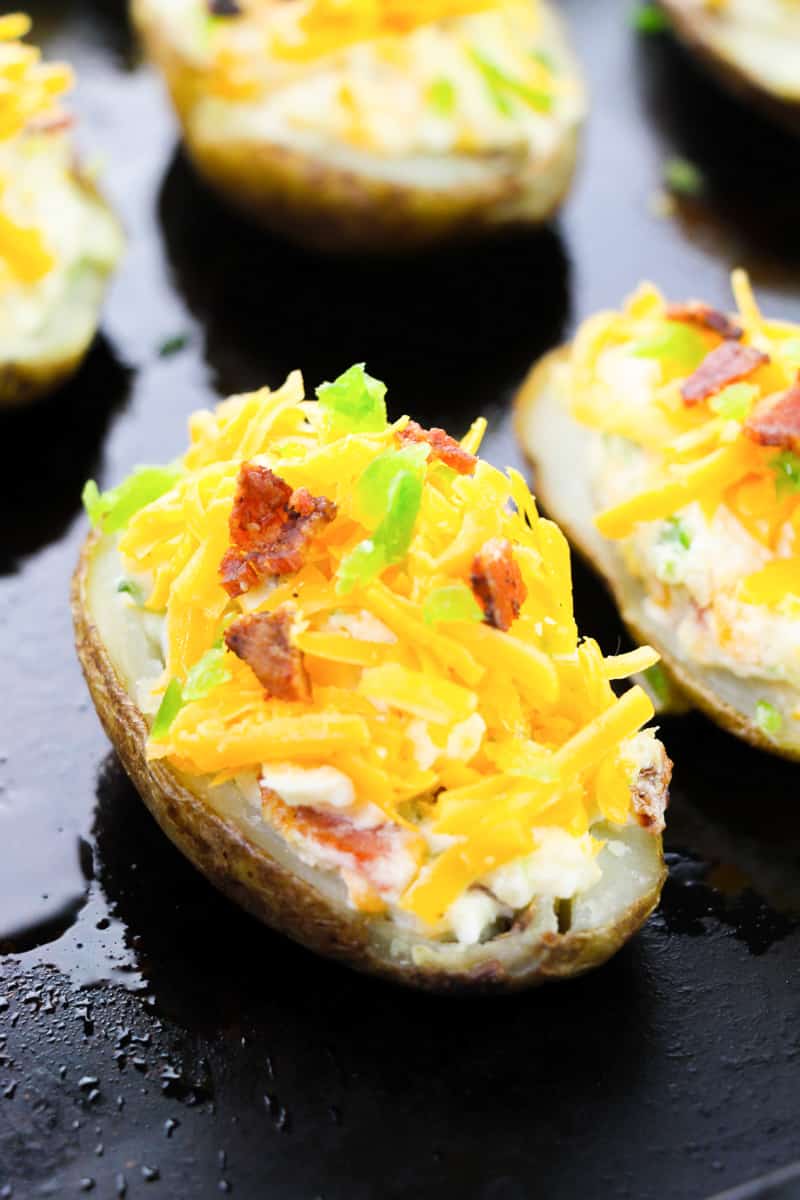 Potato Varieties
Russet or Yukon Gold are the two kinds of potatoes that I find work best in this recipe. Both of these potato varieties have skins that hold up well after scooping out the flesh. This is important, because you'll be scooping the mixed potato filling back into the potato skins!
Poking Holes
Make sure that you poke holes in your potatoes before putting them in the oven! This is a very important step, as the potatoes can explode if they don't have holes poked through them. Poking holes allows steam to escape the potatoes instead of being trapped inside the skins and eventually bursting out!
Variations to Loaded Twice Baked Potatoes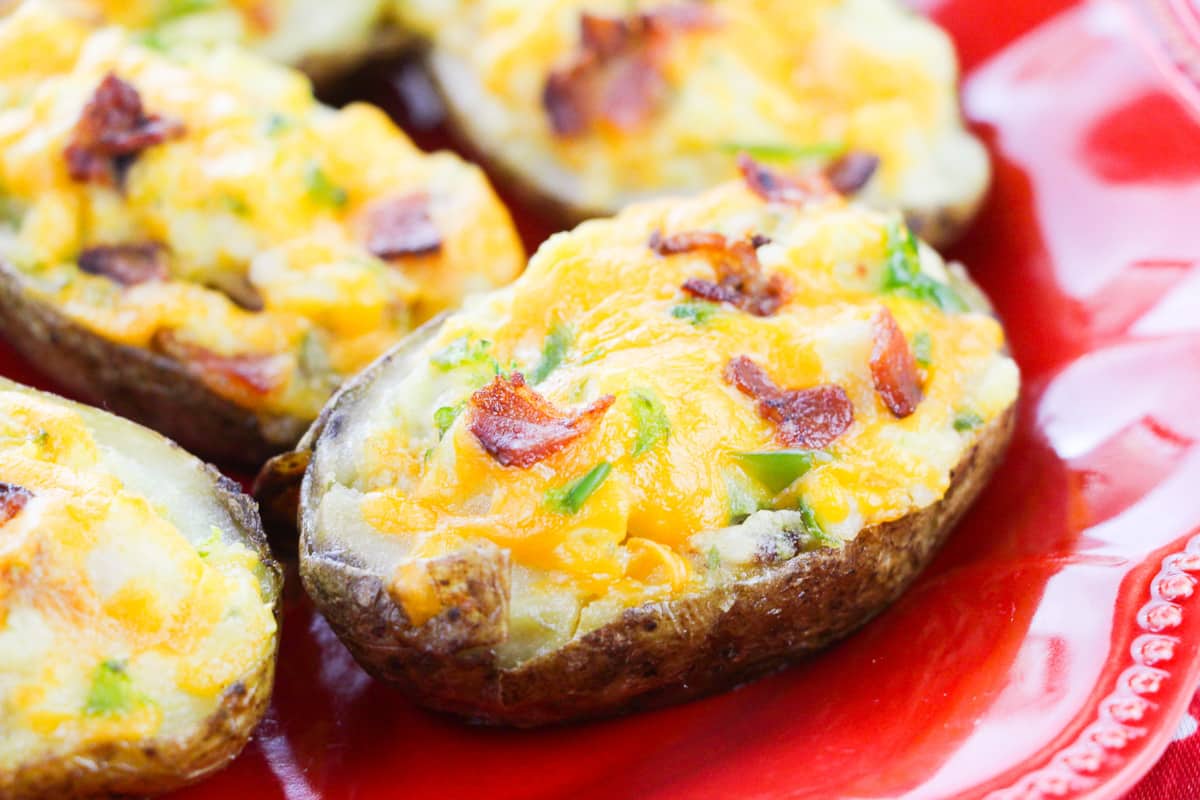 Toppings
Instead of jalapeños, try using green chiles to top your potatoes. Alternatively, you can opt to leave off the peppers altogether!
Cheese
Pepper Jack, Monterey Jack, or other similar varieties of cheese are all great swaps for cheddar cheese. You could even get fancy by using some feta or goat cheese instead!
Loaded Twice Baked Potatoes FAQs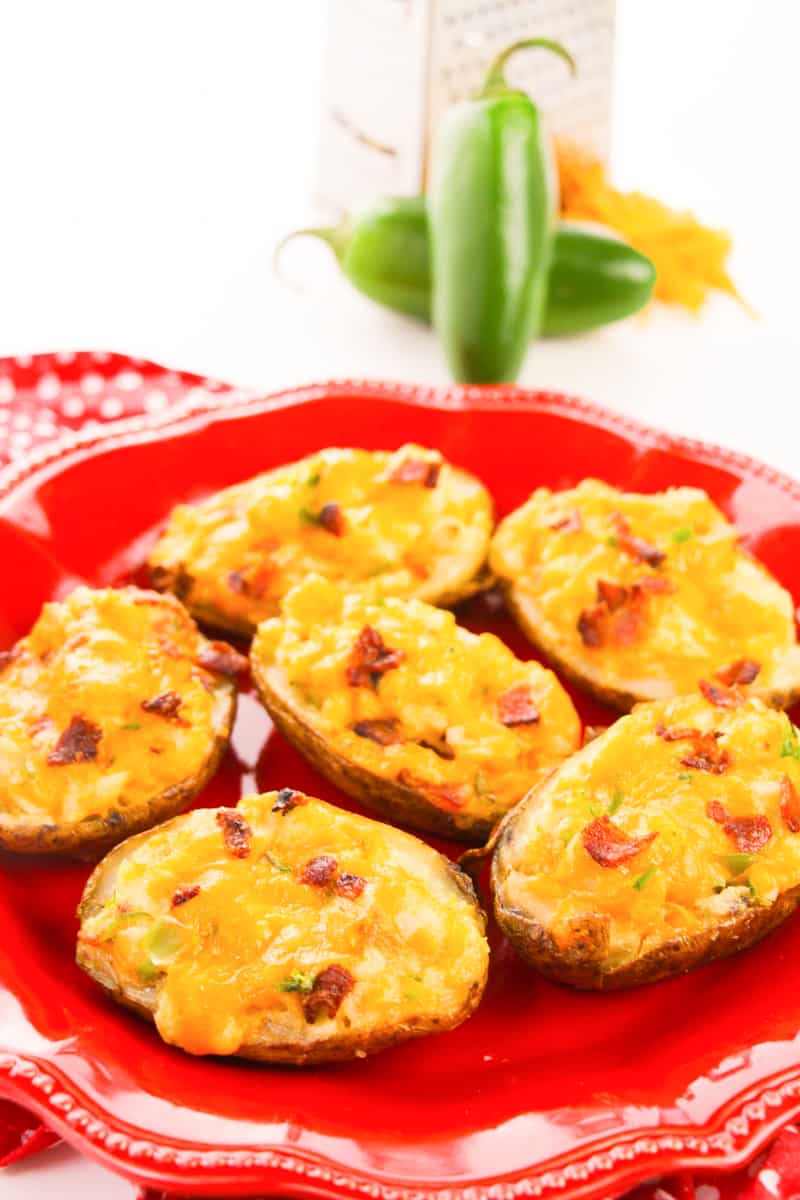 How will I know when the potatoes are done cooking?
A potato is cooked when a fork poked into the potato comes out easily. If the potato is hard to poke through, that means the potatoes need to bake longer.
Can you microwave potatoes?
You can microwave potatoes instead of baking them. Once the potatoes are done cooking in the microwave, let them cool the same. Then slice, fill, and bake the re-filled potatoes in the oven.
Can you freeze twice baked potatoes?
These potatoes can be frozen if you want. Assemble the potatoes as normal, then place them on a baking sheet and flash freeze for 1–2 hours. Once the potatoes are frozen, transfer them to a freezer-friendly container. These potatoes can stay frozen for 3–4 months. When you're ready to eat them again, just toss in the oven from frozen and heat until fully warmed.
How do you deseed jalapeño peppers?
Deseeding jalapeños isn't hard, but it may irritate your skin. Wear gloves if your hands are sensitive. Then slice the pepper in half, and use a spoon to remove the white membrane and seeds. Run the peppers under cold water to remove the excess oils. Then slice and use the peppers for your potatoes. Removing the jalapeño seeds will help remove some of the spice from the peppers.
Recipe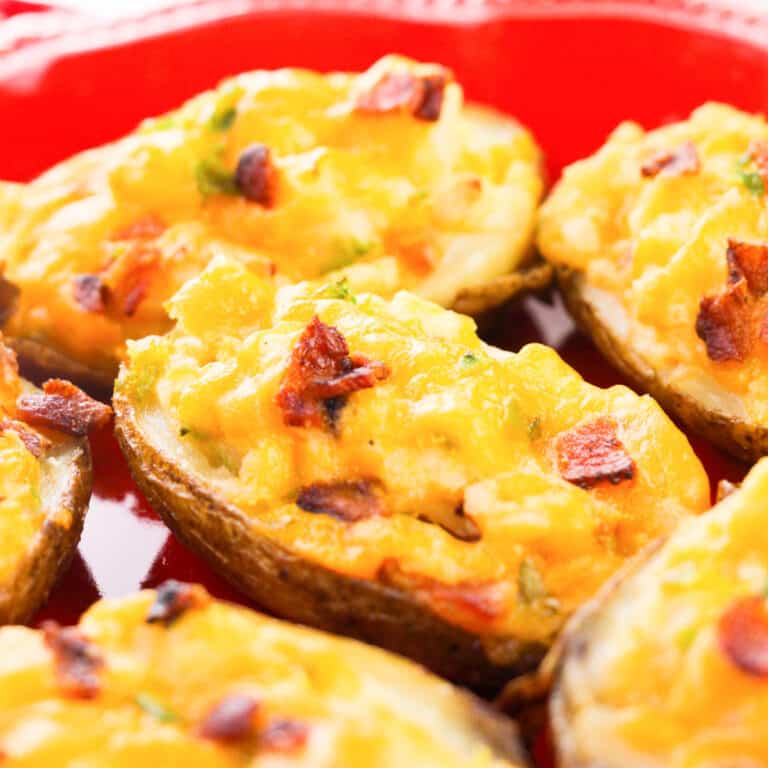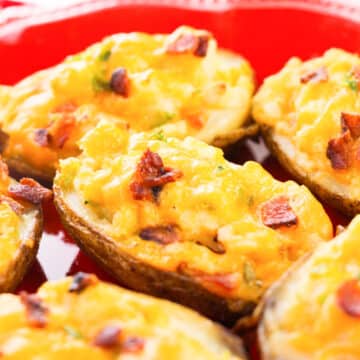 Loaded Twice Baked Potatoes
Want to change up your go-to potato dish? If so, give these Loaded Twice Bakes Potatoes a try! Each potato is filled tons of tasty toppings.
Ingredients
4

potatoes

¼

cup

butter

½

cup

sour cream

¼

cup

milk

1

tbsp

ranch seasoning

salt and pepper

to taste

2

jalapeños

diced and deseeded, optional

2

cups

cheddar cheese

shredded

½

cup

bacon

cooked to package directions and chopped
Instructions
Preheat oven to 400°F. Line a baking sheet with aluminum foil.

Scrub each potato clean, and rub lightly with olive oil.

Place the potatoes on the lined cookie sheet, and bake for 1 hour.

Lower the oven temperature to 350°F.

Allow the potatoes to cool until you are able to handle them comfortably. Cut each potato in half, lengthwise. Then use a spoon to gently scoop out the potato flesh, leaving about ¼" to ½" flesh attached to the potato skin so it does not fall apart.

Place the scooped potato flesh in a large mixing bowl.

Add the butter, sour cream, milk, and ranch seasoning. Mix until well combined.

Stir in ⅔ of the cheese and ⅔ of the jalapenos.

Combine until well mixed.

Spoon the potato mixture back into the potato skins, dividing it equally.

Top each potato with the remaining shredded cheese, jalapenos, and bacon.

Return the potatoes to the oven and bake until the cheese is melted, about 8–10 minutes.
Notes
For a speedier meal, you can cheat by microwaving the potatoes in place of the first baking step. Then proceed with the remaining steps and bake in the oven for 8–10 minutes as directed.
Nutrition
Calories:
372
kcal
Carbohydrates:
21
g
Protein:
10
g
Fat:
28
g
Saturated Fat:
14
g
Polyunsaturated Fat:
2
g
Monounsaturated Fat:
10
g
Cholesterol:
53
mg
Sodium:
367
mg
Potassium:
525
mg
Fiber:
2
g
Sugar:
2
g
Vitamin A:
437
IU
Vitamin C:
25
mg
Calcium:
250
mg
Iron:
1
mg