Wondering how to cook tri-tip? You'll love this quick and easy Skillet Tri-Tip Steak recipe! I'll show you how to cook tri-tip steak in a skillet in less than 20 minutes.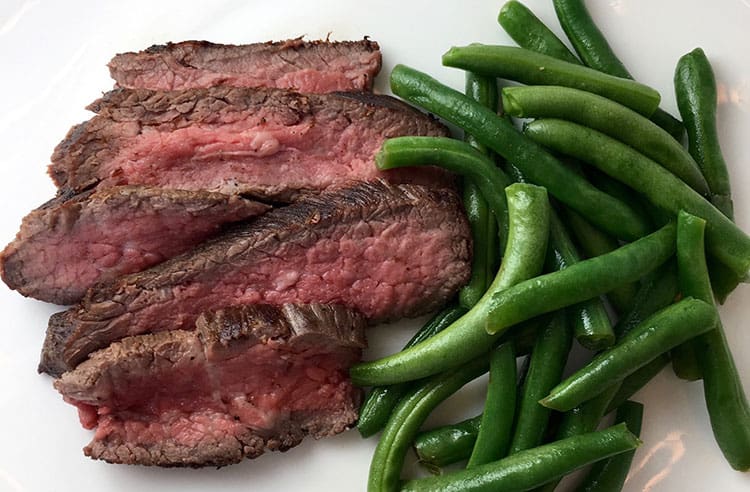 If you're looking for a quick and easy weeknight dinner, this Skillet Tri-Tip Steak fits the bill. It's seasoned with a few simple ingredients (olive oil, salt, black pepper, garlic powder, and rosemary), and you can have it on the table in less than 20 minutes.
It pairs well with a simple vegetable side like steamed green beans or broccoli, or oven-roasted potatoes.
How to Cook Tri-Tip — Step-by-Step
If you've found yourself with tri-tip steak and are a little uncertain of how to cook it (cue the frantic Googling of "how to cook tri-tip"), rest assured that you've found the best tri-tip recipe! It produces juicy, flavorful tri-tip — just the way it should be.
Step 1: Heat olive oil in a large, heavy-duty skillet, preferably a cast iron skillet.
Step 2: In a small bowl, create a seasoning mixture with the salt, black pepper, garlic powder, and rosemary. Season each side of the steaks with your tri-tip rub and place the tri-tip in the hot skillet. Sear each side for approximately 2 minutes.
Step 3: Reduce the heat and finalize the cooking process by cooking for 6 to 8 additional minutes for medium-rare steaks (flipping once to ensure even cooking). If you want well-done tri-tip steaks, cook for an additional 2 to 3 minutes.
Step 4: Your skillet steak recipe is almost ready. Let your steaks rest for 5 to 10 minutes and serve. Tri-tip steak pairs great with a vegetable side dish or rice!
The Story of Tri-Tip Steak
Have you ever found yourself wondering where a food got its name? The story of the term "tri-tip steak" is actually pretty interesting and is worth sharing.
As the story goes, it was originally called "the triangle part" of the loin butt. (Can you imagine going into your local butcher and asking for "the triangle part"?)
There are actually two origins of the "tri-tip" term —both from the 1950s, and both from California. One is attributed to a man named Otto Schaefer, Sr. from Oakland, and another to Bob Schultz in Santa Maria.
Tri-tip became so popular in Santa Maria that it became a local specialty, and that's why you'll sometimes hear tri-tip referred to as "Santa Maria steak." Tri-tip's popularity was localized to California for quite some time, but it has now gained popularity outside of the state. 
(Note that it used to be tough to find tri-tip steak packaged in the grocery store. You typically had to ask your butcher to cut it for you, but now it's widely available in most grocery stores.)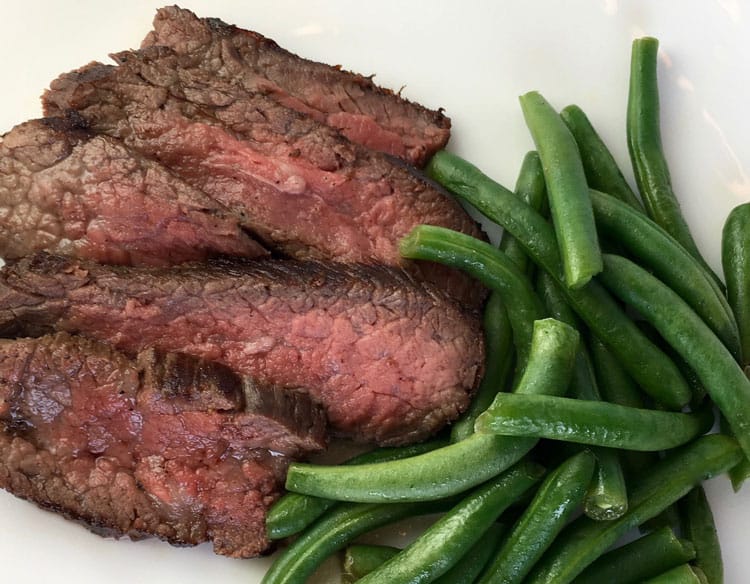 More Steak Recipes You'll Love
I hope you enjoy this easy skillet steak recipe! Here are a few more steak recipes for you to try: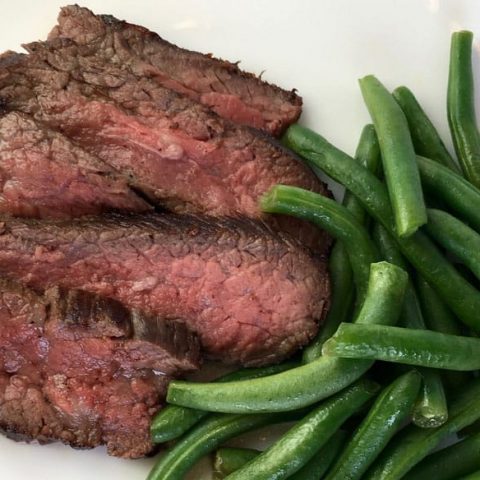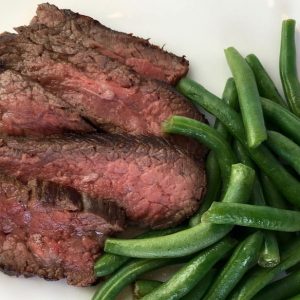 Skillet Tri-Tip Steak
If you're wondering how to cook tri-tip, you've found your answer in this quick and easy Skillet Tri-Tip Steak recipe.
Instructions
In a large cast iron skillet or other heavy-duty skillet, heat olive oil over medium-high heat.

In a small bowl, combine rosemary, garlic powder, salt, and pepper. Rub each side of the steak with the mixture and place the steak in a hot skillet.

Sear on both sides for about 2 minutes per side.

Reduce heat to medium. For medium-rare steaks (internal temperature of 145° – 160°F), cook for an additional 6-8 minutes, turning once to ensure even cooking on both sides. For well-done steaks, cook for an additional 2-3 minutes.

Remove steaks from skillet, cover, and allow them to rest for 5-10 minutes before serving. For a more tender result, cut steaks in thin slices against the grain.
Notes
Note: If your steaks are thin, reduce cook time by 3-5 minutes.
Nutrition
Serving:
1
g
Calories:
365
kcal
Carbohydrates:
1
g
Protein:
40
g
Fat:
21
g
Polyunsaturated Fat:
4
g
Cholesterol:
125
mg
Sodium:
1138
mg