This Cranberry Pecan Coffee Cake is loaded with holiday flavor from crunchy pecans, fresh cranberries, a brown sugar streusel filling, and a simple cream cheese frosting.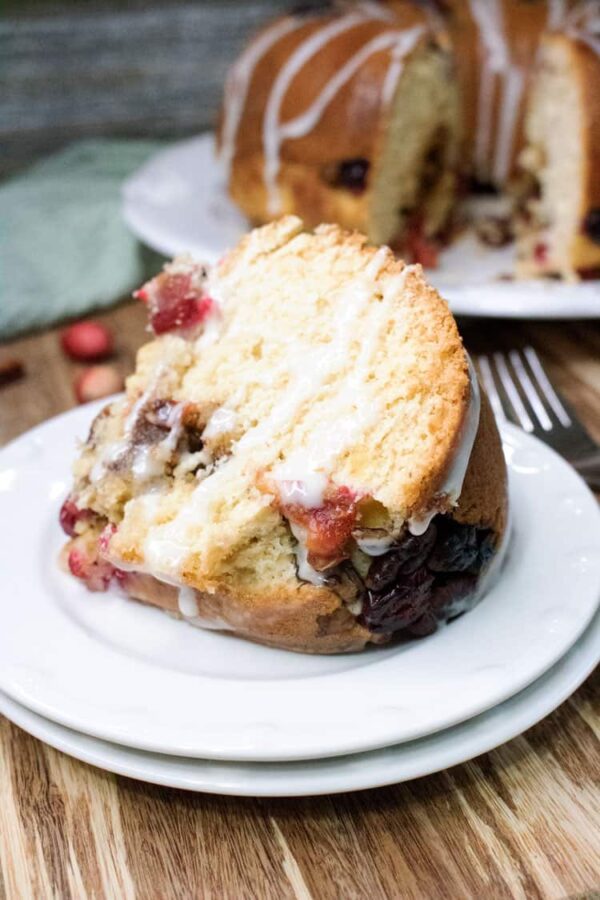 In this Article:
This Cranberry Pecan Coffee Cake is the perfect combination of flavors for the holiday season. Cranberries and pecans come together with brown sugar and cinnamon in a moist and delicious coffee cake!
It's easy to whip up in under an hour, and looks pretty enough to serve as a holiday dessert. As soon as I see fresh cranberries in the store each year, this is the first recipe I make.
This Cranberry Pecan Coffee Cake is:
Easy to make in one hour.
Perfect for Thanksgiving or Christmas dessert!
Packed with crunchy pecans and fresh cranberries.
Totally delicious!
How To Make Cranberry Coffee Cake (Step by Step)
First, you want to start by creaming together your wet ingredients. By taking the time to really get it nice and creamy, you will create a nice fluffy base for your coffee cake.
Then you will mix in your dry ingredients and then fold in your cranberries. Then set your batter aside for now.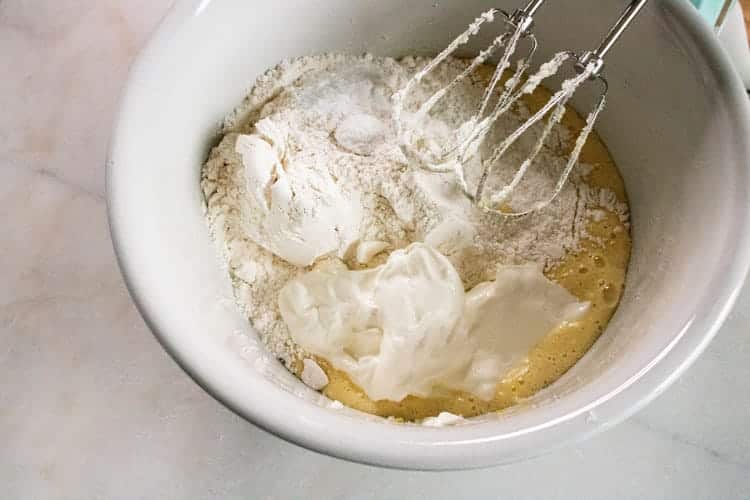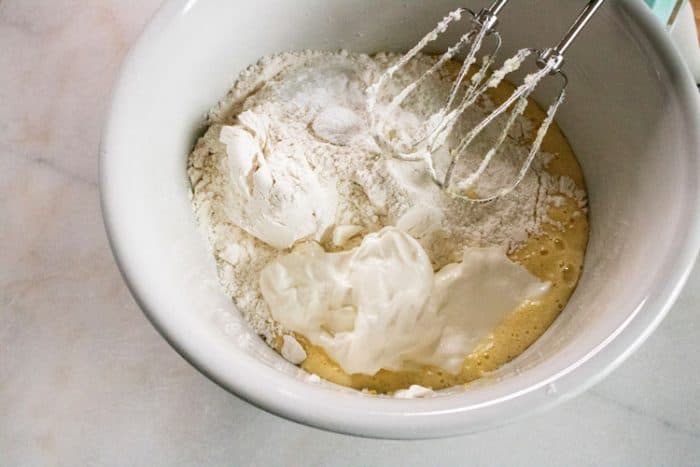 Now, in a small bowl, whip up your streusel filling made with butter, sugar, cinnamon, and pecans. Set that aside as well.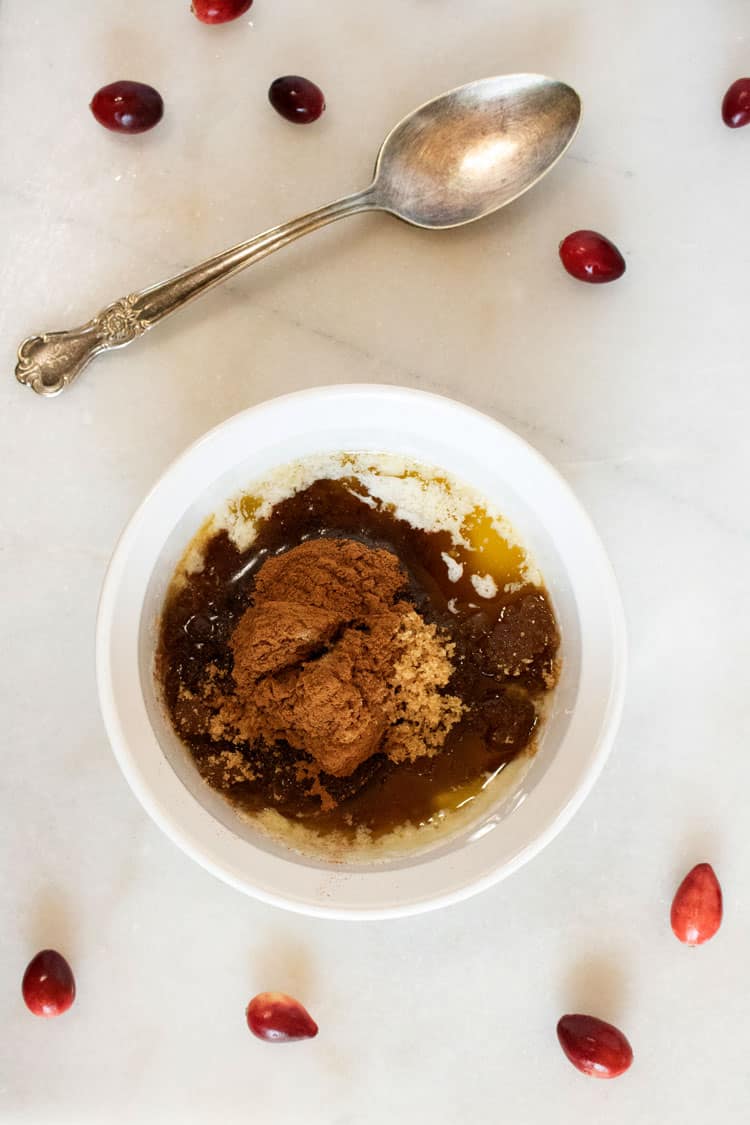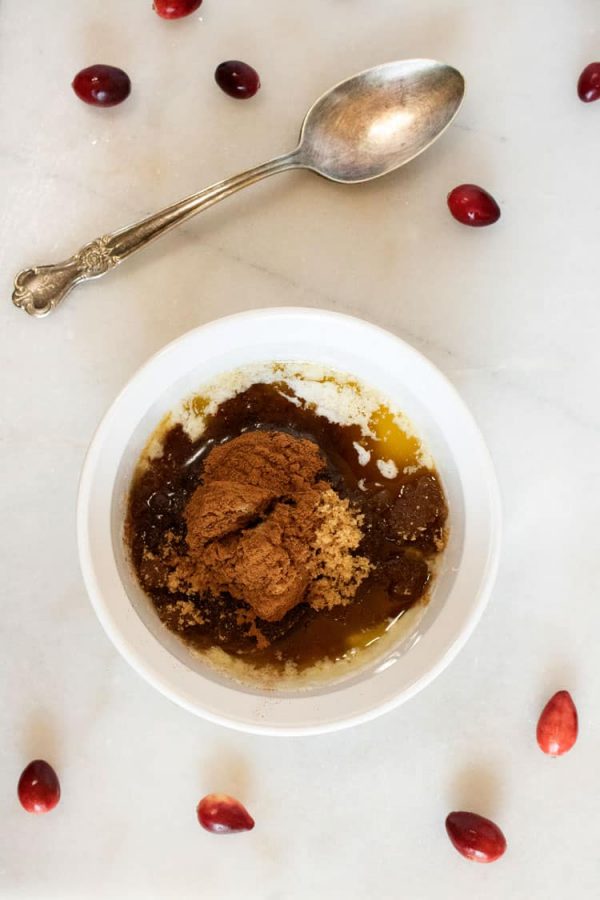 Now it's time to assemble the Cranberry Pecan Coffee Cake. We will work in layers - see the pictures below as a guide!
Start off by spreading a layer of cranberries and pecans on the bottom of the prepared bunt pan.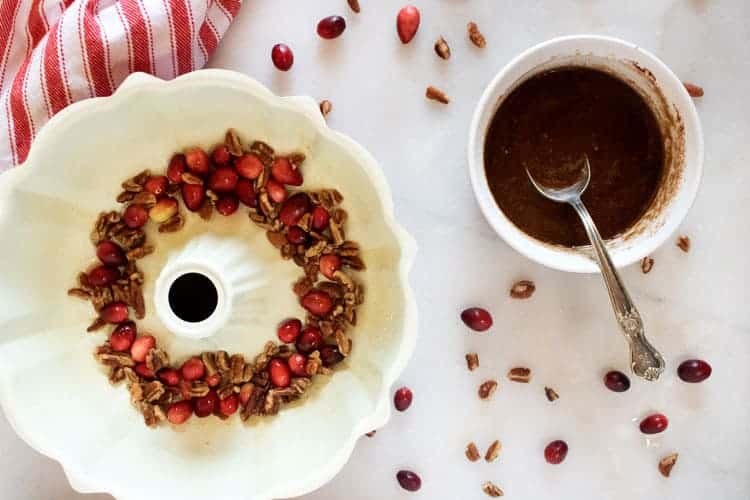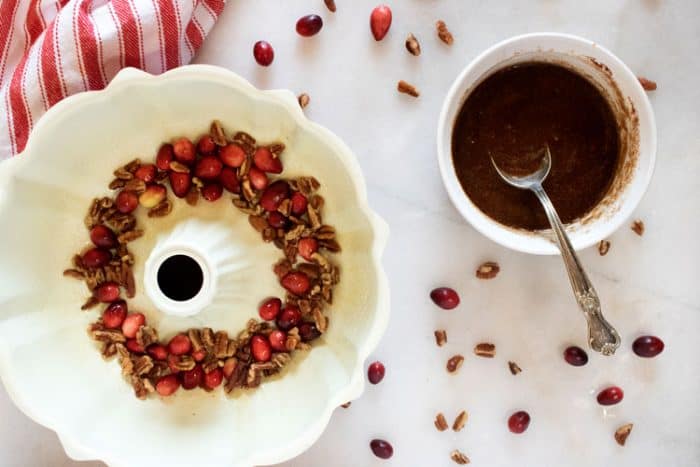 Next, we add about half of the cake batter to the pan. Use a spoon or your hands to form a 'tunnel' by pushing an indentation into the cake batter.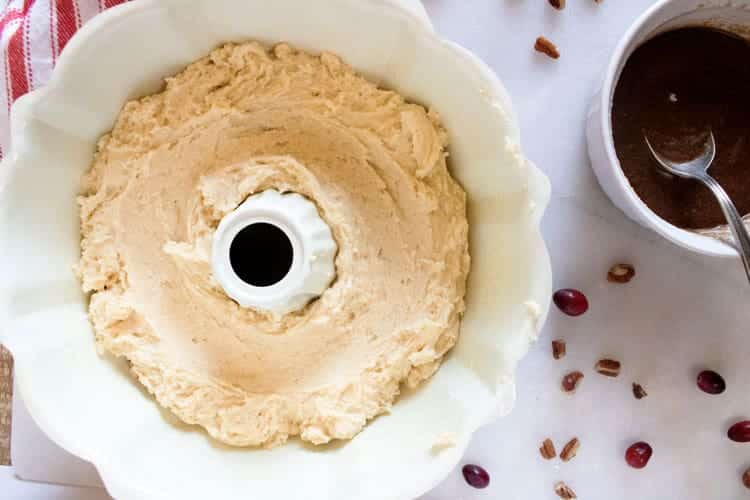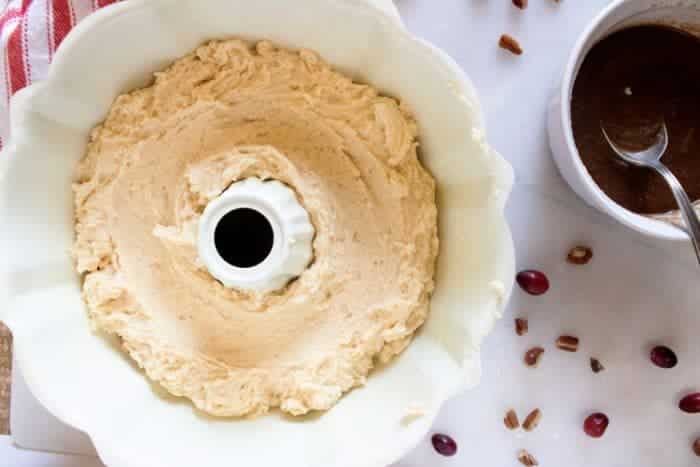 Spread the cinnamon streusel evenly into the tunnel.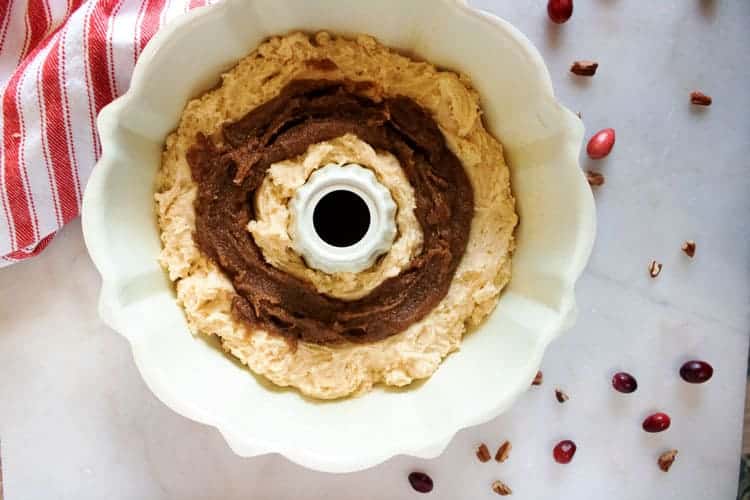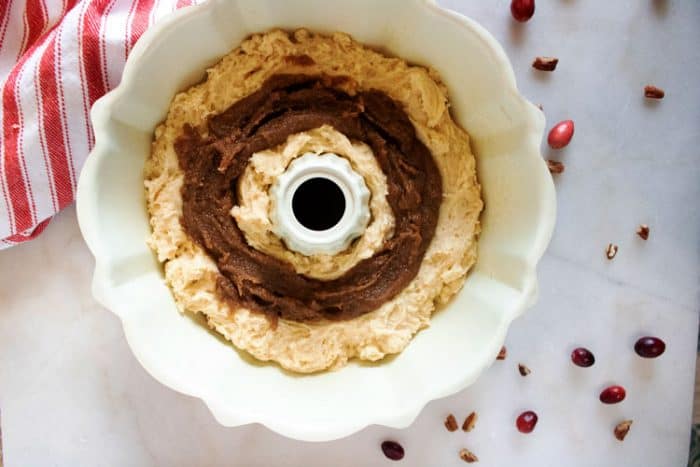 Then top the streusel with additional pecans and cranberries.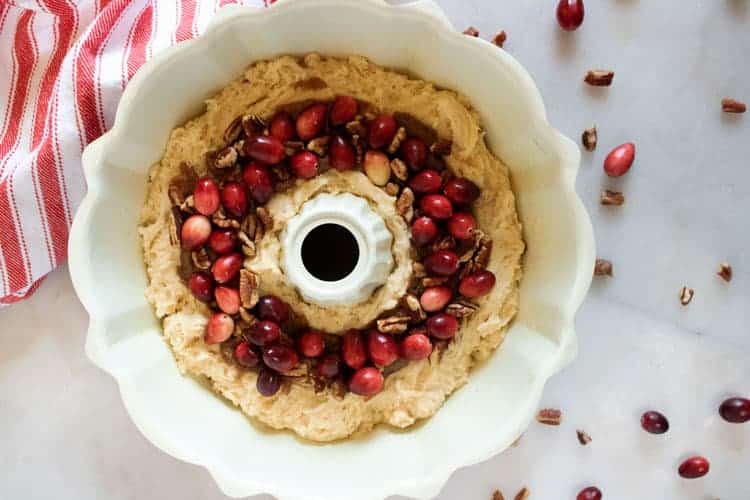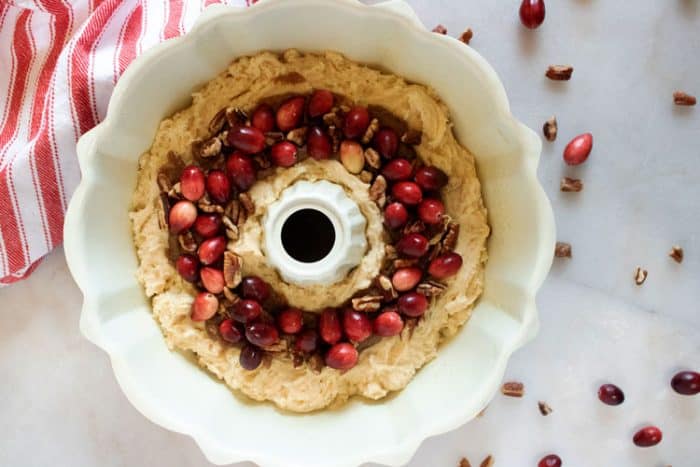 Then top the filling with the remaining cake batter. And lastly, the remaining pecans and cranberries are added to the top of the batter in the bundt pan.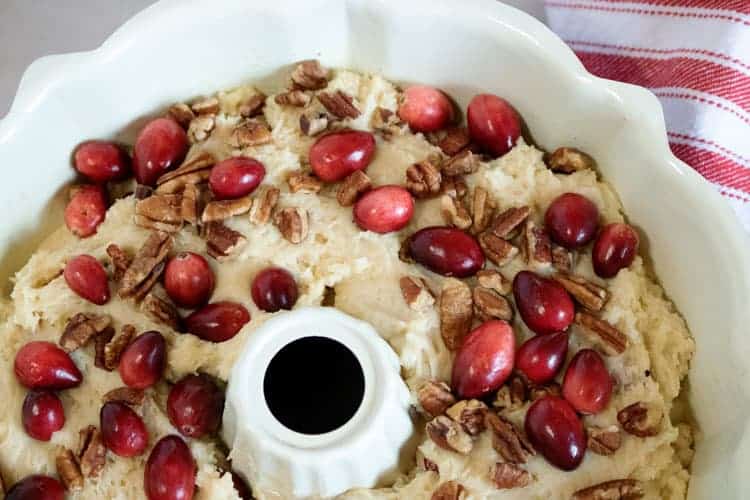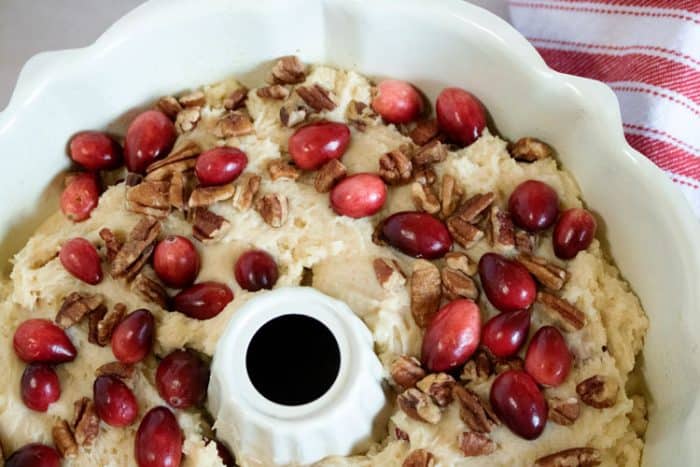 Then bake the cake for 45-50 minutes at 350 degrees Fahrenheit. If desired, you can top the cake with a bit of vanilla glaze or cream cheese frosting for a pretty finished look.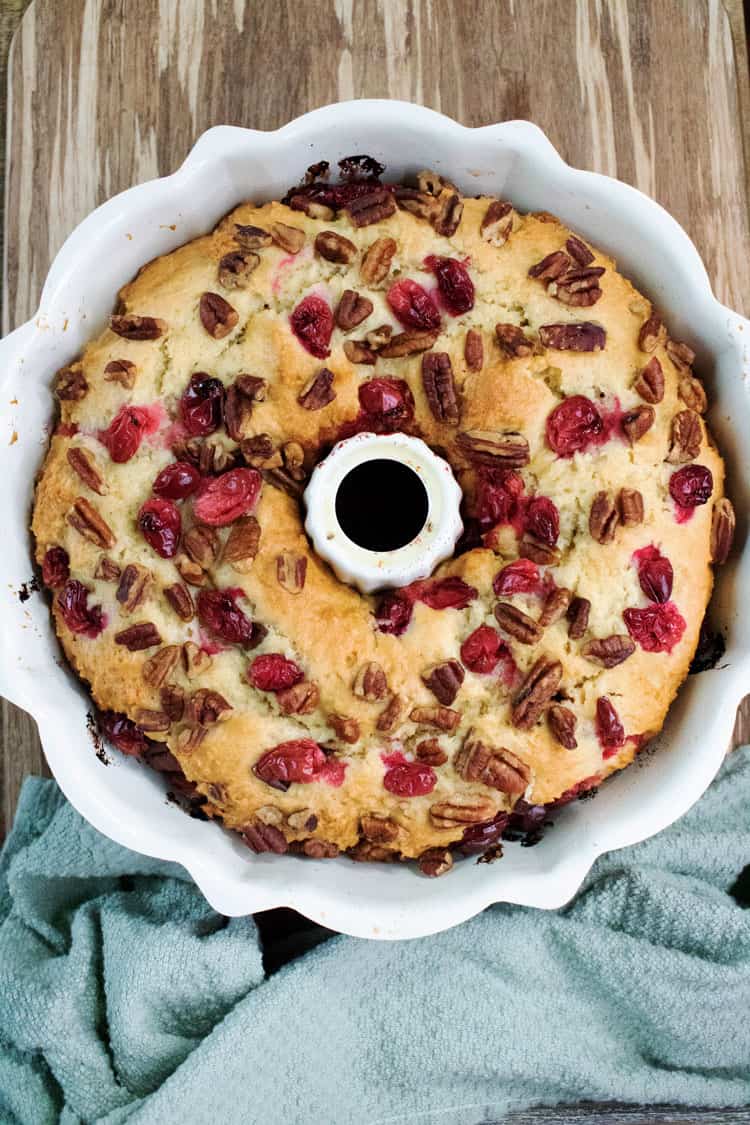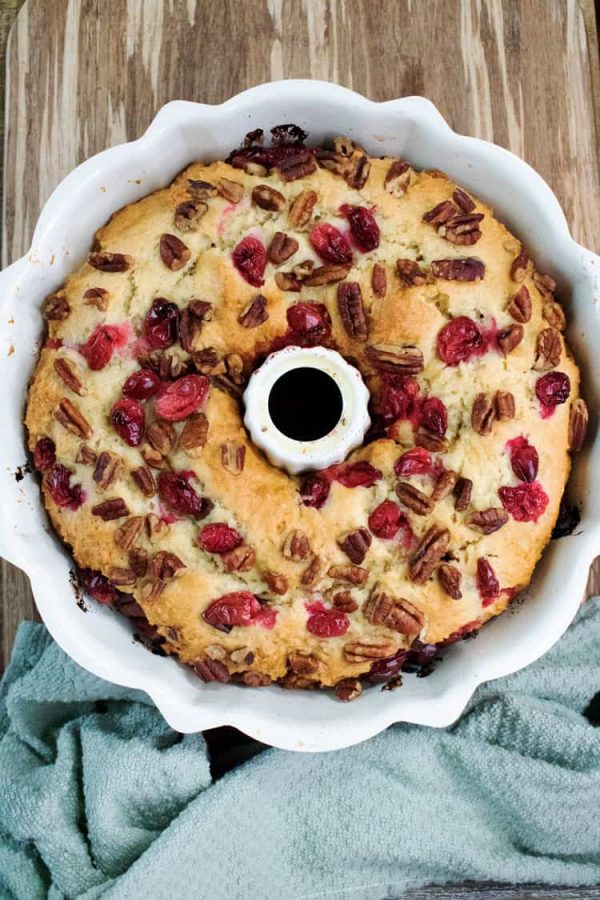 FAQs
Why Is It Called Coffee Cake?
So first off, let's clear something up. There is no actual coffee in a coffee cake.
Coffee cake got its name years ago. Europeans came up with the idea of having a sweet style cake to pair with their bitter coffee. It quickly became popular and morphed into the coffee cake we all know and love.
What Do You Top Your Coffee Cake With?
You can top coffee cake with a classic icing or even a cream cheese-based frosting if you would like. It adds a nice touch of sweetness, and it adds a pretty element for presentation. It's also delicious simply eaten as-is.
How Do You Know When Coffee Cake Is Done?
It is important to not overbake the coffee cake. It can go from done to dry in a matter of minutes. To check for doneness, take a toothpick and stick in into the center of the cake, and see if the toothpick comes out clean.
When the coffee cake is done baking, it will be a golden brown color and will pull away from the edges of the pan slightly.
Can I Use Frozen Cranberries For This Recipe?
If you don't have access to fresh cranberries, you can use frozen cranberries instead. If you are using frozen cranberries, just gently fold the frozen berries right into the dough. Don't thaw your cranberries first!
The one thing with frozen berries is that it can change the color of the dough as the color tends to rub off into the batter. This is not a problem, it will just change the color of your dough, but still, taste great.
How Do You Store Coffee Cake
Because of the cranberries in this recipe, it is best to store your coffee cake in the fridge. It will last up to a week in the fridge. If you store on the counter you can expect it to store for 3-4 days.
I just cover it with a lid or plastic wrap and then store in the fridge.
Can You Freeze Coffee Cake?
Yes, you can freeze this Cranberry Pecan Coffee Cake. All you do is allow your cake to fully cool, and then wrap in aluminum foil, or place in a freezer friendly container.
Then you can freeze the cake for up to three months. Just remove from freezer and thaw in the fridge or allow it to thaw on the counter. 
I prefer to slice up the cake and then place in a sealable freezer bag, so I can just defrost the number of slices I need.
More Cranberry Recipes You Might Enjoy
If you love this Cranberry Pecan Coffee Cake, be sure to check out these other cranberry recipes:
Recipe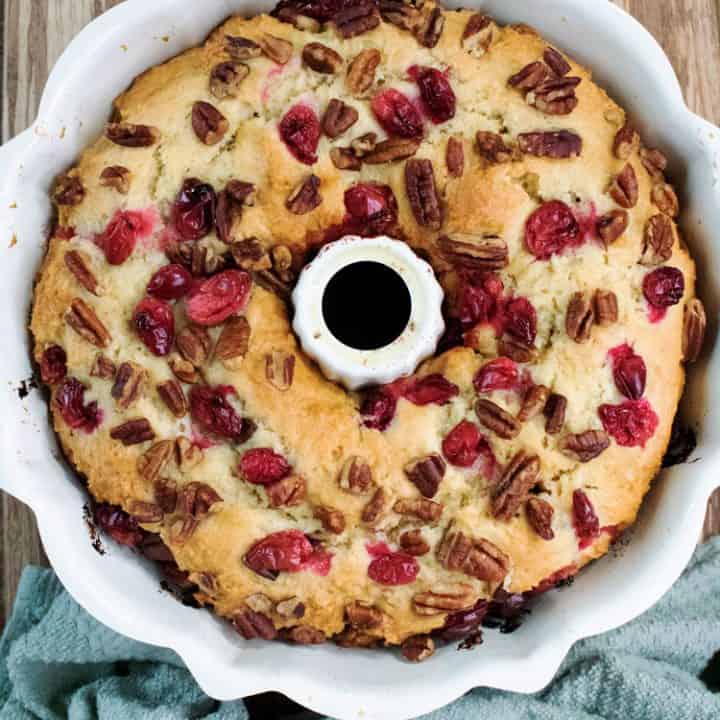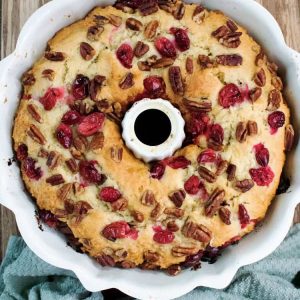 Cranberry Pecan Coffee Cake
This Cranberry Pecan Coffee Cake is loaded with holiday flavor from crunchy pecans, fresh cranberries, a brown sugar streusel filling, and a simple cream cheese frosting.
Equipment
stand mixer

or hand mixer
Ingredients
Cream Cheese Frosting (optional)
3

oz

cream cheese

½

cup

powdered sugar

may use up to ¾ cup to get desired consistency

1

tbsp

whole milk

or cream, may use up to 2 tbsp to get desired consistency
Garnishes (optional)
extra cranberries and pecans
Instructions
Preheat oven to 350 degrees. 

Mix together all of the streusel filling ingredients in a small bowl. Set aside.

Cream butter and sugars together in a large mixing bowl. Add in vanilla, eggs and sour cream and mix until smooth. 

Mix in flour, baking soda and baking powder until well combined.

Fold in ½ cup of the cranberries. 

Prepare bundt pan by spraying with non-stick cooking spray. If desired, sprinkle a few tablespoons of pecans and cranberries in the bottom of the pan. (There's no need to measure, this is decorative.)

Pour half the cake batter into the pan. Pat down along the center, making a dent to place the filling into. (See pictures.)

Spread the streusel filling into the indented batter. Top with ½ cups of cranberries. 

Add the remaining batter to the pan and press down, spreading out evenly over the first layer of batter. Top with last remaining ½ cup of cranberries and an optional handful of pecans. 

Bake for 45-50 minutes. Check on the cake frequently to be sure you don't overbake it.

If making the optional cream cheese frosting: Whisk the cream cheese, powdered sugar, and milk together in a small bowl. Drizzle over the coffee cake, after allowing it to cool to room temperature.
Nutrition
Serving:
1
g
Calories:
438
kcal
Carbohydrates:
64
g
Protein:
6
g
Fat:
18
g
Saturated Fat:
7
g
Polyunsaturated Fat:
3
g
Monounsaturated Fat:
6
g
Trans Fat:
0.2
g
Cholesterol:
60
mg
Sodium:
220
mg
Potassium:
164
mg
Fiber:
2
g
Sugar:
38
g
Vitamin A:
431
IU
Vitamin C:
2
mg
Calcium:
94
mg
Iron:
2
mg