Pecan Cranberry Coffee Cake is a combination of flavors of the holiday season in one moist and delicious coffee cake recipe. This cranberry coffee cake recipe is so easy to whip up, and the aroma is incredible in your home. 
If you are on the hunt for a holiday coffee cake this is one I recommend. As soon as I see fresh cranberries in the store this is the first recipe I make. 
Cranberry sour cream coffee cake allows you to have a really moist and light cake.
Why Is It Called Coffee Cake
Coffee cake got its name years ago. Europeans came up with the idea of having a sweet style cake to pair with their coffee. It really picked up and became a dessert that we know and love. 
Which is why coffee cake is one of my favorite recipes to make. I especially like to make coffee cakes like my Apple Butter Coffee Cake for brunch. Delish!
Does Coffee Cake Have Coffee In It
No, coffee cake does not have coffee in it. I know the name says it should, but it doesn't. Like I mentioned above it is called this so it is paired with a cup of coffee.
More Cranberry Recipes You Might Enjoy
How To Make Cranberry Coffee Cake
First, you want to start by creaming your wet ingredients. By taking the time to really get it nice and creamy will create a nice base for your coffee cake.
Then you will mix in your dry ingredients and then fold in your cranberries. Now in a small bowl whip up your streusel topping, and then pour that over your cake dough in pan. Then top with the rest of cranberries and pecans.
As you can see in the photos, there is a layer of cranberries and pecans on the bottom of the prepared bunt pan. That is topped with part of the cake batter.
Then, a 'tunnel' is formed by pushing an indentation into the cake batter. The streusel is spread out in the tunnel, and then is topped with more pecans and cranberries.
Finally, the filling is topped with the remaining cake batter. And lastly, the remaining pecans and cranberries are added to the top of the batter in the bundt pan.
What Do You Top Your Coffee Cake With
You can do a regular classic icing or even a cream cheese-based icing if you would like. It adds a nice touch of sweetness, and it adds a pretty element for presentation.
How To Know When Coffee Cake Is Done
It is important to not overcook the coffee cake. It can go from done to dry in minutes. Take a toothpick and stick in the center of the cake, and see if the toothpick comes out clean.
You can also look to see that it become a golden brown color. The coffee cake will also slowly pull away from the edges of the pan slightly.
Can I Use Frozen Cranberries For This Recipe 
If you don't have access to fresh cranberries, you can use frozen. If you are using frozen cranberries, just fold the frozen berries right into the dough. Don't thaw your cranberries first.
The one thing is with frozen is it can change the color of the dough. Which is not a problem, it will just change the color of your dough, but still, taste great.
How To Store Coffee Cake
Because of the cranberries in this recipe, it is best to store your coffee cake in the fridge. It will last up to a week in the fridge. If you store on the counter you can expect it to store for 3-4 days.
I just cover it with a lid or plastic wrap and then store in the fridge.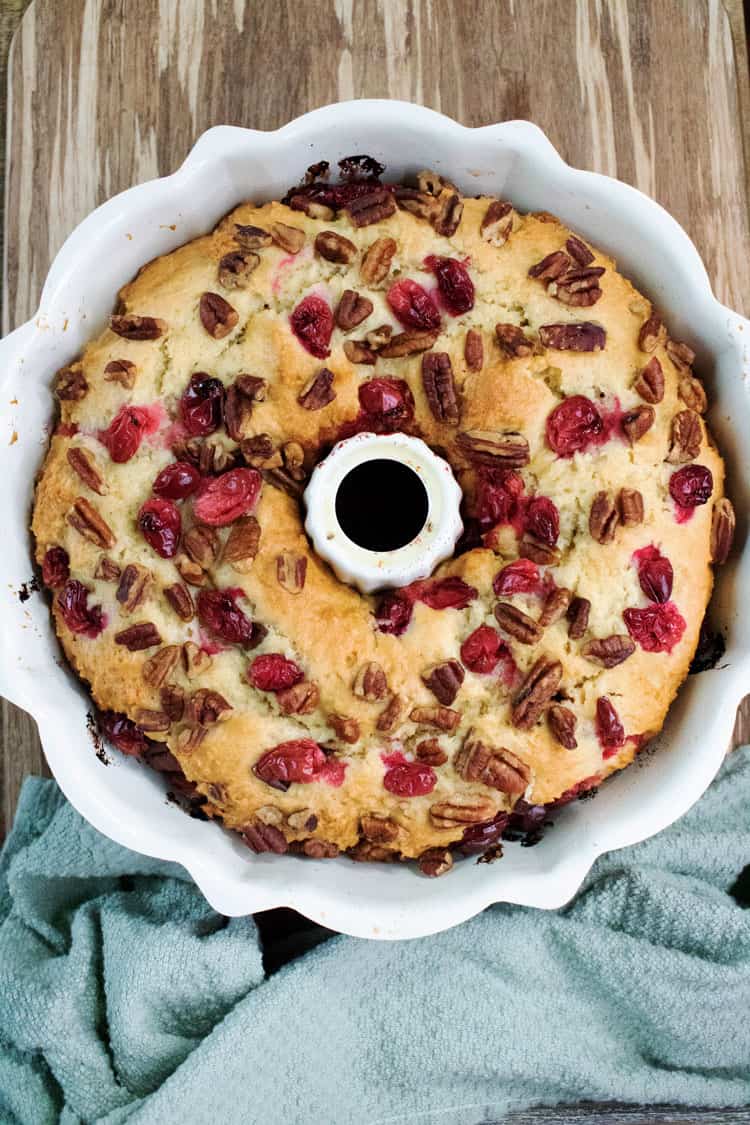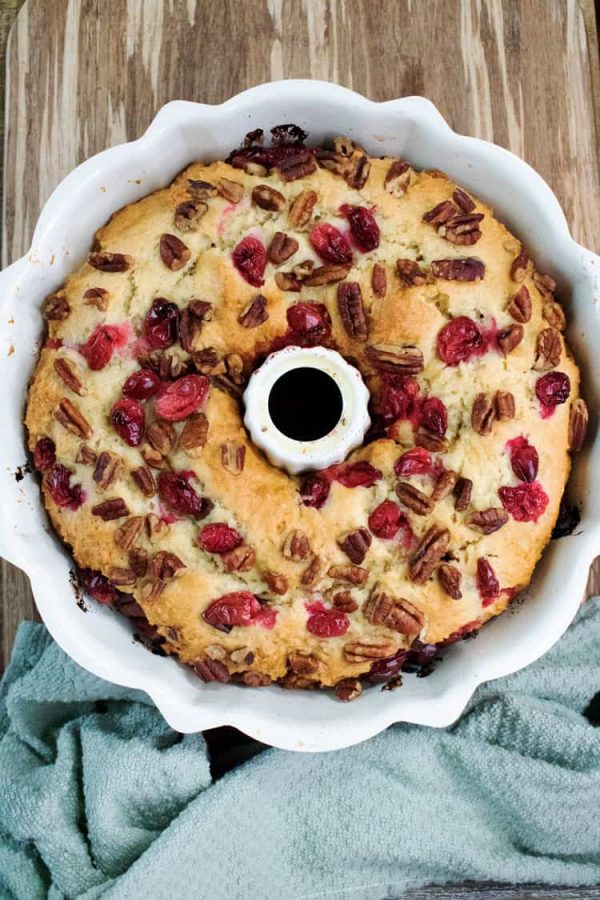 Can You Freeze Coffee Cake
Yes, you can freeze this pecan coffee cake. All you do is allow your coffee cake to fully cool, and then wrap in aluminum foil, or place in a freezer friendly container. I tend to slice up the cake and then place in a sealable freezer bag for easy storage. 
Then you can freeze the cake for up to three months. Just remove from freezer and thaw in the fridge or allow it to thaw on the counter.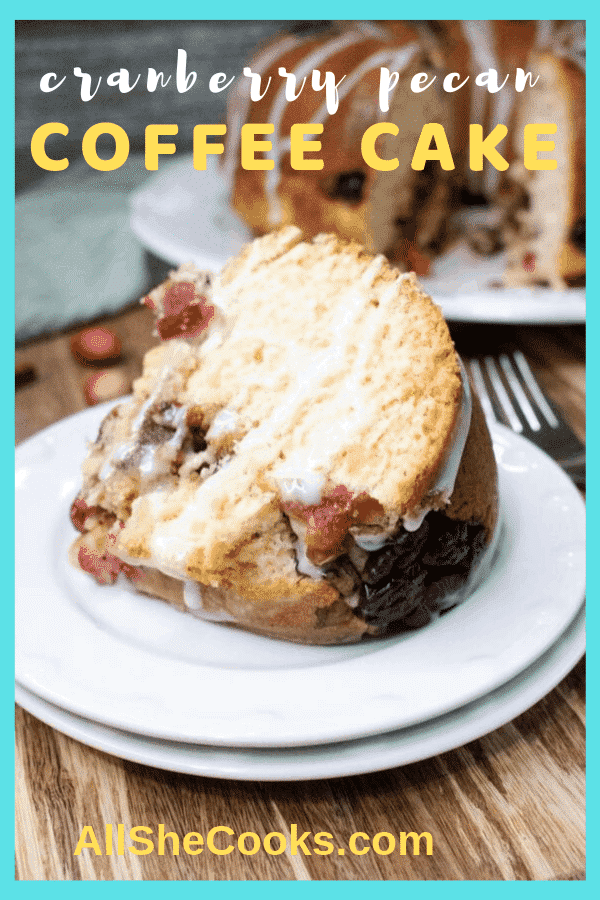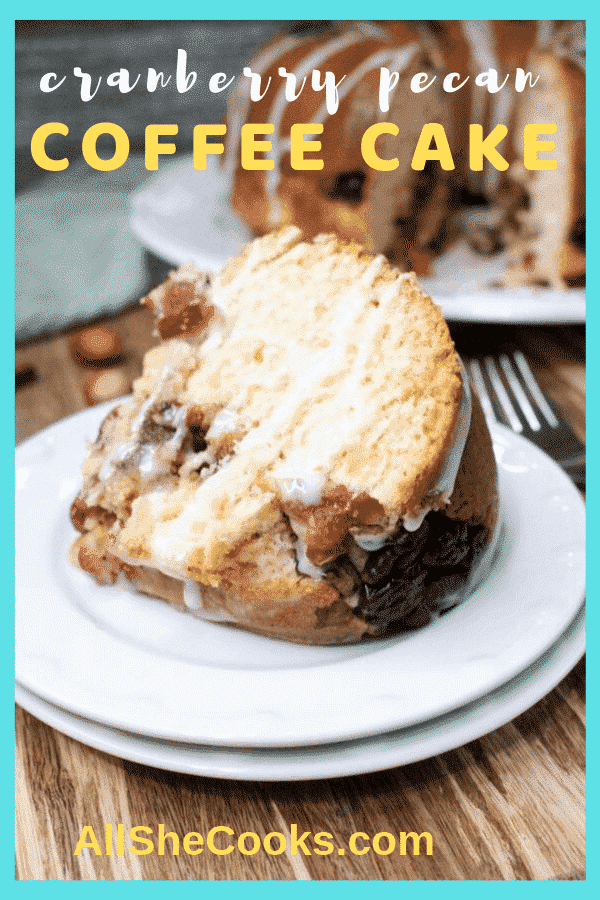 If you are a fan of cranberry, I think you might really enjoy this version of coffee cake.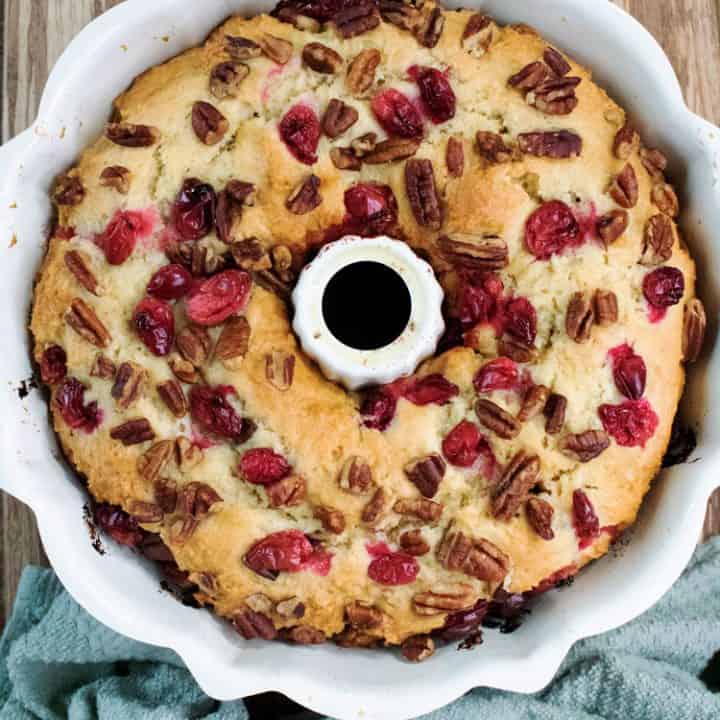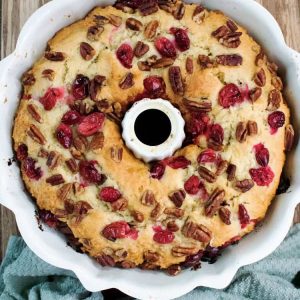 Cranberry Coffee Cake with Pecans
Simple yet sophisticated coffee cake perfect for the holiday season. Add a basic glaze to dress the cake up.
Instructions
Preheat oven to 350 degrees. 

Cream butter and sugars. Add in vanilla, eggs and sour cream and mix until smooth. 

Mix in flour, baking soda and baking powder. 

Fold in ½ cup of the cranberries. 

Prepare bundt pan by spraying with non-stick cooking spray. Place half the cake batter in the pan and pat down along the center, making a dent to place filling into. 

Mix streusel filling and spread out into the indented batter. Top with ½ cups of cranberries. 

Add the remaining batter to the pan and press down, spreading out evenly over the first layer of batter.  Top with last remaining ½ cup of cranberries and an optional handful of pecans. 

Bake in 350 degree oven for 45-50 minutes. Top with a vanilla or cream cheese frosting or glaze. 
Notes
Serve with a simple glaze icing.
Nutrition
Serving:
1
g
Calories:
448
kcal
Carbohydrates:
55
g
Protein:
6
g
Fat:
24
g
Saturated Fat:
11
g
Polyunsaturated Fat:
11
g
Trans Fat:
1
g
Cholesterol:
75
mg
Sodium:
267
mg
Fiber:
2
g
Sugar:
29
g