You are going to love this tender, flavorful, and delicious Braised Tuscan Pork Shoulder Roast. It is roasted low and slow to perfection and served on a bed of creamy polenta.
Ready for an incredible meal? You've found it in Braised Tuscan Pork Shoulder Roast! It's an incredibly flavorful dish, starting with the marinated pork shoulder and ending with sliced pork shoulder roast served over creamy polenta.
What is Pork Shoulder?
In the United States, the pork shoulder is often called "pork butt" or "Boston butt." It's the upper part of the pig's shoulder from the front leg.
Note: In the United Kingdom, this cut of meat is often referred to as "pork shoulder on the bone" because pork shoulder there is served boneless. (In the U.S., pork shoulder is served bone-in.)
If you're wondering why a shoulder piece would be named like it is, it dates back to pre-revolutionary New England when butchers would pack pieces of pork shoulder into barrels for easy transport. The barrels were named butts, and the process became a specialty to Boston — so the name for the cut of meat became the Boston butt. (And eventually the "pork butt" as well.)
I don't know about you, but I find the stories of how foods acquired their names to be fascinating!
At What Temperature is a Pork Shoulder Done?
According to the USDA, a braised pork shoulder roast of 3 to 6 pounds (you'll be using a 3 to 3 ½ pound pork shoulder roast for this recipe) needs to reach an internal temperature of at least 145 °F. It also needs to rest for at least three minutes before serving (you'll rest Braised Tuscan Pork Shoulder Roast for 10 to 15 minutes).
If you don't already have a meat thermometer, you can snag my favorite one here. It only takes a few seconds to read the temperature, and doing so ensures that you've safely cooked the pork shoulder roast to the right temperature.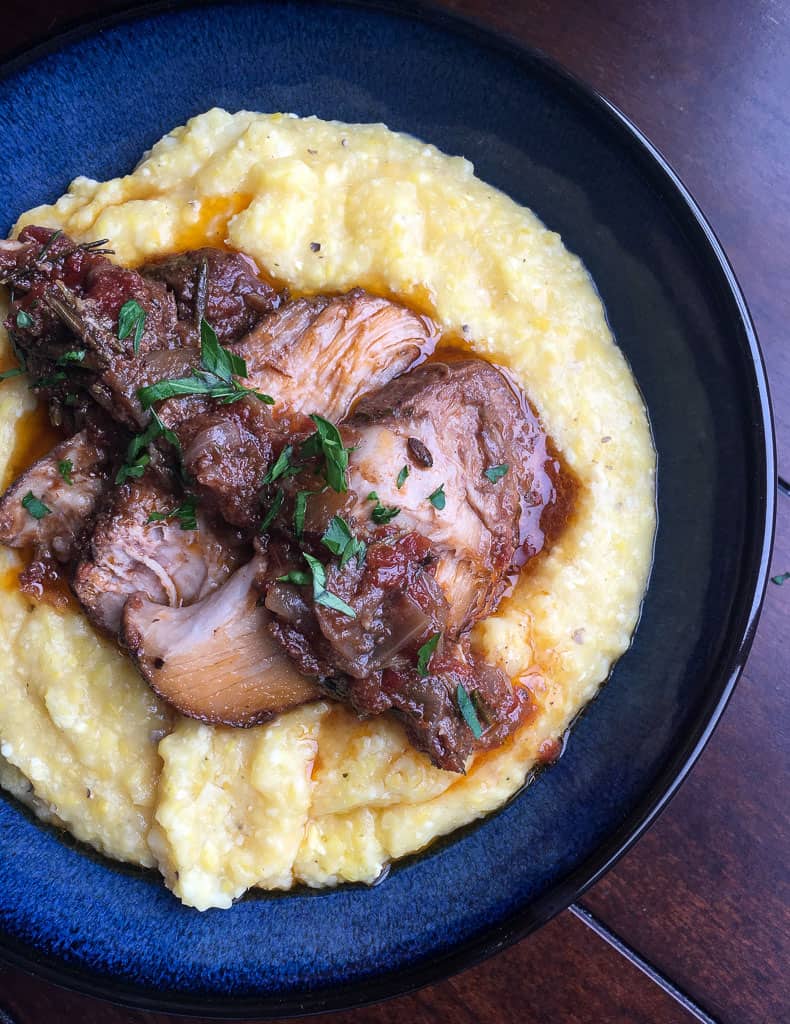 What is Braising?
This pork shoulder roast recipe uses the braising process, as you would expect from the recipe name (Braised Tuscan Pork Shoulder Roast). What is braising exactly?
Braising consists of two processes:
Searing at a high temperature
Cooking in a covered pot with liquid at a lower temperature
Braising is a wonderful way to take relatively inexpensive (and often tougher) cuts of meat, such as a pork shoulder, and transform them into succulent, flavorful, and tender meals. Braising utilizes a long, slow cooking method that infuses moisture into the meat while cooking.
How to Make Polenta
If you're not following a low-carb diet, Braised Tuscan Pork Shoulder Roast tastes amazing served on a bed of creamy polenta.
Don't know how to make polenta? Don't worry, it's easy! I show you exactly how to do it in my How to Make Polenta: Creamy Polenta, Grilled Polenta, or Fried Polenta post.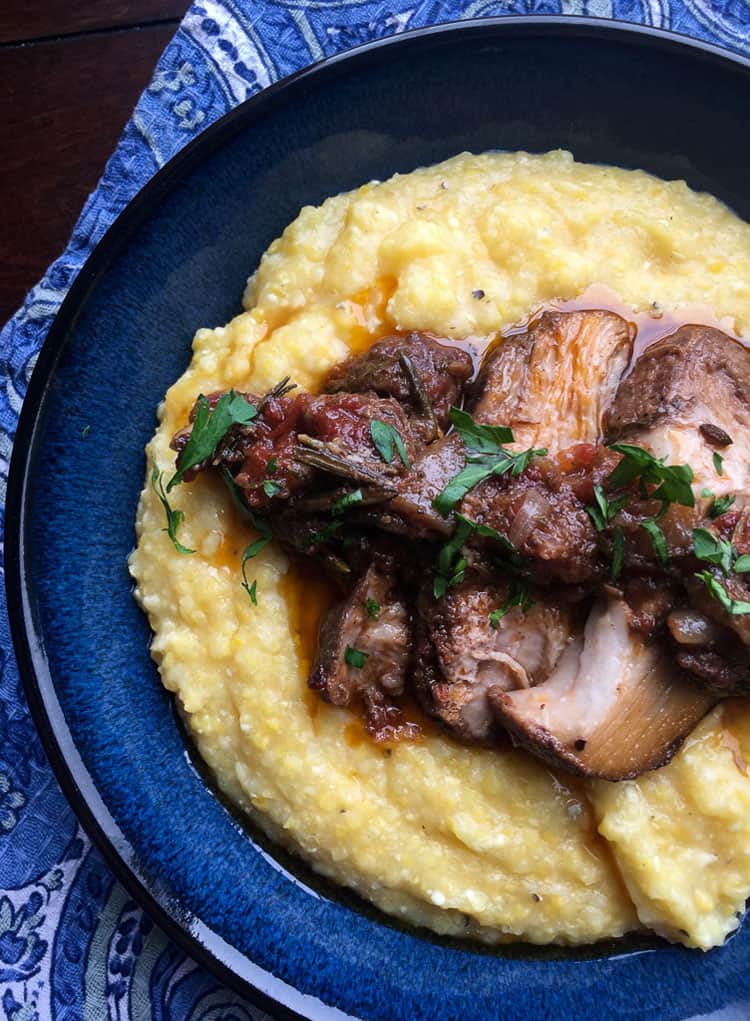 My Best Tip for Making Braised Tuscan Pork Shoulder Roast
For best results, marinate the pork an entire day in advance. At least eight hours are required, but 24 hours will make it even more flavorful. Or, if you need to save time, you can marinate the pork at room temp for up to 2 hours before you begin cooking.
Enjoy! And next time try our Spicy Pineapple Pork Butt!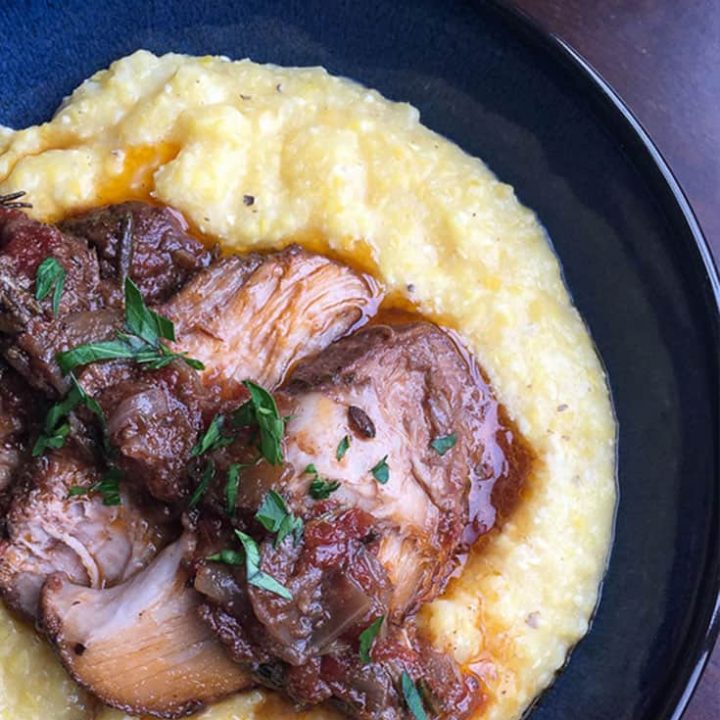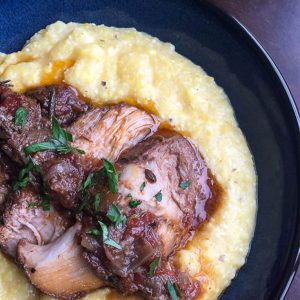 Braised Pork Roast with Polenta
This amazing Braised Tuscan Pork Shoulder Roast tastes even better when sliced and served on a bed of creamy polenta.
Instructions
To a

large glass or non-reactive bowl

, add the following ingredients: wine, red onion, garlic, rosemary, thyme, bay leaves, crushed fennel seeds, and red pepper flakes. Stir to combine all ingredients.

Add pork shoulder chunks to the bowl and turn the pork until each piece is covered. Then cover the bowl and place it in the refrigerator to marinate for at least 8 hours. While marinating, turn pork occasionally.

After the pork is done marinating, remove the bowl from the refrigerator and remove the pork from the marinade. Pat pork pieces dry with paper towels and set aside.

Separate the marinate liquid from the solids. Keep both liquids and solids, but discard the woody herb stems and bay leaves. Set aside.

In a large heavy-duty skillet or Dutch oven, heat olive oil over medium-high heat. Add pork and sear evenly on all sides until it is evenly browned. (This will take about 8-10 minutes.) Season to taste with salt and pepper.

Add the marinade solids and cook them until the onions are translucent and soft (about 10-12 minutes). Stir frequently.

Add the marinade liquids to the skillet and deglaze the pan by scraping the brown bits from the bottom. Continue to cook until the liquid has reduced to approximately one third of the original volume.

Add 1 cup chicken broth and tomatoes. Stir to combine. Cover and then reduce the heat to medium-low. Cook for 2 to 2 ½ hours and stir about every half hour. If needed, add more chicken broth while cooking.

When the pork has reached the point that it can be easily pulled apart with a fork, remove it from the heat. Let it rest in the warm juices for about 10-15 minutes. Serve immediately. Can be served over a bed of creamy polenta and garnished with chopped fresh parsley.
Nutrition
Serving:
1
g
Calories:
562
kcal
Carbohydrates:
6
g
Protein:
38
g
Fat:
37
g
Saturated Fat:
13
g
Polyunsaturated Fat:
21
g
Cholesterol:
144
mg
Sodium:
328
mg
Fiber:
1
g
Sugar:
2
g