These tasty Pumpkin Chocolate Chip Cookies are my favorite Fall dessert! They're loaded with pumpkin spice flavor and decadent chocolate chips. And it's easy to make in under 30 minutes.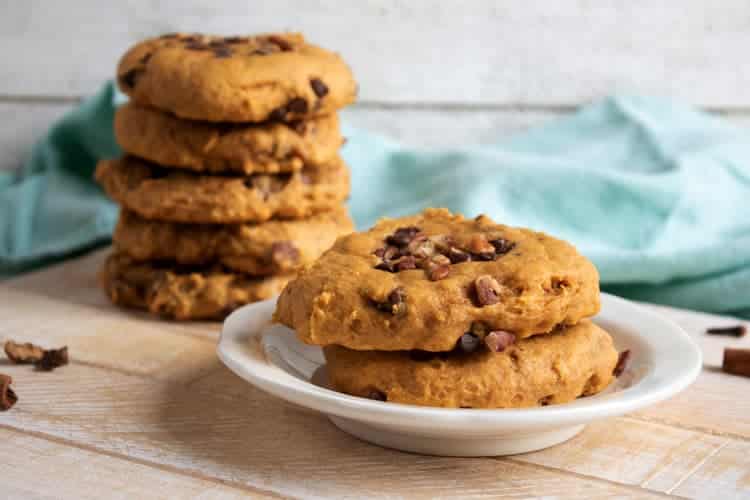 In this Article:
Craving something sweet? Whip up a batch of these pumpkin chocolate chip cookies!
This is my go-to easy pumpkin dessert that I make every single year. Loads of chocolate chips, pecans, in a soft and chewy cookie. Yum.
I love these particular pumpkin cookies because the nuts and chocolate help add more depth to the flavor. And the consistency is just perfect - fluffy and moist!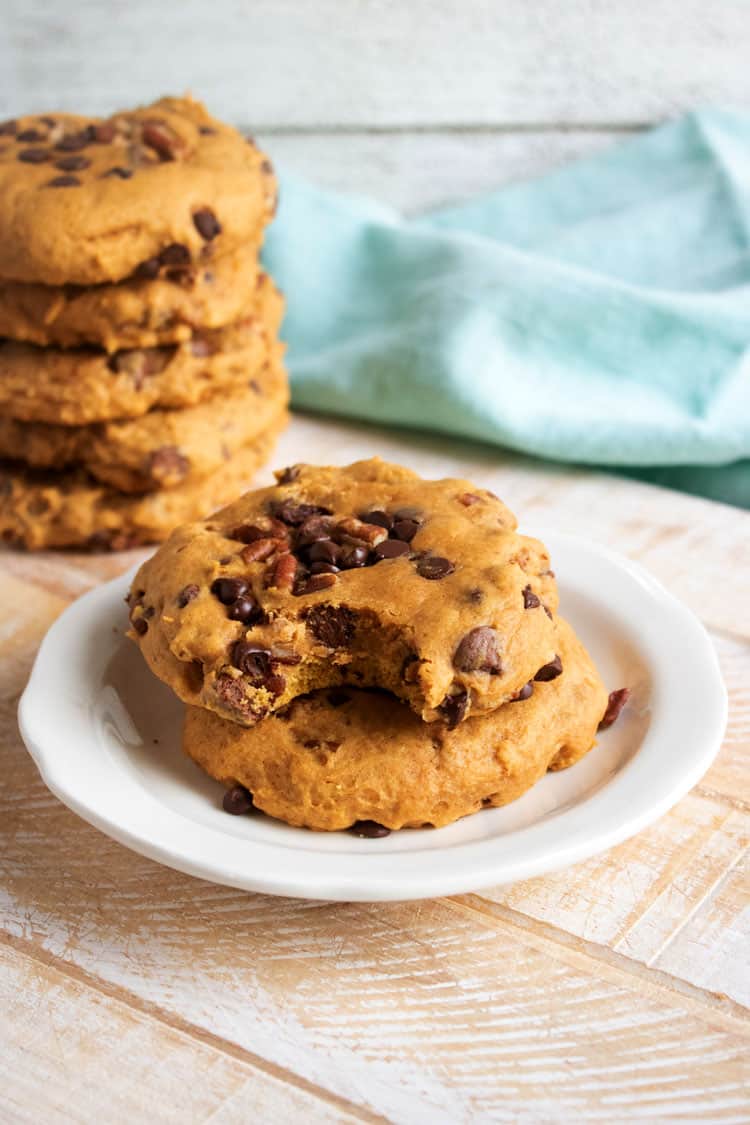 FAQs
Can I Use Pumpkin Pie Filling Instead Of Pumpkin Puree?
No. Unfortunately, you can't. Pumpkin pie mix is totally different than pumpkin puree. It has a runnier texture and usually contains sweeteners and spices. You want plain pumpkin puree- pumpkin should be the only ingredient on the label!
You are welcome to use homemade pumpkin puree if you prefer that over canned. Just make sure if it is extra watery, to drain some of the liquid first, so it offers the same thicker consistency as canned.
How Do You Make Soft Pumpkin Cookies?
The key to a perfectly soft pumpkin cookie is in the recipe you use, along with not over-mixing the batter. Then when you go to bake make sure to watch the cookies closely so you pull them out of the oven before they overcook. If you overcook the cookies they will go from soft to hard rather fast.
Can I Double This Pumpkin Cookie Recipe?
Yes. You are welcome to double this recipe or even triple it! This recipe makes around 2 ½ dozen cookies as written, as a guide. Of course that depends a bit on how large you make your cookies.
How Do You Get a Flat Cookie?
Pumpkin Chocolate Chip cookies are naturally a soft and puffy cookie. If you want a flat and stackable cookie, you'll want to flatten the balls of cookie dough before you put them in the oven to bake.
Since the Pumpkin Chocolate Chip cookie dough doesn't spread very much, you can fit more cookies on a baking sheet than you'd expect. So don't be shy about loading them up.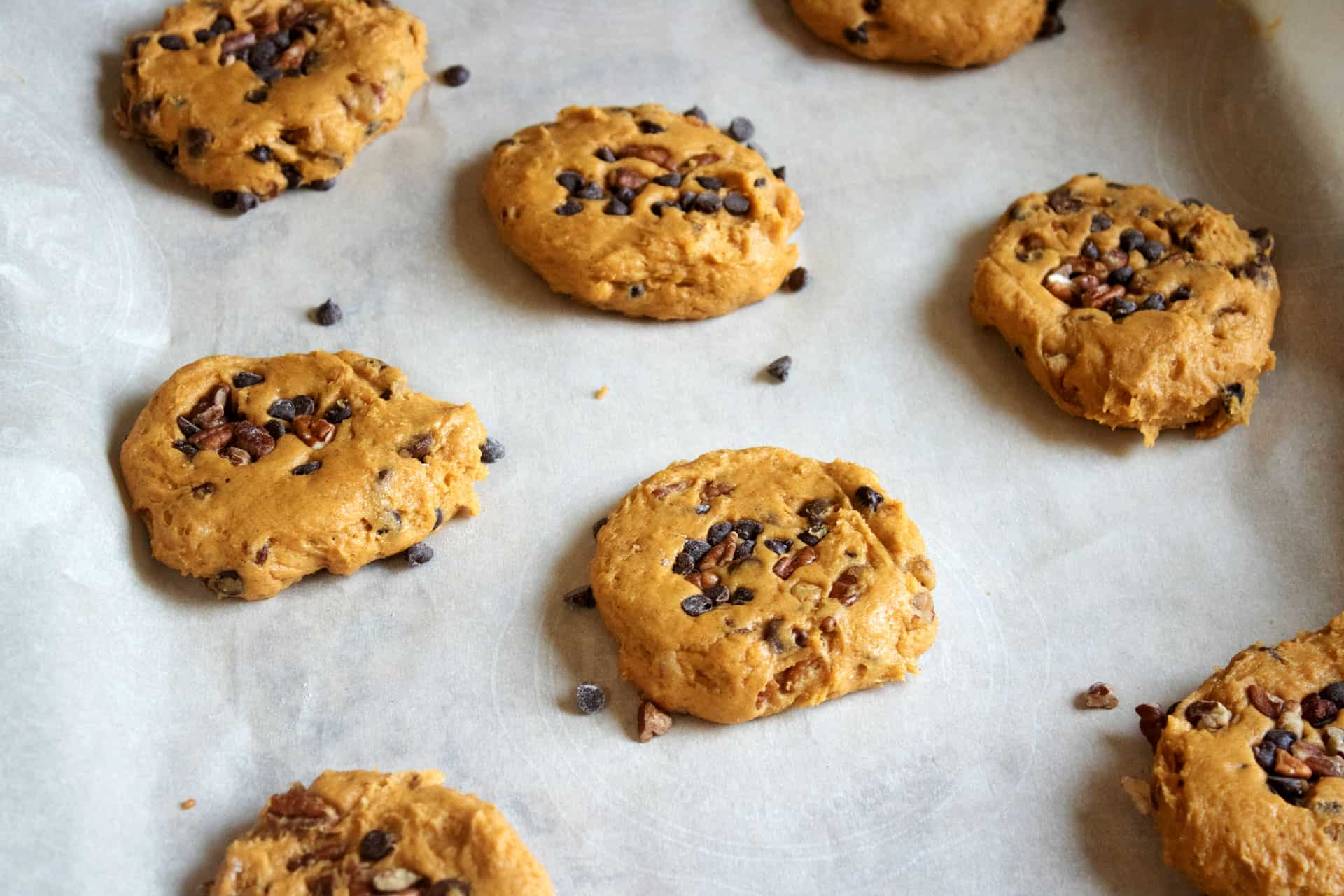 Can I Freeze Pumpkin Cookies?
Allow the cookies to fully cool, and then you can transfer to a freezer bag or even airtight container. Store in the freezer up to three months. Then thaw on the counter and serve.
Alternatively, you can freeze the cookie dough before baking. Then defrost when you are ready to use.
How do you Store Pumpkin Chocolate Chip Cookies?
I store these cookies on the counter at room temperature in a covered container. They will last around 3-4 days. After that, they will begin to dry out.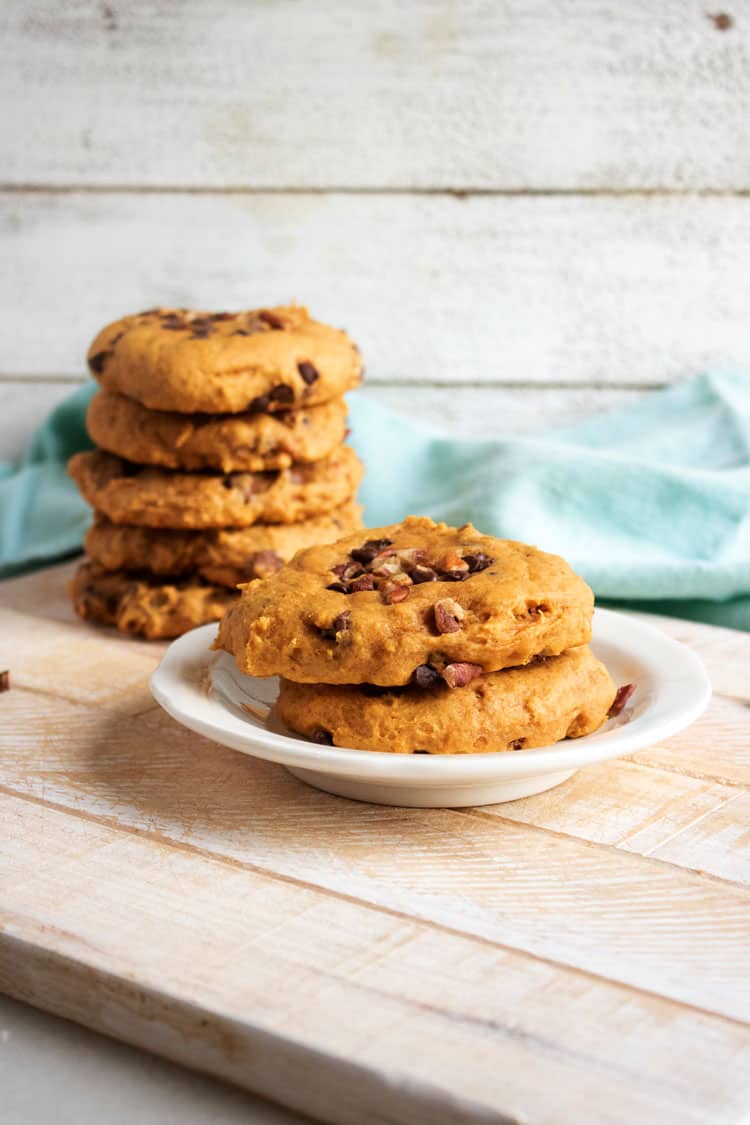 Add-Ins for Pumpkin Cookies
Feel free to add even more layers of flavors to thesse pumpkin cookies with different mix-in ingredients. A few ideas:
cinnamon chips
white chocolate chips
walnuts
raisins
dried cranberries
More Tasty Recipes
If you love these pumpkin chocolate chip cookies, be sure to check out these other delicious recipes and all my pumpkin desserts:
Recipe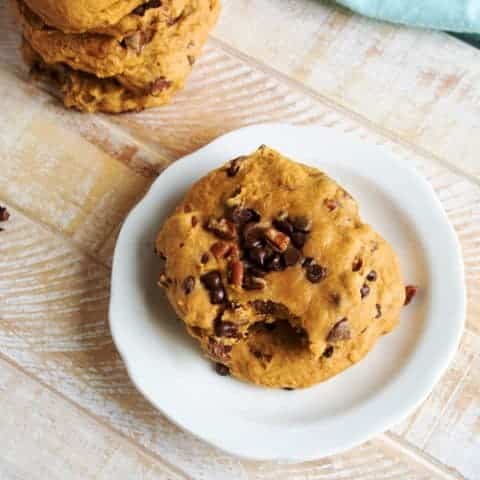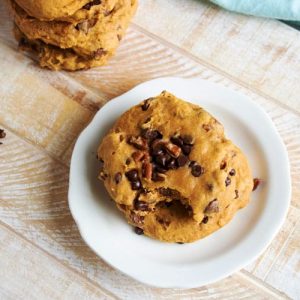 Pumpkin Chocolate Chip Cookies
These tasty Pumpkin Chocolate Chip Cookies are my favorite Fall dessert! They're loaded with pumpkin spice flavor and decadent chocolate chips. And it's easy to make in under 30 minutes.
Instructions
Preheat oven to 375 degrees.

Beat the butter with a handheld or stand mixer until creamy and then add in the sugars and beat until nicely mixed. Add in eggs, pumpkin puree, and vanilla, and beat again until ingredients are combined.

In a separate mixing bowl, mix all dry ingredients, except the chocolate chips and nuts. Slowly incorporate them into the wet ingredients mixing as you go.

Add in the chocolate chips and pecans.

Form dough into 2 inch balls and place on cookie sheet. Press the balls down (similar to how you make peanut butter cookies) to make flat cookies. Otherwise they will be more of a puff cookie.

Bake for 8-10 minutes or until lightly browned. Remove from oven and let cool for a few minutes on the baking sheet before putting them on a wire rack to cool.
Nutrition
Serving:
1
g
Calories:
258
kcal
Carbohydrates:
37
g
Protein:
3
g
Fat:
12
g
Saturated Fat:
6
g
Polyunsaturated Fat:
1
g
Monounsaturated Fat:
3
g
Trans Fat:
0.2
g
Cholesterol:
29
mg
Sodium:
100
mg
Potassium:
84
mg
Fiber:
1
g
Sugar:
19
g
Vitamin A:
2414
IU
Vitamin C:
1
mg
Calcium:
29
mg
Iron:
1
mg