Whip up a batch of these pumpkin chocolate chip cookies! This is my go-to pumpkin chocolate chip cookies recipe I make every single year. Loads of chocolate chips, pecans, in a soft and chewy. Make for your next bake sale, play date, or after school snack. A pumpkin cookie that everyone will be raving about.
Pumpkin cookies are a must in our home. I love this recipe because it has the nuts and chocolate to help add more depth to the cookies. Fluffy pumpkin chocolate chip cookies that kids and adults can enjoy.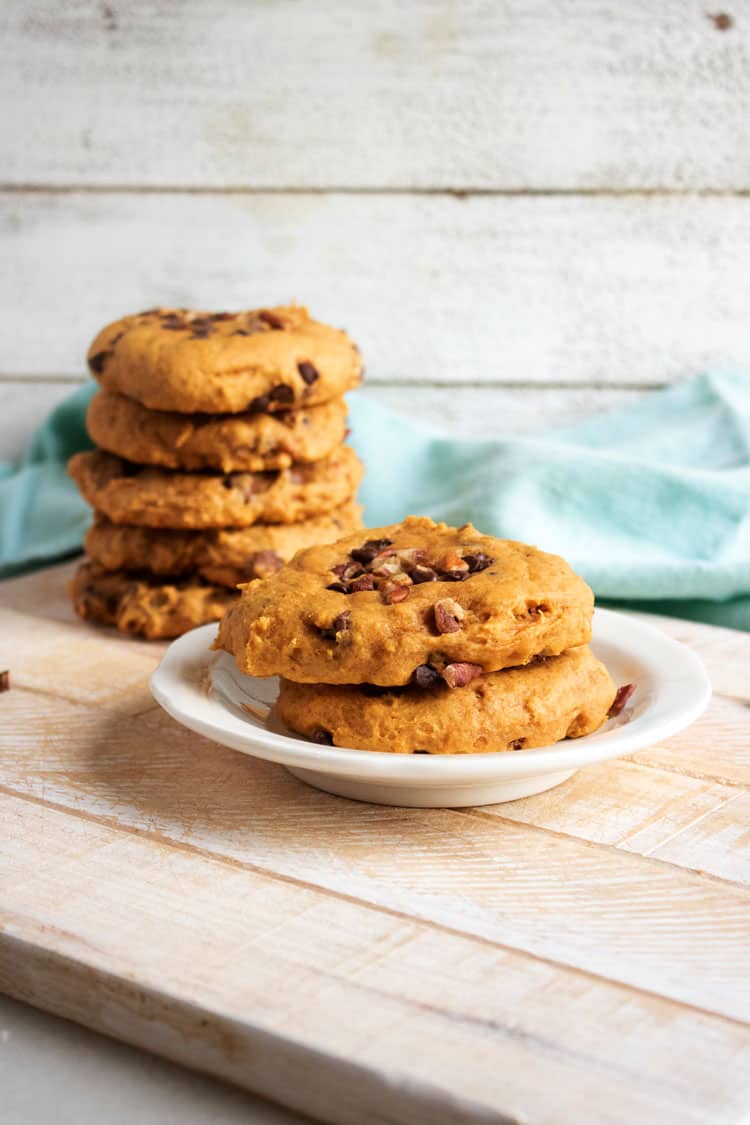 Pumpkin Chocolate Chip Cookies
If you are a fan of pumpkin grab that can of pumpkin puree. Add in a splash of pumpkin spice and these cookies will be undeniable the best fall dessert recipe anyone will eat. My family also request these chocolate chip muffins on a steady rotation in our home.
Can I Use Pumpkin Pie Mix Instead Of Pumpkin Puree
No. Unfortunately, you can't. Pumpkin pie mix is totally different than pumpkin puree. It would offer a really runny texture and it will not swap correctly.
You are welcome to use homemade pumpkin puree if you prefer that over canned. Just make sure if it is extra watery, to drain some of the liquid first, so it offers the same thicker consistency as canned.
How Do You Make Soft Pumpkin Cookies
The key to a soft pumpkin cookie is the recipe you use, along with not over-mixing the batter. Then when you go to bake make sure to watch the cookies closely so you pull them out of the oven before they overcook. If you overcook the cookies they will go from soft to hard rather fast.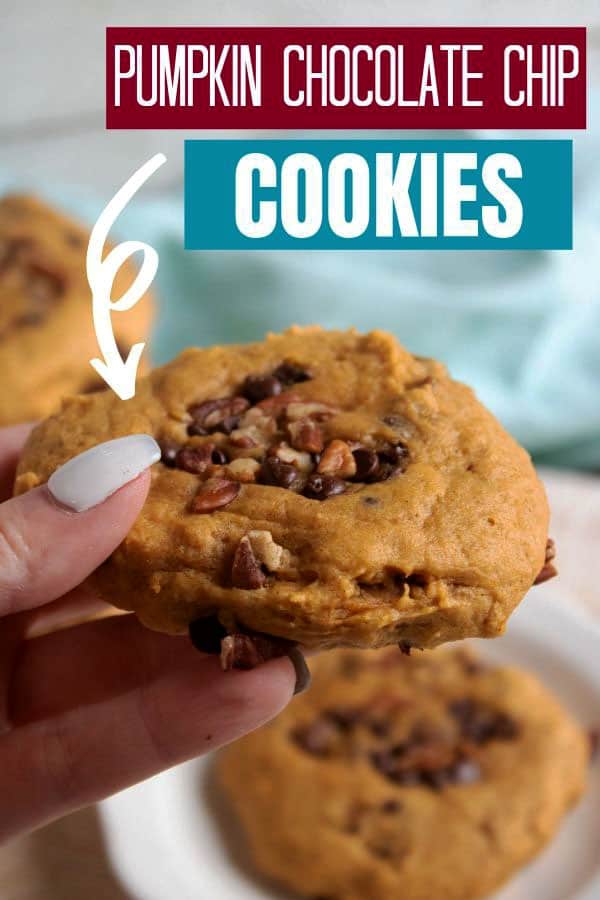 Can I Double This Pumpkin Cookie Recipe
Yes. You are welcome to double this recipe or even triple. This recipe makes around 2 ½ dozen cookies, as a guide. Depending on the size of your cookies will depend on how many cookies it makes.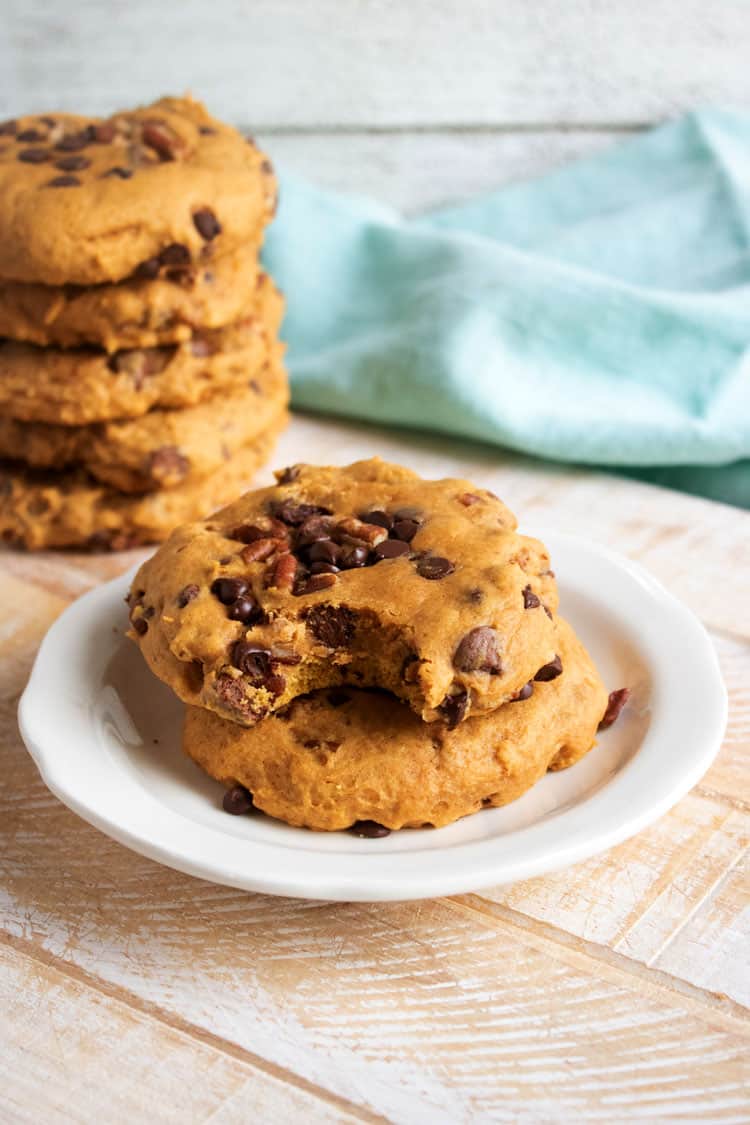 Cookie Add-Ins For Pumpkin Cookies
cinnamon chips
white chocolate chips
walnuts
raisins
dried cranberries
Feel free to add even more layers of flavors to the pumpkin cookies with different add-in ingredients.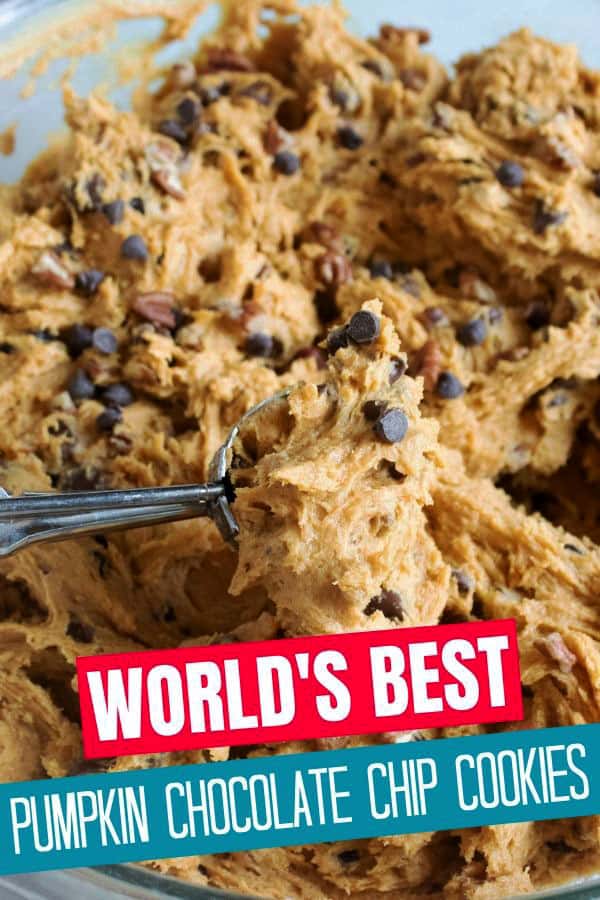 How Do You Get a Flat Cookie?
Pumpkin Chocolate Chip cookies are naturally a soft and puffy cookie. If you want a flat and stackable cookie, you'll want to flatten to balls of cookie dough before you put them in the oven to bake.
Since Pumpkin Chocolate Chip cookie dough doesn't spread very much, you can fit more cookies on a baking sheet than you'd expect.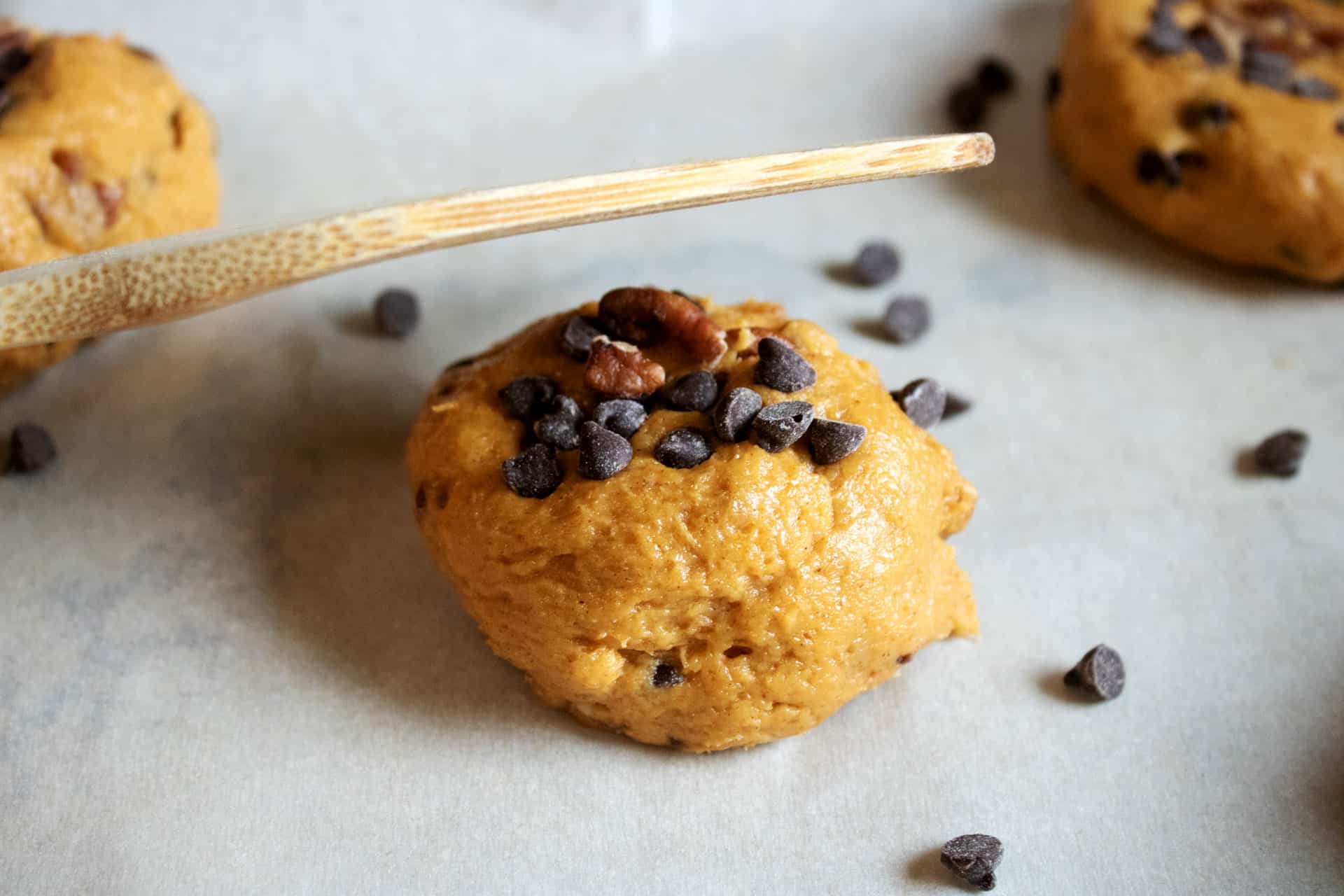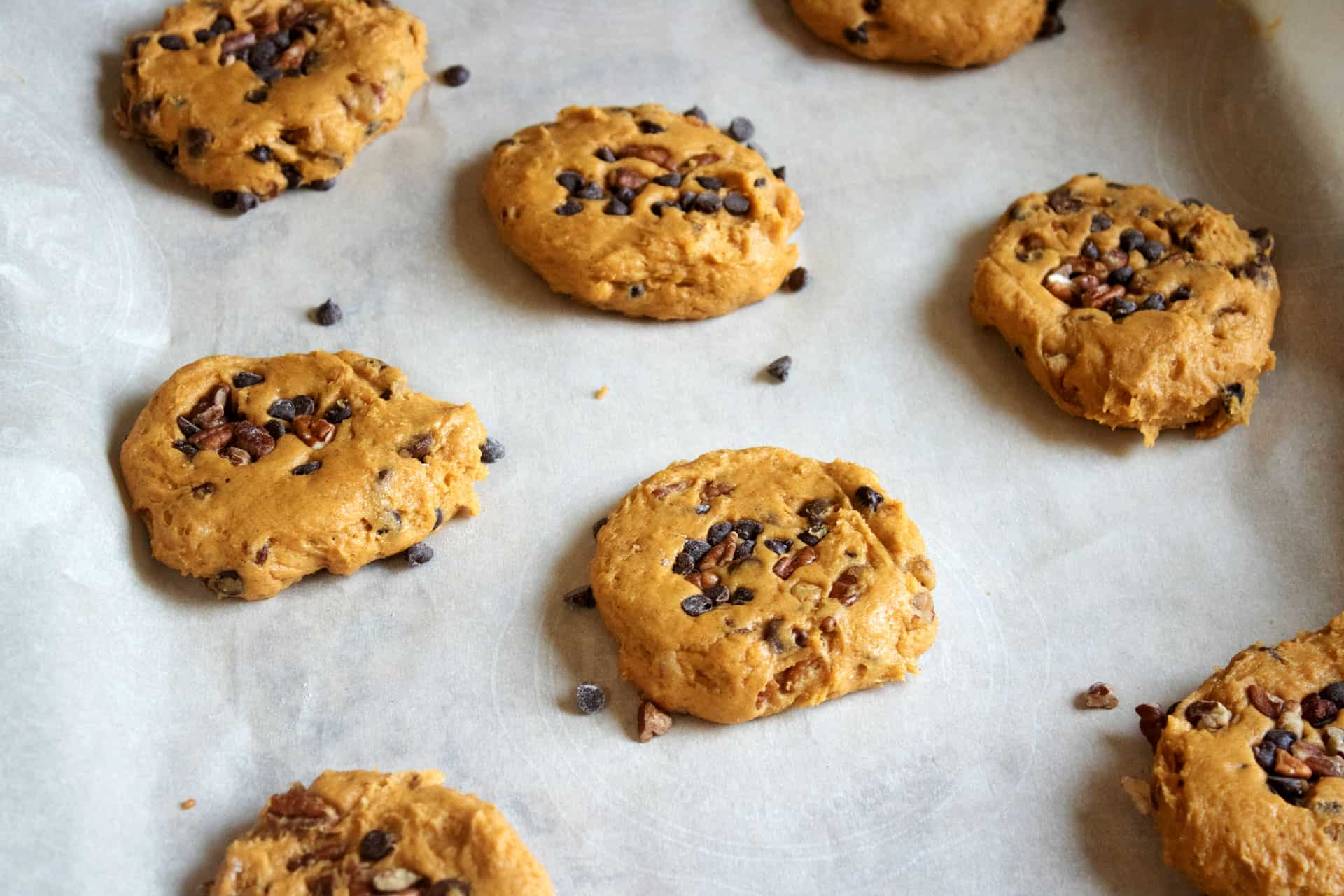 How to Store Pumpkin Chocolate Chip Cookies
I store these on the counter at room temperature. If you want you are welcome to store them in the fridge. They will last around 3-4 days. After that, they will begin to dry out.
Can I Freeze Pumpkin Cookies
Allow the cookies to fully cool, and then you can transfer to a freezer bag or even airtight container. Store in the freezer up to three months. Then thaw on the counter and serve.
Can I Freeze The Cookie Dough To Make For Later
I think that you could do this. I personally have not tried it, but don't see why you couldn't. The frozen dough will take a bit longer to cook up so make sure to add on cook time.
I also will say it could change the texture of the cookies slightly since they are pre-froze.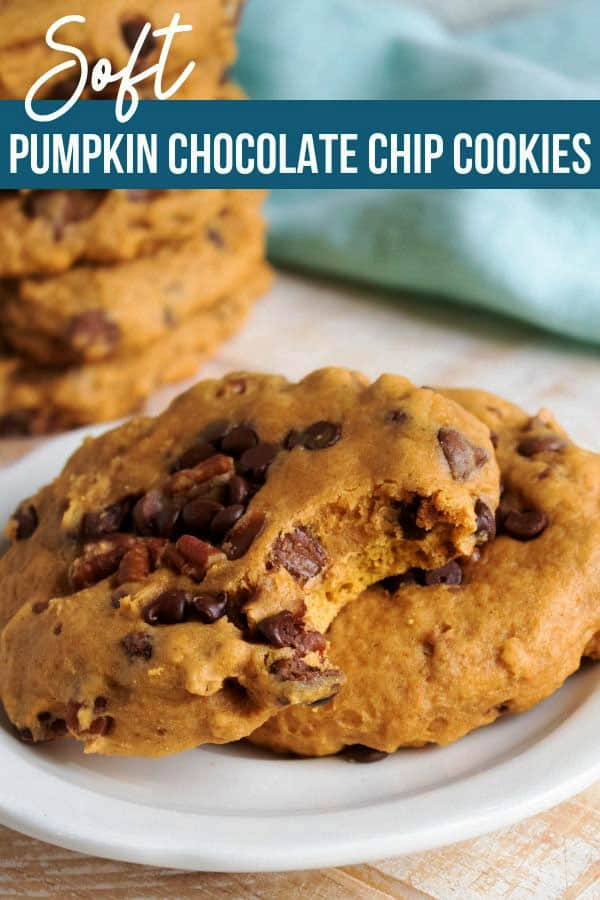 Craving More Fall Inspired Desserts
Pumpkin Oatmeal Chocolate Chip Muffins |Kickstart your morning in a tasty way. These muffins are fantastic. Light, fluffy, and filled with oats, chip and pumpkin flavor.
Pumpkin Cheesecake - A Cheesecake Factory Menu Favorite | If you love the cheesecake factory, you have to try this cheesecake recipe. Silky and velvety smooth and bursting with rich and fresh pumpkin flavor in every single bite.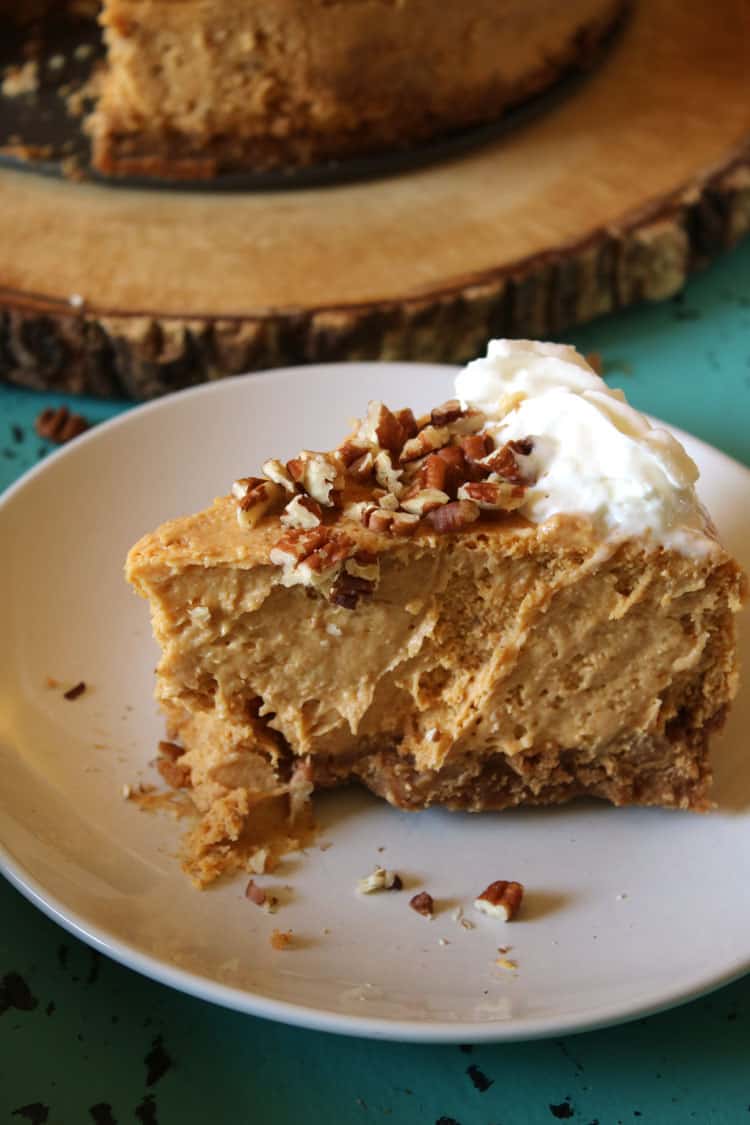 Pistachio Chocolate Chip Blondies| If you are a fan of blondies, try this recipe. The pistachios offer a nutty flavor that really brings these blondies together. I absolutely love this recipe.
Healthy Pumpkin Cookies Kids Love| Have a picky eater? Try this healthy pumpkin cookie recipe. Give them the flavors they love while offering a healthy snack for them to nibble on.
Pumpkin Cream Cheese Milkshake Recipe | Get refreshed with this incredible milkshake. The cream cheese and pumpkin are just a perfect pair. We make this for an evening treat, and it is a pure delight.
Pumpkin chocolate chip cookies truly are simple to make. They are great for a snack any time of the day and will curb that pumpkin spice craving your having. Give this easy pumpkin cookie recipe a try today.
Have you ever made pumpkin chocolate chip cookies?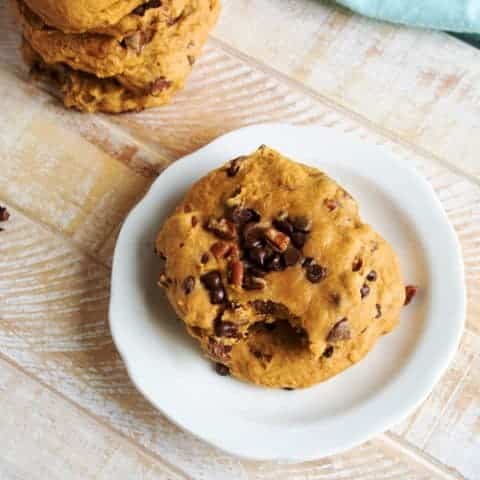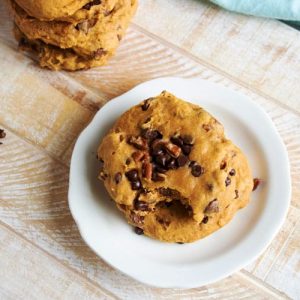 Pumpkin Chocolate Chip Cookies
Pumpkin Chocolate Chip Cookies are an explosion of fall flavors: pumpkin, chocolate chips, and pumpkin spices. This easy recipe is good to have on hand for snacks or even a tasty treat for a pumpkin carving party!
Instructions
P



reheat oven to 375 degrees.

Beat the butter with a handheld or stand mixer until creamy and then add in the sugars and beat until nicely mixed. Add in eggs, pumpkin puree, and vanilla, and beat again until ingredients are combined.

In a separate mixing bowl, mix all dry ingredients, except the chocolate chips and nuts. Slowly incorporate them into the wet ingredients mixing as you go.

Add in the chocolate chips and pecans.

Form dough into 2 inch balls and place on cookie sheet. Press the balls down (similar to how you make peanut butter cookies) to make flat cookies. Otherwise they will be more of a puff cookie. Bake for 8-10 minutes or until lightly browned. Remove from oven and let cool for a few minutes on the baking sheet before putting them on a wire rack to cool.
Nutrition
Serving:
1
g
Calories:
271
kcal
Carbohydrates:
38
g
Protein:
4
g
Fat:
13
g
Saturated Fat:
6
g
Polyunsaturated Fat:
6
g
Cholesterol:
29
mg
Sodium:
103
mg
Fiber:
2
g
Sugar:
20
g