This Pumpkin Dump Cake is the perfect easy pumpkin dessert for Fall! It's a dure crowd pleaser that can be made in under an hour. Serve it up warm with a scoop of ice cream, or right out of the refrigerator.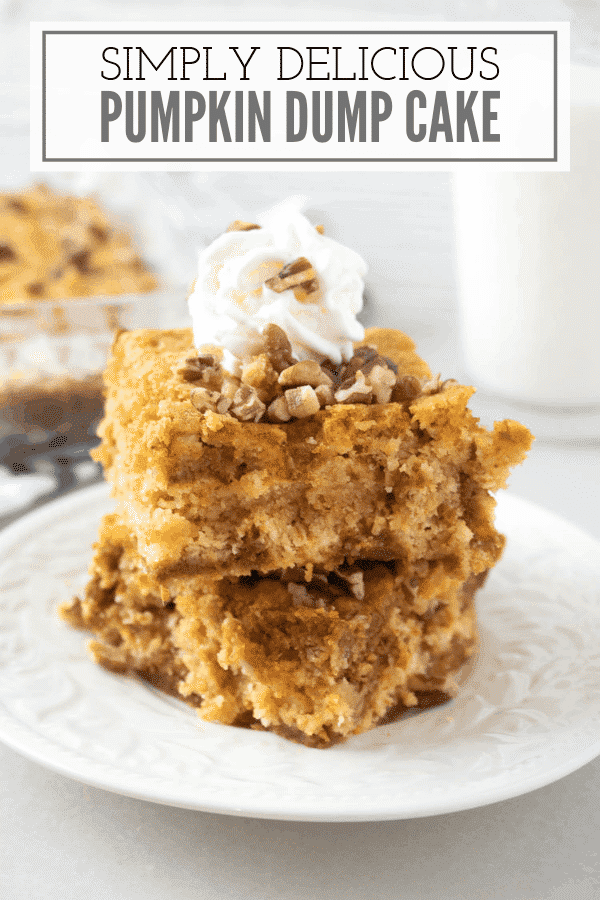 This Pumpkin Dump Cake Recipe is ah-mazing! It's light and moist, sweet without being overly so, and who can complain about sneaking veggies into a dessert, right?
How to Make a Dump Cake
One of the main ingredients that most "dump cakes" share is the use of a boxed cake mix.
That's what makes them so incredibly quick and easy to prepare! You simply dump the ingredients together - and bam - you have a cake.
Dump cakes typically involve spreading a wet ingredient into a 9" x 13" baking pan and then sprinkling boxed cake mix over the top of it. This Pumpkin Dump Cake recipe uses a combination of pumpkin, warming spices, and eggs as a base before the cake mix is added.
The cake mix is then sprinkled over the top. Most dump cake recipes don't require you to stir the dry cake mix into the wet ingredients at all, but I like to use a spatula and gently rake it through the pumpkin and dry cake mix to slightly incorporate them.
When that is done, pour the butter over the top and spread it out evenly with the same spatula. That extra step makes sure the ingredients are evenly dispersed.
Sprinkle pecans over the top if you're a nut lover. If you're not, it is okay to leave the pecans out of this Pumpkin Dump Cake recipe. It tastes just as good!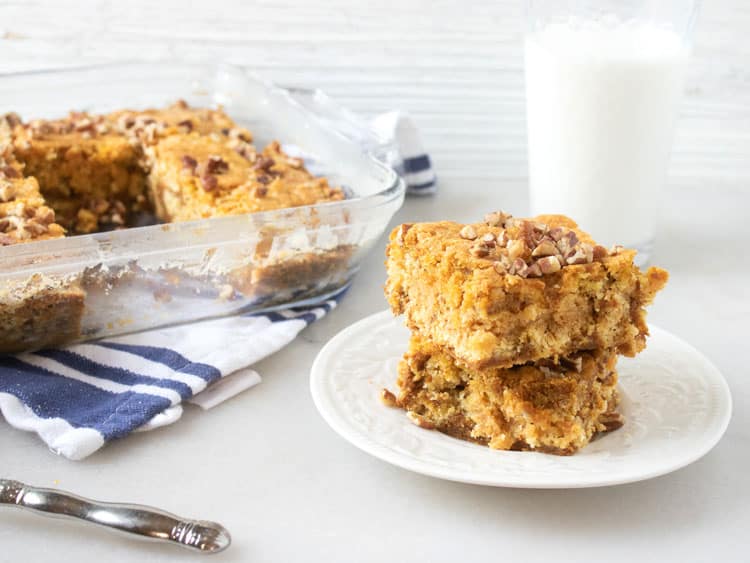 How Long to Cook a Dump Cake
The time to bake a dump cake will vary by recipe, but our pumpkin dump cake recipe requires just 50 minutes to bake.
Since it's a quick cake to prepare, that means hands-on prep time will be kept to a minimum and the cake will be ready in about an hour.
Does Pumpkin Dump Cake Need to be Refrigerated?
Yes. Dump cakes are normally refrigerated, and then served either cold or warmed up in the microwave.
When served warm, our Pumpkin Cake is made even better when paired up with vanilla ice cream. It's SO delicious.
You can also top the cake with whipped cream when the cake is either straight out of the refrigerator or warmed up. I like to make whipped cream from scratch, and a good trick is to put the whipped cream in an icing bag to make the whipped cream more decorative on the dessert.
Sometimes, I'll also put the icing bag full of whipped cream in the freezer so the thick consistency will last longer. When it gets warm, whipped cream tends to soften or melt.
How to Store Pumpkin Dump Cake
When you store your Pumpkin Dump Cake in the refrigerator, it needs to be covered. You could cover it with plastic wrap.
However, I prefer to use my Pyrex glass baking dish because it has a lid and also has a carry case, which is perfect when taking the dish to potlucks.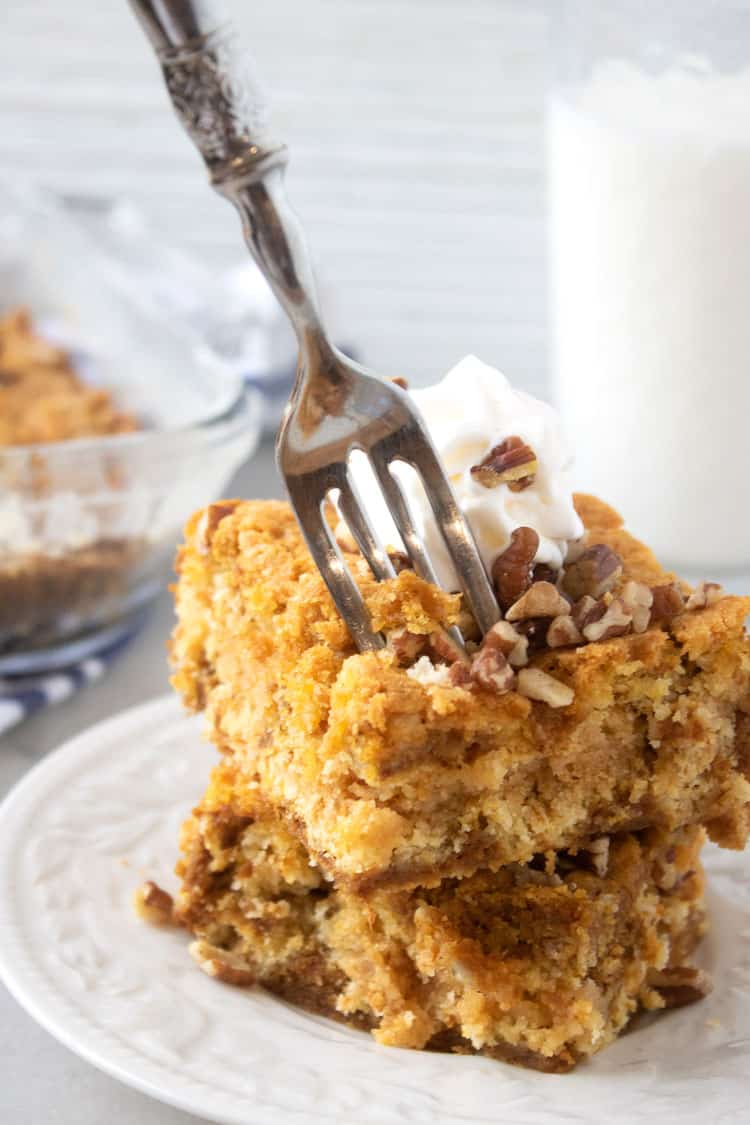 Essential Kitchen Tools for Making a Pumpkin Dump Cake
Pyrex glass baking dish | This baking dish comes with a lid and a carrier, which makes it perfect for carrying a dessert to a holiday dinner or a potluck.
Cake knife and server | An essential! A cake knife and server make cutting and serving cakes and other desserts easy. Without a server, it's not easy to scoop a slice of cake out of a pan.
Mixing bowls with lids | These bowls have a spout and a lid, which make the mixing bowls very versatile. They can even be used for making pumpkin pancake batter the night before you're planning to make it so you can save time in the morning.
Pumpkin puree | Believe it or not, pumpkin puree is not readily available in grocery stores year round. Thankfully, you can order it on Amazon and it's cheaper than you can find it in most stores.
Other Pumpkin Dessert Recipes to Enjoy
Flavors of the season that you don't want to miss. There is just something about pumpkin and entering the fall season that is so, so endearing and delicious.
Pumpkin Pie with Chocolate | This pie is insanely delicious. It's a layered pie with pumpkin chocolate and more.
Pumpkin Muffins | If you haven't tried pumpkin muffins, you really should. These are so good, and you can add mix-ins to make them even better. Add chocolate chips or nuts and they are so yum!
Pumpkin Shake | Pumpkin shakes are are a fun way to get a dose of pumpkin spice flavor without baking. You can't go wrong with a little bit of pumpkin spice flavor mixed with ice cream.
If you like pumpkin desserts, I'm sure you will love this delicious dump cake recipe.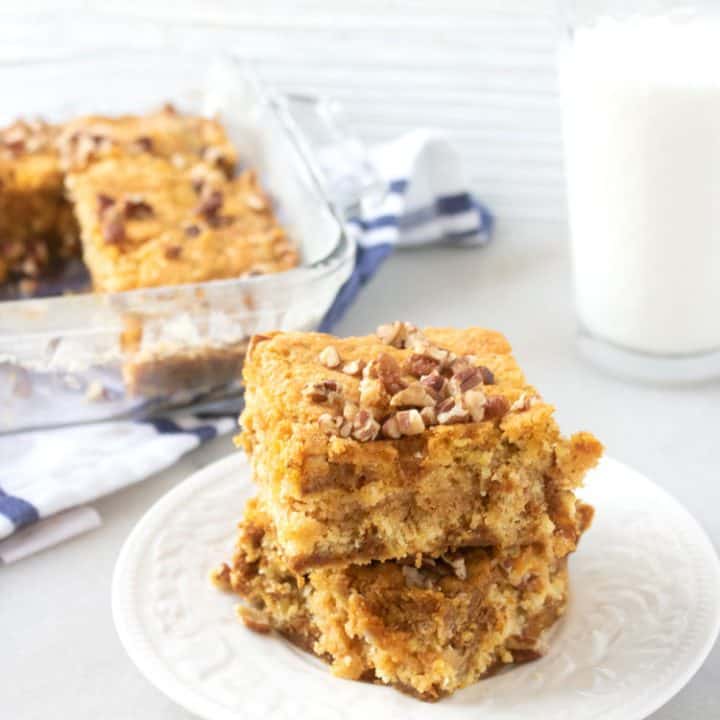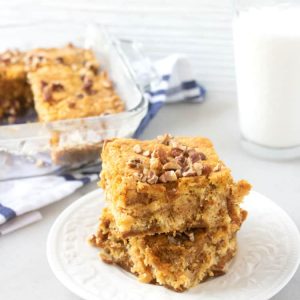 Pumpkin Dump Cake Recipe
Pumpkin Dump Cake is the perfect pumpkin spice dessert for all your fall family get-togethers. It's a quick and easy recipe that can be made in just about an hour. Serve warm with ice cream, or right out of the refrigerator.
Instructions
Preheat oven to 350.

Grease and flour a 9x13 baking pan.

Mix together pumpkin, sugar, eggs, milk and seasonings. Spread out in baking pan. Top with cake mix and lightly mix in. It does not have to well incorporated, just mixed enough so not all of the mix is on top.

Pour melted butter over the top, and then sprinkle with chopped pecans.

Bake for between 50-55 minutes.
Nutrition
Serving:
1
g
Calories:
313
kcal
Carbohydrates:
46
g
Protein:
4
g
Fat:
13
g
Saturated Fat:
5
g
Polyunsaturated Fat:
7
g
Cholesterol:
52
mg
Sodium:
312
mg
Fiber:
3
g
Sugar:
29
g